Memory Card Speeds Explained
With the exception of a few cameras that have built-in memory, digital cameras need a memory card on which images can be written and stored. Currently, most cameras use some form of SD card, either SD (Secure Digital), SDHC (Secure Digital High Capacity) or SDXC (Secure Digital eXtra Capacity), with most current models taking SDXC.
There are other formats such as CompactFlash (CF) and the newer, faster CFast (CompactFast) and XQD, with the latter two only appearing in top-end models like the Canon EOS-1DX Mark III and Nikon D5 respectively. In addition, some compact cameras and action cams like the DJI Osmo Action use microSD cards.
The first step in buying a memory card for your camera is to find the format that it accepts (it will say in the manual and we can help advise at the time of purchase), but you should also consider the card's writing speed and capacity.
Larger capacity cards allow you to fit more images and video on while faster cards enable high continuous shooting rates, extensive burst depths and high-quality video recording. As you might expect, the price goes up with card capacity and speed.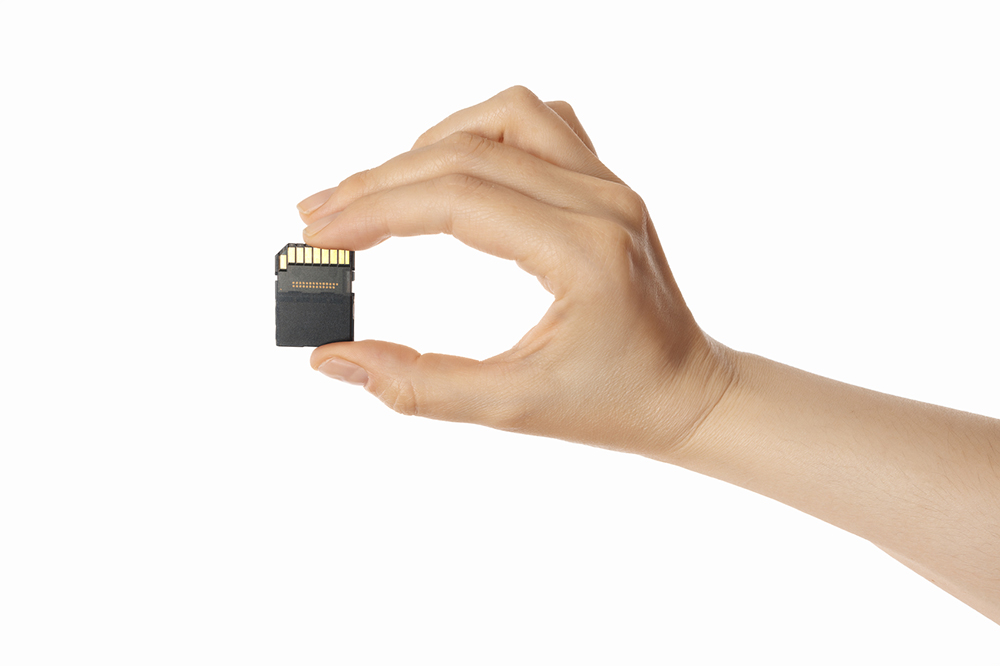 Need for speed
There are two-speed rates that are of interest with memory cards: their read speed and their write speed. Having a fast write speed enables faster continuous shooting rates and bigger bursts, while fast read speeds cut down on the time it takes to transfer images from the card to a computer.
Naturally, most photographers are primarily concerned with writing speeds.
Card speed is expressed in a couple of ways. Lexar quotes a multiplication factor such as 300x, 633x, 1000x or 2000x, with 1x being equivalent to 150KB/sec - the speed of the first CD-ROMs. These ratings look at the maximum write speed - an important factor for fast continuous shooting of still images.
In a move to simplify matters, the SD Association introduced a speed classification system that looks at the minimum sustained speed. This is more important for video, which requires consistent writing speed of multiple small images.
The rating number corresponds to the transfer rate in MB per second. Hence Class 2 cards have a minimum sustained transfer rate of 2MB/sec, while Class 10 cards have a minimum write speed of 10MB/sec. Class 10 cards are suitable for use with high-speed cameras for 4K recording.
The UHS speed class was introduced in 2009 for SDHC and SDXC cards. Incompatible cameras, UHS-I cards have a theoretical maximum speed of104MB/sec and are suitable for use for 4K video recording. UHS-II cards have a theoretical maximum of 312MB/sec.
Check your camera
It's worth bearing in mind that your camera can only make use of a fast card if it is compatible with that format. So while you can use a UHS-II card in a camera that's UHS-I compatible, you will only get UHS-I speeds.
By Matthew Ward
29 Nov 2016