PhoneSkope | How to shoot photos and video with your telescope and mobile
Gordon Hodgson Journal | PhoneSkope
Last Updated April 2021
Can you believe it? Birders are taking pictures of birds through their telescope on a phone! Recently I have seen more and more pictures of birds appearing on blogs and forums taken on a phone. My old iPhone 4 was useless at pictures so I decided to take the not-so-insubstantial leap into the world of the iPhone 7, a gadget that comes with an amazing 12-megapixel digital camera, the same as my first ever digital camera - a Nikon Coolpix!
I couldn't wait to give it a go, just hold your phone up to your scope and shoot! At first, the images were difficult to get sharp and the vignetting from the telescope difficult to control, here's my first handheld attempt at a Great White Egret.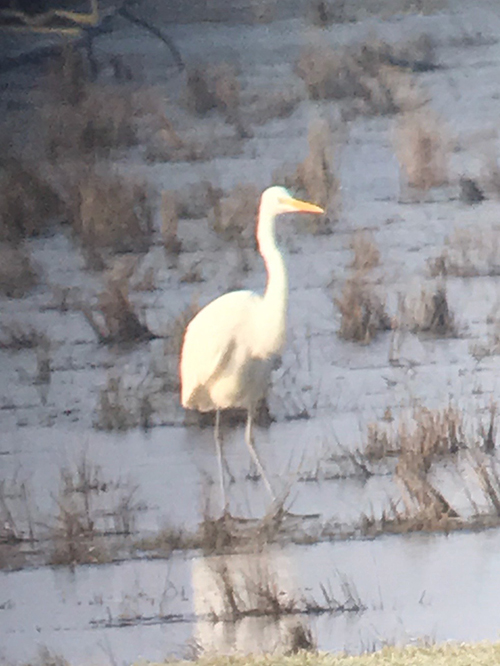 As it turns out there's an adapter for this very purpose. One quick google search and I came across PhoneSkope, an American company that makes custom-molded, well-engineered smartphone digiscoping adapters. The system consists of a cell phone case with an eyepiece adapter, either custom molded or universal, perfect - I have to have one! It easily fits on your phone and, with a bit of practice, attaching it to the telescope takes around 3 seconds!
Vanguard also has a universal digiscoping adapter, the VEO PA-65, that fits any smartphone up to 90mm and secures onto any optics eyepiece with a diameter between 34-54mm. It is perfect if you have multiple scopes of different brands that you want to try this with or if you just haven't made your mind up yet! Plus it even has a Bluetooth Shutter Release Trigger so you can take photos without needing to touch the screen which is ideal if you are out birding in cold or wet weather and are wearing gloves.
Curlew
While I was trying to take pictures of our local Curlew flock feeding frenzy it occurred to me that instead of taking still photos I could record video too, so I did and the results are outstanding! Initially, it was tricky to ensure the sharpness of the images but I was sure with a bit more practice great video would be possible. Here's my first Curlew video taken at a range of around 300 meters:
I was chuffed to bits with some of the results, some videos were a bit shaky due to wind but still really great to be able to actually film the birds in action. I learned very quickly that you have to be careful when filming and keep your mouth shut!
At first I found it a little difficult to ensure the videos were in focus as the only way to do it is to look through the scope and then attaching the phone. I have found that once you have attached the phone it occasionally takes a moment while it hunts for focus. Sometimes it will focus right away but be patient as it can take a few seconds. Other times it won't focus at all and you will have to adjust the focus wheel whilst looking at the image on the phone screen, it's a bit of a gamble - but usually pays off! One trick I have learned is that once you have the image in focus on the screen use the digital magnification by spreading your fingers apart on your phone to screen to enlarge the image and check focus.
Sand Martin
It's always great to see the first flocks of Sand Martin appearing here after their long journey from Sub-Saharan Africa, this flock perched in a tree nearby to where I was stood.
Green Woodpecker
This Green Woodpecker taken from the back garden is quite sharp and when you consider this video was taken almost at dusk it looks great.
Pied Wagtail
I also find being able to capture the birds makes you look again at more common species when they present a decent image. This Pied Wagtail showed well by the edge of the River Severn and kept still long enough for me to get a sharper image, a really smart bird, especially in spring.
The phone doesn't cope well with bright light, videos that look over-exposed can sometimes be helped by turning the phone slightly on the scope lens, however, shooting film at long distances in bright sunshine doesn't work that well.
Of course none of these images could be achieved without a decent telescope, I am using a Swarovski ATS 80 HD (angled version) so the quality of the image through the scope is crisp and bright. I am confident with more practice I'll be able to achieve better results.
Red Crested Pochard
These super coloured Red Crested Pochard frequented our local lakes for a few days in March.
Reed Bunting
A very smart male Reed Bunting singing by the canal.
Mistle Thrush
Our local Mistle Thrush emptying the field of worms, I am slowly managing to get the videos a bit sharper!
Great White Egret
One final video which really demonstrates the 'reach' of this super combination of Scope, adapter and phone, this Great White Egret was right at the very back of the lake! taken on full scope zoom then also using the digital zoom on the phone.
By Gordon Hodgson
12 Sep 2017