A detailed look at the new Toxic Valkyrie
3 Legged Thing, a British tripod manufacturer, has launched a new spin-off brand, Toxic; it has been 5 years in the making and embodies a similar ethos as 3 Legged Thing, don't conform! The colourful, Jacquard fabric and innovative water-resistant frog pockets certainly caught my attention!
Toxic currently offers two bags, the Wraith, and the Valkyrie. The Wraith is their new sling, and the Valkyrie is their new backpack which I was lucky enough to get hands-on with. Both bags are available in 3 colours, Onyx (black), Emerald (green) and Sapphire (blue). As a reference, I received a large Valkyrie in Onyx for review.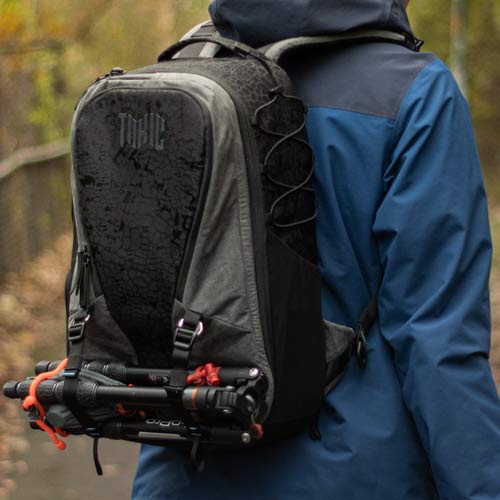 ---
Exceptional build quality with an individually unique design
Look, you have already seen it and made up your mind. The exterior of this bag is going to warrant some looks. People will comment on its almost tracksuit like appearance and others on its very square look.
I would encourage you to bat away those philistines and focus on the exceptional build quality and the lovely Jacquard fabric; it is very nice to the touch and has a really unusual shimmer, somewhat like a lenticular print (those plastic pictures that you used to wave around in a gift shop because they look different from different angles).
The fabric is based on a vintage map of the company's hometown of Stagsden which has been overlaid on an alligator print. Its unusual appearance has actually grown on me since I first saw it. It is built, from top to bottom, outstandingly. You certainly get some very premium materials for your money!
---
Plenty of external space
The bag has two webbing straps on the front which are large enough to loop over almost any tripod, and don't worry, you can stow them away if you don't intend to use them. On one side of the bag, there is a large mesh pocket with some elastic cord in a lattice above.
I presume the intention is to store a water bottle in the pocket, but I still haven't found anything I would weave under the elastic, tent poles maybe? It does seem like an unusual edition if you ask me…
The other side of the bag features two small pockets, perfect for holding a phone, charger and maybe some little snacks for longer trips.
---
Designed with the British weather in mind
Toxic also includes a removable padded waist strap if you're carrying heavier loads, but I didn't find them supportive enough for my use. They also chuck in a rain fly if you get caught out in the weather. They really are British designed!
---
Premium interior construction
I was immediately taken aback by the premium construction of the Valkyrie interior. In the main, front access, camera core you will find wavy, blue highlight stitching woven into the soft Velcro inner lining.
The internal dividers all come with canvas pockets attached which is a nice feature to have if you carry a lot of smaller accessories such as microphones or filters, perfect for the hybrid shooters among us! The access panel in the main core is adorned with two pockets and a little strip of Velcro to hold the included SD card holder wallet.
---
Large laptop compartment
There is also a large side access soft pocket for laptops at the front of the bag which I managed to fit two laptops in (if that is something you need). In front of that, there is also a little organisation space. There is nothing remarkable here, but you wouldn't be left short of places to store pens and little things either.
---
Featuring a water-resistant frog pocket
There is also a special pocket at the rear of the bag called the frog pocket. It is an interesting edition to help you separate wet from dry. The bag also features a very small, zipped pocket at the back just below the shoulder straps. This is a handy place for ID and a wallet. In short, lots of well-made pockets to help you keep all of your possessions separate and easy to find.
My only dilemma is that the laptop zipper and one of the two zippers for the main access to the camera core lay next to each other so are easily mixed up. I would recommend attaching a little tag to one of the zippers to better distinguish them.
---
Ideal for videographers
The dividers are very robust and inflexible, much like the dividers from Shimoda or Peak Design. They are designed to carry shocks through the bag out into the softer outer construction.
Although rigid dividers are not for me, they are a great option for those of you carrying larger lenses and larger bodies, maybe even cameras in cages. I continue to get the impression that this is a bag best for the videographer. My main quarrel with rigid dividers is that they're difficult to wrap around your gear for a super snug fit.
---
Interior configured to best utilise available space
The 'stock' configuration that the bag arrives in worked best for me. It best utilised the dividers and it was all perfectly space for their lengths. I found that the included dividers were too short or too long to create a custom interior layout.
I found it difficult to restructure the interior in a way that perfectly suited my slightly more custom needs. The standard layout of the bag does provide lots of room and individual compartments to store your camera gear safely. The canvas pockets on the dividers block the velcro so it does limit the interior versatility, as you can't add dividers together.
I have tried a few different configurations in the bag to help demonstrate my aforementioned points. I first tried packing it in its 'stock' configuration with a fairly normal lens load out. I made an effort to include a longer lens here too.
I think most of the audience for this bag will be Sony shooters so that seemed like an obvious starting point. I picked out a Sony A7R-IV with a Sony 24-105 F4 G, a Sony 85mm GM and a Sony 100-400 GM.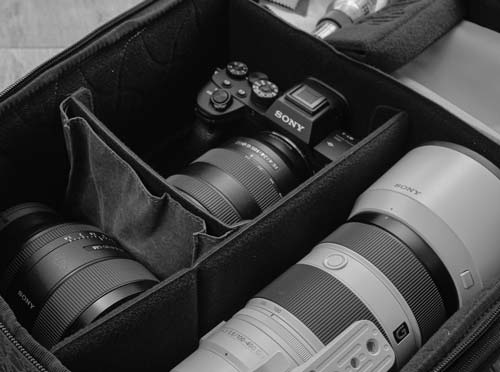 ---
Keep your kit dry with the handy frog pocket
The shallow Frog pocket at the bottom of the bag is useful for storing wet items, perhaps a camera cover for when you use your camera in wet conditions on a tripod or even a small pair of shoes. My issue with the frog pocket is that it shares that space with the main compartment and when it is extended it leaves a very shallow gap for accessories in the main compartment.
I found a small Shimoda accessory pouch and a lens cleaning setup fit snuggly however I would rather have used this space for something larger. However, if you're willing to give up that space in the main compartment, the frog pocket can be used alternatively as a really secure rear access pocket, for on the go access to a small DSLR or mirrorless camera set up.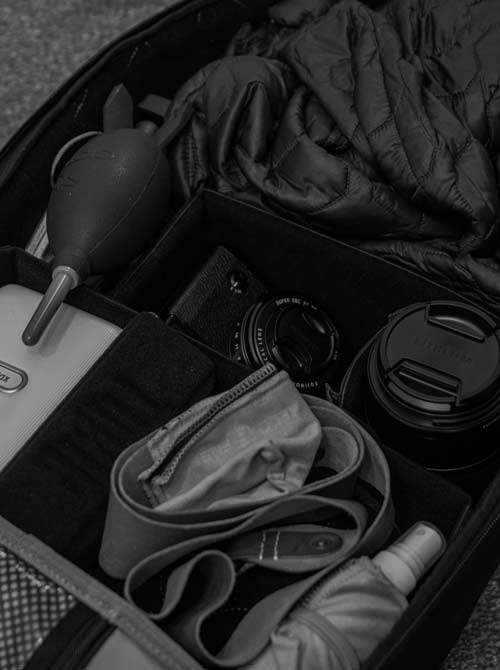 ---
Make changes to the internal structure quickly
You can drop the frog pocket down, but, if you're anything like me, everything in a camera bag has a place so a changing bag is of almost no use. It is a nice innovation, but I don't see its use in the real world.
---
Tested the bag out with a simple street setup
Personally, I see the Valkyrie as a bag that would be more at home in an urban environment. The Exterior has a very sleek and considered look which makes it look rather out of place among other hiking bags.
With all of this in mind, I went on and packed the bag out with a very simple street setup accompanied by some other necessities like a warm coat (we live in England, it's a necessity) and a drink. I am still trying really hard to keep the frog pocket in use as to give it a fair chance.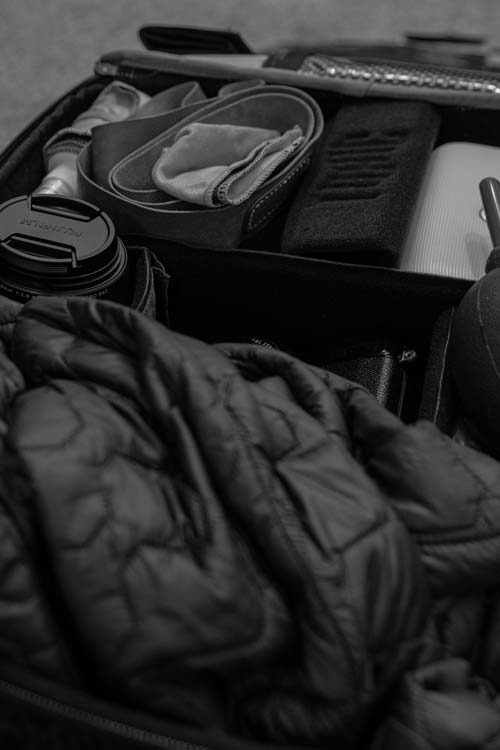 ---
Testing out the practicality of the Frog pocket
While the frog pocket is a great unique feature, it just didn't seem to fit quite right with how I wanted to set up the bag. I found that using the frog pocket took up too much space in the internal compartment.
Someone else might be willing to give up that space if they only had a small camera and maybe one extra lens, but it was space that I could have used for something else. I collapsed the frog pocket and rearranged the dividers. This adjustment allowed me to carry a much larger bottle and made ramming my coat in much easier.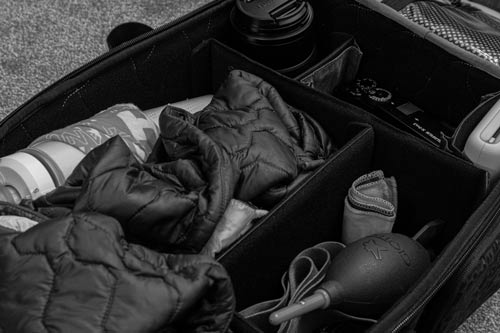 ---
Final thoughts on the Valkyrie size and construction
The large Valkyrie bag, after spending lots of time restructuring the interior to suit my needs, in the end, didn't feel very large for what I needed it to be. Again perhaps someone with only a small DSLR or Mirrorless camera and an extra lens might feel differently. But fitting a longer lens like the Sony 100-400mm GM might be a bit of a stretch in the medium version of the Valkyrie.
The Valkyrie is a really well-made bag. Its high price and gear oriented design best suit it towards the avid videographer working semi-professionally in an urban environment. It oozes style and lives up to its nonconformist aesthetic so I can definitely see it looking at home on the back of a trendsetting apprentice director. There are certain features of other bags that appeal more but perhaps the Valkyrie will stand the test of time and grow to be a favourite.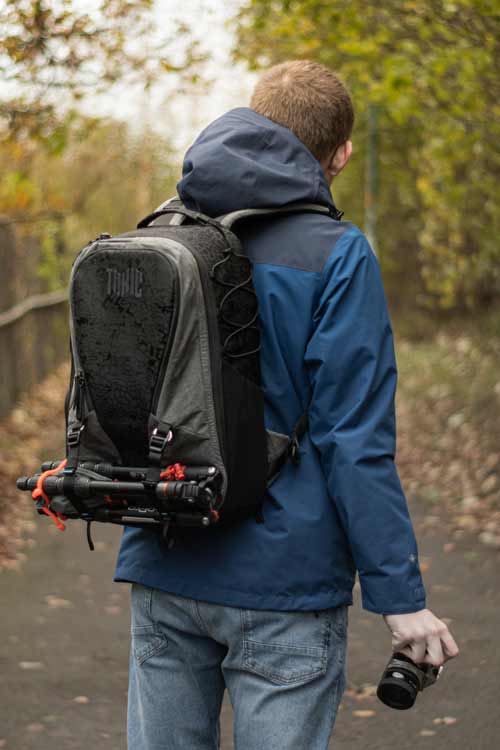 ---
Thank you!
Thanks for taking the time to read our blog, we really do hope they help you out and answer some of your questions. If you still have some unanswered, then please feel free to get in touch with our team of experts.
We have a LiveChat option on our website and we can, of course, be contacted via our email, we're also on the end of the phone too! Read more on how to contact us here >
---
Want to write for us?
If you've got experience with producing content on photo, video and/or optics products or techniques then we would love to hear from you. Contact our blog editor, Fee, with a sample of your work at fee@cliftoncameras.co.uk.