A guide to the NEW Peak Design Mobile range
Using your phone more (efficiently)
Peak Design has been creating camera accessories with style and utility for just over a decade. Now they have turned their award-winning heads to the camera that you always have in your pocket – your phone!
In true Peak Design style, back in 2020, they raised $2 million on Kickstarter in less than 60 days for this new line and we can see why the public is so excited. The Mobile range centres around what Peak Design is calling "the most capable phone case on the planet". Surrounding the phone case is an ecosystem of mounts and accessories designed to work in your car, on your bike, in your home and at your work.
---
What is SlimLink?
SlimLink is the new technology designed by Peak Design that consolidates their entire Mobile range. A ceramic ring lays flush against the case, surrounded by embedded magnets. These two key components make the phone case adaptable between the Soft-Lock and Hard-Lock products within the Mobile line. This entire system measures just 2.4mm thick on both the phone case and universal adapter, yet it holds your phone so securely to all the accessories within the range that it is essentially magic. And that POP when the magnets join...so satisfying.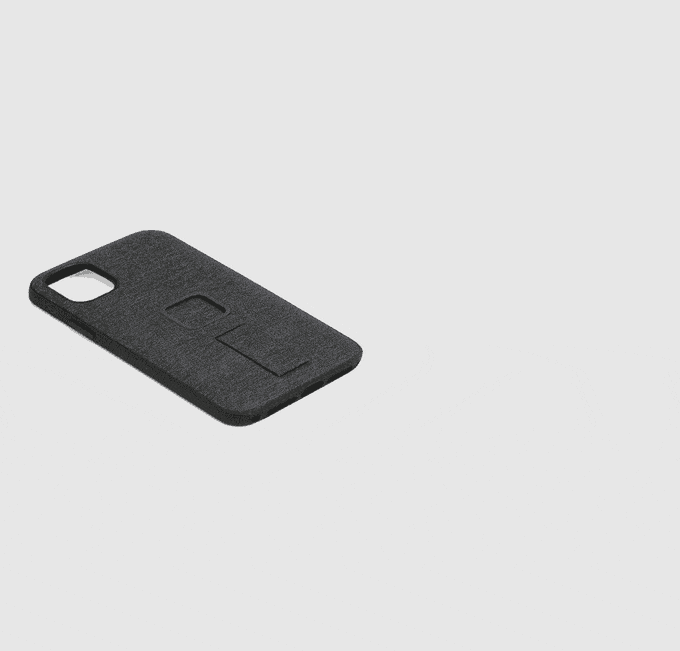 ---
What is the difference between Hard-Lock and Soft-Lock?
Peak Design understands that you are going to need a stronger connection when you are racing on a motorbike over rough terrain compared to when you are charging your phone on your bedside table at night. This is why some of their products have a hard-lock as well as a soft-lock. Hard-locking products like the Universal Bar Mount and the Motorcycle Stem Mount utilise the magnets of the soft-lock alongside burly aluminium teeth that lock into grooves in the ceramic ring of the SlimLink. It offers extra protection when you need it. For that extra peace of mind.
Hard-Lock Accessories*

Soft-Lock Accessories*

Universal Bike Mount

Mobile Tripod

Out-Front Bike Mount

Kickstand Wallet

Motorcycle Bar Mount

Car Mount

Motorcycle Stem Mount

Charging Car Mount

Creator Kit

Wireless Charging Stand

*requires Everyday Case or Universal Adapter

Wall Mount

*works with Everyday Case or Universal Adapter

*Apple MagSafe compatible
---
Phone compatibility
As of its launch in September 2021, the Mobile Everyday Fabric Case is only available for the iPhone 11, 12 & 13 as well as the Samsung Galaxy S21. Whilst the Everyday Loop Case is only compatible with the iPhone 12 and 13.
Don't have those models? DO NOT PANIC
Peak Design is nothing if not inclusive and has created a Universal Adapter that will fit almost any other phone. The Universal Adapter is a thin pad with a 3M VHB adhesive back that sticks to your phone or hard phone case, opening up the range to all smartphone users. It's great news for those outside of the iOS vs Android war!
---
Peak Design Mobile at a glance
Peak Design Mobile Everyday Fabric / Loop Case

The main event of the Mobile range, the Everyday Fabric Case, also available with a handy finger Loop. Compatible with select iPhone and Samsung phones this phone case is highly resistant and durable to your everyday travels and works with all SlimLink products. Plus it looks stylish and suave at the same time.

Peak Design Mobile Universal Adapter

Don't have a compatible smartphone for the case? No problem! With the Universal Adapter make almost any smartphone even smarter. Simply stick it to the back of your phone or case to make your phone compatible with the entire Mobile range.

Make the most out of your phone at home with Peak Design's Wall Mount. Instantly transforming any wall, mirror, tile, or flat surface into a mount for your phone, the applications of this is almost endless!

Peak Design Mobile Creator Kit

Put your phone at the forefront of your photography and filmmaking. The Creator Kit comes with a wide range of photographic tools that will allow you to mount your phone onto an Arca tripod, attach it to video rigs, Capture kits and so much more!

Designed by a team of award-winning tripod engineers comes the smallest mobile tripod, that attaches to your phone case as if by magic. No larger than a credit card this precision-machined tripod can be carried everywhere fitting happily in a pocket.

Peak Design Mobile Wallet Stand / Slim

Consolidate the items you never leave the house without – your phone and wallet. The Mobile Wallet can hold up to 7 cards at a time and is designed to last. The magnets in SlimLink will not interfere with the card's hardware. Available in Slim or with a Kickstand for total efficiency.

Peak Design Mobile Wireless Charging Stand

Charge your phone in gorgeous style with the Mobile Wireless Charging Stand from Peak Design. Adjust the height with the buttery-smooth hinge for the perfect positioning at your desk, by your bed, or on the move.

Peak Design Mobile Car Mount VHB / Charging

This 3M VHB adhesive mount will let you put your phone wherever is most convenient for you to manage your music and see those all-important directions. Also available with wireless charging for even more one-handed efficiency.

Peak Design Mobile Motorcycle Stem Mount

A versatile, bomb-proof motorcycle phone mount. This Peak Design mount is stylish, durable, and delightfully easy to use. No longer bother with bulky and fidgety phone mounts, sleek in design and with an adjustable arm this stem mount has a hard-lock for an extra-secure hold.

Peak Design Mobile Motorcycle Bar Mount

Mount your phone to your motorcycle bar with this Peak Design mount. Ideal for using maps while travelling, this durable and adjustable mount won't fall off even over the roughest terrain.

Peak Design Mobile Bike Mount Out Front

The Peak Design Out-front Bike Mount is pushing handlebar mounts and their purpose. This mount, designed for road and mountain bikes will securely hold your phone in front of the bike for a first-person view of your journey, or on the top for a traditional handlebar mount.

Peak Design Mobile Universal Bar Mount

Quickly and efficiently mount your phone to the handlebar of any bike, scooter, stroller or golf cart. Essentially anything with a handlebar! The silicone wrap-around strap has a no-slip grip and fits easily in a pocket in-between journeys.
---
Guaranteed for life
As with all Peak Design products the Mobile range comes with a lifetime guarantee so that you can enjoy everyday efficiency for many years – and phones – to come.
---
Available for Pre-Order now!
Liking what you see? The Peak Design Mobile range is available for pre-order now!
View the whole Peak Design Mobile range here >
---
Thank you!
Thanks for taking the time to read our blog, we really do hope they help you out and answer some of your questions. If you still have some unanswered, then please feel free to get in touch with our team of experts.
We have a LiveChat option on our website and we can, of course, be contacted via our email, we're also on the end of the phone too! Read more on how to contact us here >
---
Want to write for us?
If you've got experience with producing content on photo, video and/or optics products or techniques then we would love to hear from you. Contact our blog editor, Fee, with a sample of your work at fee@cliftoncameras.co.uk.
By Beatrice Debney
24 Sep 2021