DJI Mavic vs FPV for Content Creators
Drone technology is evolving at a rapid rate, just watch any YouTube review and you'll see questions like "What drones do most YouTubers use?" or "Best drones for beginners?"
I've been using DJI's drone technology for a long time to create content, ever since they released the Phantom series of drones, which at the time opened up a whole new world of possibilities when it came to creating digital content.
These days I primarily use the Mavic series of drones, specifically the Mavic Air 2, being far more lightweight and portable than the Phantom drones of old, but there's a new, exciting addition to DJI's lineup, the FPV drone, which I got to spend a week with recently on a road trip around Wales courtesy of Clifton Cameras/CMS. And so in this blog, I want to discuss my experience of using the DJI FPV drone and how it differs from the Mavic Air 2 in terms of a content creators perspective.
View Clifton Cameras range of DJI drones here >
---
Form Factor
Before we get into the juicy stuff, it's important to consider how these two drones differ in terms of how they're constructed given a lot of content creators these days are cutting down on size and weight in favour of portable setups.
Being a DJI product, both drones look and feel very robust and well built. The FPV weighing in slightly heavier at 795g vs 570g for the Mavic Air 2.
One of the major reasons I opted to purchase the Mavic Air 2 was just how small and portable it is with its folding design, making it easy to store in my camera bag with the remote and additional batteries without taking up too much room.
The FPV on the other hand does not have foldable arms, which means it does take up considerably more room than the Mavic Air 2 and could be susceptible to damage in transit if you're not careful, although if you're not planning on travelling extensively with it you can get yourself a case like this one from B&W which provides a sturdy and safe environment for the FPV to travel in.
Continuing the theme of portability it's important to note that that with the Mavic series of drones you only need the smart controller and your phone to be able to fly it, whereas the FPV requires the use of the DJI Goggles which also take up a fair bit of room in your camera bag.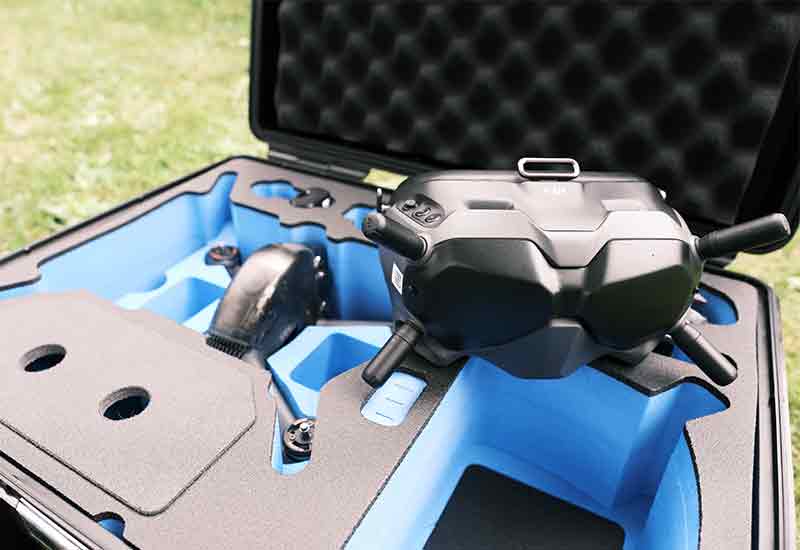 Whilst both drones are very well made, the Mavic is certainly the more portable option for content creators.
View the DJI Mavic Air 2 here >
---
Specification
Now we've covered the main difference in terms of form factor between the two drones, next we're going to look at how they differ in terms of specs. Again for reference, I'll be using my Mavic Air 2.
Both drones have 1.2" CMOS sensors effective at 12MP for video, however, the Air 2 has a 48MP stills mode which may appeal to those interested in aerial photography rather than filmmaking.
Both have a fixed f/2.8 aperture lens but they differ as the FPV is capable of shooting at a wide 150-degree field of view, whereas the Mavic has an 84-degree field of view.
Both can shoot at up to 4k 60fps at 120MBPS, however, the Mavic does have slightly more options in terms of resolutions and frame rates you can select, but both also are capable of shooting in the flat D-Cinelike profile which is important to creators who like to grade their footage.
One major difference between the two series of drones in terms of specs is the gimbal, which affects how both drones capture footage.
The Mavic series of drones have a 3-axis (tilt, roll, pan) gimbal which allows the operator to capture smooth, level footage regardless of which direction the drone is flying in.
The DJI FPV however has a single axis (tilt) gimbal which grants the operator level footage when flying forwards or backwards but as soon as the drone banks left or right, the horizon will tilt as it would if you were flying an aircraft.
There are of course a number of other differences in the specs however specifications never really tell you the whole story, what really matters is the experience and the results you can get and here's where it gets really interesting for creators.
---
Flying Experience
Here's where the rubber meets the road in terms of whether each drone is right for you as a content creator.
With the DJI Mavic series of drones, if you've ever flown one before, you know what you're going to get in terms of the flight experience and results and that is smooth, stable, cinematic footage. Flying a Mavic is really straightforward and intuitive with all of the safety features and in-built 'quickshot' modes meaning it's possible to get professional-looking footage with little to no experience of flying drones.
Most of the Mavic series of drones allow you to switch between different flight modes that change up the flight experience for example on my Mavic Air 2, I can select 'tripod' mode which really slows the max speed of the drone and dials down the sensitivity of the inputs, which is perfect for getting slow, smooth cinematic shots. If I want to introduce more speed into my shots or just have some fun then I can select 'sport' mode that increases the top speed and responsiveness of the drone.
Overall the Mavic series is a perfect choice for content creators who are maybe new to drone flying, or who want to capture smooth, cinematic footage on a device that is packed with safety features, intelligent flight modes and is really easy to operate and transport from location to location.
But what if you want a bit more excitement, more dynamic shots or a more immersive flight experience? Well, that's where the DJI FPV comes in.
The DJI FPV is unlike any other drone I've flown before and unlike any other previous DJI drones and if you've never flown FPV before then it will be the same experience for you too. FPV flying is really like no other.
Unlike the Mavic series of drones, the DJI FPV requires you to fly it via the use of a pair of DJI Goggles, meaning what the drone sees, you see, making the whole experience extremely immersive. This does require you to legally have someone else there with you whilst you fly it, also known as a spotter, as it's against the law to fly a drone out of line of sight, which you can't possibly do with the Goggles on.
---
Flight Modes
The DJI FPV has three flight modes, Normal, Sport and Manual, two of which are somewhat similar to the Mavic drones. Normal and Sport mode are GPS stabilised modes, meaning that the drone will take off and hover in one spot when there are no control stick inputs and it won't completely roll over in mid-air during a banking turn. Both modes are significantly quicker than the same modes on a Mavic however, with Normal mode on the FPV being close to Sport mode on a Mavic and Sport mode on the FPV allowing you to cruise across landscapes at a whopping 57MPH - reaching speeds similar to that seen in drone racing!
You can fly the DJI FPV with the included controller, however far more fun and intuitive is flying it with the optional DJI Motion Controller, which mimicks a joystick and the drone will respond to your hand movements. I used this all of the time during my time with the DJI FPV and I can't express in the blog post just how fun and immersive it made the whole flight experience.
The third flight mode on the DJI FPV is the one that really sets it apart from any other DJI drone on the market and that's the Manual mode, in which you get full control over all axes as well as an unrestricted top speed of close to 90MPH. Manual mode must be deliberately enabled in menus in the goggles so you don't accidentally switch into it by mistake as it really is a completely different beast altogether in this mode. You can literally perform aerial acrobatics, thread the drone through tiny gaps and a whole host of limitless possibilities in this mode but be warned it will take a lot of practice to be able to fly in this mode safely so I'd highly recommend spending a lot of time in the DJI simulator before taking it out of Normal or Sport mode and putting it into full manual.
During the week I spent with the drone I only ever flew it in Sport mode, which was still an exhilarating experience and allowed me to get some really unique looking shots that I wouldn't have been able to get with my Mavic Air 2.
---
My Closing Thoughts
Overall the DJI FPV is a great choice of drone for content creators who are maybe more experienced at drone flying, or who want to capture really dynamic and unique footage on a device that has a lot of the safety features of the Mavic's but with the option to take full control and experience FPV in all of its glory.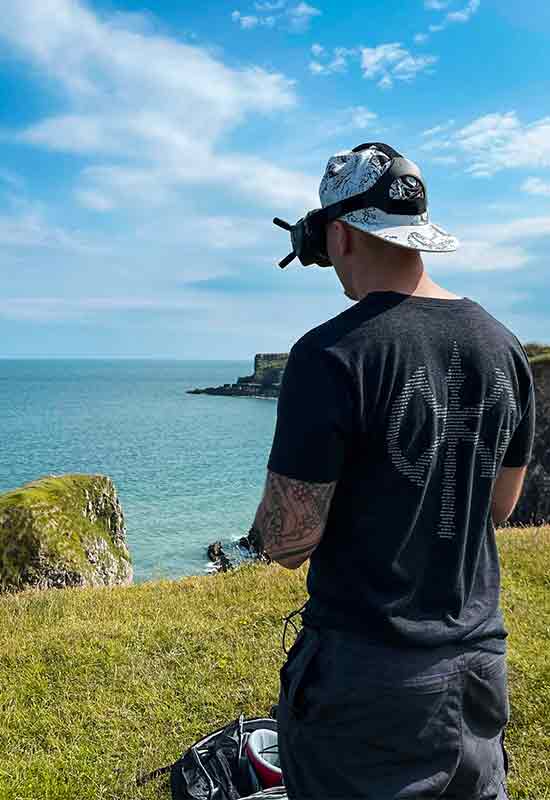 Whichever one you decide to go for, you can rest assured that these drones will level up your content creation and open up a whole new world of creative possibilities!
---
Thank you!
Thanks for taking the time to read our blog, we really do hope they help you out and answer some of your questions. If you still have some unanswered, then please feel free to get in touch with our team of experts.
We have a LiveChat option on our website and we can, of course, be contacted via our email, we're also on the end of the phone too! Read more on how to contact us here >
---
Want to write for us?
If you've got experience with producing content on photo, video and/or optics products or techniques then we would love to hear from you. Contact our blog editor, Fee, with a sample of your work at fee@cliftoncameras.co.uk.
By Craig Pitts
10 Aug 2021