Fujifilm X-Pro 3 | Real World Review
A different angle to the NEW Fujifilm X-Pro 3 // By a 'non-true' photographer
*Please note that any images from the camera itself are from a pre-production model.
Duration, Location and Goals
Let me set the scene - I'm no 'true photographer'. By that I mean, someone who has shot regularly with film. I've really only shot with modern DSLRs and haven't picked up a Fujifilm in a very long while. That said, my enthusiasm and passion for photography is strong. So when I had the opportunity to use the new Fujifilm X-Pro 3 Mirrorless Camera I didn't quite understand the gravitas of the situation. I had to Google 'Range Finder Cameras' and had to spend a good 10 minutes figuring out how to even set the ISO and shutter speed using just one dial.
Now having used it (albeit briefly), it's safe to say that I'm totally on board, I get it. It's 'Old Skool' with a heavy modern twist. Aesthetically, I believe the youth would call it 'sick' however I would simply put it as 'sophisticated retro'. It's a beautiful body and makes you feel like a cool street photographer when you really aren't. In my case anyway.
Made from titanium it's perfect for the rugged and outdoorsy (or clumsy) photographer and also comes with a Duratect coating option that not only makes it scratch resistant, but also makes it look EVEN cooler.
With a quick familiarisation in the office, I headed straight out to a recommended local spot, the Purton Hulks, with a loose plan of capturing some detailed shots of the abandoned boats and scenic River Severn views.
Knowing that the internet would be flooded with street photography and photojournalism style reviews, tests and examples, it was slightly left field to go to the green great outdoors, so I also popped down to the Clifton Suspension Bridge in the evening to try it out on a more traditional subject for this type of camera.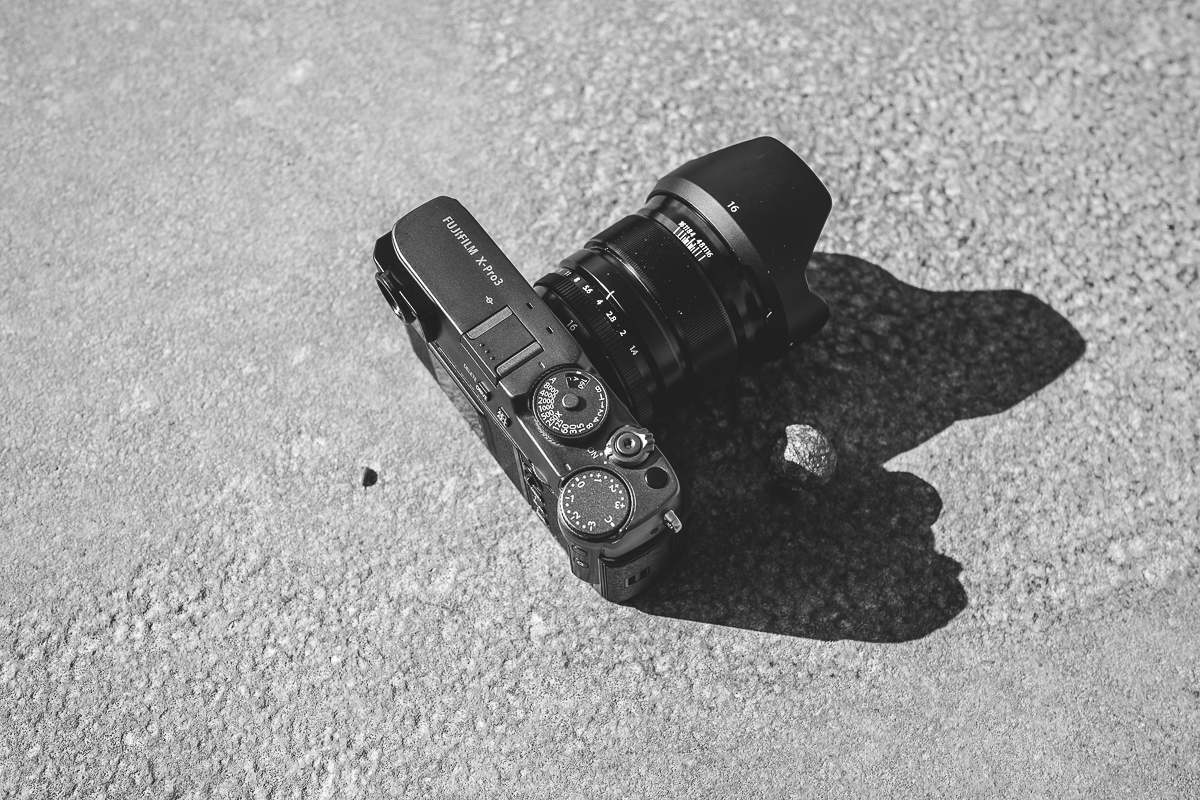 The Controversial LCD Screen
Let's just kick things off with the hot topic, the hidden LCD screen. The 1.62 million dot screen is not there, but it is. So is it really that controversial and worth discussing? Well let's do it anyway.
As we know, Fujifilm are all about true photography and this ethos really oozes throughout this latest addition. Yes, the fact that you have to flip the screen down to chimp is helpful in focussing (sorry) your mind on taking the shot but just a quick fumble can flip the screen down and you can be checking your shots in no time. So there's really nothing to whine about.
Having only ever really shot with modern DSLRs the lack of screen was initially really annoying but slowly became a strict teacher and I actually learnt to love the risky feeling of every frame I took. Don't get me wrong, I still chimped but it was a heck of a lot less frequent and I really feel like I gained some confidence in my abilities. Thanks Fujifilm.
So is it controversial? Nope, even though this camera is aimed at the masses (and I'm sure there will be some people that can't stand the fact that the image review isn't instantaneous), I really do believe that it will be a huge hit. The true photographers out there won't bat an eyelid at this concept and the newbie photographers like myself should hopefully relish in the new challenge - then feel really proud of themselves for being a 'true photographer'. I personally feel that they could've done away with the LCD flip screen altogether and gone fully film camera-esque.
Film Simulation
Let's be honest, Fuji are a front runner when it comes to colour science and they've introduced the new Classic Negative mode in the Fujifilm X-Pro3. Their in camera colour reproduction is right up there and this new release gives you access to a multitude of film simulation modes for incredible images straight out of camera.
I used a lot of Classic Chrome in my black and white images and these are noticeably richer and luscious compared to previous black and white frames that I've taken with other brands. These in camera modes essentially allow the user to bypass any post-production work in Lightroom or similar and to simply process and use the JPGs straight out of the camera. This means that your photography experience is swifter and more efficient. It also forces you to be sharper (figuratively speaking) and more fine tuned with your shots.
Viewfinder Updates
Best of both worlds, this latest release features an 'Advanced Hybrid Viewfinder' you can now switch between the optical viewfinder (OVF) and the electronic viewfinder (EVF) with the nudge of a button on the front of the camera. So for times when you want a constant and true view of your subject without any lag whatsoever then you keep yourself in the OVF arena. Then for the times when you need to see your exposure whilst shooting, the EVF has your back.
Not that I needed it in my slower paced photography outings with this camera but the new EVF has an extremely quick refresh rate. It even has a boost function for really smooth higher speed refresh rates. Which means that this camera isn't just suited to the photojournalist or street photographers out there.
The optical viewfinder is also wider than the frame so you can pre-empt the action. In my opinion this a game changer and really helps the photographer to rely on the viewfinder much more. It's a very distinctive way of working and this is very much what the X-Pro range of cameras are all about.
Dual SD Card Slots
Let's not forget the fact that the X-Pro 3 is carrying two SD card slots. Understandably this is a great feature, even some mid-range DSLRs and mirrorless cameras don't have this function. However, I was slightly perplexed as to why a camera that's made for a quite specific genre had this capability - so you if you have gems or words of wisdom as to why then I'd love to know! You can contact me on fee@cliftoncameras.co.uk - I look forward to being educated by you.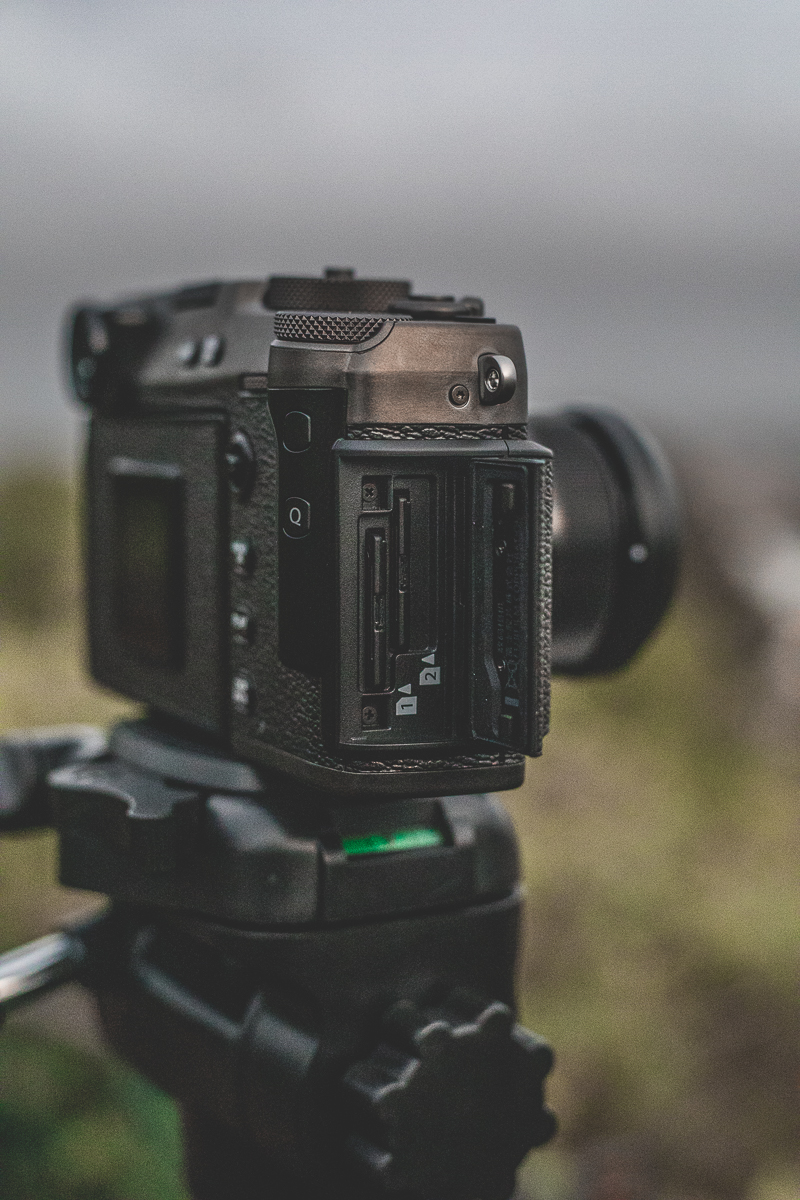 My Closing Thoughts
If I could explain the X-Pro 3 in one word it would be, niche. It's a specific set of features and functions that will over-excite the Fujifilm and film photography enthusiast and yet it still manages to ignite a flame in those that are completely new to this flavour of photography. It holds traditional and true photography as it's trophy and can also be a great teacher to someone entering the rangefinder genre of cameras for the first time.
The video capabilities are great to have on paper but I can't see how they'll be too useful to the majority of users. This isn't for the vlog-concious user. 4K capability yes, but with no way of seeing yourself as you film, there are many more competitive cameras out there. But with that said, this isn't the market that Fujifilm are aiming for.
I really enjoyed my hours with the X-Pro 3 and respect the efforts Fuji have made to make this a nod to traditional film photography. The menu settings were intuitive and I was able to quickly navigate the plethora of options within a few minutes of playing around. The film simulation feature was an eye-opener for somebody used to completing some form of post-production work. You really can't beat the experience and wealth of knowledge that Fujifilm have in this department.
Would I buy one, yes I actually would. Not as a replacement for my Canon EOS 5D IV but as an alternative for when you want something streamlined, lightweight and inconspicuous, but can still produce the goods when you're out exploring the world.
By Fiona Chandler
25 Oct 2019