Kowa TSN-99A Prominar Spotting Scope Review
First Impressions on the Kowa TSN-99A Prominar Spotting Scope
I started birding seriously back in the mid-1990s. I've been birding non-seriously since the late 1960s – but that's another story. Twenty-five years ago, Kowa spotting scopes were everywhere, the venerable TSN-1, 2,3 and 4 models (later joined by the TSN-820 series) being well to the fore at many a twitch.
Since those heady days, birding has boomed and more premium scopes from other manufacturers have appeared on the market. Kowa hasn't stood still, however, and in 2006, the flagship TSN-880 series was launched. Sporting a whopping 88mm fluorite crystal objective, both straight and angled models made an immediate impact amongst birders and are still going strong today.
Boasting a fluorite crystal objective and sporting Kowa's traditional green livery, the venerable TSN-883 and TSN 884 (angled and straight, respectively) continue to deliver stunning optical performance, particularly when used in combination with the excellent TE-11WZ 25-60x wide zoom eyepiece.
---
Release of two all-new flagship models
Given the reputation already established by the 88mm models, any new 'Rolls Royce' product was always going to cause a stir. And, lo and behold, a stir has indeed been caused by virtue of the release of two all-new flagship models. Titled TSN-99A and TSN-99S respectively and sporting a mighty 99mm objective lens, the newbies look set to shake things up a bit amongst the top tier of alpha optics.
The new models break from the traditional Kowa numbering system whereby angled models were suffixed with an odd number, straight scopes with an even number. I quite like the old system (possibly because it's what I'm used to) but have to concede that A for angled and S for straight is probably more intuitive and also, dare I say it, more in line with some of Kowa's European-based competition.
---
TSN-99A and TE-11WZ on loan
Working with optical equipment on a daily basis, as I do, it can become easy to take premium glass for granted but when Kowa intimated that they were happy to loan me a TSN-99A body and TE-11WZ eyepiece I was genuinely excited. I've always loved the TSN883/884 scopes and was very keen to put that mighty 99mm objective through its paces.
I should pause at this point and clarify that the 99mm models aren't just bigger versions of their 88mm stablemates. That subtle, green, anodised exterior conceals a number of important innovations which might not be obvious at first glance…so let's take a closer look.
---
---
First impressions of the TSN-99A body and TE-11WZ eyepiece
The new scopes are instantly recognisable as belonging to the Kowa family. The company's signature green finish looks as good as ever (to my eye, anyway) and we still have the traditional red band around the barrel to signify a premium optic. Delving deeper, we find that, apart from the tripod ring, the whole scope body is made of magnesium alloy.
There are lower-priced materials out there but this isn't what these new scopes are about. Magnesium alloy is very strong but also helps keep the weight down (1810g quoted for both angled and straight versions) and, as mentioned previously, we have an anodised finish that lends itself to a very tough, durable end-product. And, straight out of the box, it certainly feels like it!
Kowa has retained its tried-and-tested dual focus system whereby we have two focus wheels: one for rapid focus and another for fine focus. I like this system a lot: the coarse focus has a fast action to bring the subject into focus rapidly; the fine focus then serves to bring the subject into detail which is really, really useful, particularly when working at higher magnification. This covers most of the mechanics but at the heart of any optics, lies the glass. This leads me neatly onto…
---
Featuring a pure fluorite crystal objective
…that mighty 99mm objective. With a surface area this big, the potential for impressive light-gathering is probably the most obvious benefit. Dig a bit further, however, and what we have here is an 'XD' lens working in conjunction with a lens of pure fluorite crystal.
Fluorite crystal is the optimum material for minimising chromatic aberration (colour fringing) but it's not cheap and my understanding is that it's not particularly easy to work with either. Kowa has been using fluorite crystal for a while now but the 99mm scopes are the first to feature a pure fluorite crystal objective working in conjunction with a concave 'XD' lens.
XD is Kowa's way of designating premium optical glass. Other companies use terms such as ED, HD, VHD etc. but, effectively, these are all just different ways of describing what is pretty much the same thing.
---
Kowa once again exceeds the competition
What is significant here is that not content with just settling with a pure fluorite crystal objective, Kowa has decided to add an XD lens to the mix, too. This stands testament to the company's desire to produce an optic that doesn't just equal the performance of the competition but exceeds it.
The scopes also benefit from Kowa's 'KR' coating which helps repel moisture, dirt and dust. As you would expect at this level, the new models are fully waterproofed and nitrogen-purged - so no worries on that score.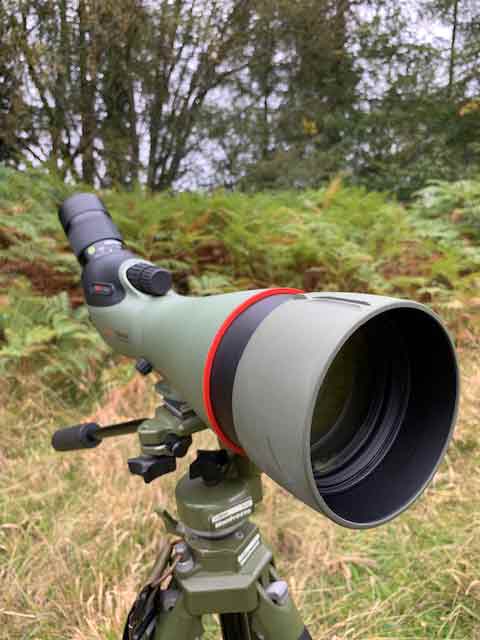 ---
Sporting a built-in filter thread with a difference
It's also worth mentioning that the new scopes sport a built-in filter thread. This is a nice feature as it allows a protective filter to be fitted - particularly useful in inclement weather and also provides some 'insurance' against accidental damage to premium glass.
At first glance this may not seem particularly noteworthy (as many spotting scopes have this feature) but, as with many aspects of the TSN-99 models, there's more to this than meets the eye. Both TSN-99A and TSN-99S accept a 105mm filter. 105mm is clearly somewhat larger than the diameter of the objective and there's a reason for this.
Many scopes accept a filter that matches the objective lens diameter. This is fine in principle but has the effect of reducing the effective diameter of the objective, thus also reducing the light-gathering potential accordingly.
By opting for a filter thread that is 6mm larger than the objective diameter, Kowa has ensured that, even with a protective filter in place, the full light-gathering potential of that mighty 99mm objective remains undiminished. For me, this is another sign of the amount of thought which has gone into the design process here.
---
Getting up close with the Zoom
As mentioned, I tested the scope with the TE11WZ zoom eyepiece. This has been around for a while now and is quite simply one of the very best zoom eyepieces on the market. It zooms from 25x up to 60x on the existing 77mm and 88mm scopes; when used in conjunction with the new 99mm models the increased focal length serves to bump this up to a powerful 30x - 70x.
Kowa informs me that there will soon be a Mark ll version of the TE11WZ available. My understanding is that this will involve no change in optics but will have different engravings to show the increased magnification when used in conjunction with the TSN-99A and TSN-99S. Whilst on the subject of eyepieces, Kowa does have something new on the eyepiece front…but more on that story later, as they say.
The TE-11WZ II is now available here>
---
Standing up to the iconic British weather
The loan period coincided with some fairly grim weather in these parts -which is great because this is just what you want when putting a new optic through its paces. Most scopes will perform pretty well in bright sunshine but premium optics start to show their true worth when conditions are dull, dank and dreich – which they certainly were whenever the opportunity to sally forth into the field presented itself.
So, two forays into a very gloomy but atmospheric Forest of Dean and one jaunt to a typically bleak and windswept Severn Estuary later here's my take on the TSN-99A.
---
Brilliant at balancing magnification
Right from the off, it was apparent that this is a premium optic. Kowa has worked really hard to ensure that light transmission is maximised all the way through the zoom range (I know this because I've seen the graphs) and it shows.
Whether it was picking out subtle colouration on waterfowl skulking deep in the shadows of waterside vegetation or resolving fine detail on distant waders under leaden skies and against typically dingy estuarine mud, the scope cut through the gloom with ease. I have to say that I really liked having 30x as a starting point as, for me, this is just about spot-on with regard to balancing magnification against a field of view.
---
Coming into its own at higher magnifications
Working my way up through the zoom range I noted a slight drop-off in light gathering approaching the 60x mark and then a bit more between 60x and 70x but, even at maximum zoom, the image remained very, very usable. I should also stress that light conditions on each occasion ranged from less-than-ideal to fairly grim so bright, sunny conditions could only enhance what is already outstanding optical performance.
At higher magnification the fine focus really came into its own, allowing very precise and smooth fine adjustments to give pin-sharp imaging. When you're working at 60x/70x this feature really is a Godsend and the mechanism itself is beautifully engineered to allow just the right amount of resistance.
---
Virtually eliminated chromatic aberration
Colour rendition under all conditions was very rich and true to life with no discernible colour cast that I could detect. I've found this in the past with the 88mm scopes so it's no surprise there, really.
The fluorite crystal/XD combination does an outstanding job in virtually eliminating chromatic aberration. I'm quite sensitive to colour-fringing and being able to view gulls against a dark background (for example) with no trace of those annoying coloured 'halos' is definitely a major boon in my book.
---
A storm with the digiscoping community
The combination of a huge objective and outstandingly clean optics would suggest that the new scopes are likely to go down a storm with the digiscoping community. Phone-scoping in particular has really taken off - which is understandable given that the vast majority of us now carry a smartphone as a matter of a course.
There are a number of generic, adjustable phone-scoping adapters on the market now so I couldn't resist deploying one of these and my trusty iPhone in combination with the TSN-99A. I should also add that the new TSN-99 Prominar models are 100% compatible with Kowa's own range of digiscoping accessories.
Personally, I tend towards recording short video grabs rather than stills when digiscoping. This is because I prefer to look back at the moving, breathing bird doing whatever it was doing when I saw it – a living record of what I saw, I suppose. My first two efforts with the big Kowa involved a drake Mallard and a Mistle Thrush and the results are shown below:
---
Impressed by the overall sharpness and detail
I think the big thing Kowa did really well here is the overall sharpness. The light wasn't great on either occasion (late in the afternoon on a dull day in October) and I was impressed by the overall sharpness and amount of detail, particularly with regard to both the background vegetation and the water in the foreground shown in the Mallard footage.
Both of these were captured with zoom eyepiece set to 30x and utilising the minimum amount of phone zoom in order to eliminate vignetting. I'd estimate the range as about 100 metres for the thrush and a tad less for the duck.
The Mistle Thrush decided to stay put for a while so I cranked the zoom up to 50x on the scope. Again, I was very pleased with the result, even picking up a couple of tiny gnats that 'photo bombed' while the footage was being recorded.
---
Get some killer results when digiscoping
From these preliminary results (involving very little practise) I would say that the TN-99A has to be a serious contender for anyone with an interest in digiscoping. I really didn't have to mess around too much with anything to get these results; in more skilled hands (and I know there are some very good digiscopers out there) I think some killer results should be possible.
---
Kowa is bringing back the fixed eyepiece
Before winding things up (and staying on the theme of digiscoping), I did say that Kowa has also announced something new with regard to eyepieces. At one time, fixed eyepieces were more numerous than their zoom equivalents. Over the last couple of decades zoom eyepieces have improved dramatically and this has seen a significant reduction in the number of fixed eyepieces on offer, to the extent that most manufacturers no longer produce them.
Personally, I love fixed eyepieces and am therefore very pleased to report that Kowa has added a new, fixed, wide-angle eyepiece to its range. Dubbed the TE-80XW and delivering 40x magnification with the TSN-99 scopes (35x when paired up with the 88mm and 77mm models) this sports an incredible 80-degree field of view.
Apart from promising a terrific viewing experience, the new eyepiece looks to be a digiscoper's dream. I was able to have a very brief test (again, thank you Kowa) and can confirm that the TE-80XW appears to eliminate vignetting completely when digiscoping with a smartphone. I hope to be able to report back on this in more detail in future so, in the meantime…watch this space!
---
Final thoughts on the TSN-99A
So there we have it – the Kowa Prominar TSN-99A. Kowa has clearly put considerable resources and a lot of thought into developing what is an outstanding product. The scope looks and feels beautifully made and both optical and mechanical performance are absolutely top-notch.
I've tried just about every scope out there at some point and this new offering takes some beating, believe me. Having access to interchangeable eyepieces and compatibility with the Kowa accessory range means that what we have here is also a very flexible optical tool.
Right at the start of this review, I alluded to Kowa's pedigree when it comes to producing quality spotting scopes. With the release of these new 99mm models, all that experience and know-how has very clearly come to the fore – and it shows!
The Kowa TSN-99A Prominar Spotting Scope is available here>
---
Thank you!
Thanks for taking the time to read our blog, we really do hope they help you out and answer some of your questions. If you still have some unanswered, then please feel free to get in touch with our team of experts.
We have a LiveChat option on our website and we can, of course, be contacted via our email, we're also on the end of the phone too! Read more on how to contact us here >
---
Want to write for us?
If you've got experience with producing content on photo, video and/or optics products or techniques then we would love to hear from you. Contact our blog editor, Fee, with a sample of your work at fee@cliftoncameras.co.uk.
By Martin Drew
23 Nov 2021