Panasonic Lumix S 24mm f/1.8 Hands-on Review

Recently, Panasonic announced the release of the brand new Lumix S 24mm f/1.8 prime lens for their L mount series of cameras and I was lucky enough to spend a day with it, walking around the city of Bristol to see what it could do. The Lumix S 24mm f/1.8 is the third addition to a series of four fast prime lenses for the L mount system, alongside the 85mm and 50mm respectively. Each of these lenses are designed with a very similar size, weight and centre of gravity, making it a dream for videographers that primarily shoot on a gimbal as it's easy to switch out lenses without the need for re-balancing the gimbal. I spent the day using the Lumix S 24mm attached to the Panasonic Lumix S1 body and greatly appreciated the small profile of the lens given the size and weight of the S1 body. The lens itself feels well built and has a simple design with the only switch on it being the AF-MF switch which is conveniently located on the left-hand side of the lens.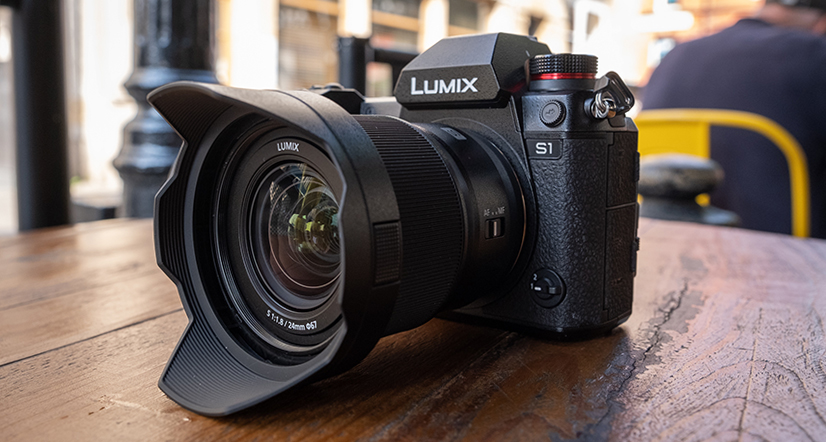 Who's this lens for?
A fast wide-angle prime like the Lumix S 24mm may appeal to a range of users and can be used for many different subjects from landscapes through to environmental portraiture and is also a great choice for videographers & vloggers due to its enhanced suppression of 'focus breathing' ñ the effect where the subject seems to change in size as it goes in and out of focus. During my photo walk around Bristol, I used the Lumix S 24mm to shoot some urban landscapes, architecture and even some portraiture and the lens produced some very nice results indeed.
Click on the images in this blog to see them in full resolution.
Image Quality & Performance
I was very pleased with the results I got using the Lumix S 24mm. The lens produced images packed with contrast, clarity and detail and it rendered colours very nicely. When shooting wide open at f/1.8 it produces beautiful creamy 'bokeh' and I was impressed with the lack of distortion when shooting vertical lines.
Autofocus is a contentious topic when it comes to Panasonic, however, I found the Lumix S 24mm to focus very quickly and silently whether I was shooting wide open or stopped down. There is a slight bit of vignetting when using the lens wide open at f/1.8 but this fades as you stop down towards f/5.6. It's easily corrected in post but if you're like me, you won't mind this as it helps draw the viewers eye into the frame.
Some initial reviews mentioned that the lens suffers from flare, however, I didn't notice this to be an issue, even when shooting into strongly backlit scenes. During the vlog test, the lens maintained focus on my face and I didn't notice any focus breathing or pulsing from me to the background, which is a good sign for users who may pick up this lens for videography or vlogging purposes.
Overall Thoughts
At this price point, the Lumix S 24mm f/1.8 is a great choice for those in the market for a fast apertured wide-angle prime for the L mount series. It's a much smaller and lighter package than the Sigma 24mm f/1.4 which is a similarly priced alternative. Image quality appears to be fantastic and it performed really well on the Lumix S1 body in terms of autofocus for both stills and video.
Its small profile combined with the fact it's splash and dustproof will appeal to photographers and videographers who shoot out on location and I can see it being a popular choice for filmmakers who also own the S 50mm & S 85mm lenses.
Buy the Panasonic Lumix S 24mm f/1.8 here >
---
Panasonic Lumix S 24mm F1.8 specifications
Construction: 12 elements in 11 groups (3 aspherical lenses, 1 UED lens, 3 ED lens)
Mount: L-Mount
Optical Image Stabilizer: No
Aperture Type: 9 diaphragm blades / Circular aperture diaphragm
Maximum Aperture: F1.8
Minimum Aperture: F16
Closest Focusing Distance: 0.24m/0.79ft
Maximum Magnification: 0.15x
Diagonal Angle of View: 84∞
Filter Size: 67mm
Max. Diameter: 73.6mm / 2.90inch
Overall Length: Approx. 82.0mm / 3.23inch
Weight: Approx. 310g / 0.68lb
---
Thank you!
Thanks for taking the time to read our blog, we really do hope they help you out and answer some of your questions. If you still have some unanswered, then please feel free to get in touch with our team of experts.
We have a LiveChat option on our website and we can, of course, be contacted via our email, we're also on the end of the phone too! Read more on how to contact us here >
---
Want to write for us?
If you've got experience with producing content on photo, video and/or optics products or techniques then we would love to hear from you. Contact our blog editor, Fee, with a sample of your work at fee@cliftoncameras.co.uk.
By Craig Pitts
16 Sep 2021