The Benro Wild 1 Carbon Fibre Birding Tripod Kit | Six Months Down The Line
Read time: 4 mins
---
Earlier this year I reported on my first impressions of the above tripod outfit. At that time I waxed lyrical about this smaragdine offering from Benro. I loved the lack of weight, the Arca-Swiss type plate, the leg warmers – ah, the leg warmers – but the acid test for any tripod (or indeed any accessory of this nature) is how it stands up to use in the field.
In the interest of science, public service and this blog post, the Wild 1 has been accompanying me into said field – quite a few fields, in fact, not to mention a few wooded areas and the odd coastal location.
So, how did the Wild 1 stack up? Were my initial impressions well founded or was my confidence misplaced? Did this three-legged wonder handle everything the Great British weather could throw at it or was it found wanting when the chips were down and the birding stakes were high? Read on to find out.
Second impressions also count
My first forays with the Wild 1 were into the wild and woolly Forest of Dean, primarily because (a) it's on my doorstep and (b) I happen to like it there. I'm happy to report that the Benro acquitted itself extremely well throughout these sorties. Whether scanning for raptors from a raised vantage point under decidedly breezy conditions, observing waterfowl on one the area's many ponds or enjoying scope-filling views of finches feeding on the woodland floor, my new support never let me down.
Sorties into the Welsh hills and along the shores of the Solway Firth in Scotland served only to further reinforce my initial impression that Benro has really hit the bullseye with this one.
Tripod/head combo best bits
Which is all well and good, of course, but what is it about this tripod/head combination I like so much? The flippant answer would be along the lines of 'well, it's green and its got leg warmers and stuff' but a more useful response would be as follows:
The whole outfit is really light and compact; much lighter than my trusty aluminium Manfrotto rig and easy to carry up hill and down dale even with scope attached. I know this because I have in fact lugged the whole caboodle up some hills and down what would, in some parts of the country at least, be known as dales.
For me, the BWH4 head, complete with Arca-Swiss type plate is a real winner. Used in conjunction with my 62mm scope, I found that I was able to set pan and tilt resistance to just the right level: enough resistance to hold the scope at a jaunty angle when fixed on an elevated target whilst still retaining enough fluidity to allow fast, smooth movement if said target suddenly decides to take flight and go gliding across a Welsh hillside at a rapid rate of knots.
First experience with an Arca-Swiss
Before taking delivery of the Wild 1, I'd never used an Arca-Swiss system and I have to say that I love it. For me, the beauty of the thing is in its simplicity: drop the plate, in, tighten the single locking knob and you're done. No messing about with slightly temperamental spring-loaded levers and the like - simples!
Steady, sturdy and safe
Carbon fibre is noted for its rigidity although this varies depending on the quality of the carbon fibre tubes used. I can only assume that those used by Benro are not lacking in the quality department as the whole setup remained extremely stable even when the conditions became a tad blustery.
Whether scanning for raptors from an exposed vantage point in Gloucestershire or scoping sea duck bobbing like corks in decidedly choppy waters off the Scottish coast, my setup remained reassuringly steady throughout. Each tripod leg can be adjusted independently to one of three positions, allowing for low-level positioning if required. I didn't need to deploy in this manner at any point but good to know that it's there if required.
And it's green. And its got leg warmers.
So, those are the positives. But what about the negatives? In order to present a balanced picture, there must be negatives – right?!
The minor bad with all the good
Well, in all honesty, I'm struggling to come up with anything bad to say about this Benro tripod outfit. I use it exclusively with a 62mm scope which is used primarily for observation. I'm 5' 9" tall and, am using the tripod with centre column fully retracted in order to give maximum stability.
For anyone who is planning to use the kit extensively for digiscoping or who is taller, it might be worth looking at one of the Wild 2 models. These are available in both aluminium and carbon fibre form - and share many of the features of the Wild 1 - but are slightly heavier and taller.
I should also mention that Benro also produces an aluminium version of the Wild 1. This is slightly heavier (by just over 200g) than its carbon fibre cousin but shares the same dimensions and comes in at a killer price. Just bear in mind that aluminium will be slightly colder to the touch on a chilly winter's day!
First six months in summary
Any other negative comments I could come up with would be a mere bagatelle when a product is this good. In summary, this is a cracking tripod/head combo which does exactly what it says on the tin. Over the last six months it has definitely become an essential part of my birding kit and, to anyone looking for a new support for their trusty scope, I would thoroughly recommend 'going green'.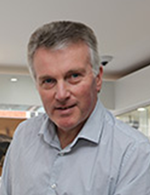 Martin Drew
By Martin Drew
14 Aug 2019