The New SIGMA 24-70mm F2.8 DG DN Art Lens
Read time: 3:30 mins
We've been waiting for the next Art zoom lens in the Sigma line up and it's now finally here. This Autumn we welcome the announcement of the Sigma 24-70mm F2.8 DG DN Art lens for full frame mirrorless cameras. In this instance specifically for the Sony E-Mount and the L-Mount alliance which includes the brand spanking new Sigma fp.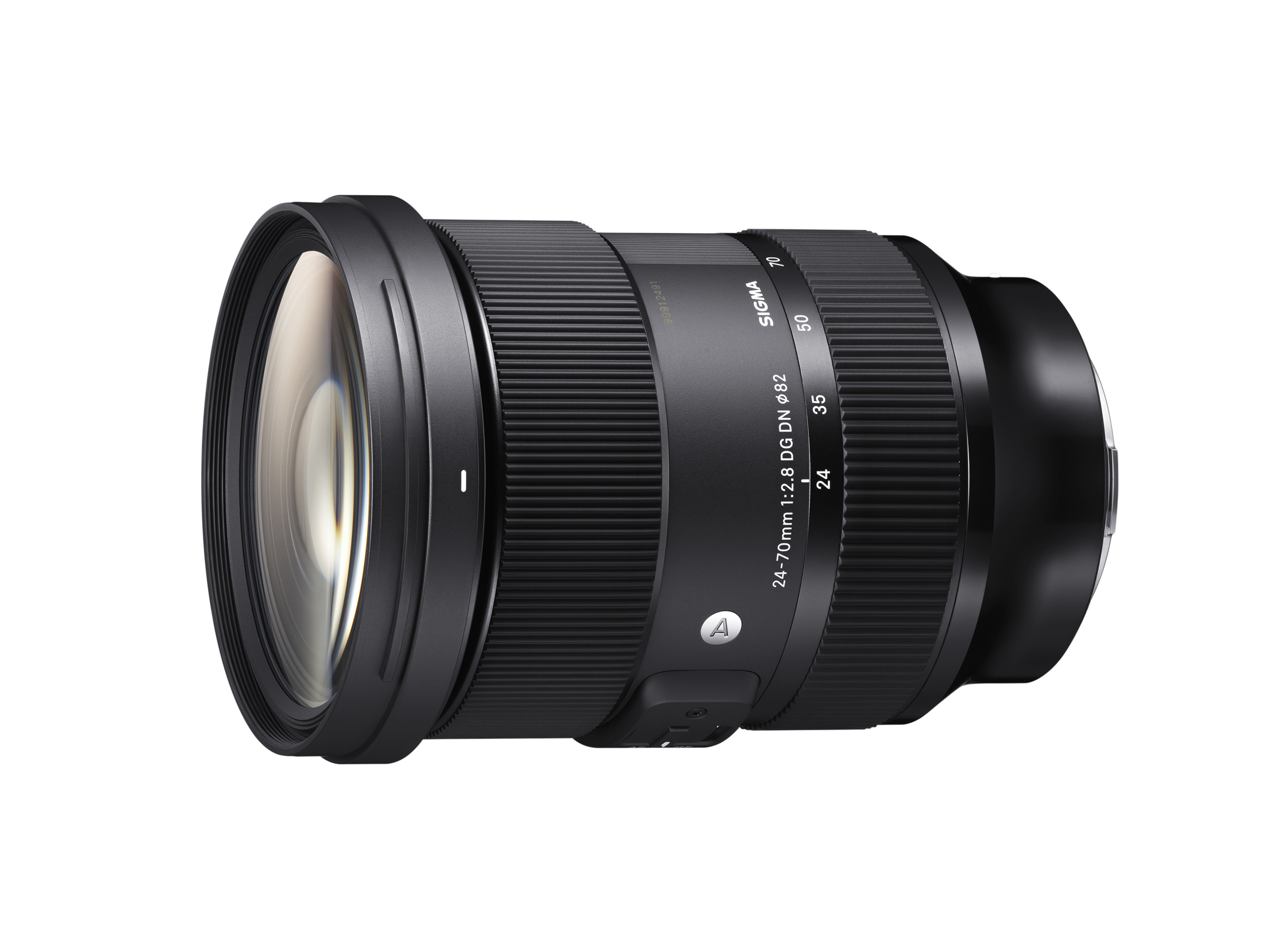 What do we know?
We know that this is going to be another top quality professional lens that has the majority of its parts designed, developed and lovingly manufactured in Japan. We know that the Art series of lenses deliver high level ARTistic (sorry) quality and are Sigma's premium offering to the photography and videography market.
Their self acclaimed "best in class optical performance" has us champing at the bit to try one out and we've been told we will get the opportunity to get one ahead of the UK launch. So we'll be sure to bring you samples images and our real world review as soon as is humanly possible.
What don't we know?
How much of your hard earned cash are you likely to be handing over. Sigma are yet to release the pricing on their latest addition so we can only surmise that it's going to come in at a competitive number to the Sony made 24-70mm F2.8 GM that retails at £1,799.00 and the Panasonic Lumix 24-70mm f2.8 S Pro Lens at £2,249.00. What we can promise is that as soon as we have the information, we'll update you.
Why is this such a hot topic?
The 24-70mm zoom range is hugely popular amongst professional and enthusiast photographers. For the enthusiast it offers a one and done lens that can be taken out for most scenarios. From family gatherings to mini adventures, the 24-70mm allows you to capture almost all of the wide angles you need whilst offering the ability to zoom in a tad closer. So that's the landscapes sorted with the capability of some potential portraits and street photography covered.
For the seasoned pro, the fast F2.8 constant aperture provides exceptionally fast shooting and superb image quality at all focal lengths. In photography circles, talking about weight is never a taboo subject. When you've got a bag full top quality glass and a camera body or two then you can never underestimate how important it is to be saving a few grams here and there. The Sigma 24-70mm F2.8 DG DN Art lens comes in at 835g (L-Mount version) which is lighter than it's Sony competitor. It's also measured at 122.9mm in length which is shorter than the Panasonic Lumix 24-70mm f2.8 S Pro Lens at 140mm.
Let's talk tech
Sigma have designed this lens to be less affected by strong incident light such as flare. They've managed to achieve this by not one but two coatings, in addition to Super Multi-Layer Coating, Nano Porous Coating is employed.
Focus on focusing
At the wide-angle end the minimum focusing distance is 18cm. This allows you to get even closer to your subject. The maximum magnifications are 1:2.9 at the wide-angle end and 1:4.5 at the telephoto end.
The AFL button can be reprogrammed and assigned from the camera body which will only further enhance the photographers experience with this lens. The AF drive encompases a stepping motor and the latest algorithm that successfully establishes a good balance between quietness and acceleration. This gives stress-free focusing, which is a bonus to enthusiasts and professionals.
Real world proof
We all look after our glass but we also all push them to their limits at times. Sigma's dust and splash proof structure gives you slightly more peace of mind when you're out in the real world, doing real world photography things.
The lens also has a zoom lock mechanism that prevents the lens barrel from accidentally extending. From studying the images sent to us, we can also see that the AF/MF switch is embedded on the lens which should only add to the premium and professional build quality of this lens.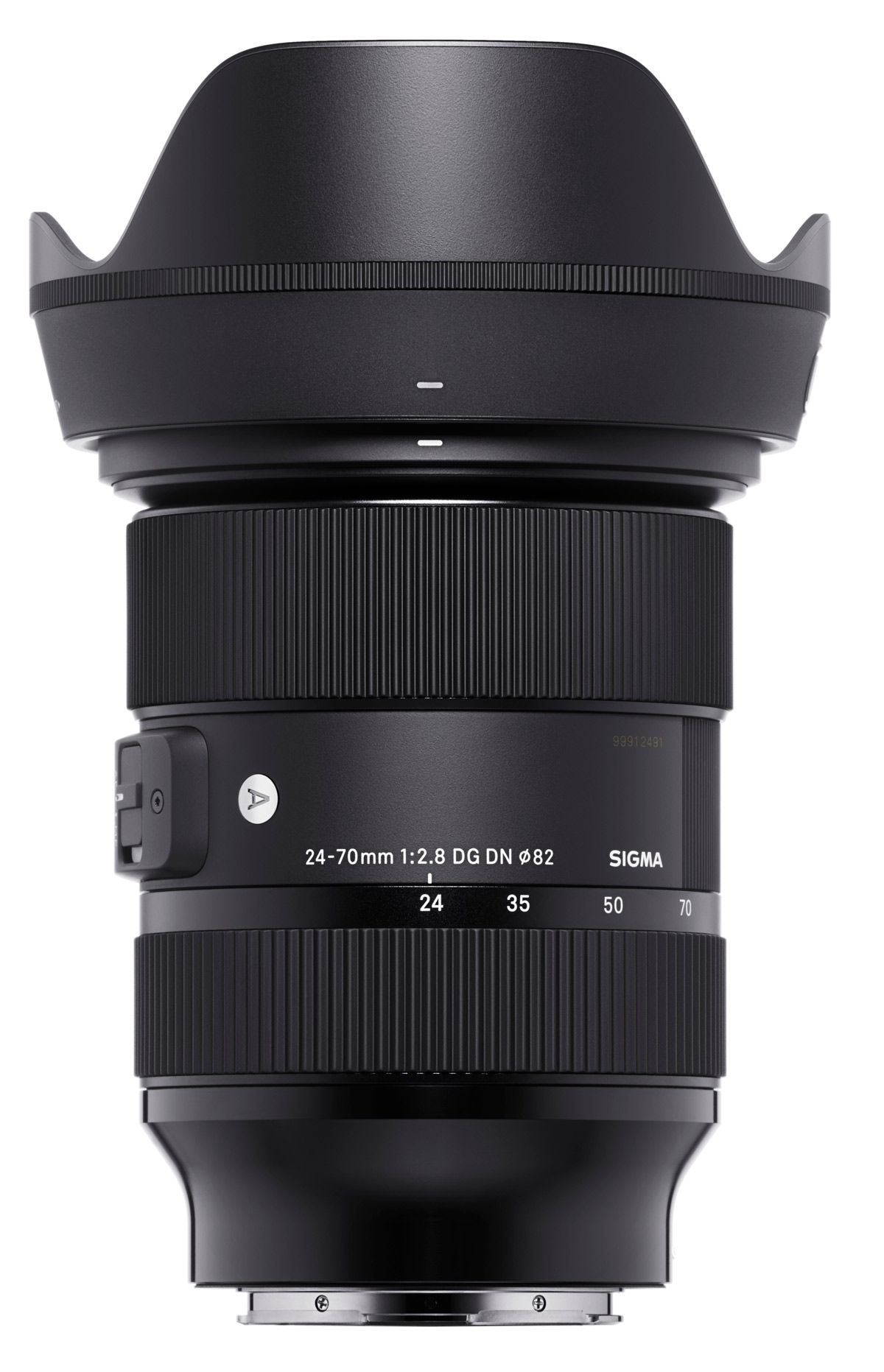 Spec Overview (based on the L-Mount version)
Lens construction: 15 groups, 19 elements
Angle of view: 84.1–34.3°
Number of diaphragm blades: 11 (Rounded diaphragm)
Minimum aperture: F22
Minimum focusing distance: 18–38cm
Maximum magnification ratio: Wide 1:2.9-Tele 1:4.5
Filter size: φ82mm
Dimensions (diameter x length): φ87.8mm × 122.9mm / φ3.5in. × 4.8in.
Weight: 835g / 29.5oz.
When can you get your hands on one?
For those mirrorless Sony, Panasonic, Sigma and Leica users that are looking for that top end versatile lens then you don't have much longer to wait. We understand that they'll be available to purchase in the UK in early 2020.
Sony E-Mount and the L-Mount Alliance
The second DG DN Art zoom lens from Sigma, with the first being the popular 14-24mm F2.8 DG DN Art zoom lens dedicated for mirrorless cameras.
What's next?
Make sure you keep an eye on our mailers and our social media to hear the latest information as soon as we do. Make sure you follow us on Facebook, Instagram and Twitter to keep up to date with more new launches, promotions, competitions and general photography news.
By Fiona Chandler
6 Nov 2019