Zeiss DTI Thermal Range Comparison
Birdwatching is more than just a hobby; it's a way to connect with nature, appreciate the beauty of our surroundings, and learn about the diverse range of bird species. In today's increasingly fast-paced world, birdwatching offers a welcome moment of respite and tranquillity. But with so many birds in the skies and tucked away in the branches, how can you ensure you're getting the most out of your time spent with our feathered friends?
Embrace the great outdoors and step up your birdwatching game with Zeiss DTI Thermal Imaging Cameras and explore how these innovative devices can help you see beyond your regular binoculars.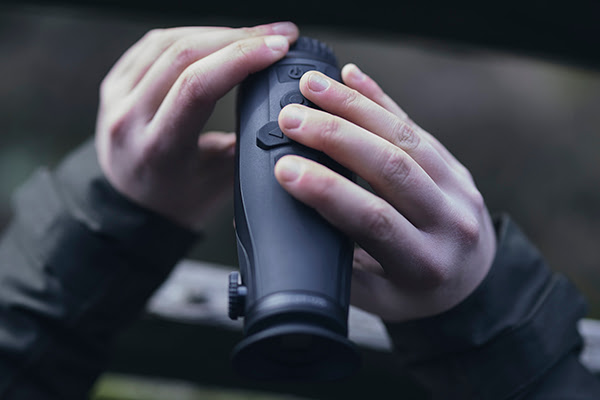 Zeiss Thermal Imaging Cameras are built for fast detection and longer observation. These cameras can be used during daylight as well as at dawn and dusk or at night, to get a closer look at whatever wildlife you're seeking. The image is internally processed to ensure the highest quality, optimising sharpness, clarity and contrast, along with several colour viewing modes, such as the "Hot Tracking" mode, to make finding and tracking the movement of heat sources easy, even in densely vegetated areas or difficult lighting conditions.
Advanced features such as Contrast Enhancement allow for easy viewing even in foggy and high-humidity conditions, while impressively long battery life and a design that minimises eye strain ensure you get to view and capture detailed images of animals out in the wild, no matter how long your stake-out lasts.
---
Applications of DTI
Detecting birds in low-light environments: Zeiss's thermal imaging cameras make it easy to spot birds even in the twilight hours, when traditional binoculars and scopes may fall short.
Pinpointing elusive species: With their outstanding detection range, these cameras uncover hidden birds that might be quietly resting in foliage or otherwise obscured from view.
Observing natural behaviours without disturbing birds: Thermal imaging allows you to discreetly watch birds without fear of scaring them or disrupting their natural routines.
Monitoring nesting sites: Using a thermal imaging camera can help you uncover nesting sites and observe the behaviours of birds raising their young.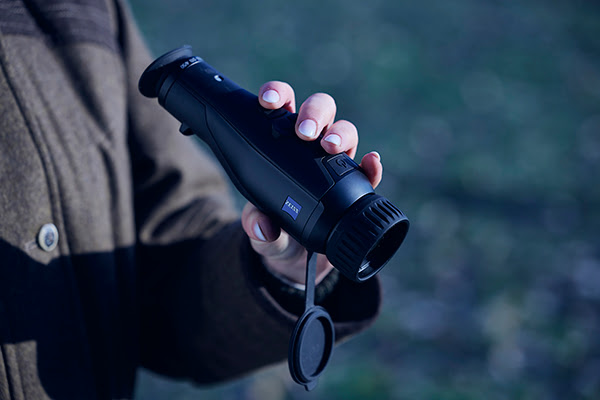 Quality thermal imaging is ideal for nighttime observation, where you can observe nocturnal birds, monitor migration patterns, and detect roosting birds. For daytime observation, the Zeiss DTI thermal imaging cameras offer the ability to identify and observe birds in open areas, bushes and forests, even when camouflaged. As well as exploring tropical regions' rich biodiversity for research, tracking, and more. A high frame rate and fast detection of heat ensure you don't miss a thing.
This range is also designed to work with the ZEISS Hunting app via your smartphone for the seamless transfer of data, so all your images and video are instantly ready to share!
---
Focusing ranges
These DTI thermal imaging cameras come with differing optical magnifications, fields of view, and ranges due to the difference in their objective lenses. The field of view becomes crucial in rural areas where a longer focal length is highly beneficial, allowing effective observation over greater distances. However, a lens with a shorter focal length will be required when observing in overgrown and forested areas because it gives you more space to see through them.
For more versatility, the DTI 6 range allows you to swap out the lens to fit your current situation. The ZEISS DTI 6 ZB 20mm Lens and ZEISS DTI 6 ZB 40mm Lens can be purchased separately.
---
Zeiss DTI Thermal Imaging Camera Comparison
DTI 1

DTI 3 GEN 2

DTI 4

DTI 6

Field of view (at 100m)

24m / 18m

26m / 19

22m / 15m

38m / 19m

Detail Recognition

ZSIP

*

ZSIP

**

ZSIP

***

ZSIP Pro

*****

Optical Magnification

2.5x / 1.8x

2.9x / 2.0x

3.0x / 1.5x

2.5x / 1.8x

Sensor

384 x 288px

12µm

384 x 288px

17µm

640 x 512px

12µm

640 x 480px

12µm

Power Management

6.5h (fixed)

8.0h (fixed)

7.0h (fixed)

6.5h (replaceable)

Observation modes

Universal, Detection

Universal, Detection,
Fog

Universal, Detection,
Fog

Universal, Detection,
Fog, Identification

Additional features

Picture-in-Picture,
Hot tracking

Picture-in-Picture,
Hot tracking,
Movement Alert

Picture-in-Picture,
Hot tracking,
Movement Alert

Bino-style eyepiece,
optimized menu
---
DTI 1
Compact and lightweight, this pocket-sized thermal imaging camera exhibits the key features of the DTI range in a smaller frame. Even when seeking out a lighter approach to birding, this camera offers a 6.5-hour battery life, universal and detection viewing modes, and the standard 8 colour modes, making it more than a match for most avid birders.
The Zeiss DTI 1/19 and Zeiss DTI 1/25 are great as grab-and-go thermal cameras for viewing wildlife concealed amongst the treeline and in densely overgrown areas. Plus, while the benefits of daytime use might not be immediately apparent, thermal detection can be extremely useful for picking up anything hidden in cover that you might otherwise miss.
---
DTI 3 Gen 2
Ideal for beginners or those looking to start their journey into thermal imaging birdwatching, the DTI 3/25 offers an impressive range and ergonomic design that make it easy to detect birds at both short and long distances.
Offering a longer viewing range of ~930m and 8 colour modes, the Zeiss DTI 3/25 G2 and Zeiss DTI 3/35 G2 surpass their respective predecessors as ideal all-rounder thermal imaging cameras. With an ergonomic design, high-resolution AMOLED display, and additional features including movement alert, they are a specialized solution that excels in any condition.
Also, many essential functions can now be accessed without opening the menu. This is due to the inclusion of shortcuts on the DTI 3 GEN 2 and DTI 4. With just a few clicks, you can switch between different modes, taking pictures and videos with ease thanks to intuitively preprogrammed button combinations.
A fog detection mode is available from the DTI 3 GEN 2 and onwards in the range, which maximizes contrast to see as much detail as possible, even in fog or high humidity.
---
DTI 4
While many of the features of the Zeiss DTI 4/35 and Zeiss DTI 4/50 are identical to the DTI 3 GEN 2 models, the viewing ranges available and comparative optical magnification are larger, perfect for observation over large plains.
The new 640x512 sensor offers a higher image resolution for better image quality on all zoom levels. This higher quality leads to less pixelation whilst zooming in, providing improved detail recognition at longer distances.
The DTI 4 also has a NETD Value of below 25 MK versus the rest of the range at sub 35 MK, this means that it is slightly more sensitive and can pick up small heat signatures.
---
DTI 6
Catered to the professional, the DTI 6 has extra features to the other models in the range, promoting individual colour modes, an optimised menu, and an identification observation mode.
The Zeiss DTI 6/20 offers viewing opportunities that are especially suitable for use in wooded areas. The wide field of view (38 metres @100m) alongside the outstanding Zeiss optics provides the perfect view, especially over short distances.
On the other hand, the Zeiss DTI 6/40 is particularly suitable for use in the open field. The unique optical design ensures precise views and excellent detail at distances of more than 2 km. This provides a considerable advantage over long distances.
On the DTI 6 a Scroll Wheel, in combination with the DynamicZoom concept, work together to grasp clear and discernible images. With the addition of interchangeable lenses, the DTI 6 is truly a reliable and versatile thermal imaging camera.
The identification mode, where crucial recognition features are amplified, displays the surrounding environment in less detail, providing a high level of contrast that highlights a subject's key identifiers. Perfect for determining and differentiating bird species in poor visibility.
---
Which Zeiss Thermal Camera is for me?
For those wishing to enter into the world of thermal imaging cameras options like the DTI 1 and DTI 3 GEN 2 are great all-purpose additions to your birding and nature trekking kit. Devices such as the DTI 4 and DTI 6 however, are designed for those that require more detailed and long-lasting observation sessions. With multiple options and the DTI 6 offering interchangeable lenses, these higher-end models grant you the versatility and adaptability for viewing over varying distances, in open fields and wooded areas alike.
See the new additions to the range here >
---
Read next
---
Thank you!
Thanks for taking the time to read our blog, we really do hope they help you out and answer some of your questions. If you still have some unanswered, then please feel free to get in touch with our team of experts.
We have a LiveChat option on our website and we can, of course, be contacted via our email, we're also on the end of the phone too! Read more on how to contact us here >
---
Want to write for us?
If you've got experience with producing content on photo, video and/or optics products or techniques then we would love to hear from you. Contact our blog editor, Bea, with a sample of your work at bea@cliftoncameras.co.uk.
By James Spires
4 Aug 2023