Why buy the Ricoh WG-60 Compact Camera?

Built and designed for harsh conditions, the Ricoh WG-60 is the perfect compact action camera for an adventure in water or on dry land. The rugged shell and chassis have been tested to survive drops up to 1.6m, the camera is also waterproof up to 14m.
---
Ricoh WG-60 Compact Camera Key Features
---
Is the Ricoh WG-60 good for stills photography?
The Ricoh WG-60 has 5X Optical Zoom, starting at 28mm (effective 35mm) - plus a back-illuminated CMOS sensor, and an effective 16MP resolution. You can capture diverse and stunning images on your adventure using this tough, compact camera.
Does the Ricoh WG-60 capture video?
The WG-60 will capture video in stunning 1080p full HD at 30fps. It also boasts a High-Speed Mode, a helpful feature which can be used to capture slow-motion footage. Ricoh also offers SR mode on this camera which provides shake-reduction and smooths out your footage which can be used in movie mode, as well as the camera's optimised underwater mode.
Is the WG-60 good for Scuba Diving and Snorkelling?
The WG-60 is great for most water sports, especially diving and snorkelling. Rated as waterproof for up to 14mtrs, the camera has an underwater mode which adjusts White Balance to give natural tones to your images in underwater lighting conditions.
Regular Program Mode

Underwater Mode
Does the Ricoh WG-60 have a flash?
An intelligent flash mode will set the camera to take 2 exposures with & without flash each time the shutter button is pressed. This saves time in adventurous conditions and is great for divers.

Ricoh WG-60 Presets and Modes
Boasting 25 scene modes, the WG-60 allows you to easily calibrate its settings for capturing your best work while maintaining the spirit of adventure.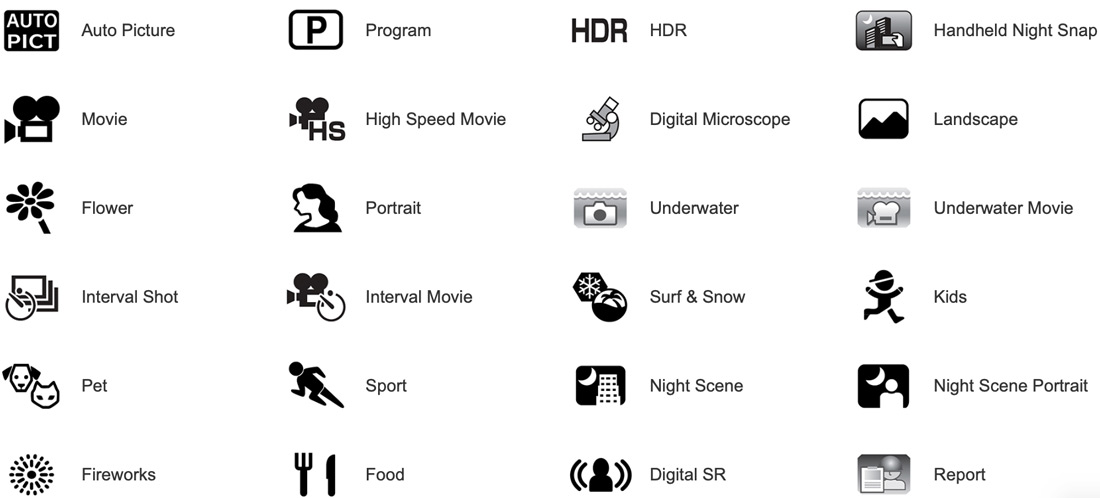 Download Ricoh WG-60 Full Specifications Here
Find related accessories to the Ricoh WG-60 - Black here. The discount highlighted will be received if you add the items as part of a bundle. Keep an eye out for exclusive deals on photographic equipment and accessories here!
Hahnel 5 in 1 Cleaning Kit
Normal Price £9.00
Sigma Microfibre Cleaning Cloth
Normal Price £6.99