Easily spread the payments with our range of finance solutions.
Choose the finance package that suits you best.
Apply from our checkout
Easy online application
Instant Decision
We process your order

Buy Now - Pay Nothing for 6 Months, means buy now and pay in full before 2/12/2020 (approx.) plus a £45.00 settlement fee and you will be charged absolutely no interest. You will be contacted by V12 Finance before the interest free period ends to explain your options. If you have not paid this sum in full by that date, interest of 19.9% APR representative will be charged from the date we told you your agreement was live. If you have made any partial repayments prior to this, interest will be charged only on the amount of credit that remains unpaid.
Price of Goods: £299.00
Summary
Pay 0% Deposit
Loan Amount £299.00
Total Payable on 2/12/2020 - £299.00 + £45.00 settlement fee
Cost of loan if paid by 2/12/2020 = £0.00
Finance is subject to status. Terms and conditions apply.
Sony FDR-X1000V 4K Action Camera
Amazing action, astounding 4K
Your adventures are just as thrilling on screen as in real life, thanks to the FDR-X1000V Action Cam's beautiful 4K image quality, better blur reduction, and more.
Bring great to the great outdoors

Enjoy Action Cam's 4K quality and other advanced features.

Sony's latest addition to its Action Cam line-up FDR-X1000V combines all the features experienced users have been waiting for. 4K picture quality is equal to that of current Hollywood blockbusters, the professional-grade XAVC S codec ensures beautiful footage with high bitrate recording, and handy features like the Highlight Movie Maker help you turn your shots into a mesmerizing masterpiece.

Ready? Action!

Shoot in 4K quality and capture dynamic yet subtle details with the high 4K 100Mbps. The FDR-X1000V Action Cam is sure to become your go-to companion for adventure.

True-to-life resolution

Capture active scenes with high-precision. The sensor reads out image data from every pixel which frees the video from aliasing, moire and false color artifacts.

Slow is stunning

Supports high-frame-rate Full HD/120p and HD/240p to record fast action for amazing slo-mo footage.

Exmor R™ CMOS sensor

Cutting-edge sensor packs in more pixels for low-noise shooting in dark settings, using only incident light.

BIONZ X™ processor

Blazing upto 100Mbps/4K, 50Mbps/Full HD recording for fast action and smooth motion.

170° ultra-wide ZEISS Tessar® lens

Panoramic 170° viewing angle is the perfect way to capture expansive landscape and dynamic aerial image.

SteadyShot gets even steadier

Boost your image stabilization by almost 3 times

Shoot everything from motocross to aerial landscapes with the SteadyShot feature. It's especially effective against low amplitude vibration—such as that caused by radio-controlled helicopters.

Wind Noise Reduction

Record clear and real sound with Sony's built-in stereo mic and wind noise reduction.
Make your movies as exciting as your stunts
Action Cam comes loaded with features such as Live Streaming, burst shooting, and more that let you capture the amazing footage that makes your movies stand out.
Movie footage? Perfect still? Your choice.

Interval Still Recording expands your options

Select shooting intervals of 1, 2, 5, 10, 30, or 60 seconds, and capture the motion of active subjects not only as movie footage but also as still images.

Enchant your audience now

Live Streaming, no waiting

Nothing's more exciting then watching the action as it happens…especially if you or family and friends are quite distant. Wi-Fi and the USTREAM site let you instantly share the fun.

Freeze time

Burst shooting lets you pick the defining moment

Shoot top-quality images and still enjoy the flexibility to choose the exact spin, twist, or expression you prefer. Settings are 10fps/1sec, 5fps/2sec, and 2fps/5sec.

Heart-stopping stop action

Motion Shot LE delivers the perfect moment

Now you can capture the path of a moving object—all in one striking image. Settings range from 10fps/1sec to 2fps/5sec so you can get a great shot no matter the subject's speed.

Your shots, your way

Have a say in how your Action Cam shoots with full control of the manual settings.(WB and AE shift)

Get the shot, every time

Never run out of space again with Loop Recording; variable intervals allowed.

Full command with Live-View Remote

RM-LVR2 lets you make use of on-site playback and footage checking, and delete unnecessary footage to optimise recording capacity.

Multi Camera Control

Use up to five cameras to get exciting ground-up or head-down shots. And control them all effortlessly with the optional Live-view wrist remote and smartphone with PlayMemories Mobile ™ app.
Start crafting your masterpiece
OK, you've shot some incredible footage. Now it's time to meld it all into an unforgettable movie that will please you and astound family and friends. Use the tools outlined below.
More fun. More glory. Less work.

Let Highlight Movie Maker assemble a share-ready clip

Forget troublesome editing, or finding good stuff within long footage. Highlight Movie Maker takes care of all that with a "best of the best" clip that's ready to share on social media.
Mobile app lets you prove yourself

Now Action Cam App makes everything easy

You can enjoy editing your footage even right after shooting with your Action Cam anytime, anywhere.
Move effortlessly from Director to Editor

Action Cam Movie Creator makes expert editing stress-free

Loaded with features like background music selection, GPS data overlay, movie rotation, video merge, and slow/fast-forward editing, you're going to find the Editor's chair very comfortable.For Windows/Mac.
Tough camera, easy choice
For shooting as unlimited as your imagination
The FDR-X1000V is ready to go everywhere. Its IPX4-class splashproof design shrugs off wet weather like fog and drizzle. For challenging shoots, the included waterproof case is good down to 10m while the optional dive door accessory will handle an amazing 60m. And of course it's heat, dust, and sand resistant. So plan you next adventure with no limits.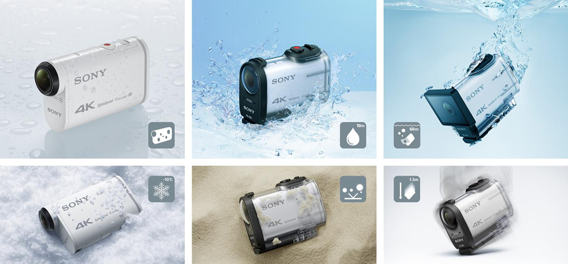 SPECIFICATIONS
Sony's FDR-X1000V Action Cam's combines all the features experienced users have been waiting for. 4K picture quality is equal to that of current Hollywood blockbusters, enhanced SteadyShot stabilization makes getting great shots easier, and handy features like the Highlight Movie Maker help you turn all that footage into a mesmerizing masterpiece.
Advanced Features

Image Stabilization : Electronic SteadyShot™ image stabilization w/ Active mode
Dustproof : Yes (In use with Waterproof Case (SPK-X1))
Wi-Fi : Yes
Interval Recording : Yes (photo) (1s/2s/5s/10s/30s/60s)
Waterproof : Yes (In use with Waterproof Case (SPK-X1))
Airplane Mode : Yes
Power Save : Yes
Shockproof : Yes (In use with Waterproof Case (SPK-X1))
Embedded GPS : Yes
Highlight Movie Maker : Yes
Time Code : Yes (XAVC S only)
Loop Recording : Yes

Camera

Camera Type : Digital 4K Video Camera Recorder
Auto Non Flicker : Yes
Gain Control : Auto

Color : White

Convenience Features

Date / Time Stamp : Yes
Multiple Language Display : English French Brazilian Portugese Turkish
Media/Battery Indicator : Yes (recordable time) / Yes (remaining capacity)
On Screen Main Indicators : Recording Mode; Image stabilization; GPS Tracking Status; Shooting Mode Status
Image Management File Repair : Yes (AUTO)
Video Playback Options : Highlight Movie Maker
Remote Control : Yes (REC S/S, and TC Reset only)
Fast Playback : About 5 times/10 times

Display Panel

Drive System

Shutter Speeds : Auto Control Range: 1/30 - 1/10,000 (30fps)
Self-timer : Yes
Drive Mode : Single Shooting / Burst Shooting / Motion Shot LE

Exposure System

Exposure Compensation : AE Shift
Minimum Illumination : 6 lux (1/30 Shutter Speed)
Exposure Settings : Auto
Scene Mode(s) : Auto/Underwater
Metering Modes : Multi-segment
Backlight Compensation : Yes (Auto)
Noise Reduction : Yes
White Balance Mode : Auto / Color Temp / Custom

Imaging Sensor

Processor : BIONZ® X image processor
Pixel Gross : Approx.12.8 MP
Color Filter System : RGB primary color filters
Effective Picture Resolution : Movie: Approx.8.8 MP(16:9) Still: Approx.8.8 MP(16:9)
Imaging Sensor : 1/2.3" (7.81mm) back-illuminated Exmor® R CMOS Sensor

Imaging Sensor(details)

Recording pixels (photo, 16:9) : Approx.8.8 Megapixels

Interface

NFC : Yes (NFC forum Type 3 Tag compatible)
HDMI Terminal : Yes (HDMI micro)
Memory Card Slot : Memory Stick Micro™ and Micro SD/SDHC/SDXC compatible
HD Output : HDMI Out(micro)(sold separately)
Wi-Fi (Opt. Acc) : Yes (NFC forum Type 3 Tag compatible)
USB Port(s) : micro-B/USB2.0 Hi-speed (mass-storage)
Wi-Fi : Yes (IEEE 802.11b/g/n(2.4GHz band))
Multi/Micro USB Terminal : Yes
BRAVIA® Sync™ : Yes
SD Output : Composite Video Out(AV CABLE VMC-15MR2(sold separately))
Microphone Input : Stereo Minijack

Optics/Lens

Lens Stabilization : Advanced SteadyShot(TM) Image Stabilization
Minimum Focus Distance : Approx. 19 3/4inch (Approx. 50cm)
Lens Type : ZEISS Tessar
Focal Distance : f=2.8mm, f=1/9inch
Steady Shot Mode:Active : 21.8mm
Aperture : F2.8
Focal Length (35mm equivalent) : Movie: f=17.1mm(170°), f=21.8mm(120°) Photo: f=17.1mm(170°), f=21.8mm(120°) Interval Photo Recording: f=17.1mm(170°), f=21.8mm(120°)
Angle of View : 170° (without SteadyShot), 120° (with SteadyShot)

Power

Power Requirements : 3.6V (battery pack)
Battery Type : NP-BX1
Power Consumption (in Operation) : Approx.2.0W
Charge on camcorder (Charging time with supplied Battery) : Yes (approx. 4h 05min)

Recording

Progressive Mode : Yes
Video Signal : UHDTV, HDTV, NTSC color, EIA standards, PAL color, CCIR standards
Microphone/Speaker : Built-in Microphone, Monaural Speaker
Video Resolution : MP4 PS:1920x1080 60p/50p, HQ:1920x1080 30p/25p, STD:1280x720 30p/25p, HS120(HS100):1280x720 120p/100p HS240(HS200):800x480 240p/200p XAVC S 4K 30p: 3840x2160 30p/25p 24p: 3840x2160 24p XAVC S HD 120p:1920x1080 120p/100p 240p:1280x720 240p/200p 60p:1920x1080 60p/50p 30p:1920x1080 30p/25p 24p:1920x1080 24p
Audio Format : MP4/MPEG-4 AAC-LC 2ch XAVC S/LPCM 2ch
Video Format : MP4: MPEG-4 AVC/H.264 XAVC S format: MPEG-4 AVC/H.264
Still Image Mode : JPEG
Still Image File Format : DCF Ver.2.0 compatible, Exif Ver.2.3 compatible, MPF Baseline compatible
Media Type : Memory Stick Micro™ (Mark 2), Micro SD/SDHC/SDXC Memory Card (Class 4 or Higher), XAVC S (50Mbps) Micro SDXC Memory Card (Class10 or Higher), XAVC S (60Mbps) Micro SDXC Memory Card (Class10 or Higher), XAVC S (100Mbps) Micro SDXC Memory Card (UHS-I U3 or Higher)
Still Image Max Effective Resolution : Approx.8.8 Megapixels
Still Image Size(Photo Mode) : PHOTO Mode Approx.8.8 MP 16:9 (3952x2224); Interval Photo Recording Mode Approx.2.1 MP 16:9 (1920x1080); Motion Shot LE Photo Recording Mode Approx.2.2 MP 16:9 (1984x1120)
Wind Noise Reduction : Yes (Off / On)
Video Actual (Pixel) : Approx.8.8 MP

USB Charging(details)

USB Charging : DC 5 V 500 mA/800 mA

USB Power Supply

USB Power Supply : Yes (1.5A or more is recommended)

Weights and Measurements

Weight (Approx.) (Total) : Approx. 4.0oz (Approx. 114g) (NP-BX1(supplied battery))
Dimensions (Approx.) : Approx.31/32inch x 2 1/8inch x 3 1/2inch (Approx.24.4mm x 51.7mm x 88.9mm)
Weight (Approx.) : Approx. 3.1oz (Approx. 89g)