Official Billingham Stockist - 12 Month Warranty
WE ARE HAPPY TO OFFER ADVICE OR ANSWER YOUR QUESTIONS. PLEASE RING ON 01453 548128THESE ARE OFFICIAL UK STOCK, AND COME WITH ALL THE UK ACCESSORIES. AS WE ARE CAMERA SPECIALISTS YOU CAN BE SURE OF EXCELLENT CUSTOMER SERVICE AND FREE TECHNICAL HELP.HAVE YOU SEEN A BETTER UK DEAL?DO YOU WANT A DIFFERENT BUNDLE?IF YOU HAVE PLEASE RING US ON 01453 548128, WE WILL TRY OUR HARDEST TO COMPETE WITH ANY UK SUPPLIER, A HUMAN BEING AT THE END OF THE PHONE GUARANTEED !!
---

Superflex Inserts
Superflexes are used to seperate equipment inside your Billingham Bag. Superflex partitions are 150mm (6 inches) long but vary in width and height according to their number. The dividers are positioned to provide one square comparment . Please note that our inserts are designed to work with the padded base inside our bags. SuperFlex Inserts do not have a base of their own.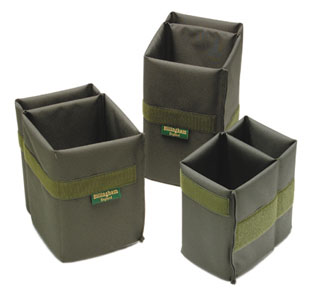 Dimensions

6-12 -
W150 x D60 x H120mm
W6 x D2,3/8 x H4,5/8ins

7-15 -
W150 D70 x H150mm
W6 x D2,3/4 x H6ins

8-15 -
W150 x D80 x H150mm
W6 x 3,1/8 x H6ins

8-18 -
W150 x D80 x H180mm
W6 x 3,1/8 x H7ins

9-15
W150 x D90 x H150mm
W6 x D3,1/2 x H6ins

9-18
W150 x D90 x H180mm
W6 x D3,1/2 x H7ins
9-21 -
W150 x D90 x H210
W6 x D3,1/2 x H8,1/4ins
10-15
W150 x D100 x H150mm
W6 x D4 x H6ins
10-18
W150 x D100 x H180mm
W6 x D4 x H7ins
10-21
W150 x D100 x H210mm
W6 x D4 x H8,4/4ins
11-15
W150 x D110 x H150mm
W6 x D4,1/4 x 6ins
11-18
- W150 x D110 x H180
W6 x D4,1/4 x H7ins
Item Weight: 0.1Kg
> View All Billingham Superflex Inserts Variants <