Vanguard VEO Active Trekking Backpack | The only camera bag you'll ever need
With over 30 years of expertise designing the highest-quality bags for photographers, you just know their new VEO Active Trekking Backpacks are going to be fit for adventure.
Click here to get a closer look at the entire VEO Active Backpack range>
---
Personally impressed
When you think camera bags you think Vanguard VEO. Not only are they constructed with weather and tear-resistant materials, but they are packed to the brim with all the unique features you could ever want when exploring the great outdoors.
The Vanguard VEO Active Trekking backpacks are no different, they are clearly designed to fit any situation that might arise. The versatility alone is impressive, with added details that subtly benefit the wearer. For example, the integration of a strap along the back of the bag, allows you to slip the bag through the handle of a suitcase. Making it an almost effortless bag to travel with.
---
Don't just take my word for it:
"When it comes to wearing the bag I have to say it is really comfortable, with fully adjustable straps to fit different body sizes…it is even comfier than my Alta Sky. For me, the VEO Active seems to be the perfect bag - light, tough, spacious, very configurable and looks good." David Brightwell, Vanguard Photographer
---
Extensive carrying capacity
The three bags in the VEO Active range each have their own unique carrying capacities designed with specific photography kits in mind. With the capacity ranging from 17 litres in the 42M, 25 litres in the 46 and a fantastic 45 litres in the VEO Active 53 the choice is up to you.
The larger of the three is ideally suited for professional photographers and equipment, it has the capacity to carry your Mirrorless or DSLR equipment and still have plenty of extra room for your other essentials. And, if you are the type of person to always come home with more than you set out with, this extra room is brilliant.
---
Compare the Backpacks
VEO Active 42M Backpack
VEO Active 46 Backpack
VEO Active 53 Backpack
Weight
1960g
2540g
2900g

Laptop/Tablet

capacity

13" Laptopn & 10" Tablet
14" Laptop & 10" Tablet
16" Laptop & 10" Tablet

Access

Rear Access available
Rear Access available
Rear Access available

Carrying capacity

17 Litres
25 Litres
45 Litres

Suitable for

Mirrorless camera &

3-4 lenses (up to 70-200mm)

DSLR Camera &

3-5 lenses (up to 300mm f2.8)

Pro DSLR Camera with grip &

6-7 lenses (up to 400mm f2.8 or

200-600mm zoom)

Colour

Green or Grey

Green or Grey

Green or Grey
---
Great features
Let go of worrying about fully charged batteries. Like their VEO Adaptor range, the VEO Active backpack features an extremely useful USB port interface. Great for charging kit on the go, the internal compartment is far bigger in the VEO Active backpack than the VEO Adaptor. Allowing you to carry larger, or even multiple, power banks.
---
Designed for the explorer and the adventurer
Features like the additional hydration pouch are one of the many ways in which this bag has been designed for the avid explorer. Stay hydrated while keeping your hands free and use your equipment on the go. It's a win-win!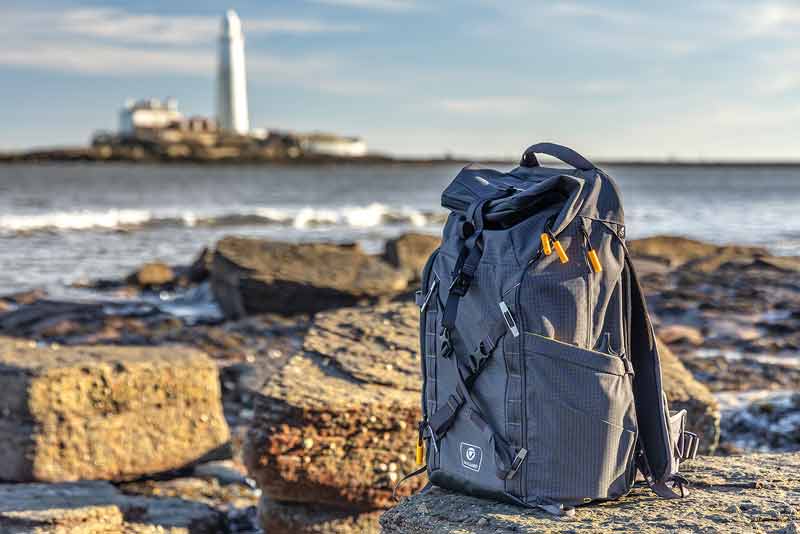 ---
A dream to use over long-distance
Long treks over tough terrain can be a nightmare when carrying equipment, and a normal backpack can put too much strain on your neck and back. That's why Vanguard designed the VEO Active range to provide the most amount of comfort and support currently available in any of their camera bags.
An aluminium frame provides the overall structure and support, shaped to accommodate the natural curve of your spine. While padded waist and shoulder straps mould to the shape of your back, cushioning for an additional level of comfort. Using the adjustable chest and removable waist strap allows you to distribute the weight of the bag more evenly ultimately reducing the strain on your upper back and neck.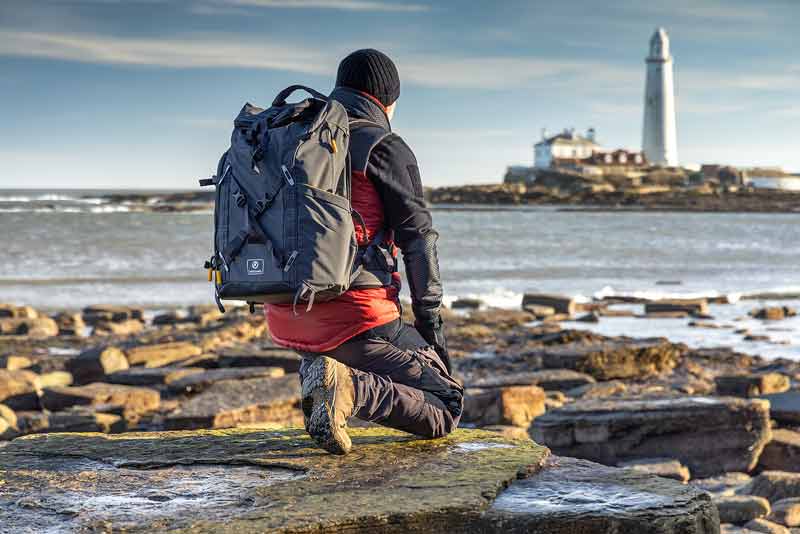 ---
Fit full-sized tripod
There are two points of contact where you can attach a full-sized tripod to the bag. The first is directly on the rear of the backpack which provides an even distribution of weight, making trekking over a long time more comfortable.
Alternatively, attach a tripod or a monopod to the side of the bag. This option provides you with fast access for setting up a shot quickly. A fantastic feature for when you're hiking and find the right spot for a sunset shot, with only a few minutes of good light left to take it.
---
Secure access
The equipment you carry in your bag is always going to be your top priority when travelling securely. The main access point of the camera section itself is via rear access. This is fantastic for when you are travelling with your equipment, as it limits how other people can access your bag when you have it on.
---
Set for air travel
The VEO Active Trekking range meets most airlines' hand luggage restrictions. Making them a great bag to choose from if you were hoping to jump on a plane for a quick weekend away. Again, the internal camera bag can be removed and turned into an ordinary backpack for better adaptability for each moment.
Travelling with expensive equipment can be stressful at the best of times and famously checked luggage is not always "handled with care". So having a camera bag that fits most hand luggage restrictions brings you some peace of mind.
---
Access a laptop and a tablet on the go
Vanguard has put a lot of thought into how the people who use their bags work and what they like to work with. With space for both a laptop (13" in the 42M, 14" in the 46 and up to 16" in the 53) and a 10" tablet, you can carry both securely in your VEO Active bag.
This is fantastic for uploading photos or videos to your laptop and getting stuck into post-production on your full editing suite while travelling. Alternatively, you can simply pack your 10" tablet, conserving space and the overall weight of the backpack.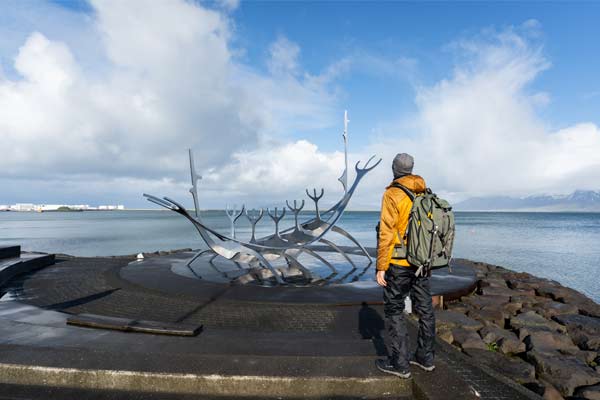 ---
Great overall protection
Briefly mentioned earlier, the VEO Active range is all-weatherproof and tear-resistant. It's exactly what you need when out in the wilderness and the weather takes a turn. With the added waterproof protection from the included rain cover, you can make sure your items and equipment are free from water, dirt and grime. It couldn't be easier.
---
Highly adaptable
This range has been designed to best suit you and how you would ideally pack your bag when setting off on the next adventure. The included internal compartment can be altered and moved to best suit your equipment needs. And the option to carry a water bottle or use the hydration pouch offers a practical choice for all types of explorers.
No two adventures are the same and if you feel that one layout better suits your needs over another, having the option to alter the set-up means these bags are far more versatile than your average camera bag or other hiking backpacks. The VEO Active Trekking Backpack really could be the only camera bag you ever need.
---
Convinced yet?
The Vanguard VEO Active Trekking backpacks are available to order now!
---
Read Next
Click here to read some of our other blogs>
---
Thank you!
Thanks for taking the time to read our blog, we really do hope they help you out and answer some of your questions. If you still have some unanswered, then please feel free to get in touch with our team of experts.
We have a LiveChat option on our website and we can, of course, be contacted via our email, we're also on the end of the phone too! Read more on how to contact us here >
---
Want to write for us?
If you've got experience with producing content on photo, video and/or optics products or techniques then we would love to hear from you. Contact our blog editor, Fee, with a sample of your work at fee@cliftoncameras.co.uk.
By Emma Lawson
10 Mar 2022