Panasonic LUMIX GH6 a Camera for the Pros
Ever since the launch of the LUMIX GH Series cameras, there has been a buzz around Panasonic creating innovative and industry-leading videography products. In 2014 when the GH4 launched as the world's first mirrorless 4K camera people were hooked. In 2017 Panasonic gave us unlimited recording in the GH5, now the ultimate upgrade is here; the long-awaited Panasonic LUMIX GH6.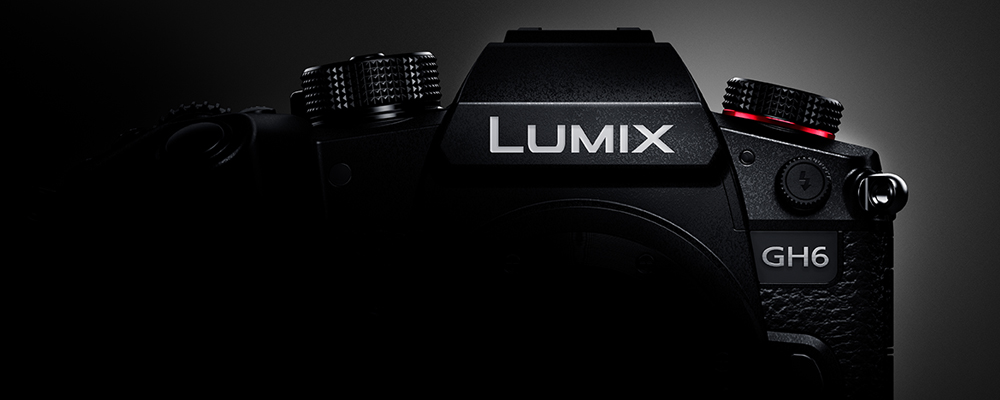 ---
A Brief LUMIX GH History
Panasonic is one of the brands in the exclusive "Netflix Approved Camera Club". Their technology is market-leading when it comes to creating truly unlimited recording time and they dominate a huge percentage of the full-frame camera market. So when they announced that the GH6 is the most advanced mirrorless video camera ever, despite all that has come before it, it was a big deal.
It's best to fully appreciate what the GH6 can do by looking back at the entire GH Series and all the cameras that have led up to this moment.

LUMIX GH1 – (2009) The first GH was one of the first cameras marketed as a Hybrid. Designed from the ground up to take still 12MP images and full HD video, the GH1 featured manual control over many video functions.
LUMIX GH2 – (2010) The GH2 made some strides by improving the ISO range from 100-1600 to 100-12800 and introducing a touchscreen display.
LUMIX GH3 – (2012) Another first, the GH3 was the first MILC to record video with a bit rate of up to 72mbps. This camera, filming up to Full HD, was considered a contender for semi-professional use.
LUMIX GH4 – (2014) The GH4 was launched to high acclaim. It was the world's first 4K mirrorless camera and it was a big deal. It featured the new Venus Engine IX and with features like Full HD 100Mbit/s and no record time limit, it was considered a Pro camera.
LUMIX GH5 – (2017) Arguably the most popular camera in the series so far the GH5 won the crowd over with zero crop when filming in 4K/60p and truly unlimited video record time, a complete game-changer.
LUMIX GH5M2 – (2021) While many of us were waiting for the GH6 development announcement, Panasonic snuck in one more variation, the GH5 II. This saw the introduction of wireless live streaming, in-camera desqueeze and up to C4K with zero crop.
LUMIX GH6 – (2022) You'll have to keep reading to see…
---
GH6 – it's a BEAST
There are no two ways about it, the Panasonic LUMIX GH6 is a micro four-thirds BEAST. Just look at the key features! It promises to record up to 5.7K 60p video at 10-bit, for an unlimited time, with no risk of overheating thanks to the new Heat Management System.
As the first GH Series camera to be CF Express compatible, Apple ProRes able and with great audio improvements, this promises to be a camera ready for immediate integration into the professional world.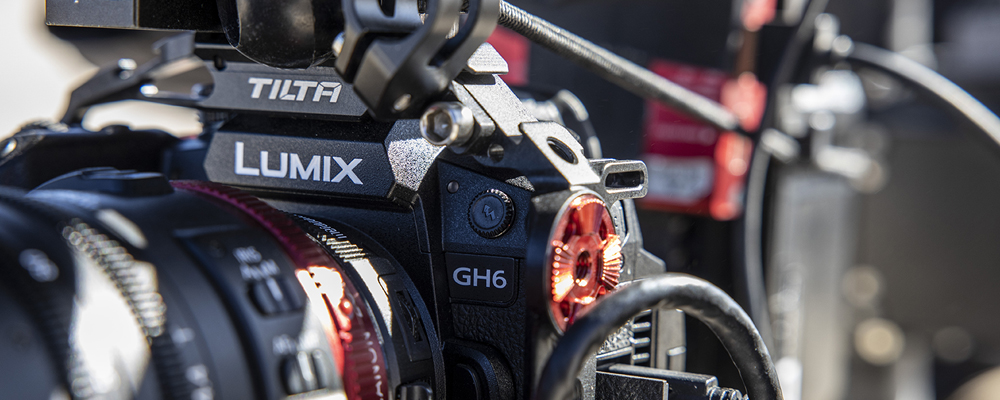 Key Features
New 25.2MP micro four-thirds sensor (NO LPF)
3680k OLED 0.76x
New Venus Engine
AFS 75fps burst shooting
7.5 stop, 5-axis, Dual I.S. 2
Full-size HDMI
100MP High-Resolution mode with handheld shot mode (photo)
Double slot (slot 1: CFexpress Type B, slot 2: SD UHS-II U3 V90)
Tilt & free-angle, 3.0" 1840k, touchscreen
Dust/splash/freeze resistant
HDMI Type A (supports 4K 120p via HDMI 2.1)
Apple ProRes 422 HQ (internal)
Apple ProRes 422 (internal)
Anamorphic 5.8K 30p/25p
USB 3.2 - PD power supply/charge
DMW-BLK22 (2200mAh) battery
Powered by a new Venus Engine XII with X2 Processing Speed, the GH6 is faster than ever. The autofocus in particular has seen some improvements including an 8-directional joystick for more accurate AF selection and the new Zone AF for improved autofocus area highlighting. Further AF improvements include a new Focus Limiter, Face Priority in Multi Metering and MF Assist in Video.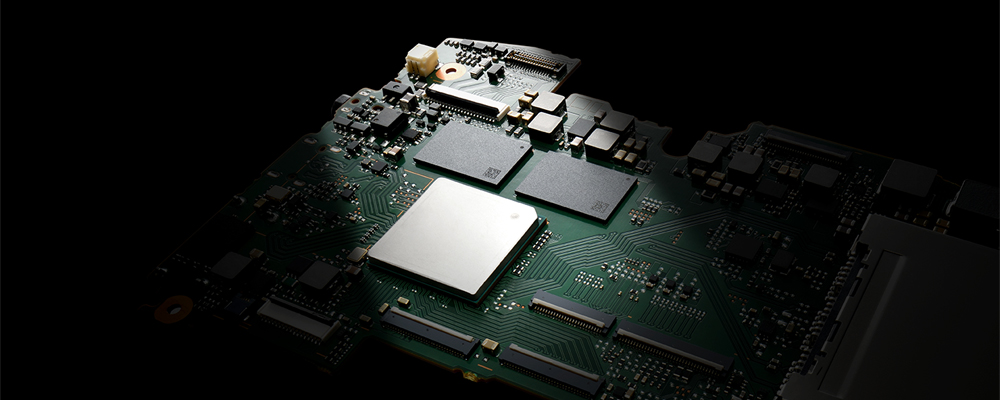 Full of LUMIX Firsts
The GH6 is packed full of LUMIX Firsts, from the ability to shoot in Apple ProRes CODEC and including a full LUT library, to having a tilt and free touchscreen and a new Heat Management System:
LUMIX First: Apple ProRes CODEC Video
Apple ProRes is becoming one of the fastest-growing file formats in the video post-production industry. Its low compression and high image quality help to greatly reduce the load on the PC as no transcoding is required, making Non-Linear Editing possible.
Apple ProRes 422 HQ offers visually lossless preservation of the highest-quality professional HD video that a single-link HD-SDI signal can carry. The codec supports full-width 4:2:2 video sources at 10-bit pixel depths while remaining visually lossless through many generations of decoding and re-encoding.
Apple ProRes 422 offers nearly all the same benefits of ProRes 422 HQ but at a vastly reduced data rate, for even better multistream, real-time editing performance.
Take a look at what the GH6 new CODECs can do in this quick video we put together in DaVinci Resolve:
---
LUMIX FIRST: 13+ stops V-Log/V-Gamut and a VariCam LUT Library
V-Log View Assist allows for files to be imported from the SD card and applied directly to the video file. Through View Assist an HDMI output of LUT-applied images is further possible. Using the new V-Gamut with the wide colour gamut footage from VariCam series cameras, these can be seamlessly included in the edit.
New to Panasonic LUMIX cameras a Cube compatible VariCam LUT library, complete with 35 conversion LUTs for VariCam cinema cameras and EVA1, can be downloaded free of charge for use.
A further collection of LUT Formats can be used for a range of purposes:
.VLT: For loading into LUMIX and VariCam cameras
E-E.CUBE: For post colour grading
E-L.CUBE: For monitoring "LUT Box" devices
These LUMIX firsts see improvements that support 20-digit LUT file names and customisable LUTS that can be applied to the background image during MF assist. They make the creation of the 'Hollywood Look' much quicker and easier. Ultimately pushing your video creation up to the next level.
---
NEW Heat Management system
A flagship improvement for the LUMIX GH6 is the new Heat Management System. Rather than the natural cooling found in the GH5, this new forced cooling has a Thermal Management Mode that allows the camera to continue recording even with heavy use of the camera in 4K.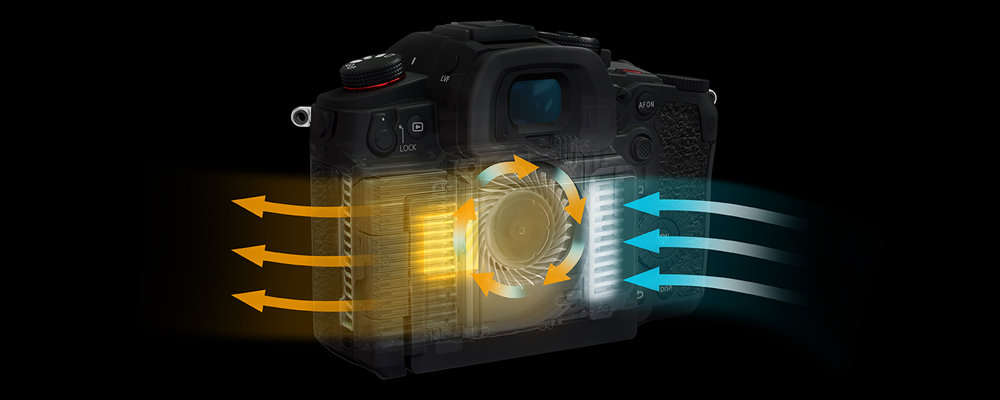 The result is unlimited recording in 4:2:2 100-bit C4K/4K 60p/50p during simultaneous internal/external recording. This management system has been a long time coming and is going to be a major reason to convert to the Panasonic GH6.
---
LUMIX G SERIES FIRST: Tilt and Free angle LCD
Panasonic has greatly improved the design of their rear touchscreen. The 3" 1840k-dot monitor is not just a tilting screen but a Free-Angle screen that has full articulation even when the camera has an HDMI and USB cable attached.
This freedom of movement, while not necessarily a flashy change, is substantial and will come as a welcome adjustment to those working with a full rig set-up. It will also be a great help when using the USB port as a power supply to charge the camera and battery.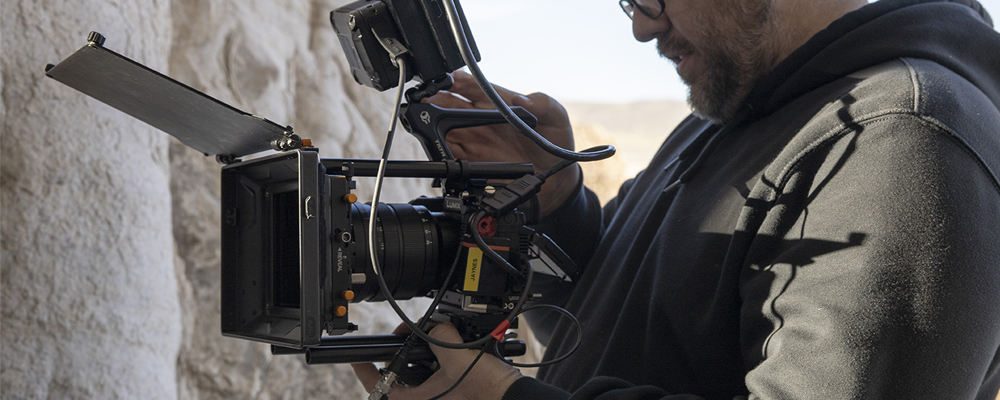 ---
Who is this for?
It's clear to see that this camera would likely be lost on a total novice. Where the GH6 will be best appreciated, and even envied, will be among the pro and semi-pro creators. Under experienced hands, this camera has the potential to achieve a hell of a lot and really kick your video creation up a notch.
If you are a creator used to working with Blackmagic, RED, or Arri cameras, it may be worth your while taking a look at this new Panasonic camera. With the highest quality tools currently available in this price bracket, made by Netflix certified technicians, you'd be hard-pressed to find much better.
---
So, first thoughts?
If you are asking yourself "is the LUMIX GH6 worth the upgrade" it feels clear that the answer is yes. It is leaps ahead of the GH5 and GH5M2 in terms of professional cinematography. With the GH6 in your hands, there seems to be very little limit on what you can produce. The real test will be getting the camera into your hands to see just what it can do.
Despite all that they have already squeezed into this camera, Panasonic has confirmed a range of performance-enhancing firmware updates that will come in the future including:
Cinema 4K ProRes 422 HQ / ProRes 422
FHD ProRes 422 HQ / ProRes 422
USB-SSD direct recording
4K 120p HDMI Video output during Live View
Cinema 4K 120p HDMI RAW Video Data Output to ATOMOS Ninja V+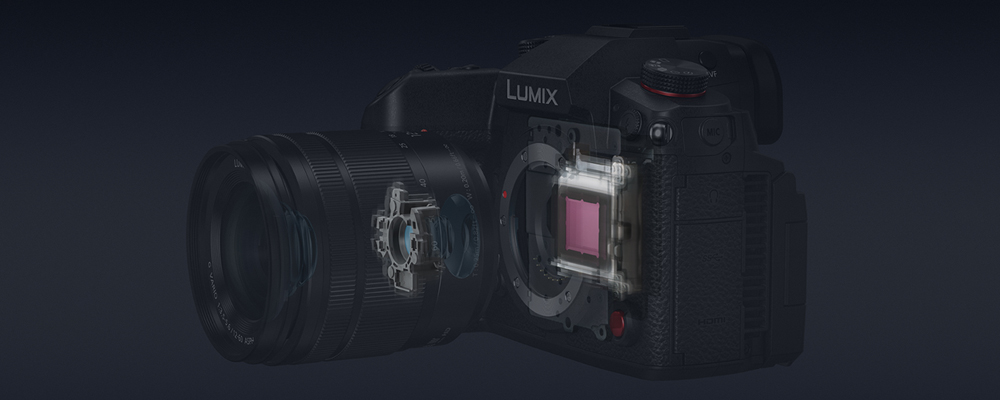 The GH6 is a camera designed for workflow efficiency at every step of the filmmaking journey. From the interchangeable lens preparation, to unlimited video recording, to post-production in any editing suite, to being able to deliver films in all the necessary formats.
The GH6 starts with a high-speed sensor and ends with a camera that, despite its size, is an incredibly powerful, fully professional piece of kit. And, for those who have been around for the wait, it certainly seems to have been worth it.
---
Convinced yet?
The Panasonic LUMIX GH6 is available to purchase in a number of kits:
---
Read next
---
Thank you!
Thanks for taking the time to read our blog, we really do hope they help you out and answer some of your questions. If you still have some unanswered, then please feel free to get in touch with our team of experts.
We have a LiveChat option on our website and we can, of course, be contacted via our email, we're also on the end of the phone too! Read more on how to contact us here >
---
Want to write for us?
If you've got experience with producing content on photo, video and/or optics products or techniques then we would love to hear from you. Contact our blog editor, Fee, with a sample of your work at fee@cliftoncameras.co.uk.
By Beatrice Debney
22 Feb 2022