GH5 vs GH5M2: what's the difference?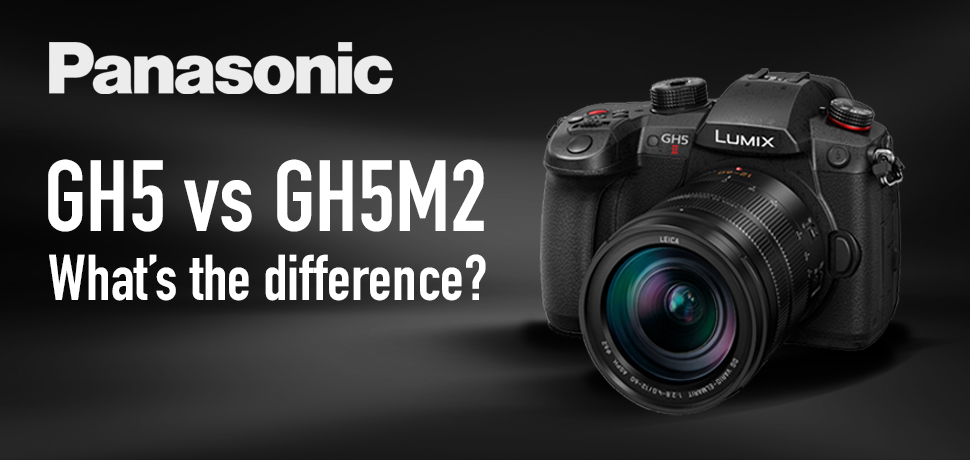 Following the announcement of the new GH5M2, we break down precisely what the differences are between the new and the old. And ask, is this upgrade worth it?
---
The Panasonic LUMIX GH5 originally arrived on the photographic scene in 2017 as the flagship camera of the Panasonic GH series. At the time of release, this was a groundbreaking camera that instantly became a bit of a cult hit thanks to its unlimited recording time. Unlike most mirrorless cameras, Panasonic scrapped the idea that only camcorders could have unlimited recording times and put this brilliant feature into the mighty Micro Four Thirds camera.
Now, four years later, Panasonic has announced an upgrade to the GH5: the GH5M2. Do not worry if you are one of the videographers hoping this announcement from Panasonic was going to be for the new GH6 - watch this space, as they have also just announced that this is in development.
In the meantime, let's take a detailed look at what exactly this update entails, and is it worth selling your beloved GH5 over?
---
What's the same?
Firstly, it's important to look at what's the same. Some features of the GH5 clearly didn't need upgrading and Panasonic has decided to keep these untouched for now. Firstly, the 20.3MP MOS Sensor is remaining largely the same (more on this later) and the high-speed Venus Engine has also been brought forward. Thankfully, the unlimited recording time is also a feature of the M2 (after all, it would have been ridiculous to get rid of it). Other features include being dust, splash and freeze-resistant which is always handy for shooting outdoors, dual card slots with Relay, Backup and Allocation recording options, remote tethering capabilities, and a largely similar 3" Touch Screen. Internal features to remain include Zebra Patterning, Like709 and Knee Control, Wave Form Monitor and Vector Scope, and the personalisable control panel.
Now, that that's covered, let's get into the new stuff.
---
Wireless Live Streaming
We have all seen an increase in personal and business live streaming over this last year for obvious reasons. With the global live streaming market predicted to triple in size by 2028, it makes sense that manufacturing companies will be pushing their camera's live streaming capabilities in the future.
Whilst the GH5 was indeed capable of live streaming whilst tethered, the GH5M2 now comes with wireless streaming via the LUMIX Sync App. The app comes with the ability to stream straight to Facebook, YouTube, or with an RTMP/RTMPS, with the additional option for a simultaneous HDMI Output making this ideal for streaming scenarios where an event may be live-streamed and broadcast on a large monitor at the same time. A potentially surprising feature of this live stream is that YouTube accounts with over 1000 subscribers can stream immediately by logging in to their account on the Sync App, whereas those with fewer subscribers will need to input their Stream URL and Stream Key first. It is not a difficult process and it is unclear as to why they have differentiated between the number of subscribers. Either way, however, this is an incredibly useful feature for those making a career out of streaming, or for businesses and events organisers who have had to lean into the possibilities of live streaming to reach their remote audience. And of course, no more wires means the potential for free movement during a stream for content such as live vlogs which means no more sitting in front of a tripod for hours!
---
Zero Crop for C4K/4K 60p/50p 10-bit
Whilst the original GH5 has C4K/4K filming, there was always a crop factor, as well as the limitation of only being able to record in 4K 50/60p with an external recorder. A huge improvement of the M2 is that there is no longer a crop factor when filming in C4K or 4K 60p/50p at 10-bit or 8-bit. This means that what you see is what you get and those wide-angle shots are going to be easier to achieve.
---
New Focus Ring Control
There are a number of Lumix lenses such as the Panasonic 8-18mmm f2.8-4.0 and the Panasonic Leica DG Elmarit 200mm F2.8 that are confirmed for a firmware update in June 2021 that will make them compatible with the new Focus Ring control features. This new feature to the GH5M2 sounds incredibly useful. Panasonic has put the needs of filmmakers at the forefront of this new Focus Ring that allows them much increased creative control. In the two settings, either Non-Linear or Linear mode, the focus ring will adjust the focus according to how the ring is moved at that time. When in Non-Linear mode, the focus responds to the rotation speed of the focus ring. In Linear mode, the focus responds according to the rotation angle of the focus ring.
A firmware update has been announced and will be available on the LUMIX Global Customer Support website from the 8th of June 2021.
---
Upgraded Cineline D2 and Cinelike V2
It has been confirmed that Cinelike D2 and Cinelike V2 have been added to the colour profiles available in the GH series which should hopefully come as a welcome upgrade to those who currently use Cinelike D and V in the GH5. D2 and V2 have similar gamma setting characteristics to those used for film production. The Cinelike settings create impressive looks with warm skin tones or delicate nuances of light and shadow, even without grading over V-Log footage. This cuts down on post-production time as well as showing, in-camera, the finished look of the recording. Cinelike D2 prioritises dynamic range while Cinelike V2 will prioritise contrast.
---
Two New Photo Styles
Along with the Cinelike upgrades, Panasonic has added two additional profiles: L. Classic Neo and L. Monochrome S. Intended to largely do as they say on the tin. L. Classic Neo gives the image a quirky, bright colour pallet which is ideal for more alternative videographers. L. Monochrome S is a lower contrast black and white pallet, perfect for documentary videographers.
---
V-Log L as Standard
Not only are there the above 4 additional colour profiles, V-Log L, which is an additional purchase of around £79 for GH5 owners, now comes as standard in the M2. V-Log L is an incredibly useful colour profile that displays a flat image during filming so that it captures the most dynamic range possible. This then makes colour grading in post-production much easier and allows for more creativity and experimentation. For those who are more photography orientated, it is a bit like shooting in RAW in the amount of editing freedom the data then gives you.
---
Desqueeze in Camera
Before, where an external monitor was required to view a video in C4K or 4K, the GH5M2 can do it all in-camera, including the illusive desqueeze. 6K-A and 4K-A (A=Anamorphic) Video can now be recorded in 4:3 ratio but with all the detail of Cinescope 21:9 captured. Select the camera to desqueeze and it will actually display the full image in the correct ratio so that you can check that you have the shot how you want it there and then, rather than realising that you don't have it in post.
---
New Battery
Panasonic has developed the new DMW-BLK22 (used in the LUMIX S5) that replaces the DMW-BLF19 and has improved battery capacity and life. This faster battery can be fully charged in 230 minutes, record continuously for up to 140 minutes on one charge, as well as be charged whilst filming, freeing you up for extended shooting possibilities. Always a handy upgrade.
---
Improved 6.5-stop 5-axis Dual I.S. 2*2
The original GH5 camera comes with 5-Stop 5-Axis Dual I.S 2 image stabilisation which is becoming a fair industry standard. The GH5M2 however will stabilise an image up to 6.5 stops. The camera is designed to eliminate the vast majority of movement blur including when performing more difficult shots such as raising the camera in hand or when you stop panning and you get that little jolt. The Body I.S. will correct hand-shake for up to 6.5 stops for all lenses even if they are not equipped with O.I.S. Plus, an additional improvement on the GH5 is that where the telephoto range on the Body I.S. would drop, the Dual I.S. 2*2 system provides powerful compensation even at large telephoto focal ranges.
---
Face/Eye/Head/Body/Animal AF
Autofocus AI technology has come a long way in four years. The GH5 had Face and Eye recognition, both incredibly useful AF features. Now, however, the GH5M2 has additional Head, Body and Animal AF functions which greatly improve image quality, pair this with the outstanding 180fps in FHD or 60fps in C4K/4K and shooting fast-moving subjects is now going to be a breeze. Autofocus tracking is currently a hot topic in the photography industry and these additional features really put the GH5M2 in line with high-end cameras such as the Sony A7S III.
---
High-Speed Venus Engine
Whilst the high-speed Venus engine is largely the same, it has been evolved for the M2 for increased processing speed. It's not a big upgrade in that sense but it's certainly not a feature one just says no to.
---
AR Sensor Coating
Similarly to the Venus engine, the 20.3MP MOS Sensor is largely the same as the original GH5. It has however been given a special AR (anti-reflective) coating to reduce glare and ghosting and to handle bright skies and environments. This, coupled with the improved dynamic range possibilities of V-Log L, opens up some great opportunities for shooting landscapes, or bright vlogs where direct sunlight may be hard to control.
---
Improved Touch Screen
Bringing forward the 3" FA Touch Screen of the GH5, the M2 has an increase of 220K pixels which means improved definition when watching the footage back. The screen now also has a High Visability feature which means that even when out in bright sunlight, the screen continues to display bright and vibrant colours, easing the process of watching back footage whilst out and about.
---
Is it all worth it?
A lot of owners of the GH5 are very attached to their current camera and if it is currently doing exactly what you want of it then you may find there is little point in upgrading just for the sake of it. If this is you, then it may be worth your while waiting until we have more information on what the GH6 may entail.
Having said that, however, the GH5M2 has been packed with some incredible new features that really make it stand out from the crowd. Particularly if you are using your camera to live stream or shooting regularly in 4K, this upgrade could be particularly useful. Especially when you consider the price bracket that Panasonic has put this in, this is absolutely an upgrade worth considering.
The GH5M2 is available in three different kits.
Panasonic LUMIX GH5M2 Body only
Panasonic LUMIX GH5M2 L Kit with LEICA 12-60mm lens
Panasonic LUMIX GH5M2 M Kit with 12-60 LUMIX lens
---
Thank you!
Thanks for taking the time to read our blog, we really do hope they help you out and answer some of your questions. If you still have some unanswered, then please feel free to get in touch with our team of experts.
We have a LiveChat option on our website and we can, of course, be contacted via our email, we're also on the end of the phone too! Read more on how to contact us here >
Want to write for us?
If you've got experience with producing content on photo, video and/or optics products or techniques then we would love to hear from you. Contact our blog editor, Fee, with a sample of your work at fee@cliftoncameras.co.uk.
By Beatrice Debney
25 May 2021