Sony Announces A7R III with big improvements
It was only a couple months ago that Nikon dazzled us with the brand new D850. A camera that was well received by the photographic community, in fact, it was so well received that it is currently the first and only camera to hold a score of 100 out of 100 from well-regarded photo lab DxOMark. This left us curious about what Sony's next move would be because whatever came next would have to directly compete with the outstanding spec of the D850.
We all knew the next iteration of the well regarded A7R II would be that next move. While still relevant and very capable the A7R II has been nearing the end of its reign and there has been much speculation recently about what its successor would look like.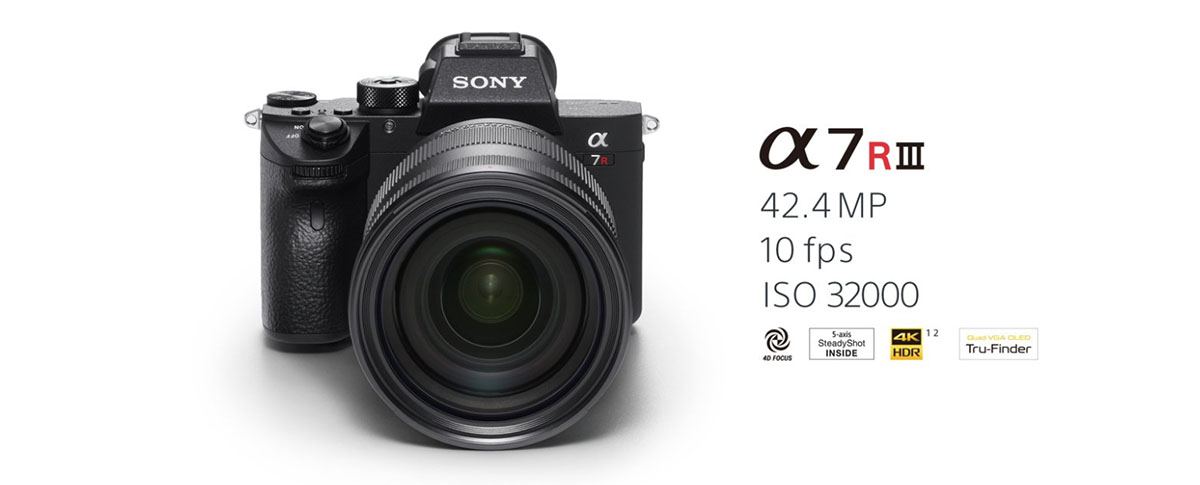 Well, it has arrived and on paper it packs monstrous specs. Here's a few highlights:
42.4MP Exmor CMOS R. If it ain't broken, don't fix it. This sensor is the same size as the one in the previous iteration, but we all know size isn't everything. With improved processing and best in class dynamic range 42.4MP is nothing to be sniffed at.
Hybrid AF: 399 point focal-plane phase detection AF and 425-point contrast detection AF. This is more then twice the number of AF points found in the D850 and will operate twice as fast as the AF in the previous model.
10 fps. Here's where the A7R III really gets interesting. It shoots at a blistering 10fps. That's double the maximum frame rate available on the previous model. That's... impressive. Especially when you consider that it maintains all of it's faculties shooting at this frame rate. You'll have full user of your AF system including AF exposure system and complete silence.
Improved functionality. From a distance you'll be hard pressed to distinguish between the A7R II and the Mark III but this new camera comes to us with what are sure to be some much appreciated creature comforts. We now have a touch screen for picking auto focus points, a joystick for navigating through menus, two SD card slots and two USB ports (microUSB and USB-C).
Impressive video. The A7R III captures 4K using the full width of the sensor and will now shoot 120fps at full HD. More importantly the A7R III now comes equip with S-Log 3 and support for hybrid log gamma HDR as standard.
There won't likely be a huge leap in image quality from the A7R II but let's be honest the Sony A7R II won't be going anywhere anytime soon. It still represents some of the best imaging tech money can buy. This new model adds all the bells and whistles weve come to expect from a flagship model.
Stay tuned for more about the Sony A7R III over the next couple days, we're hoping to get hands on with this camera before the week is out. We'll also be bringing you news about the New E-mount FE 24-105mm F4 G OSS Standard Zoom.
In the mean time here's some tantalizing 4K footage from the Sony A7R III.
By Matthew Ward
25 Oct 2017