Sue Flood - Rwanda
August 2013 - RWANDA

In late July I had a wonderful trip with Steppes Travel, guiding two private guests from Chicago on a trip to photograph mountain gorillas in Rwanda. Although I'd photographed mountain gorillas before, this was my first trip to Rwanda and it was absolutely wonderful! We stayed at the Virunga Lodge in Volcanoes National Park, which had a spectacular view over the nearby volcanoes.

In anticipation of some great wildlife sightings, I purchased a new lens for the trip - a Canon EF-70-200mm F2.8L IS II USM Lens (succeded by the Canon EF 70-200mm f2.8L IS III USM Lens) and am very glad that I did! This lens was great for working in the rainforest and getting intimate portraits of these fabulous creatures, with the wide aperture making the most of the available light. I used this lens on my Canon EOS 5D Mark III Body - a great combination!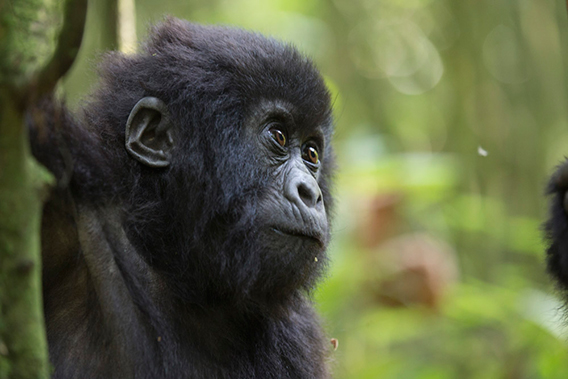 I had two days trekking with the gorillas. Hard work but worth it. They are one of the most fascinating and loveable creatures I've ever had the privilege of photographing. On the second day, we trekked with the Sabyinyo group and saw a mother breastfeeding her two-week old baby, and also came close to the world's largest silverback - around 220kg. I will definitely be returning to this fabulous location!
Equipment used - Click on link for more details
Canon DLSR Camera Body: Canon EOS 5D Mark III Body
Canon DLSR Lens: Canon EF-70-200mm F2.8L IS II USM Lens (succeded by the Canon EF 70-200mm f2.8L IS III USM Lens)
Sue Flood - Publications - Click on link for more details

Cold Places - Sue Flood - Limited Signed By Author