Introduction to Gel Lighting Photography
Gel Lighting Photography
Gel lighting in studio portraiture can bring an extra element to an image, especially if you are bored of the same high key or low key studio set-up. Because they are sold as sheets, there are many ways you can use gel lighting and a multitude of different effects you can create with a combination of colours.
---
What is Gel lighting?
A colour gel is a transparent coloured material that is normally a heat resistant plastic that can be placed in front of a lighting fixture to colour light. Gels let you colour correct imagery in photography or film or help adjust the colour temperature on lighting setups to create a warmer or cooler tone depending on your needs. You can also use gel lighting to create wonderful colourful effects and create coloured highlights or shadows. Some coloured filters can be quite thin, so unless you like the subtle hint of colour in your image, doubling up your filters can help create a stronger, more vibrant tone.
---
Colour Matching Tips
When using gel lighting, the first key thing you want to think about is colour matches. I enjoy experimenting to find out what I like, but there are some basic rules when it comes to colour matching. Some colours don't flatter skin tones, others simply just don't work. In my experience, I find that blue and red work well, giving a mid 00's 3D glasses feel. I also really enjoy similar colours, such as pink and teal, which give a slight fantasy, ethereal feel to the image. One thing I really love about photography, and especially digital photography, is the ability to experiment, and the option for trial and error.
---
Gel Lighting for Headshots
Single gel light shots are perfect for headshots. The gentle coloured highlight or shadow can be used to subtly enhance what could be a standard headshot portrait. Or you can go for a bold and vibrant strip of colour to contrast a piece of jewellery or makeup.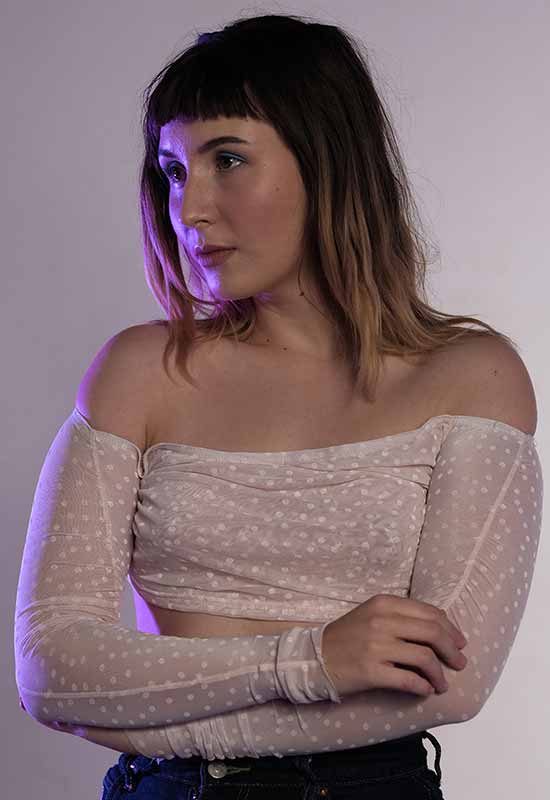 ---
Experimenting with Two Gels
Two gel light shots are where I find it starts to get fun. You can play with colour matching, and make beautiful pastel colours to compliment beauty shots or use blues and purples for a more cyberpunk theme. Bold colours mixed with bold patterns can create something new and exciting. I photographed a themed photoshoot for a makeup artist friend a few months ago, where the theme was fantasy. We picked butterflies as the motif and Laura went away and selected pinks and whites as her colours for the makeup with these beautiful paper butterflies that we found in Hobbycraft that were meant to be cake toppers, and some super long false eyelashes with flashes of purple, pink and green on the ends. When lighting, I decided to continue the pink theme with a gel light and shadowed it with a pastel teal colour, which I think overall created an elf or fairy-like, fantasy feel to the overall image, without hiding the make-up.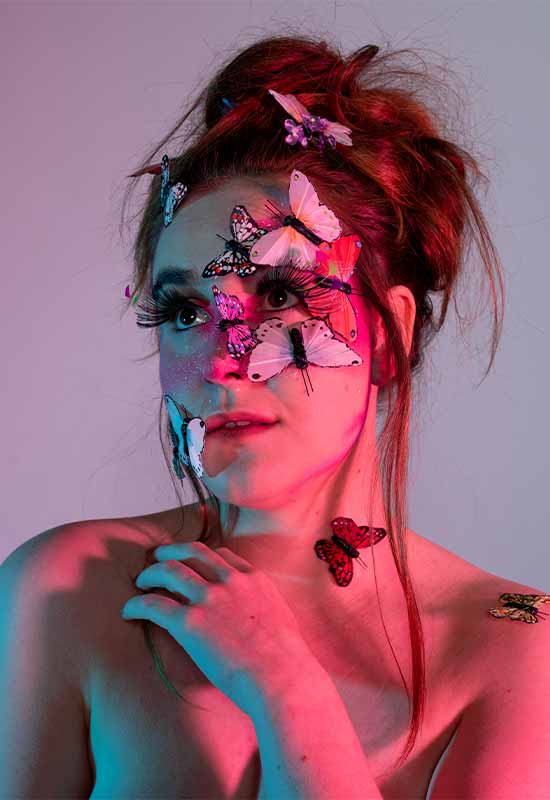 ---
Gel Lighting for Pole Work
I also really enjoy using gel lighting in pole work. It's been a trend for the past year, however, one of my favourite parts about gel lighting is that every time the model moves, or when you adjust the lighting, the image always looks different. Using blues, greens and purples can give a neon lights, cyberpunk vibe which I'm particularly fond of. Using a blue to colour the background, the light also caught the left-hand side of the dance contrasting really nicely with the purple gel light I used on the right.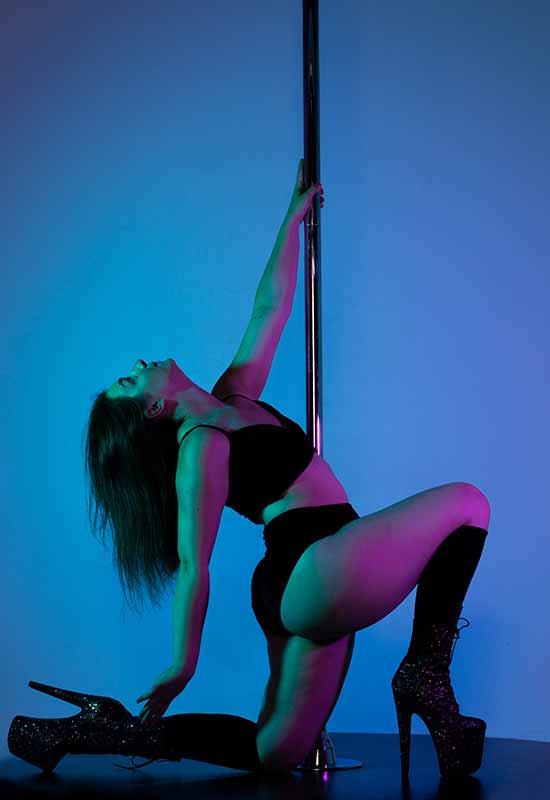 Blue and red is also a particular favourite of mine, especially combined with a high key set-up and a white background. In this image, I used the red gel to create a shadow and the teal-blue to hint at some highlighted contrasts while allowing the white lights to make the image pop. Dropping the high key white lights but keeping the red and blue gel lighting can also create a completely different effect.
Using the red gel to create a shadow and the teal-blue to hint some highlighted contrasts.

A dropped high key light to create a completely different style with the same red and teal-blue gels.
Gel light shots with Three or more colours can be more challenging but certainly worth it, by making the background a different colour to the lights in the model can add an extra dimension to the image.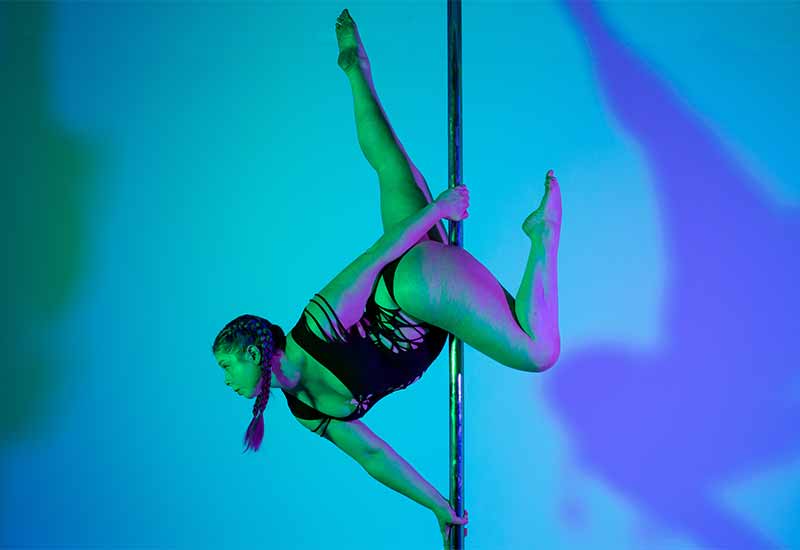 ---
Best Backdrops for Gel Lighting
Using a white or black backdrop can create a different effect. Using a darker background can make the gel lighting on the model more vibrant. In these images, I used a Colorama charcoal backdrop. The reason why I chose a dark grey background over the black was to keep some hint of the gel lighting in the background. Earlier in the year, I had tried to use orange and purple as gel colours, to no avail. However, I tried three colours in this image, purple, red and yellow. The red and yellow mixed very nicely to give the various warm tones to highlight the body. This also gave more depth to the image as there was a mixture of red, darker orange, lighter orange and hints of yellow. The purple on the right-hand side, contrasted nicely, with the cooler tones, showing the face and lighting the hair.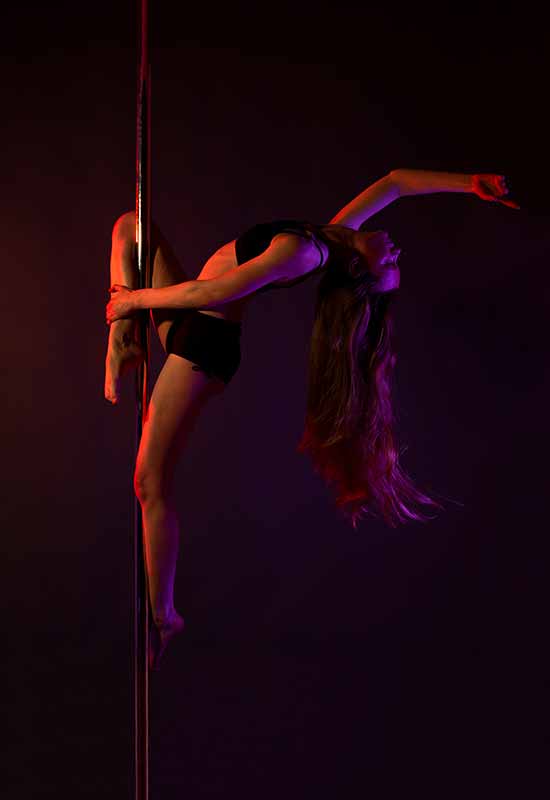 In this image, I decided to use slightly cooler tones but stuck to the theme of three lights, this time, green, yellow and blue. The same style was shown, with the green and yellow merging to create a blend of colours highlighting the face and hair, while the blue gave a bold and vibrant contrast on the right-hand side.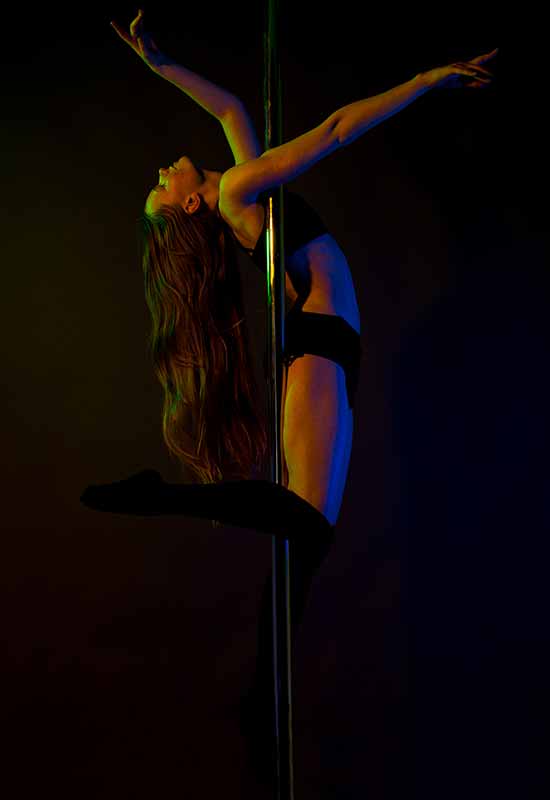 ---
My Closing Thoughts
The main point of gel lighting is to experiment. Moving the lighting higher or lower, left or right, will completely change an image. Have fun, play with colours and create something new.
---
Want to read more from Lauren?
Thank you!
Thanks for taking the time to read our blog, we really do hope they help you out and answer some of your questions. If you still have some unanswered, then please feel free to get in touch with our team of experts.
We have a LiveChat option on our website and we can, of course, be contacted via our email, we're also on the end of the phone too! Read more on how to contact us here >
---
Want to write for us?
If you've got experience with producing content on photo, video and/or optics products or techniques then we would love to hear from you. Contact our blog editor, Fee, with a sample of your work at fee@cliftoncameras.co.uk.
By Lauren Hunt
3 Aug 2021