Nikon Z 9 Development Announcement
Launched 28th October 2021
The Nikon Z9 Mirrorless Camera is available to purchase NOW! Less than a month after the development announcement the Nikon Z9 has landed with an impressive spec list.
Key Features
45MP Stacked Sensor
8K60p 30fps video for 1hr
Shoot RAW images 20fps
4K120p
World's fastest frame rate (120fps)
World's fastest scan rate
Car, Aeroplane, Bird and Eye AF
Multi-Tilting Axis Monitor
Auto protective sensor cover
Blackout-free viewfinder
View full specifications here >
---
It's Official!
Nikon has officially announced the development of their flagship full-frame mirrorless camera.
Rumours have hinted at a release in Autumn 2021 and we will of course be monitoring this closely and will keep you updated with any changes to this.
---
What do we know so far?
Newly developed full-frame stacked CMOS sensor
A new image processor
Support for 8K video
And as of 05 October 2021, we also now know that the Z 9 will have a 3-way tiltable screen. Take a look at their teaser video to see how this design will function >
---
Potential Specifications
There are very few details coming from the Nikon camp at the moment so we can only base our assumptions on the potential specifications on rumours and current competition on the market.
If you're a diehard Nikon fan then you'll know that the D6 has been one of its top-selling and current flagship pro cameras and the newly announced Z9 is set to use this as a foundation to build on.
Overall, we are expecting the Z9 to be able to compete with the likes of the Sony A9, A1 and Canon R5, utilising 8K video capabilities, fast shutter speeds and sensor quality. However, the Z9 appears to be separating itself from the competition by going with the classic, larger shaped body, suited to the professional sports and wildlife photographer - making an upgrade for current D6 users, very simple.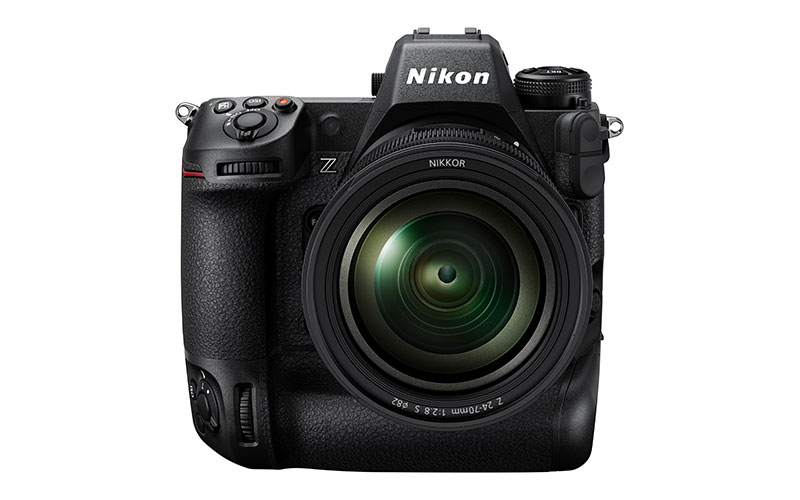 Rumours of a monochrome rear screen rather than a super high-resolution LCD screen that we have become accustomed to are also circulating, and we're not sure if this is a potentially wise move from Nikon. With upgraded tech specs comes the need for more power so we're also expecting Nikon to release a new battery with a much higher capacity than we've seen before.
---
Our First Thoughts?
With so little solid information on the Nikon Z9 right now, there's not a lot more we can really say on the matter. One thing we can be certain of though, is that we're very excited to see what Nikon have designed for their flagship full-frame mirrorless camera. We expect to see it challenging the likes of Canon and Sony, but in true Nikon style and fashion.
---
What do you think?
We'd love to hear what you think the specs of the new Z9 are going to be, are you going to be one of the photographers who switches up to the mirrorless Z9 or will you be jumping ship completely from Nikon? Let us know! Get in touch via our social media channels or contact me directly on fee@cliftoncameras.co.uk.
By Fiona Chandler
6 Oct 2021