Photographing the Royal International Air Tattoo – A Guide to Aviation Photography
After a COVID-induced hiatus since 2019, the Royal International Air Tattoo hit back with a bang in 2022 with more than 270 aircraft arriving at this normally sleepy and quaint corner of the Cotswold hills. More than 170,000 visitors over the weekend and a complete sell-out across all 3 display days, more than 20 hours of flying, and an unrivalled static line-up nearing 2.5 miles long, meant that the Air Tattoo 2022 lived up to the name of being the greatest military air show in the world.
Being local, Clifton Cameras set me the challenge of trying to capture the spirit of RIAT in print, this is my account of the weekend, along with advice and tips that I had already planned for and had to adapt to on the fly throughout the week.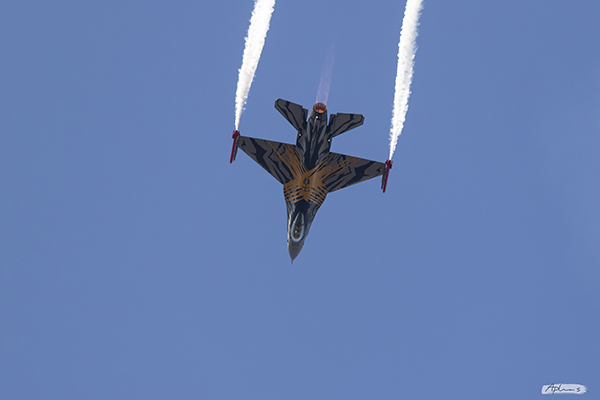 Click to view the image in full resolution
---
The Royal International Air Tattoo At A Glance
The main magic of the Air Tattoo is its sheer size, spanning 6 days from Wednesday to Monday, it is a haven for air show photography.
Wednesday and Thursday are arrivals, with a few rehearsals and authorisation displays for international elements.
Friday is split between arrivals and rehearsals, with a 4-hour flying display in the middle. All bar one end of the showground is open to wander the static line-up.
Saturday and Sunday are full show days with over 8 hours of flying per day, and the whole showground completely open.
Monday is departures where the Air Traffic controllers have the unenviable job of getting all the aircraft off the ground in one day, ready to hand the airfield back to its day-to-day operators on Monday evening.
So, with 6 days available, there is a myriad of opportunities for taking photos. Regardless of the camera equipment used there is always a chance for a memorable day shooting at the Royal International Air Tattoo.
---
Arrivals – Panning and Tracking
This is a great opportunity to spend some time with some of the rarer assets that fly into the UK for the static lineup. Nations will send in support aircraft for display teams and fast jet elements, these slower-moving and often propeller-driven aircraft give some great practice opportunities for panning with slower shutter speeds. Only coming around once every year, these skills can become a little rusty over time.
Having already pre-planned to drop the shutter speed to allow for some blur on the propellers, this proved to be a numbers game; the more frames you shoot, the more likely you are to achieve a sharp image.
Panning always comes down to a couple of key elements, a steady hand, and practice. This will then benefit when trying to capture that favoured aircraft of yours arriving, as the slower shutter speed allows for some movement and drama in the image, rather than having an aircraft simply sat there, almost looking motionless in the sky.
The best way to practice is to simply track subjects, whether it be cars, birds or boats, anything that is moving will help smooth off this motion and allow for shutter speeds to drop more effectively. It took until the afternoon of Day 2 for me to settle in and become confident with my panning abilities again.
Another benefit of the Air Tattoo is that display items will take off and land multiple times over the weekend, giving plenty of opportunities to achieve the desired shot. If you know that an item will be doing this, it is a chance to shoot one arrival at a faster speed, guaranteeing you a sharp image, with the next time a risk-free chance to get the shot at a slower shutter speed.
With teams such as the Red Arrows having numerous aircraft arriving at once, you could even do this aircraft by aircraft, with each that lands, decrease the shutter speed by a couple of clicks each time, and before you know it you'll be on the final aircraft and shooting at 1/100 or well below.
See below for examples of how slowing the shutter speed creates a more interesting image than when the action is completely frozen.
Click the images to view them in full resolution
There was a sudden realisation that when aircraft were arriving, the technique of using motion blur to add interest to the image was rendered completely moot when the background itself was simply the plain sky.
Having then wasted a few shots on aircraft that simply had no interest behind them, there was no need to try slowing the shutter speed down, other than to blur the propellers.
Learning point number one would be to wait until the aircraft had descended to allow for some land behind the subject, to be able to be blurred, or, to keep the shutter speed higher so as to keep the subject sharp when on the final land.
An added benefit of arrivals day is that it allows for up-close opportunities to capture crew in the aircraft as they arrive into what is a big and exciting event for themselves. With aircraft taxying in past the viewing enclosures, sometimes close enough for wings to be overhanging the fence, a lot of personnel will wave and interact with the onlooking crowd.
Click to view the images in full resolution
---
Rehearsals
With a strong contingent of international assets coming into the UK to display at RIAT, a lot will need to gain Public Display Authority (PDA) allowing them to be deemed safe to display over the UK. This allows a chance to preview the displays for the weekend. It is well worth taking note of any manoeuvres or interesting angles that impress from a photography standpoint, examples of which may be as follows.
Black Eagles Pass number 3 – Outside jets switch quickly to the rear of the formation
Royal Air Force Typhoon Solo – Full Afterburner take-off before hard right pull to start display
Swedish Gripen Pass 7 – descends head-on towards the crowd
Having a mental note of manoeuvres aircraft will be performing on the main show days, and picturing what these will look like from different angles, all help to prepare so you aren't caught unawares, and rueing the chance to have taken a shot at a specific moment. This however is a feeling that we all experience countless times.
---
Main Display Days
The main displays on Friday, Saturday and Sunday offer over 20 hours of flying from some of the world's best display teams, the latest fast jet elements, and some lovingly looked after vintage aircraft and warbirds.
With RAF Fairford hosting the event, having displaying aircraft take off straight into the display, allows for a unique experience of being able to photograph aircraft on the ground as well as in the air, depending on your position along the famous 2.5-mile crowd line. There are a wide variety of shots on offer, with each position offering a unique viewpoint and different perspective on the day.
---
Crowd Centre
The crowd centre point is the most popular position to be in and certainly is the most crowded, best to arrive very early to set up camp for the day if this is where you're aiming to take your photos from. This is the point that all displays are based on, being the point that aircraft will aim for when running in for a break, or the point where head-on passes are executed. For the best optical illusion effects, this is the place to be.
Click to view the images in full resolution
For solo aircraft, they will extend down the entire length of the display line, however a lot of the manoeuvres will be based around this as the focal point, meaning more passes and more time with the aircraft spent in front of you.
With this being the most popular area for the crowd to be in, don't be scared to use the crowd to your advantage and give the displays a sense of space, items such as the Red Arrows will approach from Crowd Rear, so is a good opportunity to get low, involve the expectant crowd and portray more sense of the occasion.
Click to view the image in full resolution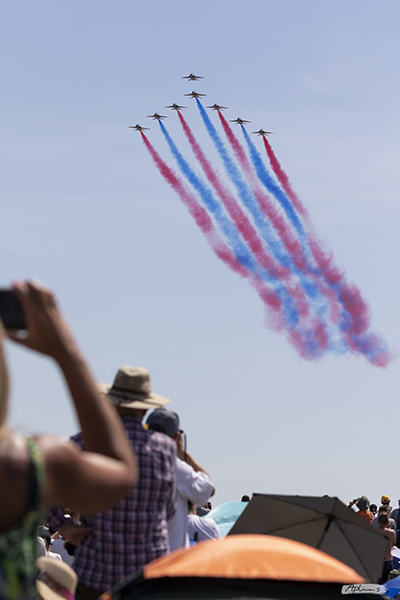 ---
Display Ends Left/Right
The ends of the display line, although not being the focal point, tend to be quieter and do allow for take-off and landing opportunities at the Air Tattoo. Although the aircraft will make fewer passes overall at these points, you will get opportunities to see the jets pushed to their limits as they make steep turns and climbs to reposition for the next pass at Crowd Centre.
If there is moisture in the air, some of the more high-performance aircraft will form clouds on the wings and leading edges, adding drama to a photo even in a clear and somewhat boring sky. This is a very reactive type of photography, and you need to be on you're A-Game, this effect often happens quickly, and is not very predictable at all.
Click to view in full resolution
---
Static Displays
There is a benefit to being mobile and remaining flexible with the types of shots you're looking to capture, there simply isn't enough time on a single day to capture the entire show and all its elements.
Being able to stay on the move allows for a viewpoint a little more unorthodox, capturing the static line with performing aircraft overhead, it also allows for candid shots of crew members who will be interacting with members of the public, and watching the displays from in and around the aircraft they brought in.
This is one option I neglected in 2022, however really look forward to returning next year and exploring this option to the full, some of my favourite shots from the event often don't include an aircraft at all.
As mentioned, the main plus point of the Air Tattoo is its size, however, this is also one of its drawbacks as it is impossible to shoot everything in one day. I would strongly advise planning ahead and prioritising specific items you want to shoot, making sure you're in the right place at the right time to do so and filling in the rest of your day by soaking up the experience and photographing what you can from around the site.
---
2022 Weather Struggles
The Royal International Air Tattoo of 2022 was a bit of an anomaly, with 30-degree plus heat forecast for the week of the show, this proved to be quite a challenge when shooting aircraft over hot tarmac, with an unruly heat haze causing cameras to struggle with autofocus, as well as making a sharp image nigh on impossible when airframes were a certain distance away on the ground.
With a few clouds around on the Friday, this allowed for some interesting compositions, as it's surprising how cloud formations behind the displaying aircraft can really affect the overall feel of the image. It is worth firing off a few extra shots than you may feel is necessary to allow for picking the best shot of the pass.
---
Departure Day
With the main event out the way, all attention focuses on getting the aircraft off the ground and back to their respective nations and bases.
Having spent a few days seeing the aircraft, it's rather a solemn feeling as each item taxis by the park and view enclosures, crew waving goodbye, ready for departure until 12 months' time.
This again is another good chance to get some close-up shots of the crew in the aircraft, some will bring flags to present out of open cockpits or windows, and others will wave making for a more intimate shot.
Click to view images in full resolution
---
Technical Info and What Gear to Choose
Here at Clifton Cameras, we get a lot of questions regarding specific gear choices for certain scenarios. So I have also put together a one-stop shop for photographing the Air Tattoo, and Aviation Photography in general.
Click here to read the second part of my RIAT experience with camera kit suggestions >
---
Read next
---
Thank you!
Thanks for taking the time to read our blog, we really do hope they help you out and answer some of your questions. If you still have some unanswered, then please feel free to get in touch with our team of experts.
We have a LiveChat option on our website and we can, of course, be contacted via our email, we're also on the end of the phone too! Read more on how to contact us here >
---
Want to write for us?
If you've got experience with producing content on photo, video and/or optics products or techniques then we would love to hear from you. Contact our blog editor, Bea, with a sample of your work at bea@cliftoncameras.co.uk.
By Aled Phillips
11 Aug 2022