Two New MEGA Telephoto Lenses from Canon
Last week we saw Canon launch two new telephoto lenses; the RF 800mm F5.6L IS USM and the RF 1200mm f8L IS USM. Yes, that's right, a mirrorless 1200mm lens.
These lenses are essentially small telescopes that you can take photos with. And in this case, thanks to the incredible construction of special glass, you need never worry about quantity over quality. They will, however, set you back about twenty grand each (just something to bear in mind).
---
A historically significant release
For hard-core Canon fans, the release of the 1200mm lens is particularly significant. This is the largest focal length currently available for a Canon RF mount lens. It demonstrates a huge development in Canon's optics engineering; especially when compared to their previous EF 1200mm lens.
Back in 1984, the world got a glimpse of this new Canon kit at the LA Summer Olympics. Five of the Canon 1200mm f5.6L manual focus super-telephoto lenses were loaned to official media photographers to capture the games.
These things were beasts, weighing over 16kg and measuring 836mm in length, getting one of these onto a tripod was an Olympic sport itself.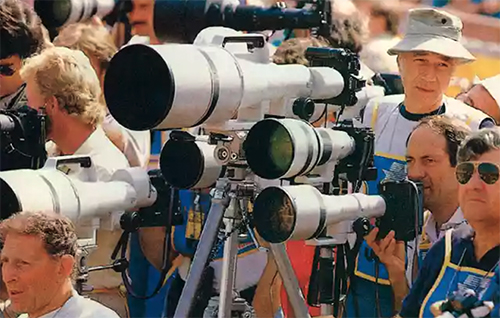 Original EF Lens Key Specs
13 elements in 10 groups
Aperture f/5.6-32
Close focusing distance of 14m
836 Length x 228 Diameter (mm)
Weight (g) 16,500
The eagle-eyed will realise that the EF mount did not exist back in the eighties. These lenses originally were made with FD mounts. When they were returned after the Olympics they were converted to the EF mount for future compatibility.
The lenses were not seen again for almost 10 years after that. But then, in 1993, Canon released the Canon EF 1200mm f5.6L USM Super Telephoto lens available for public purchase.
Just how public? The EF-mount version of the lens was available for $90,000 (equivalent to approx. $173,648 in 2022). So before you get too shocked over the price of the new RF lenses, count your blessings that it won't cost you a house.
In the couple of decades that the lens was on sale, rumours are that only 20 of these lenses were ever sold. Not surprising considering the cost. But this was further pushed due to the factories being able to produce only two of these lenses a year. Each one taking almost the entire year to construct, owing largely to the massive fluorite crystal that had to first be grown.
They are understandably rare now, the last one selling at auction just last year in 2021 where it was bought in Germany for 500,000 Euros (approx. £422,000).
---
About the Canon RF 1200mm F8L IS USM Lens
In comparison to the original EF 1200mm lens, this new RF edition is tiny. It measures 537mm in length and weighs 3.34kg, making it possible to use this beast handheld if you really need to.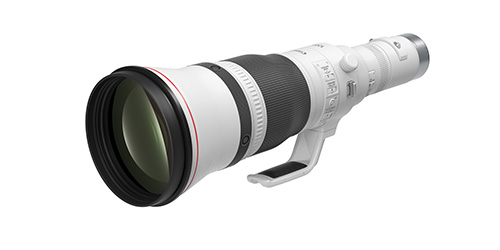 Key Lens Specs
1200mm super-telephoto length
Compact and lightweight for focal length
3.34kg in weight
4 stop SEPA rated Image Stabilization
Dust and drip-proof design
Minimum focusing distance of 4.3m
Fluorite, UD and Special UD elements
View the full specifications here >
The RF 1200mm f/8 may be seen as a step-down in aperture quality compared to the original EF lens with its f/5.6. However, it is due to this reduction in aperture range that the lens can be that much smaller and lighter. Overall rendering it much more usable.
The optics of this lens are spectacular. The UD, Super UD and two Fluorite lens elements, with their advanced coatings reducing ghosting and flare, capture incredibly sharp images. Just take a look below at this plane in flight against the moon. The quality of the photography is stunning, from the sharpness of the aeroplane to the nuance of the golden hour light.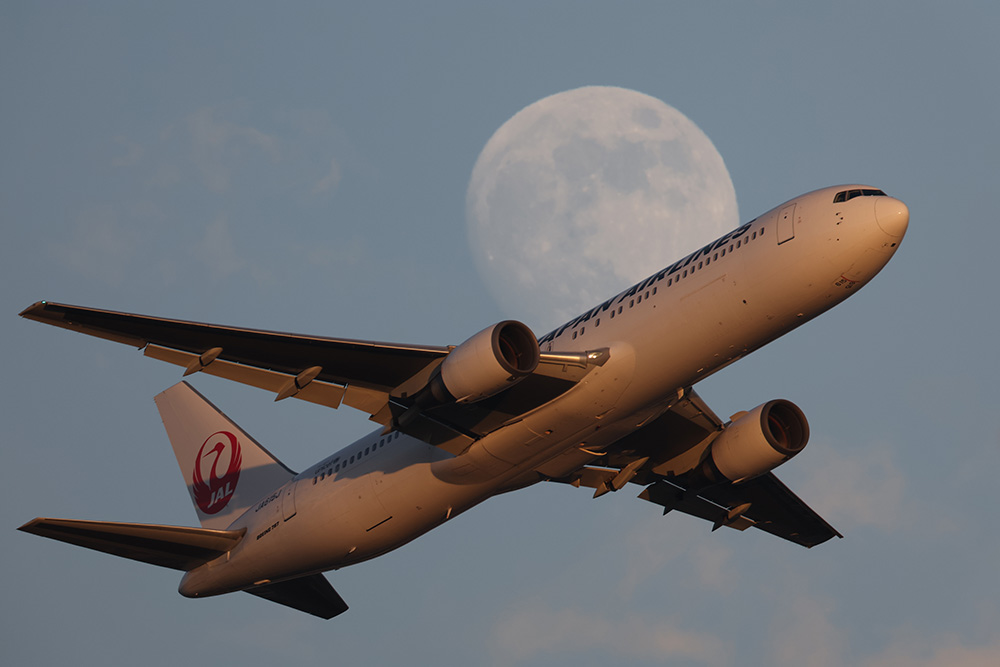 Click on the image to view it in full detail
With the high likelihood of shooting tripod-mounted 4-stops of SEPA rated image stabilisation could seem a little overkill. However with a focal range this magnified, any slight movement will be magnified too, which is where the IS steps in, smoothing the shakes and producing crystal clear photographs.
There's no hiding the fact that this lens packs a punch, and in the right hands, it is the tool for some quite spectacular photography.
Click on the images to view them in full detail
---
About the Canon RF 800mm F5.6L IS USM Lens
For a slightly less intense focal length, the RF 800mm lens is much more manageable. Measuring 432mm and weighing 3.14kg, this lens handles relatively well handheld and is light enough to be carried comfortably in a backpack. A tripod ring comes pre-installed for much more practical use, but it's always nice to have the option of two legs instead of three.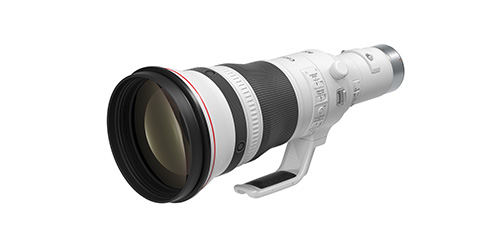 Size isn't necessarily everything, however, and the RF 800mm lens contains the same Fluorite, UD and Special UD elements as the 1200mm. Guaranteeing excellent image quality (although you would hope so at just shy of twenty grand).
Key Lens Specs
Long 800mm focal length
Compact and lightweight for focal length
3.14kg in weight
Large f/5.6 aperture
4.5 stop Image Stabilization
Minimum focusing distance of 2.6m
Fluorite, UD and Special UD elements
View the full specification here >
For wildlife photographers, this lens is going to be an excellent choice. The option to open up the aperture to f5.6 is particularly useful in the field where you are reliant on natural light. The f5.6 is also going to lend itself naturally to beautifully pin-pointed focus and soft background bokeh, highlighting the wildlife around.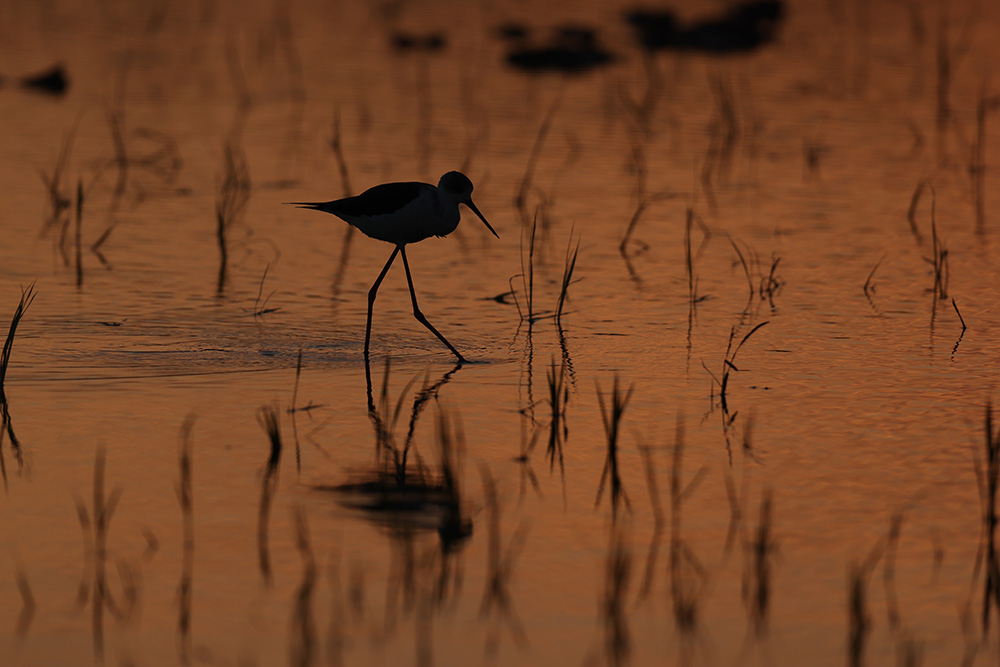 Click on the image to view it in full detail
The focal length is also well-suited to wildlife photography as you can position yourself with a greater distance without disturbing the subject. This can then be heightened further by attaching a teleconverter to the lens also.
Click on the images to view them in full detail
---
Converter Compatible
As if 800mm and 1200mm wasn't quite enough, both of these lenses are compatible with the Canon 1.4x and 2x teleconverters. This means that you could quite happily convert these lenses up to 1600mm f11 and a whopping 2400mm f16 each.
It is hard to imagine quite what that amount of power would be necessary for except in highly specialised professions where a large sensor like the 45MP Canon EOS R5 could lend itself to some very intense cropping in. But it is certainly nice to have the option!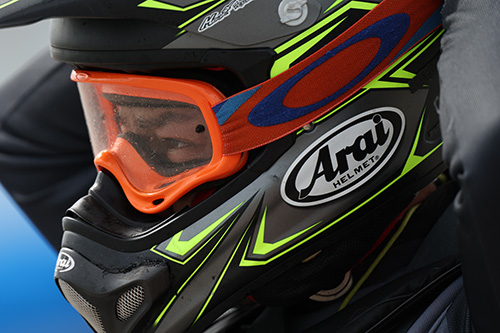 ---
Can't I just buy a 600mm and 400mm with a teleconverter?
Truthfully, yes you could. If you need a generous focal length but don't have the scope to spend a small fortune on the lens then there is nothing preventing you from doing this. Just keep an eye out for the effect the teleconverter will have on your aperture.
For example, if you opt for the Canon RF 600mm F11 IS STM lens with a 2x teleconverter (saving you approximately £21,000) you will end up with a 1200mm f22 lens, drastically changing the type of photography you can create, and the lighting you can shoot with; dawn and dusk, for example, would be more tricky owing to the lower light levels.
---
Who is this for?
It's clear these lenses are not meant for hobbyists. The price alone eliminates that as a sensible target audience. Even the most dedicated wildlife photographers club would be hard-pressed to find a valid reason for purchasing one of these bad boys.
There are, however, some lines of professional photographers for whom these lenses are going to be incredibly useful. Professions such as journalists, marine observers, defence operations and sports photographers are likely to see these lenses as an essential piece of kit. (Plus it can't hurt if you can buy it on the business account!)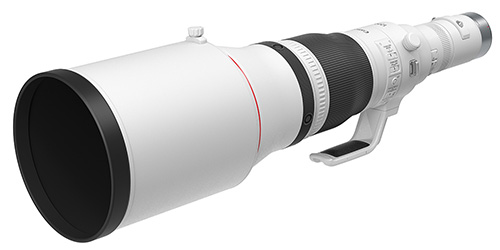 ---
View the lenses here
Whether you are in one of the interested parties above ready to pre-order, or just curious to read in more depth about these lenses take a look below:
---
Read next
---
Thank you!
Thanks for taking the time to read our blog, we really do hope they help you out and answer some of your questions. If you still have some unanswered, then please feel free to get in touch with our team of experts.
We have a LiveChat option on our website and we can, of course, be contacted via our email, we're also on the end of the phone too! Read more on how to contact us here >
---
Want to write for us?
If you've got experience with producing content on photo, video and/or optics products or techniques then we would love to hear from you. Contact our blog editor, Fee, with a sample of your work at fee@cliftoncameras.co.uk.
By Beatrice Debney
4 Mar 2022