Canon EOS R5 C | To buy or not to buy

Released last week, the Canon EOS R5 C marks an exciting time for truly hybrid cinematographers and photographers. With its separate photo and video switches for two completely different menus, it may be the best cine camera yet. Did you know it also marks the first Canon Cine camera for Clifton Cameras! But is it the right camera for you?
---
Apples with Apples
Taking a surface glance at the specifications of the Canon R5 C it might seem as though this Cine camera is very similar to the Canon R5. They share the same full-frame CMOS sensor for 8K video and 45MP stills, the same viewfinder and the same vari-angled touchscreen.
Depending on your needs it might even appear worse – the lack of Image Stabilisation for example could be a deal-breaker for some.
In reality, though, these two cameras are quite distinct. But to fully understand let's first take a look at some of the similarities.
Canon EOS R5 C

Canon EOS R5

Sensor

Full Frame

Full Frame

Resolution

8K

8K

Dynamic Range

Canon Log 3 (14-stops)

Canon Log (12-stops)

Canon Log 4 (14-stops)

Auto Focus

Dual Pixel CMOS AF + EOS iTR AF X + Eye AF

Dual Pixel CMOS AF II + EOS iTR AF X + Eye AF

Stills Photos

45MP

45MP

Mechanic/Electronic Shutter

20fps Mechanical

12fps Electronic

20fps Mechanical

12fps Electronic

Memory Card Slots

1x CFExpress Card (Type-B)

1x UHS-II SD

1x CFExpress Card (Type-B)

1x UHS-II SD

Battery Type

LP-E6NH

LP-E6NH

Lens Mount

EF lenses

EF lenses
See full specification comparison here >
As mirrorless cameras go you can't fault either. The comparison really just shows off how ahead of the game the R5 was when it was released back in 2020.
Although it is a bit of a disappointment that the Cine camera uses the same LP-E6NH battery. For something that has unlimited recording power, you would expect a more powerful battery to deal with that much more energy being consumed. And it does raise the question: how long can I really shoot with the R5 C?
---
What sets the R5 C apart?
Cinema RAW Light
Active Cooling System
Unlimited Recording
No IBIS
So if you have the Canon R5 already, do you need to spring for the Cine version? There are certainly some benefits for an upgrade depending on your priorities. And understandably, they are all for the video side of the on/off switch.
See full specification comparison here >
---
Cinema RAW Light
There is a huge upgrade in the recording formats to choose from including 12-bit Cinema RAW Light up to 2.6Gbps. The inclusion of Cinema RAW Light is a huge advantage of the R5 Cine camera. It means that post-production adjustments can be that much more technical.
What is Cinema RAW Light? A flexible film format found in Canon Cine Cameras that significantly reduces file sizes without sacrificing any quality. Cinema RAW Light files can have their raw sensor data such as white balance, sharpness and brightness adjusted in post for ultimate control of the final look. Something that regular RAW video files cannot do.
This format, plus the additional 10-bit and 8-bit choices will make editing your files so much more pleasurable. The reduced file sizes are a lighter choice for your workflow too and overall just a better way of dealing with vast quantities of video data.
---
Active Cooling System
From the front, the R5 and R5 C look almost identical in design. The main telling factor being the rather unsubtle red "C" and big red recording button. From behind, however, there is one obvious difference. The R5 C camera features a new in-built active cooling system.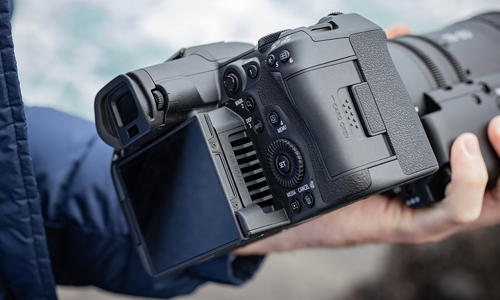 This system effectively dissipates heat from the main body and makes long-duration recording at 8K resolution up to 60P possible. Thankfully there are two options for the system; Always-On and Automatic Fan. Automatic Fan switches off unless absolutely necessary during filming to reduce unwanted noise.
The inclusion of the Active Cooling System leads us on nicely to one of the most key differences between the R5 and R5 C: Unlimited Recording.
---
Unlimited Recording
Restored by the Active Cooling System the Canon R5 C is able to sustain unlimited video recording lengths which have its own obvious benefits. Compared to the R5, which can only record for up to 29 minutes per clip, this new limitless scope goes for as long as you can.
As mentioned before, the R5 C does use the same battery as the R5 which is concerning considering quite how much more this camera can do in video mode. Canon does also mention in their specifications that an external power supply is required for 8K recording above 30P. Definitely something to be aware of, and it does seem to counteract the point of this camera being an 8K powerhouse.
That all being said, to shoot in 8K without limits does seem very enticing. We'll have to wait to get our hands on the camera itself to test this out fully.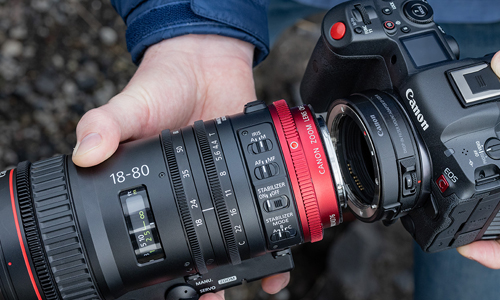 ---
No In-Built Stabilisation
At first the lack of in-built stabilisation does seem counterintuitive when the Canon R5 incorporates it so effectively. However, when you take into consideration the combination of IS lenses and gimbals, its elusiveness can be forgiven.
It appears to have been sacrificed in place of the Active Cooling System which as a payoff seems fair enough. The majority of RF lenses include 5-axis IS which works in harmony with the camera. Consider also, that most videographers work off a gimbal these days for extra balance and handling, and the lack of this keyword for so many other cameras is not so devastating.
For those who prefer to shoot hands free, Canon has confirmed that the camera's digital stabilisation can sync up with any IS lens, however, this correction does come with a 1.1x crop. Something to bear in mind.
---
For the Hybrid Cinematographer
While most hybrid cameras have a primary focus on the photographer and keep the videographer second, the R5 C has a balance that we haven't seen before. It very much feels like a cinema camera first, and a still camera second. Which it absolutely should be.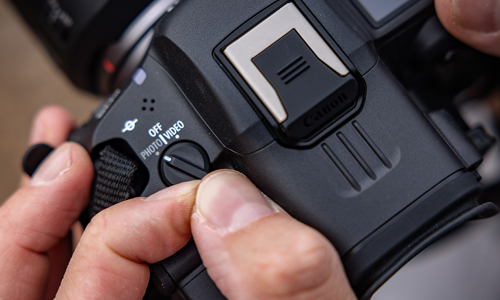 Instead of the regular On/Off switch, there are three options; "video/off/photo". Even here "video" stands out in bright white text, while "photo" is greyed-out. Depending on which option you choose, you are essentially turning on a completely different camera. The menu settings are set up differently, the photo menu looks almost identical to the R5's. And the video menu looks much more like other Canon Cine cameras.
A huge pull the R5 C has for the hybrid cinematographer is the additional on-screen guides when in video mode – waveform being the most widely valued. Having access to the waveform onscreen means that the camera is translating more of the overall brightness values as they are occurring live. Making it a much more sophisticated tool than the histogram in "photo" mode.
Additional extras include a false colour overlay, peaking, zebra, markers and a Timecode socket to sync up multiple devices for lined-up footage and audio.
---
Alternative Cameras
Blackmagic Pocket Cinema Camera 6K Pro. There are a few alternative Cine cameras out there if you're not ready to part with four and a half grand. The closest in comparison would be the Blackmagic Pocket Cinema Camera 6K Pro. As the name suggests its sensor does only goes up to 6K which, once you've been tempted with 8K, can feel like a step backwards.
Still image-wise you only get up to 21.2MPs. Again, looking at the Blackmagic on its own it seems fantastic but now the Canon R5 C is here the comparisons don't quite add up. If, however, you were looking for a Cine camera that can get you started with some excellent quality footage (with your array of Canon EF lenses) then this is an excellent option.
Panasonic DC-BS1H Full-Frame Camcorder. Similar in specs to the Blackmagic PCC 6K Pro, the Panasonic DC-BS1H has a 6K, 24MP full-frame CMOS sensor. Closer in price to the R5 C it is still going to save you a grand and a half of your hard-earned cash. The compromise here is if you are already a Canon user with an arsenal of EF or RF lenses in your kit bag you won't be able to transfer these over.
Sony a7 IV. If you are a hybrid photographer/videographer then the Sony a7 IV is the camera marketed for you. But with 33MP stills and only 4K60p video, this is definitely for a photography-first-videography-second kind of shooter. Which, if you're reading this, you probably are not.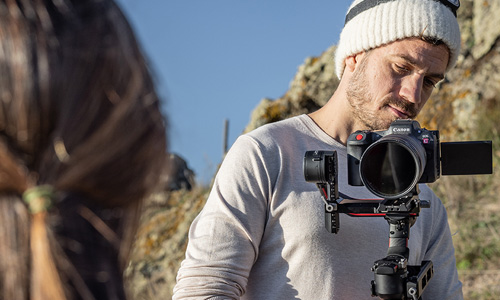 ---
Should I buy the Canon EOS R5 C?
So the ultimate question: should you buy the Canon EOS R5 C? If you already have the R5, or are considering an upgrade to improve your cinematography I would suggest that the time to buy may be nigh.
Approximately £200 more than the R5 gets you a Canon-certified Cine camera. For the cinematographers out there this feels like a no-brainer. Especially since you can still accept the photography jobs without needing an entirely different setup. It's very much a one-camera-does-all and does it very well indeed.
In the case of the Canon R5 C, there really is no other camera like it. When you buy the EOS R5 C, you are really buying two cameras in one. You are investing in yourself as a fully-rounded content creator and opening up options to accept jobs of every calibre. And most importantly, to deliver creations of the best possible quality.
If you need any more convincing then watch the ​​Behind the Scenes video with Kevin Clerc to show just what this camera can achieve.
---
Convinced yet?
The Canon EOS R5 C Camera is available to buy here >
---
Read next:
---
Thank you!
Thanks for taking the time to read our blog, we really do hope they help you out and answer some of your questions. If you still have some unanswered, then please feel free to get in touch with our team of experts.
We have a LiveChat option on our website and we can, of course, be contacted via our email, we're also on the end of the phone too! Read more on how to contact us here >
---
Want to write for us?
If you've got experience with producing content on photo, video and/or optics products or techniques then we would love to hear from you. Contact our blog editor, Fee, with a sample of your work at fee@cliftoncameras.co.uk.
By Beatrice Debney
28 Jan 2022