Sigma 24-70mm f2.8 DG DN Art Lens E-mount

At the start of November, we brought you a short blog on the new Sony E-mount 24-70mm f2.8 DG DN Art lens from Sigma - if you haven't already given it a read then you can find it here.
We can now bring you a hands-on report after we had the hugely anticipated lens in our little mitts earlier this week. So grab a brew and get comfy for our hands-on review of the Sigma 24-70mm f2.8 DG DN Art lens for Sony E-mount.
First Impressions
On first sight, the new DG DN Art labelled zoom lens from Sigma is compact, heck it's even considered small if you compare it to the likes of the Tamron 24-70mm for the Canon, for example. This aids the portability of such a versatile and popular focal length zoom lens.
Once on the end of your Sony, it's easy to hang off the end of a wrist or neck strap or even comfortable to cradle in your arms as you walk to your chosen destination of photography - in my case anyway.
Sony are known for their compact full frame mirrorless cameras and this lens goes hand in hand with this concept. Offering a constant f2.8 aperture throughout the entire focal length, this lens offers photographers a valuable option for so many types of photography.
Performance
Without doubt, this new lens from Sigma delivers the high quality imagery that you'd expect in a lens at this price point. Edge to edge sharpness and high-contrast when at 24mm is excellent and this carries throughout the entire zoom range. This is down to two coatings, a Super Multi-Layer Coating along with Sigma's Nano Porous Coating that helps the lens to achieve this high-contrast and clear image quality.
Colour fringing was non-existent in our test. This was down to three aspheric lenses that prevent such axial chromatic aberration which results in a more uniformed and superior optical performance.
The autofocus is super quick and super quiet and is compatible with the Eye Detection AF which Sony are renowned for. Quite the force to be reckoned with.
Sample Images
Bokehlicious
Thanks to a well-rounded eleven-blade aperture, the bokeh (quality of defocused areas in the images) are beautifully smooth and circular at f2.8. Coupled with the speedy and quiet autofocus system, this lens firmly puts itself as a front runner for wedding photographers.
Would this affect you?
Being a Canon user myself it was frustrating to find that the zoom ring on the Sigma lens twisted in an anti-clockwise direction. If you're used to this direction to start with then of course there's really no issue, however having done some research into the matter it's clear that some third party lenses do mix up the direction on their focus and zoom rings. It's a 50/50 scenario and you can't please everyone!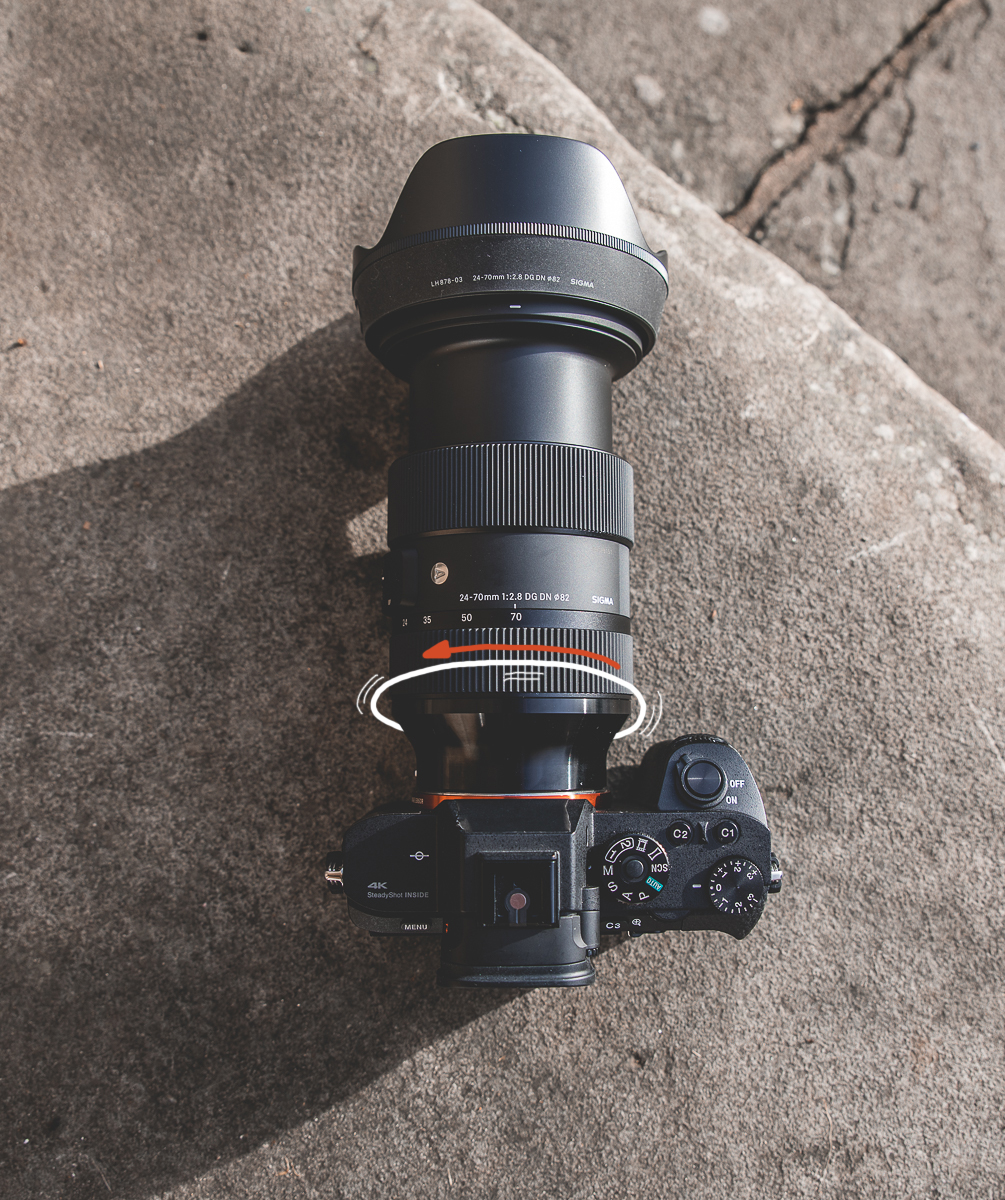 That said, the focus and zoom rings oozed luxury with a premium feel and smooth rotating action - even if it was the wrong way.
Size Matters
I still can't quite get over the how lightweight and portable the whole Sony and Sigma setup is. The 24-70mm focal length is perfect for chucking on the end of a camera and heading out for a mix of street, people and landscape photography and the lightweight feel only aids these styles.
The lens also comes with a handy lock switch, preventing the lens barrel from dropping down if you've got it slung around your neck.
Lens Hood Luxury
Let's talk about the lens hood. Not usually an aspect of a lens review that I'd focus on but this one needs it. The luscious audible click that you hear when connecting the hood to the lens is heavenly. If premium had a sound, this would be it.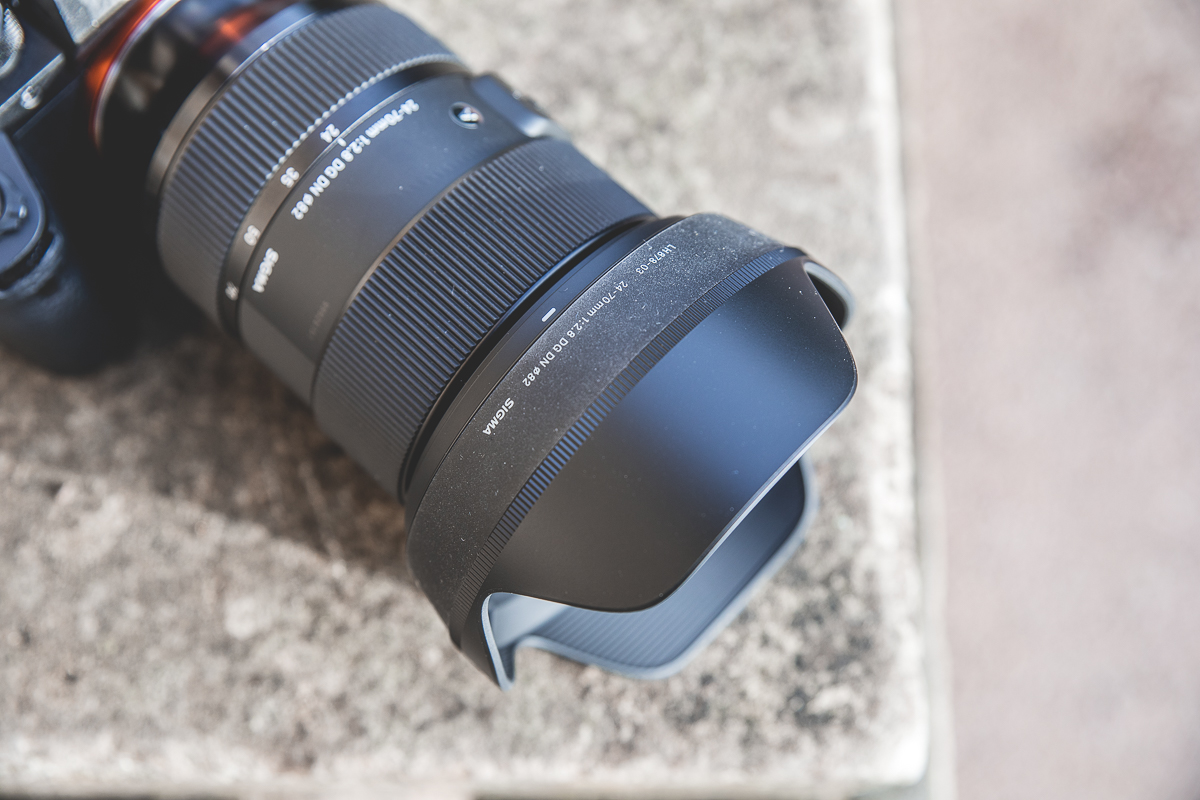 The hood features a very tactile grip that covers the circumference of the tip of the hood. This is no doubt useful in keeping a firm and steady grip on the tip of the lens when in use but it also acts as an unwelcome velcro to all things fluffy.
If you're someone who likes to keep their equipment in tip top condition then this will certainly be an area of frustration if you happen to wear gloves or any clothing made with a shedding material.
How much are we talking?
It's a highly anticipated lens for Sony users and with a price tag of just over £1,000 it's nearly a cool £800 cheaper than the Sony branded equivalent. A no-brainer one might say?
Final Thoughts
If I was switching to Sony, I'd buy one. The appearance is premium but without looking too swanky that you're constantly worried about scratching or knocking it. The feel and usability is definitely top level, smooth ring action coupled with a sturdy yet tactile grip makes you feel like you're using a lens that's a lot more expensive than this one is.
The image quality is on par if not better than that from it's high level competition. We saw zero colour fringing on this model, even at the extremes of the focal length. The contrast and sharpness was consistent throughout the focal lengths and the bokeh was buttery.
24mm vs 70mm
Speedy and near silent focusing goes hand in hand with the silent modes from the Sony mirrorless cameras, so the wedding photographers or street photographers can snap away in peace and quiet.
A 24-70mm lens has to be a must in almost all photography bags and the new Sony E-mount from Sigma falls right into this bracket.
Please note that this lens is a pre production model. If you have any feedback or any requests on what you'd like us to review in the future, please drop me an email on fee@cliftoncameras.co.uk
By Fiona Chandler
19 Dec 2019