The Incredible ISO of the Fujifilm X-H2

Click on any of the images in this blog to view in full resolution
When given the chance to take the brand new Fujifilm X-H2 down to Cornwall for a week, I had to say yes (and not just because I thought I could get some good holiday snaps with it!).
Looking through the specs – 40MP APS-C Sensor, 8K/30p, ES up to 1/180,000 per second – I could not refuse. I have always been tempted by a Fuji. To be completely honest, it is the look of them that grabs my attention; their build based on classic SLR cameras and their classy, metallic, black bodies are hard to say no to. But the cropped sensor aspect has always put me off.
Fujifilm X-H2 Key Features
Back-illuminated 40.2MP X-Trans CMOS 5 HR sensor
High-speed X-Processor 5
Highest resolution of X series cameras (stills & video)
8K/30P Apple ProRes internal recording (world first for APS-C)
Minimum ISO 125
Maximum electronic shutter of 1/180,000
Pixel Shift Multi Shot
10 Subject Detection AF Modes
5-axis image stabilisation up to 7 stops
0.8x magnification
5.76 million dot EVF
It is hard to not jump to the assumption that with a cropped sensor you will end up worse off. It's an opinion that I know a lot of photographers share. The mind assumes that if it's not getting a full sensor of pixels, then the results are going to be lacking in quality, sharpness and resolution.
This is not the case when the camera in question is a 40.2MP BSI sensor. My current full frame is a mere 22.3MP. It quite literally does not compare. Having now tested the Fujifilm X-H2 out, the image quality from this camera transcends anything that you might expect from a camera of this format.
---
X-H2 Camera Body
Back to the body, however. This is exactly what you want and expect from a flagship camera. It feels sturdy in the hand. The metal is reassuringly cool to the touch. And the grip is magnificent. Fujifilm has clearly tested this out on various hand sizes and I think they've found the perfect solution. It feels big, but not too big. The index and second fingers sit exactly where you want them to, and the little finger balances everything without taking too much weight.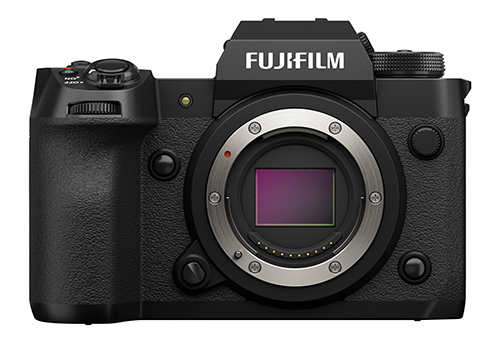 It feels relatively lightweight when you first take the camera out of the box. But add in a battery and a lens and you suddenly know that you are holding a proper piece of kit.
Included on the body are an array of ports for every function. Including a full HDMI port, separate Mic and Headphone jacks, a USB charging port, a Cable Protector port, and a Contact Point for your battery grip (sold separately).
Storage options come in two forms; a CFexpress Type B and an SD card slot. Both are incredibly useful, but the CFexpress definitely takes priority if you are looking at doing any 8K video shooting.
Button-wise there are all the usual suspects. Laid out exactly the same as the Fujifilm X-H2S. I got on well with the button placement in general. My only problem appeared when it came to swapping from stills to video shooting and vice-versa. I am generally an ISO-dependent shooter, born from regularly shooting in low-light conditions such as theatres. This meant that I got very used to adjusting the ISO, and muscle memory for this top button developed quickly.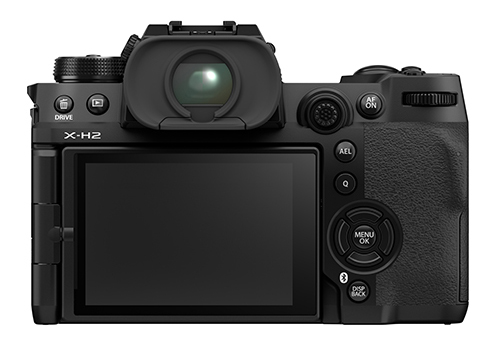 The issue then arose when I moved over to shooting video as the record button is tantalisingly close to the ISO, causing me to regularly go to record a shot, only for the ISO menu to pop up instead. It was quite frustrating, albeit not mood-shattering, and I eventually learnt where the correct button was placed.
I then swapped back to shooting stills and the same thing happened again! I now wanted to adjust the ISO but instead found a new setting I had no idea about, which was to start recording while still in manual mode, using autofocus and the settings I already had set up.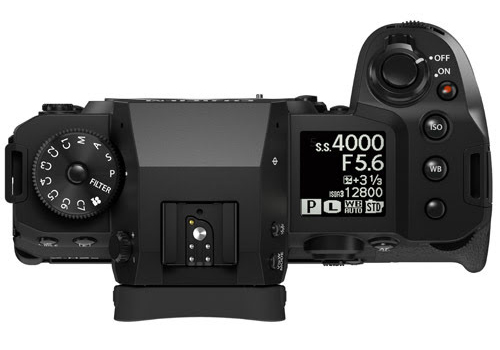 Overall, the buttons are placed exactly where they need to be, and I am sure that were I to buy this camera and use it for a longer period of time, I would certainly get more used to this and find the issue to be something of the past. But it is certainly worth a mention.
I found the menu layout usable, if not a bit daunting at first. Perhaps it is simply due to the incredible complexity of mirrorless cameras these days, but there seemed to be so many settings to go through and try out, that I know for a fact I barely scratched the surface of it.
To have this camera for longer and take it out on a professional shoot may have revealed even more amazing features of the X-H2 camera. I'll just have to borrow it again I suppose.
---
Incredible ISO
Now, onto what is, in my opinion, the pièce-de-résistance of the Fujifilm X-H2: the ISO. Forever the benefit of a cropped sensor, this camera excelled every expectation. As I've mentioned before, I regularly shoot in low light and so I have to be very good friends with my ISO settings in order to get the shot I want, at the quality I want.
If you take anything away from this blog, it is that the ISO capabilities of this camera are incredible. Spanning from a lower natural minimum ISO 125 up to ISO 12,000, but expandable from 64-51200, the range is fantastic. Firstly, I took the camera to the Maritime Museum in Falmouth. Museums are famous for their subtle lighting that makes photography tricky so I thought this would be an excellent test.
Quick side note, the X-H2 also features Pixel Shift Multi-Shoot which delivers 160-megapixel images. This level of quality is often required when photographing pieces of art in a museum in order to maintain absolute detail and recreate the artwork digitally in its truest form.
The X-H2 handled exhibits that were lit with one single spotlight with ease. The detail it continued to capture was excellent. In this image, you can really appreciate also, the quality of the low f1.6 aperture taken by the new XF 56mm f1.2 R WR Lens.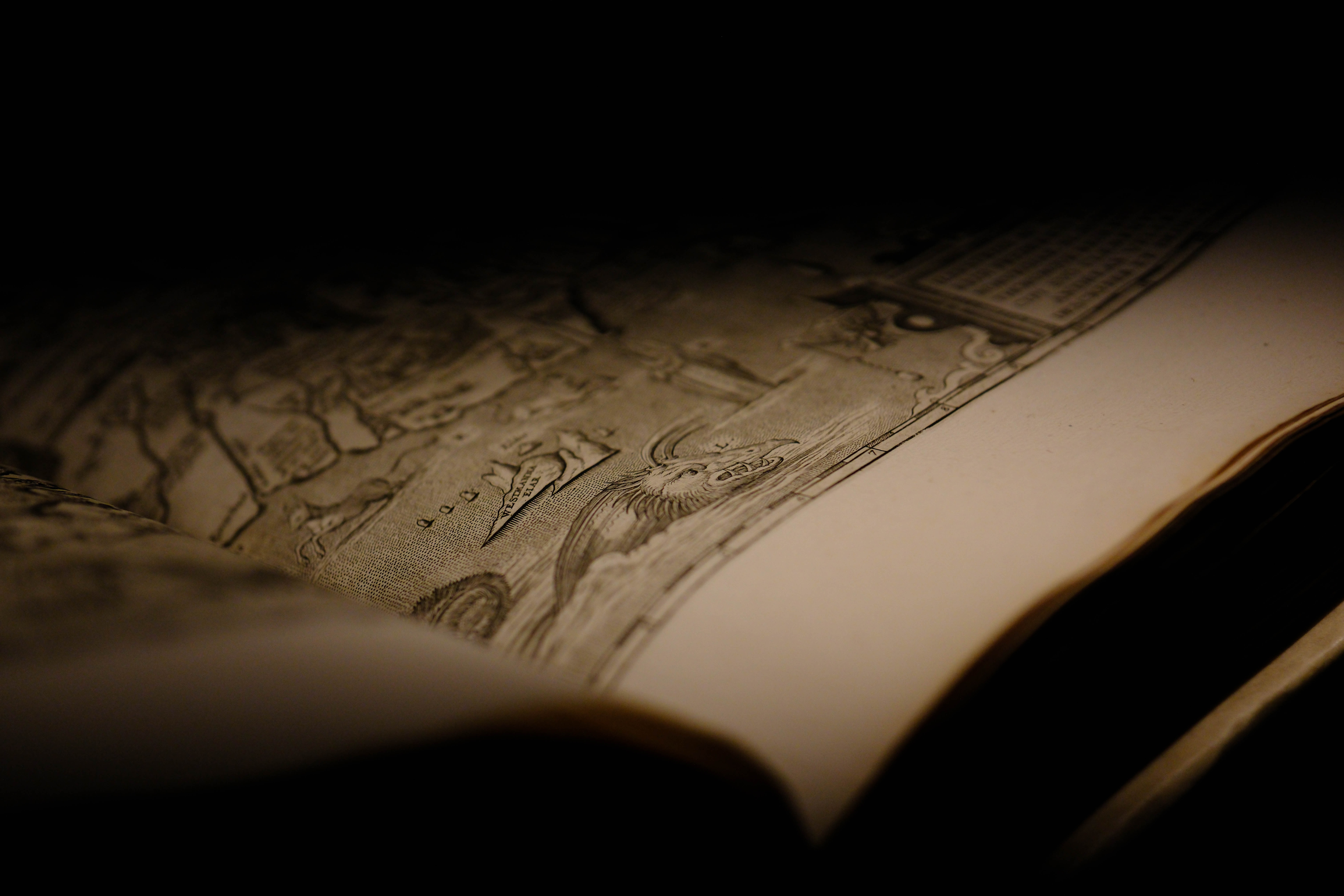 Camera: X-H2 | Lens: XF 56mm f1.2 R WR | ISO: 1250 | Aperture: f1.6 | Shutter: 1/1000sec
Speaking of the Fujifilm XF 56mm f1.2 R WR Lens (released at the same time), what a pair these two make. Mounted on the X-H2, the lens takes on a 35mm equivalent focal length of 85mm. It is by no means a small lens. And while it is perfectly handleable it isn't super lightweight either.
However, that does not matter as soon as you see what this lens can produce. Silky-smooth depth of field and stunning bokeh. The aperture ring has a satisfying click as you move from f16 to f1.2, while the focus ring is smooth with the perfect level of resistance.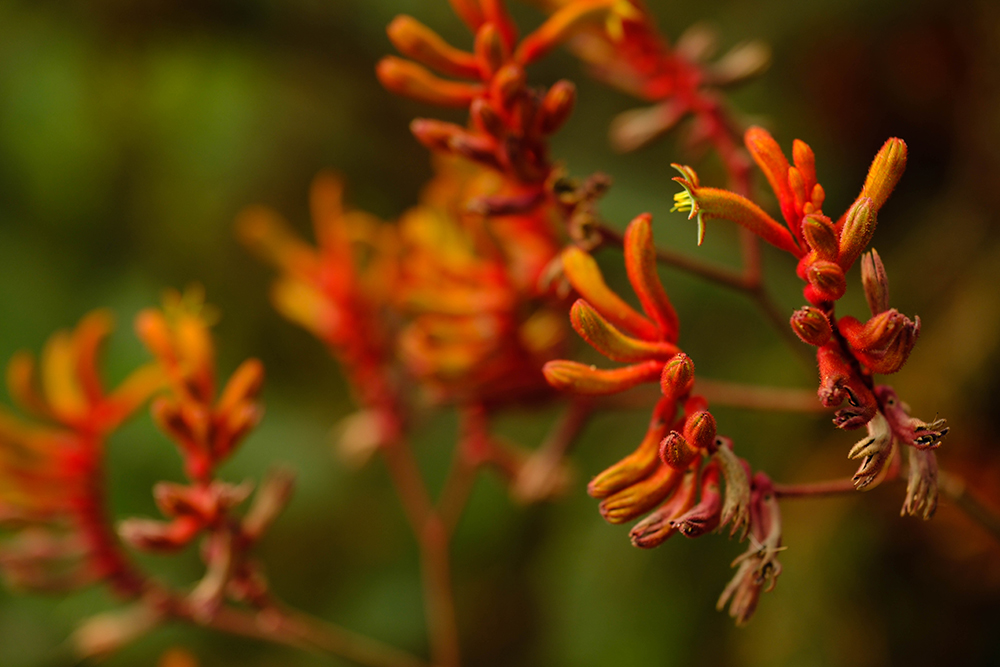 Camera: X-H2 | Lens: XF 56mm f1.2 R WR | ISO: 200 | Aperture: f1.8 | Shutter: 1/2500sec
I then took the camera to St Ives for some sunset photography. Following your traditional golden hour, the sky blessed us with a spectacular pink and purple sunset. I had to fight off a few seagulls but I wasn't going to miss this.
The X-H2 handled the dropping light levels like a pro. I was actually able to hang around ISO 125 for quite some time, partly due to the f1.2 aperture of the XF 56mm, but mainly due to the way the sensor handled the lighting conditions.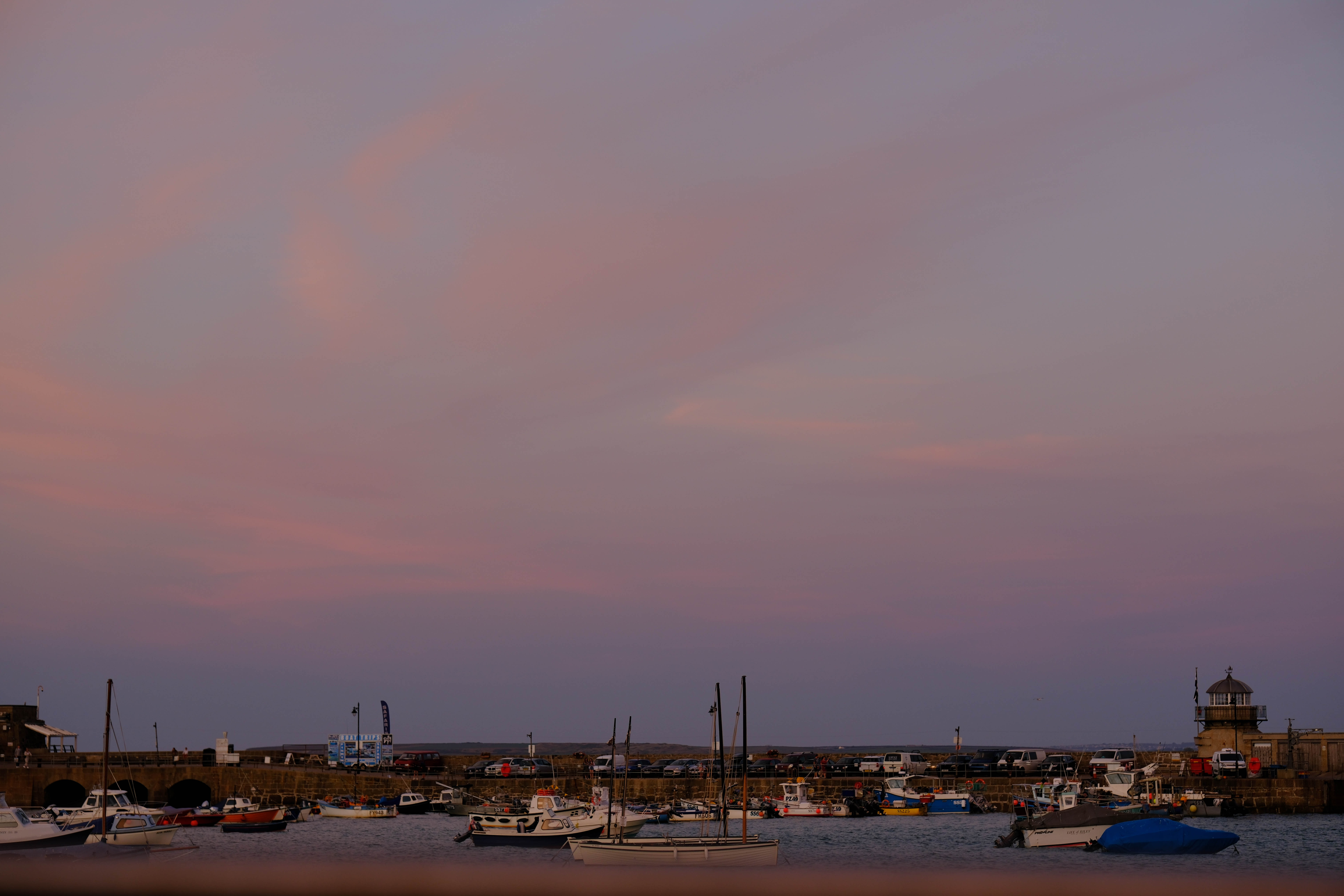 Camera: X-H2 | Lens: XF 56mm f1.2 R WR | ISO: 125 | Aperture: f2.5 | Shutter: 1/200sec
I was shooting in the Velvia/VIVID film simulation which is classically designed for "Vibrant reproduction, ideal for landscape and nature" so the images were ready straight out of the camera. For the purpose of this blog I have edited some of the photos with marginal levels touch-ups, but really these photos were ready immediately.
As the evening went on, the sun finally went down over the horizon and we were left with only the shop lights of St Ives' thriving harbour. Did that stop the X-H2? I think you know by now that the answer is no, it did not.
Moving up to ISO 4000 (dangerous territory if you, like me, are still used to DSLR ISO levels) and the camera did not break a sweat. In this image here you begin to see some sign of grain in the sky, however, personally, I like that effect. It feels like a natural grain that you would find on an analogue image, rather than a grain caused by a camera struggling to pick up detail.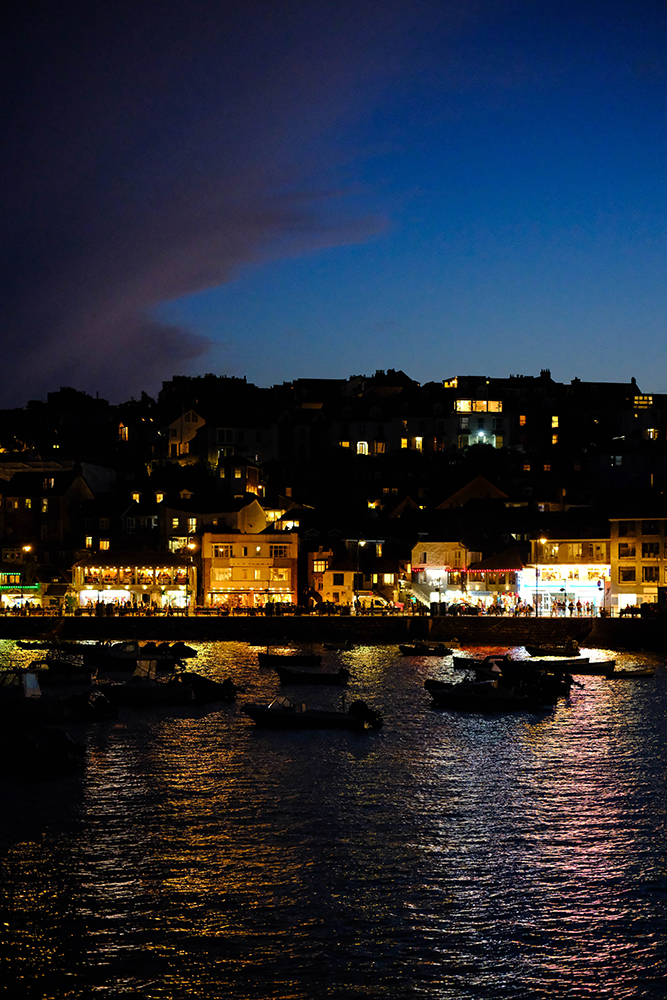 Camera: X-H2 | Lens: XF 56mm f1.2 R WR | ISO: 4000 | Aperture: f1.2 | Shutter: 1/125sec
So I decided to push the camera to its very limit. The Fujifilm X-H2 has a maximum aperture of 51200 and by now I was intrigued to know what this would look like. Below are two images of the same scene; one ISO 3200, and the other ISO 51200.
Here I found some solace that the camera finally behaved in the way I would expect it to, rather than on some other-worldly level. It produced grain in a way that told me it didn't like what I was doing to it. However, zoomed out, only the sky at the top and the sand at the base really spill the beans. On my pro-res mac screen, the rest of the image looks passable. Zoom in and the game is up, with its fuzzy lines and almost posterised effect.
All that being said, the camera managed it.
Truly phenomenal.
---
Crisp Video
Alongside the mega 40MP sensor, the Fujifilm X-H2 comes with the capability to shoot a whopping 8K/30p, 4K/60p and HD/240p. It is the world's first APS-C camera to enable 8K/30p Apple ProRes internal recording which is fantastic news for any filmmaker.
I am no videographer so the videos I got from this shoot were basic. But sometimes bringing things back to basics really highlights the good qualities of a camera, and if someone like me can produce some half-decent footage, then think about what it is capable of in the hands of a pro.
Side note, watch this space for more pro-video content on the Fujifilm X-H2.
It took me a short while to get to grips with the video settings of the X-H2 with the XF 56mm lens as the lens does not feature an AF/MF switch. In order to choose manual focus (which is almost always required with videography) you have to go through the video settings in the menu.
Once found, however, and peaking turned on, I had a great time enjoying that buttery smooth f1.2 aperture on the 56mm. I ventured so far as 4K/60p – again, keep an eye out for more video content – and if you watch the sample video below I am sure you will agree that this is more than your average hybrid camera.
The 5-axis in-body image stabilisation of the X-H2 works up to 7 stops and it shows. The video was smooth throughout. Although footage, where I was walking, was still fairly bouncy so I would recommend that on-the-go documentary-style videography would still require a gimbal for horizon-steady footage.
One thing that really impressed me was the in-camera audio quality. Naturally, most videographers are still going to prefer to use an external microphone for their work, but the in-camera mic picked up on much more than I was expecting. The natural ambient noise of the environments I was recording in come across as powerful and immersive when played back. In the sample video below you can hear the buzzing of bees around the camera and the crashing of waves is enough to put anyone into a calming sleep.
---
Final Thoughts
To conclude. Would I buy one? It has certainly cured my fear of the cropped sensor for professional work. There is no doubt in my mind that to use this in most pro-photographer's lines of work – be that wedding, portrait, live performance, landscape or other – this camera would deliver.
If you are a hybrid shooter, as so many of us are becoming these days, this camera gives it all. 40 megapixel stills with the capacity to shoot 8K if you really need to. The internal microphone also means that you could pick this camera up, add on a lens and you have a "basic" video set up that is far more advanced than your average joe.
If what you need from a camera is strong, incredibly high-quality images and crisp resolution in your videos then the Fujifilm X-H2 is for you.
---
Fujifilm X-H2 Sample Gallery
Click on any of the images in this blog to view them in full resolution.
---
Convinced Yet?
The Fujifilm X-H2 camera is available to buy now!
View all kits and lenses released with the X-H2 here >
---
Read next
---
Thank you!
Thanks for taking the time to read our blog, we really do hope they help you out and answer some of your questions. If you still have some unanswered, then please feel free to get in touch with our team of experts.
We have a LiveChat option on our website and we can, of course, be contacted via our email, we're also on the end of the phone too! Read more on how to contact us here >
---
Want to write for us?
If you've got experience with producing content on photo, video and/or optics products or techniques then we would love to hear from you. Contact our blog editor, Bea, with a sample of your work at bea@cliftoncameras.co.uk.
By Beatrice Debney
8 Sep 2022