The Ultimate Fujifilm Instax Buying Guide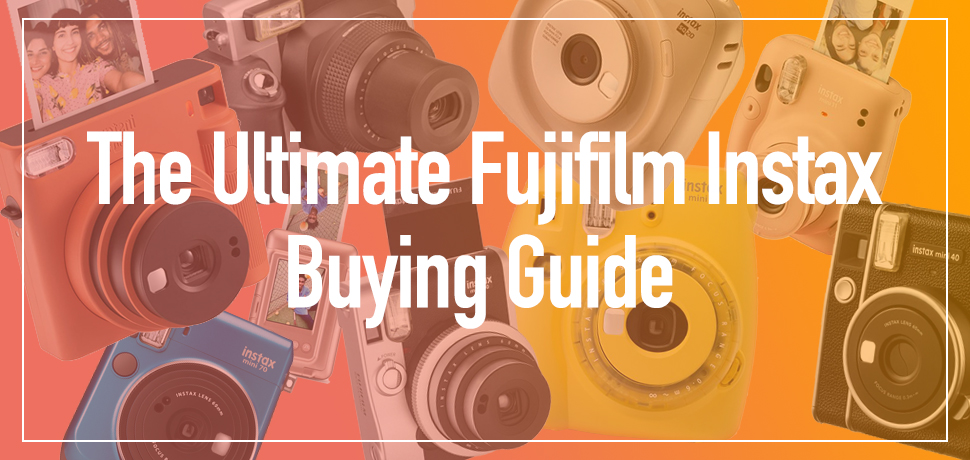 Fujifilm Instax cameras have been around since the Instax Mini 10 came out in 1998 and they have been gaining popularity ever since. Now, as some of us look for a way of dipping into the analogue or just take a trip down memory lane, it can be tricky to know which model is the one to go for. Well, fear not, we have you covered on all the what's, the why's and the different models, and even better, they are all available for 2-3 day delivery!
---
What is an instant camera?
First off, let's start with the basics. What exactly is an instant camera? Is it the same as a disposable camera?
Not exactly, a disposable camera tends to be a point and shoot with very few settings and just the option of a flash. They typically have around 24 shots on a pre-loaded reel of film which once filled is taken off to be developed and the camera is disposed of. With an instant camera, you load the film yourself and every time a photo is taken it is immediately printed straight out of the camera to develop in seconds. Instant camera film typically has either 8 or 10 shots in a pack depending on the brand (for Instax it's 10) and once they have all been used you simply reload a new film cartridge and get snapping again.
---
Why should I buy an instant camera over a disposable one?
One of the great advantages of the Instax cameras is the addition of shooting modes to help make sure that no film is ever wasted due to poor lighting. Most of the Instax cameras have auto-exposure control and auto-shutter speed plus the excellent feature: selfie-mode with a built-in selfie mirror.
The instant film produces an image quality that is hard to replicate, either on a smartphone or a disposable camera. The mini film is credit-card-sized so it can fit in a wallet and the border around the edge is a ready-made frame. There is also something very forgiving about an Instax picture so that even if a shot feels as though it may have gone awry, you still have a memory that you can treasure.
The ability to also see your picture moments after taking it rather than having to wait days for the film to develop is certainly a bonus. Smartphone pictures are of course quicker but not tangible and disposable cameras require the whole film to be used before developing. They really are the best of both worlds!
---
What are the different types of Instax cameras?
There are three types of Fujifilm Instax cameras named after the size of the film they take: Instax Mini, Instax Wide and Instax Square.
Mini Film: This is the classic Instax credit-card-sized, portrait-oriented film. The film is 54 x 86mm and the picture is 46 x 62mm. They are fun, cute, and look great hung up on a string of lights*.
Square Film: You may associate square film with Polaroid cameras but Instax does it great too. These instant films shots are 86 x 72mm with a 62 x 62mm picture.
Wide Film: Get everyone in the shot with the larger wide film. Landscape-oriented, these shots are 108 x 85mm and the pictures are 99 x 62mm.
In addition to these three cameras, there are also hybrid camera/printers which can take instant photos with the same image quality as the other Instax cameras, as well as print photos that were taken on a smartphone via an app. Scroll down to find out more about them.
*truthfully they all look amazing hung up on a string of lights!
---
Ok, which one should I buy?
Fujifilm has dedicated a lot of time to create the best instant cameras available to buy today. From the classic mini, to wide shots to square snaps, Instax is always there to help you capture the moment. With so many on offer, we've made a list of which camera is going to be perfect for you, no matter who you are.
| | | |
| --- | --- | --- |
| | Looking for the perfect present? | The Instax Mini 9 is available in 5 bright colours and is super playful. Guided features such as exposure control and boosted exposure help to take great photos every time. The Mini 9 is also available with additional accessories like this Smoky White Kit or as part of the beautiful 120 shot Wedding Bundle. For an ideal gift why not get the Mini 9 with 30 shots so they're ready to get up and go! |
| | Are you a Customising Queen? | Then the Instax Mini 11 is the one for you! Available in 5 gorgeous pastel colours, this camera comes with a bunch of accessories including matching straps and bejewelled and glow in the dark shutter buttons for you to make your camera uniquely yours. Available with up to 40 shots in the box, become the life of the party with the built-in selfie mode features. |
| | Is everything you own a classic? | Buy the Instax Mini 40 for an effortlessly classic style with plenty of modern twists. Auto exposure and shutter speed will mean that you never waste a credit card-sized shot and the built-in flash recycles in just 6.5 seconds for super speedy snapping. |
| | Are you an analogue lover? | The Mini 90 has a classic design with features for those reminiscing about the good old 35mm days. Get creative results with traditional features like double exposure and bulb mode. This Instax even has a tripod socket for the true "photographic" experience. |
| | Do you love a retro pop? | With advanced modes such as macro and landscape at your fingertips, the Mini 70 is a stylish camera available in 3 retro pop colours. Auto and advanced features make this a great option for photographers of all levels and a built-in selfie mirror brings this camera boogying into the modern day. |
| | Is "let's get a group shot!" your party catchphrase? | Then the Instax Wide 300 is practically perfect in every way. The Wide 300 is the only instant camera that takes landscape photos using the large Instax Wide film, which is ideal for getting everyone in a group shot. |
| | Are you a square trendsetter? | Indulge in the SQ1, the incredibly stylish square instant camera. Available in three luxe colours, this design-centred camera is effortless to use. A twist out selfie lens and built-in mirror let you express yourself both inside and out of the box. Plus auto features mean you can shoot confidently from the get-go. |
| | Do you love gadgets and gizmos? | Meet the ground-breaking Mini LiPlay camera and printer in one pocket-sized device. This camera/printer is packed with special features including frames, filters and even QR codes for you to listen back to the moment each image was taken. All rolled up in a tiny, elegant package. |
| | Do you need all of this rolled into one? | The Instax SQ20 is the square camera/printer hybrid that you are looking for. You can re-shoot, you can take selfies, it creates collages and splits images. Double exposure and bulb mode lets you push your creativity to the limit. And on top of all that, it is the only Instax camera to have a digital zoom. What more could you possibly need? |
---
I need one what do I do now?
So now that you have worked out which Instax is perfect for you, put down that digital camera or smartphone and get into instant photography to find out just how fun it can be!
Don't forget to get yourself some additional film because once you get snapping instant photos it's hard to stop.
---
Want to find out more?
Check out our other blogs covering Fujifilm Instax:
Top Tips for Shooting Square with the SQ1
How to Turn Up the Fun with the Fujifilm Instax Mini Link Wireless Photo Printer
---
Still unsure which camera is right for you?
Get in contact now, our friendly team of experts are always happy to help!
---
Thank you!
Thanks for taking the time to read our blog, we really do hope they help you out and answer some of your questions. If you still have some unanswered, then please feel free to get in touch with our team of experts.
We have a LiveChat option on our website and we can, of course, be contacted via our email, we're also on the end of the phone too! Read more on how to contact us here >
Want to write for us?
If you've got experience with producing content on photo, video and/or optics products or techniques then we would love to hear from you. Contact our blog editor, Fee, with a sample of your work at fee@cliftoncameras.co.uk.
By Beatrice Debney
3 Jun 2021