The ULTIMATE Street Photography Camera? Hasselblad X2D in New York

The launch of the Hasselblad X2D 100C was long awaited, but in September 2022 we got a new medium-format camera from this legendary company. The new system proved revolutionary in its specification, design, and interface, but how will it stand up to street photography?
It boasts an impressive set of features, including a 100-megapixel medium format sensor that produces remarkable high-resolution stills, and an intuitive new and improved interface. With its compact body, the X2D offers great portability, allowing you to take it with you wherever you go.
---
Dive into the Specs
The Hasselblad X2D is a medium-format mirrorless digital camera that packs a punch. It boasts a 100-megapixel 44x33mm sensor that allows you to capture stunning images with unparalleled detail.
The sensor is paired with a newer version of Hasselblad's iconic True Focus technology, which helps ensure that the subject of your photos is in sharp focus no matter where they are in the frame.
Alongside this amazing new specification, the X2D has a wide ISO range of 50-204,800 and can shoot up to 5 frames per second at full resolution. It also comes with dual Type B card slots for storing your photos, a built-in 1TB SSD, and Wi-Fi connectivity for speedy wireless file transfer and remote shooting.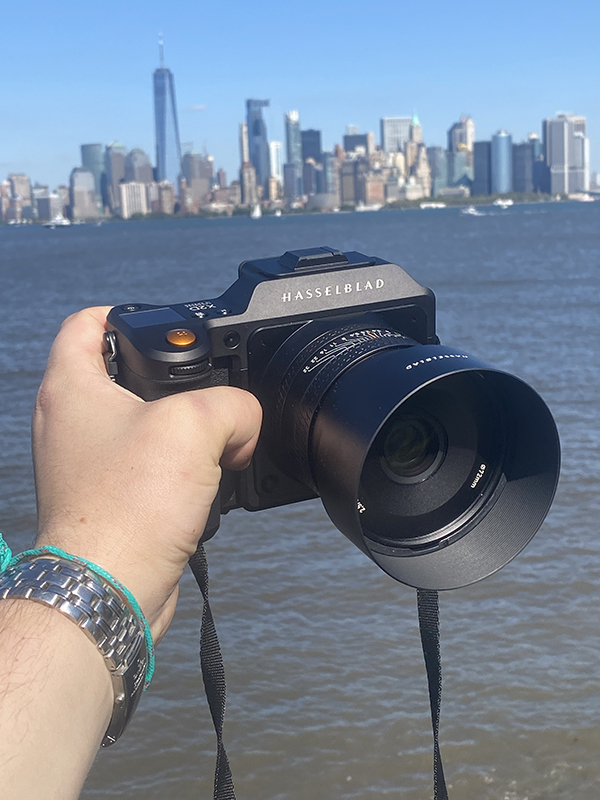 ---
The Mission
It is easy to spend all day sat looking at the specifications of a new camera, but the only true way to tell is to take it out in the field – or city!
I have used an array of different cameras during my career, including extended time with the X2D's biggest rival – the Fujifilm GFX 100s. But it's been a long while since I've been this excited to get to grips with something new and begin to understand why this beautiful piece of engineering holds the prestige that it does.
I knew that taking this camera for a walk in the woods would never be enough, amazingly, the opportunity to shoot fell perfectly with a surprise trip I had planned to New York, not only was this a holiday but also where I planned to propose to my now Fiancé.
---
So, how will this camera hold up?
The Hasselblad X2D will offer me a unique blend of spectacular image quality and handy portability. My initial impressions of the X2D suggest that this is a camera capable of producing stunning images, with impressive dynamic range and sharpness.
A system like this is often found in a commercial studio or photographing portraits on location, not used as a walk-around street camera. I personally can't see a better place to test it, other than on the streets of the big apple!
Click on any of the images in this blog to view them in full resolution.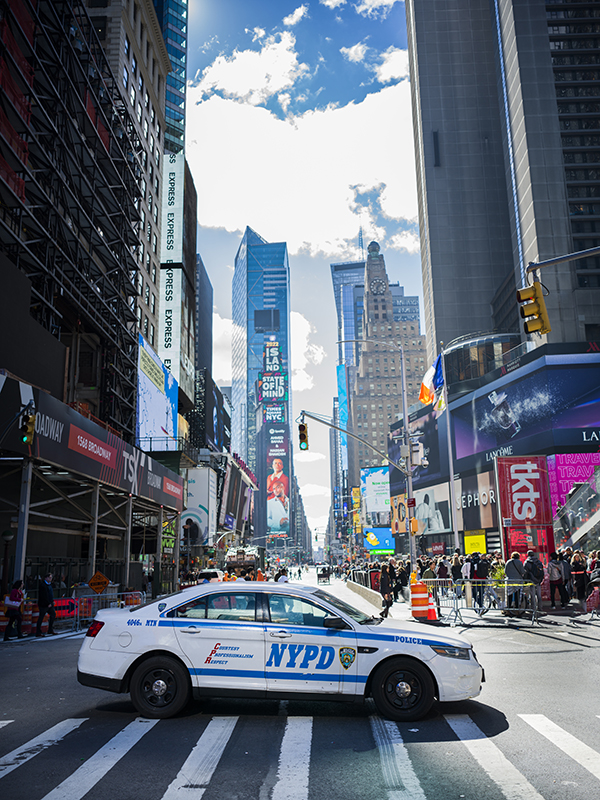 NYPD Car in Times Square – X2D + XCD 38mm
---
Low-light Performance
A big concern for me was the low-light performance. It is well known that the higher the megapixel count of a system, the worse the low-light capability. However, the X2D features a top-of-the-line electronic shutter and a high dynamic range (HDR) sensor, both of which offer impressive low-light performance.
The electronic shutter gives you the ability to take shots in dark environments without worrying about noise or motion blur. The HDR sensor ensures that your images are properly exposed and have minimal noise in dimly lit settings. Additionally, the camera offers an ISO range from 50-204,800, giving you the flexibility to adjust your exposure as needed for different lighting scenarios.
Overall, the Hasselblad X2D is great for capturing stunning images in low-light situations. Its excellent autofocus capabilities, combined with the HDR sensor, meant that I was confidently taking shots in challenging lighting conditions and still getting the results I was after.

Bike in New York City – X2D + XCD 38mm
---
Vital Ergonomics
I found Hasselblad's slight redesign to be much more comfortable to use than the previous X1D II. The new ergonomic design meant that the fast-paced environment of street photography was easier to keep up with as all-around handling and button placement has been much improved.
Speaking of, the camera features an intuitive button layout that's easy to navigate and understand. The buttons have a good amount of travel and tactile feedback, making them easy to operate even with gloves on.
The body of the camera is also slim and lightweight, making it comfortable to hold for extended periods of time which is a particular bonus when spending long days walking around New York City.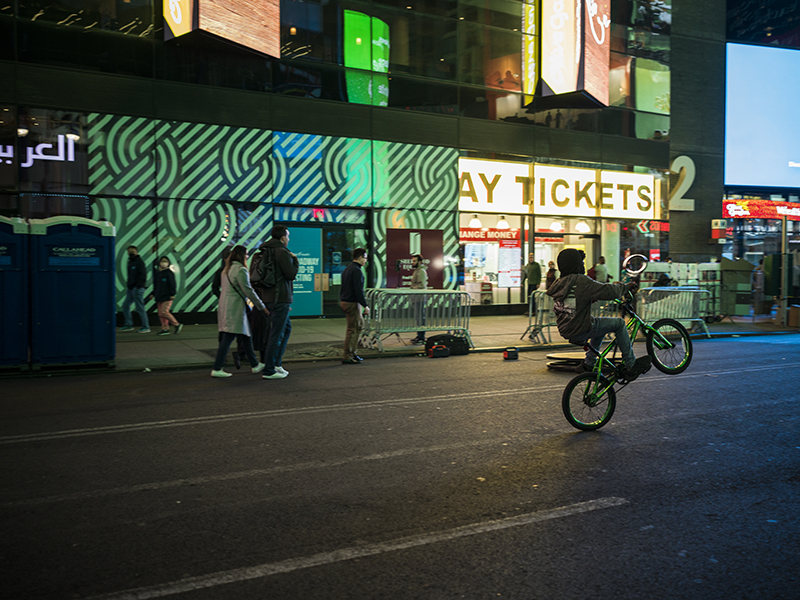 Cyclist in New York – X2D + XCD 38mm
The built-in electronic viewfinder allows you to see what you're shooting in real-time, helping you to quickly compose your shots. It also has a touchscreen display that can be used for setting up the camera and navigating through the menu.
Overall, the Hasselblad X2D offers an excellent ergonomic experience; its slim form factor, lightweight body, and intuitive controls make it easy to use in any situation. Its electronic viewfinder and touchscreen display also allow you to quickly set up the camera and compose your shots without having to take your eye away from the viewfinder. With all these features combined, it's easy to see why the Hasselblad X2D is becoming a popular choice among all genres of photographers.
---
Autofocus
Being equipped with an advanced autofocus system, the X2D allows for quick and accurate focus adjustments. It features a hybrid autofocus system which combines phase detection with contrast detection, allowing it to quickly and accurately acquire focus on subjects even in low-light situations.
Additionally, the X2D features on-sensor phase detection pixels which allow it to focus fast on moving subjects. I found the AF system is entirely intuitive, allowing me to easily and quickly switch between single point AF and zone AF, as well as manual AF.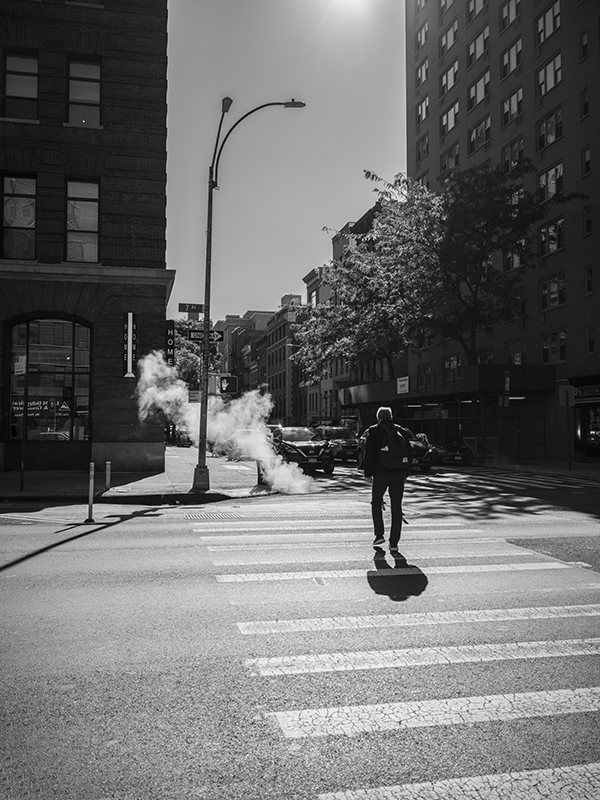 Man in New York – X2D + XCD 38mm
---
Image Quality
The X2D's larger pixels show visibly improved light-gathering capabilities, resulting in higher image quality. Hasselblad's Natural Colour Solution (HNCS) has also been included in the X2D to ensure accurate colour reproduction.
A favourite feature of mine while shooting was the X2D's in-built picture profiles including Standard, Portrait, Landscape, Natural and Vivid, each offering different levels of contrast and saturation to suit a range of shooting situations.
---
Infinite Zoom
One thing that can't be forgotten is the mind-blowing resolution produced by this new sensor. As a test, I spent some time shooting the New York skyline, using the new XCD 38mm, the main purpose of this experiment was to see how far I could crop into individual windows without a major loss of resolution. This absolutely blew me away and the images speak for themselves.
This crop factor is a game-changer when using this camera for street photography as it means that it is almost impossible to take an image at the wrong angle. Shoot now. Crop later. It makes post-production editing that much easier as the potential to straighten lines and re-compose could be the difference between a good final image and an incredible one.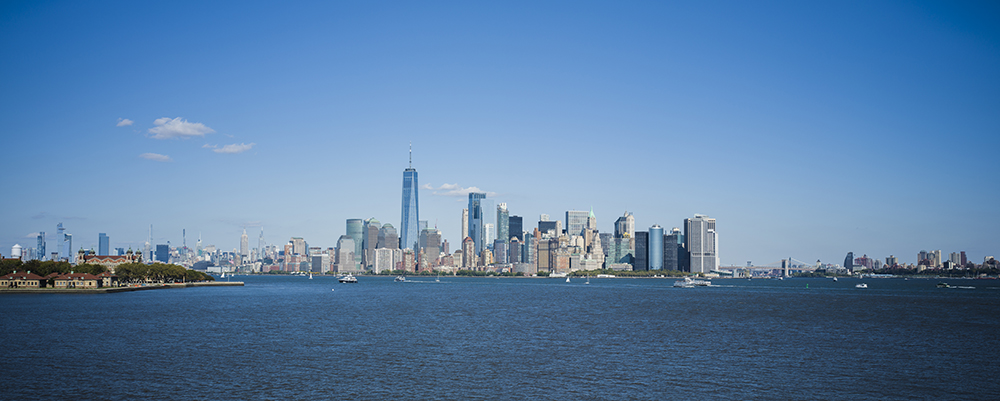 New York City Skyline – X2D + XCD 38mm
---
Is this the ultimate street photography camera?
Overall, coming away from this trip and a long period of playing with this new system, I am absolutely astonished. First off, the image files are astounding and incredibly detailed, with perfect clarity in both the shadows and the highlights.
A common complaint with the X1D II was its slow autofocus, this has certainly been fixed with their newest launch; I found the X2D to be snappy in all lighting situations, instantly catching the face and eye when needed.
This new autofocus system has been paired perfectly with the camera's surprising low-light performance to create a camera that really does seem to have it all.
I began writing this blog, wondering if the X2D would be a suitable camera for the task I was about to set it. Looking back now, I can confidently say it excelled in every area, even those most people would question; and without a shadow of a doubt, I would take it on any future travels.
Resolution – Yes. Autofocus – Yes. Handling – Yes. Ergonomics – Yes. Speed – Yes.
Street photography – Yes.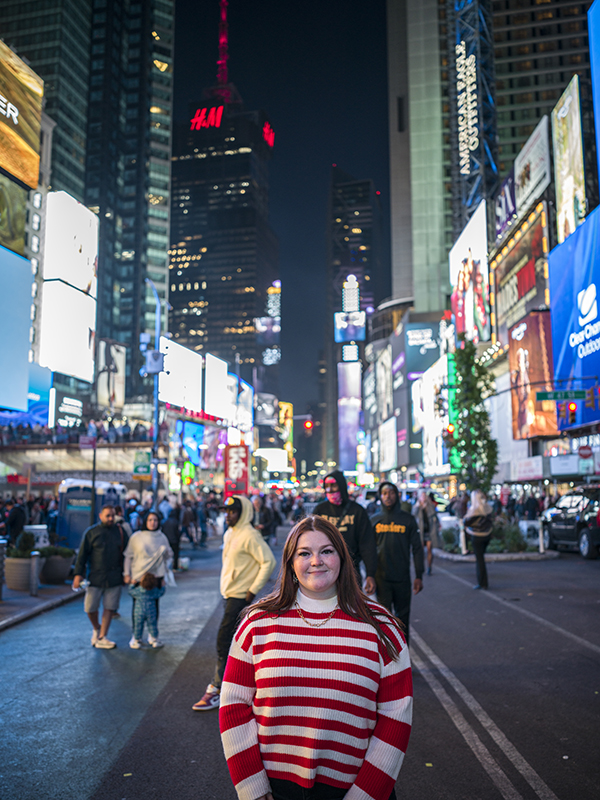 (Will you marry me – Yes!) – X2D + XCD 38mm
---
Hasselblad X2D Sample Gallery
Click on any of the images in this blog to view them in full resolution.
---
Where can I buy the Hasselblad X2D?
The Hasselblad X2D 100C is available here >
---
Read Next
---
Thank you!
Thanks for taking the time to read our blog, we really do hope they help you out and answer some of your questions. If you still have some unanswered, then please feel free to get in touch with our team of experts.
We have a LiveChat option on our website and we can, of course, be contacted via our email, we're also on the end of the phone too! Read more on how to contact us here >
---
Want to write for us?
If you've got experience with producing content on photo, video and/or optics products or techniques then we would love to hear from you. Contact our blog editor, Bea, with a sample of your work at bea@cliftoncameras.co.uk.
By Alex McDowell
13 Jan 2023