The Fujifilm GFX 100S for Street Photography
Whilst it hasn't been an exciting past twelve months in general with everything going on in the world, it has been rather exciting in terms of new camera releases, with a bunch of high profile releases in the past few months. As a Fujifilm user myself, I was excited to see the announcement and subsequent release of their brand new medium format monster, the Fujifilm GFX 100s and was lucky enough to get my hands on it for a few days recently to see what it could do.
Please note that all images used in this blog are heavily compressed. To view the full resolution versions, please click on the images. You can also view more images from these shoots here >
---
The first thing that struck me was how compact and nice it felt in the hands. The GFX 50s and the original GFX 100 are big bulky units, whilst the GFX 50R with its rangefinder styling felt unbalanced when you added a chunky GF lens to it. The GFX 100s though feels almost as if you're using a DSLR and even with the big GF lenses it didn't feel too cumbersome.
---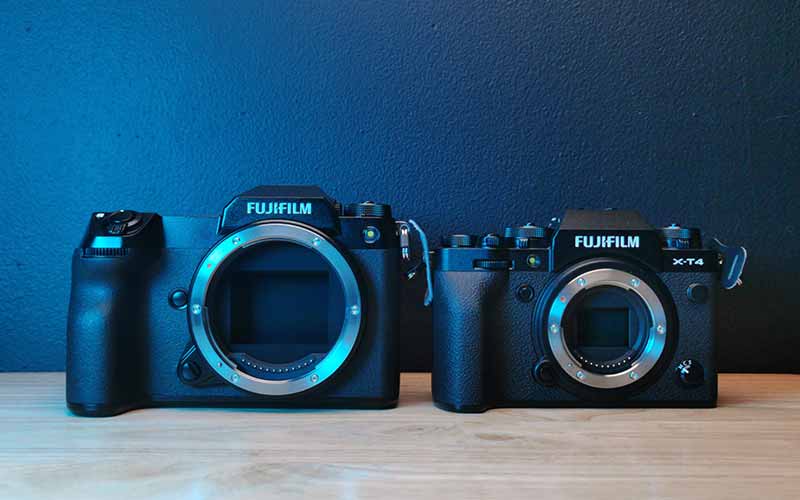 ---
On the first afternoon of using the GFX 100s, I headed out into my local woods to try my hand at some woodland photography, photographing different textures to see how much detail the 102MP BSI-CMOS sensor could capture.
I shot all of the images at full resolution in JPEG only with the camera on a tripod using auto-white balance and the Velvia Vivid film simulation.
I was really impressed with the amount of detail the sensor was able to capture along with the colour reproduction, although I was expecting this to be the case given Fujifilm's reputation for outstanding colour science.
With woodland photography not being something I shoot often, I wanted to get out into the city to test the GFX 100s in an urban & street setting and so on the second day I headed down to Bristol to do some street and night photography in the city. The GFX 100s isn't really aimed at street shooters, it's not very inconspicuous but there will be plenty of reviews from a studio or landscape based setting so I wanted to push its limits a bit to see what it's really capable of.
The weather in Bristol that day was wet. A blanket of grey clouds covered the sky and light rain persisted for most of the afternoon. This turned out to be no bother for the GFX 100s with its weather-sealed body.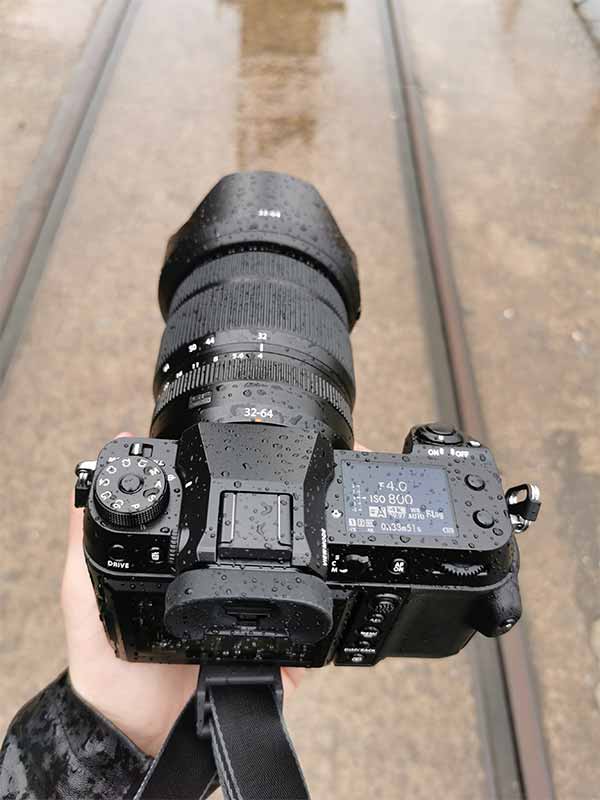 I spent an hour walking around Clifton Village snapping street scenes using the brand new Nostalgic Negative film profile which looks amazing. Focus was snappy and although not the fastest camera at 5 frames per second, it managed to capture the moments that mattered.
After drying off, warming up and waiting for the sun to go down, I headed back out onto the streets of Bristol to see how the GFX 100s handled low light conditions.
One of the major upgrades in the GFX 100s over the original GFX 100 is the re-designed in-body image stabilisation system which is now rated to correct up to 6EV of camera shake allowing high levels of resolution, even at relatively slow shutter speeds.
Night street photography is one of my favourite styles of photography to shoot and I really enjoyed shooting it with the GFX 100s.
Like the earlier street session, I opted to shoot JPEGs using the Nostalgic Negative film profile and again images straight out of the camera looked great. The IBIS system also worked fantastically well and I was really impressed with how the 102MP sensor handled higher ISOs.
I'd shot with the GFX 100s for the best part of a day in total including the time I spent with it in the woods and was pleasantly surprised to see that I still had a couple of bars of battery left when I got home.
The GFX 100s uses the same NP-W235 battery that the X-T4 uses, which is rated for 460 shots but I would say you're likely to get much more out of a single battery as I shot beyond that including a few video clips too.
To end my time with the camera I decided to test out the 400MP high resolution 'pixel shift' mode which takes a series of 16 RAW images in a row, shifting the sensor each time which you can then combine using Fujifilm's software to create a 400MP DNG file.
Each RAW file is around 200MB and the final DNG file is around 1.5GB so you'll need a lot of storage if you plan on using this feature a lot but it is really impressive the amount of detail that you're able to capture by using this feature.
---
Overall I really enjoyed the short time I had with the Fujifilm GFX 100s. It's a seriously impressive piece of gear and at a price point that will make medium format more accessible and appealing to photographers.
The 102MP sensor captures a tonne of detail and produces beautiful shots straight out of the camera benefitting from Fujifilm's colour science prowess. The in-body image stabilisation makes capturing those high-resolution images easier at slower shutter speeds whilst also enabling photographers to create super-high-resolution images through pixel-shift technology.
Auto-focus although not industry-leading, is quick and accurate, even in low light and the ability to shoot five frames per second whilst in continuous autofocus is appreciated by photographers using the camera to shoot moving subjects.
One thing I didn't really touch on or test is its ability to shoot 4k 30fps video at 12-bit RAW via the HDMI making this camera capable of producing some very high-quality video footage too.
And all of that in a weather-sealed body that's not too much bigger than a lot of the full-frame mirrorless cameras on the market!
Ultimately you'll know if medium format is the right option for your style of photography but one thing is for sure, in the GFX 100s, Fujifilm has made a camera that produces stunning quality images and opens up the world of medium format to a wider audience.
---
You can view Craig's video with the GFX100S here and you can view more of his work over on his Instagram.
---
Read next
---
Thank you!
Thanks for taking the time to read our blog, we really do hope they help you out and answer some of your questions. If you still have some unanswered, then please feel free to get in touch with our team of experts.
We have a LiveChat option on our website and we can, of course, be contacted via our email, we're also on the end of the phone too! Read more on how to contact us here >
---
Want to write for us?
If you've got experience with producing content on photo, video and/or optics products or techniques then we would love to hear from you. Contact our blog editor, Fee, with a sample of your work at fee@cliftoncameras.co.uk.
By Craig Pitts
26 Feb 2021