What is the best 24-70mm lens for Sony Alpha Cameras?
So, you shoot Sony and are currently using a more basic zoom kit lens and want to upgrade to a more versatile all-rounder zoom lens? Or you've just got into the Sony Alpha Mirrorless system and are looking for that first lens to go with your Sony Alpha camera?
Well, luckily for you, there is currently a good array of options for every kind of Sony user when it comes to the all-rounder 24-70mm lens. This blog should help give an idea of which one to go for if you are in the market for a new lens. We will go through four of the top options currently available to all Sony shooters, from professional to beginner/hobbyist. With a spec comparison and a field test review of each lens.
---
But first, what is the 24-70mm lens good for?
The 24-70mm lens is a good place to start looking if you are wanting a full-frame lens that will be able to cover a diverse variety of photography types. From the widest part of the lens at 24mm for Landscapes to the narrowest part of 70mm for Portraits. And the in-between for almost all types of photography.
With some of the best lenses on the market offering fixed F2.8 aperture throughout the zoom range, it opens up the possibilities even further with good low light capabilities and lovely smooth bokeh or shallow depth of field.
Now you may say a decent prime lens will give better results for street or portrait photography. This may be true, and we will agree. However, most prime lenses with a good wide aperture can be very costly if you are wanting that lovely smooth bokeh or shallow depth of field and edge to edge sharpness.
Whereas the lenses we will be reviewing below can give the same results (if not better) than some dedicated prime lenses. Meaning yes, you can use a zoom lens for portraits or street photography with these options below.
---
What is currently available?
When shooting with Sony's fantastic full-frame mirrorless cameras there is the option of going "native" which in this case means shooting with the Sony FE 24-70mm F2.8 GM. While there is nothing wrong with doing this, coming in at over £1500, this is undoubtedly a costly option to go for. But not to worry there are some 3rd party options from the likes of Sigma, Samyang, and Tamron that many Sony users are using or considering instead of going "native".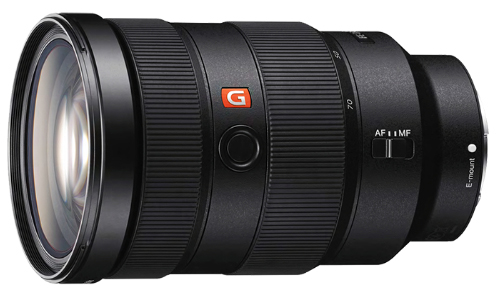 First up is the Sigma 24-70mm F2.8 DG DN Art lens for the Sony FE-mount. This is a redesigned lens from Sigma, that has been made especially for FE and L mount mirrorless cameras as part of their DG DN range of lenses. Coming in at around £1000 it is the third most expensive after the Sony G Master.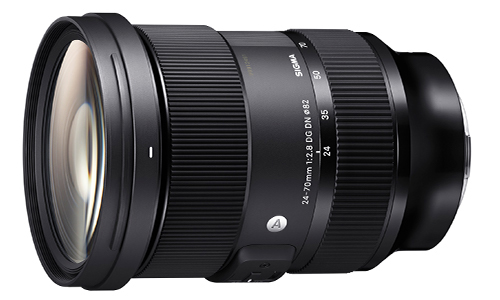 Sigma AF 24-70mm F2.8 DG DN Art Lens - E-Mount
Secondly, new from Samyang is their first AF standard zoom lens. The Samyang AF 24-70mm F2.8 Sony FE mount. This is Samyang's first zoom lens as part of their AF range for Sony full-frame mirrorless cameras. And coming in at just over £800 it is the cheapest option of the four we are looking at.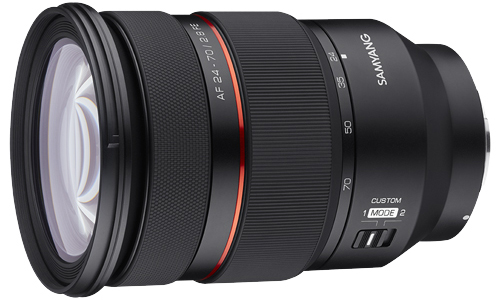 Samyang AF 24-70mm F2.8 Sony FE Lens
Finally, there is the newest version of Tamron's extremely popular 28-75mm. While not quite 24-70mm the Tamron 28-75mm F2.8 DI III VXD G2 – Sony FE fit is close enough to be in the running. The first version of this lens was immensely popular amongst Sony shooters and with this latest version now available at around £850 it will be one to consider amongst the others we are looking at.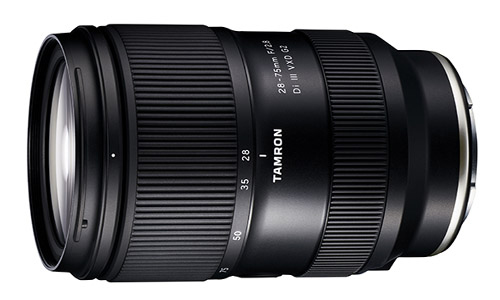 Tamron 28-75mm F/2.8 Di III VXD G2 Sony FE
Now you may be thinking, yes these all offer a zoom range of 24-70mm, apart from the Tamron with its unique 28-75mm, and yes, they all have a fixed fast aperture of F2.8 throughout the lens. But with all four being at such different prices for many of the same features what makes them unique from each other? To answer that let us have a look at the specs side by side:
---
Specs comparison
| | | | | |
| --- | --- | --- | --- | --- |
| Specs | Sony 24-70mm F2.8 GM | Sigma 24-70mm F2.8 DG DN Art | Samyang AF 24-70mm F2.8 | Tamron 28-75mm F2.8 Di iii VXD G2 |
| Image Stabilisation | No | No | No | No |
| Maximum Aperture | F2.8 | F2.8 | F2.8 | F2.8 |
| Minimum Aperture | F22 | F22 | F22 | F22 |
| Aperture Ring | No | No | No | No |
| Aperture Blades | 9 | 11 | 9 | 9 |
| Elements | 18 | 19 | 17 | 17 |
| Groups | 13 | 15 | 14 | 15 |
| Coatings | Nano AR | NanoPorous | UMC Ultra | Fluorine |
| Special Elements | Aspherical, ED, ED + | 6FLD +, 2FLD +, Aspherical, Super Multi-layer | ASP 2, H-ASP 1, HR3, ED3 | Special Dispersion, Aspherical |
| Minimum Focus | 0.38m (14.96") | 0.18 m (7.09″) | 0.35m (13.78") | 0.18 m (7.09″) |
| Maximum Magnification | 0.24x | 0.34x | 0.27x | 0.37x |
| Angle of View (Full Frame) | 34 - 84° | 34.3 – 84.1° | 34.4 - 85.6˚ | 32 - 75° |
| Auto Focus | Yes | Yes | Yes | Yes |
| Motor | Piezoelectric | Stepper | Linear STM | Linear |
| Internal/External Focus | Internal | Internal | Internal Par-Focal | Internal |
| Manual Focus | Yes | Yes | Yes | Yes |
| Weight | 886 g | 835 g | 1,027g | 540 g |
| Diameter | 88 mm (3.45″) | 88mm (3.45") | 88mm (3.45") | 76mm (2.99") |
| Length | 136 mm (5.35″) | 123 mm (4.84″) | 128.5mm (5.1") | 118 mm (4.65″) |
| Filter Size | 82mm | 82mm | 82mm | 67mm |
| Weather Sealing | Yes | Yes | Yes | Yes |
| Zoom Type | Rotary | Rotary | Rotary | Rotary |
| Zoom Lock | Yes | Yes | No | No |
| Lens Hood Supplied | Yes | Yes | Yes | Yes |
| Case Supplied | Zip Soft Case | Zip Soft Case | Lens Pouch | No |
| Price (at time of Review) | £1799 | £1049 | £828 | £849 |
---
Field Test Comparison:
So, those are the specs of each lens side by side and as you can see few differences between them. But how does each lens weigh up against each other when being used in the same circumstances, or say for example on a day out at Boscastle Harbour in Cornwall. Well, I had the chance to test each lens recently in this very location and this is what I thought of each lens, along with examples taken with each lens on my Sony A7R IV.
---
Sony 24-70mm F2.8 GM:
Starting with the native option from Sony. The G Master was what I would expect from a Sony lens and got the job done for my needs at the time. The autofocus functions worked the smoothest out of the 4 lenses which I put down to it being Sony's own native lens. This meant it worked great and was the most responsive.
Despite having the largest minimum focal distance, I did find when wanting to get in closer that I was only a little bit further away when compared to the others. And that I was still able to get great shots even when I was closer in. The AR coating (anti-reflective) on the lens helped reduce the stray reflections hitting the lens when shooting in natural light and gave a good contrast.
Being the second heaviest lens at 886g, you do feel this one when carrying it. The weight was a bit more front-heavy when on my A7R IV, which I put down to the longer length of the lens at 136mm. However, it wasn't uncomfortable when on the camera and over the shoulder.
---
Sigma 24-70mm F2.8 DG DN Art:
The DG DN version of Sigma's 24-70mm F2.8 Art is a redesigned mirrorless camera version of their DG OS HSM. Aimed at E mount and L mount mirrorless cameras it features three Aspherical Elements which gave it a superb quality, especially at the wider 24mm.
When shooting with the Sigma I found the lens to be very versatile and sharp wherever I pointed it. And having one of the shorter minimum focal distances (0.18 m (7.09″)) meant I was able to get in closer for some more detailed shots as you can see below:
Being the second lightest lens out of the four I found it very well balanced when mounted on my A7R IV, meaning when carrying around and holding up the lens and camera, I wasn't getting uncomfortable, especially after longer periods of time/use. The build quality helped with this as well, being a very strong feeling lens in my hands I was able to easily and effortlessly move between focal lengths and at times change to manual focus with the flick of a switch.
The only issue I had with the Sigma was the zoom lock switch. I found at times, when flicking this in place, that it wouldn't hold and the zoom could be easily knocked out of position, resulting in the zoom moving when not needed. However, it did have its uses when forgetting to take the lock off, as I was able to just move the zoom and it would unlock. So, I guess this wasn't a huge issue in the scheme of things.
In terms of autofocus, the Sigma DG DN lenses have always been able to keep up when needed. As well as being fully compatible with Sony's Eye AF features, the 11 aperture blades create some great shots with fantastic smooth bokeh and shallow depth of field.
---
Samyang AF 24-70mm F2.8:
For Samyang's first autofocus zoom lens for Sony E-mount, I was pleasantly surprised with this lens. The first thing I noticed was the pleasing design and look. Featuring a rubber-coated front focus ring and back zoom ring the manual focus and zoom functions were lovely to use. The lens still features Samyang's trademark red ring.
I found that the zoom was a little stiff with first use when compared to the others, but this was soon easy to get used to. Plus, it actually allowed me to be more precise with focal lengths, meaning I was not jumping past my desired zoom and missing my shot.
The Samyang also features a custom mode switch that can change the function of the focus ring to be used as an aperture ring. This is a very handy feature for any videographers out there. As well as using the Samyang USB dock (sold separately), you can create your own custom modes for the lens using the switch to change between them when out in the field. When trying out the lens I mostly just kept it in the mode one position, giving me manual focus with the focus ring.
The main disadvantage I found with the AF 24-70mm was the weight. Compared to the other three lenses, coming in at 1027g, it was by far the heaviest out of the four. This did mean after longer periods of use I started to feel the weight in my arms, especially when moving the camera and lens up to my eye for a shot through the A7's EVF. This may not be an issue for other users, especially if using a tripod for landscapes or for video, but I would suggest thinking it over if wanting to use it for the likes of handheld or street photography.
So yes, the Samyang is the heaviest out of the four, but this did not mean it could not perform. It performed very well in fact. With edge-to-edge sharpness at the widest aperture all the way through the zoom range. The Samyang was able to give me sharp and clear results as you can see from the examples below.
The autofocus on the Samyang was able to keep up with me and allowed me the use of Sony's Eye autofocus features. This meant I was able to get fast results from the lens when I needed it. Especially when shooting handheld.
Another feature of the focus on the Samyang that the others do not have is the Par-Focal ability. This is a feature normally found on more expensive Cine zoom lenses, so to find this on a sub £1000 24-70mm is incredibly good. The Par-Focal feature is great for video uses as well as photography. It gives the user the ability to zoom in or out with the lens and maintain focus on their subject. Joining this with some creative ideas could be beneficial if you are wanting to be a bit more experimental with some of your photos or videos.
The Samyang in my eyes is a good option to consider if you want a best-of-both-worlds in a zoom lens. With features great for videography and photography and being under the £1000 price point there is a lot to love. Hopefully, we may see more zoom lens options from Samyang for Sony E-mount in the future.
---
Tamron 28-75mm F2.8 Di III VXD G2:
This is Tamron's second version of their extremely popular 28-75mm F2.8 RXD lens. With a redesigned optical system and special elements for reducing aberrations, it also features a built-in USB-C port for connecting to a PC or Mac. This is a new feature from Tamron, that we may well see other brands start to do. It means you don't have to faff about with a dock and you can just connect the lens directly via cable to be able to adjust your lens settings or calibrate your focusing. I found this a very handy feature of the lens.
On to using the lens itself, the first thing I noticed from the Tamron compared to the others was how light this lens is. At only 540g it is nearly half the weight of the Samyang and just over 300g lighter than the Sony. This made it very easy to carry and use.
However, with the lens being very light, I did feel as though the build quality wasn't up to scratch compared to the Sigma or Samyang. Although this may have been down to the materials used for the lenses the Tamron just felt a little clunky for my liking. But this didn't affect the performance of the lens:
Having a slightly different focal length to the other lenses, the Tamron does have a narrower field of view, starting at 28mm and finishing at 75mm (32 - 75°). But I did not see a huge difference in this when using the lens, you can still get very much the same shots as you would with the other 24-70s. The lens itself was very sharp and gave edge-to-edge sharpness throughout the range of the zoom.
I found the Tamron to be exceptionally useful in the high winds at the harbour, especially closer to the shoreline, mainly due to the lightness and compact design. The added reach also meant I was just able to get a little closer compared to the others for distant subjects. As well as make use of the shorter minimum focal distance (the same as the Sigma) which meant I could get closer to the smaller subjects as well.
---
Best options:
Having tried out all four lenses, and all of them being great for their main purpose as an all-rounder lens, it only makes sense to put them in their own best categories. A bit like the best 24-70mm Sony Awards! So, here are my choices and recommendations for each lens:
Coming in at the lowest price of £828 (at the time of reviewing). The Samyang AF 24-70mm F2.8 is the one I would recommend going for if you are on a tighter budget but still want an excellent quality lens. Just be prepared for that slightly heavier weight when compared to the other higher priced 24-70mm lenses.
The Tamron takes the prize from me for the best for portability. I was really surprised by how light this lens was compared to the other three, as well as the size of the lens, considering it is a 28-75mm with a fixed F2.8. So, if you are wanting to keep your kit light and easy to travel with, I recommend the Tamron 28-75mm F2.8 Di III VXD G2 over the others for this very reason.
Now this one is a little bit of a no brainer. If you are a photographer who uses continuous or tracking AF functions a lot then the FE 24-70 G Master wins for the best autofocus functionality. As it is a native lens to the A7 series from Sony it will naturally give the best results for those functions.
This was a tough one to choose as all four lenses do come with great build quality and all feel extraordinarily strong and sturdy. But I did find that out of all four lenses the Sigma just tipped the scales. The aesthetics of the Sigma and exceptional build from them make it the one I would recommend if you are wanting a nice looking and strong lens for your Sony Alpha.
---
Conclusion:
After spending the day with all four lenses and trying them on for size, I will say there is not a huge difference between the options on the market currently. Testing on the same subjects and getting a good feel of their subtle differences ultimately showed me that all of these lenses serve a purpose depending on what you want to use them for.
Having said that, I did find I enjoyed one lens the most and found the results most to my liking; the Sigma. Because of the lovely build quality, the extra aperture blades giving fantastic bokeh and depth of field in the photos, and all the same functionality as the other 3 at a reasonable price, I will say the Sigma to me is the best 24-70mm for Sony currently on the market.
However, as everyone is different I will say all four lenses we have looked at are great options to consider for Sony users after an all-rounder zoom. Whether it's your first lens for Sony Alpha or an upgrade from a previous lens, these four options are definitely deserving of a place in your Sony kit bag. And hopefully, this has helped to give you an idea of what one to go for, for yourself and your needs.
---
Made a decision?
We hope this blog has helped you make a decision on which 24-70mm lens to buy for your Sony camera. All four are available for purchase here!
Sony FE 24-70mm f2.8 GM Lens >
Sigma 24-70mm F2.8 DG DN Art Lens >
Samyang AF 24-70mm F2.8 Sony FE >
Tamron 28-75mm F/2.8 Di III VXD G2 Sony FE >
---
Read next
---
Thank you!
Thanks for taking the time to read our blog, we really do hope they help you out and answer some of your questions. If you still have some unanswered, then please feel free to get in touch with our team of experts.
We have a LiveChat option on our website and we can, of course, be contacted via our email, we're also on the end of the phone too! Read more on how to contact us here >
---
Want to write for us?
If you've got experience with producing content on photo, video and/or optics products or techniques then we would love to hear from you. Contact our blog editor, Fee, with a sample of your work at fee@cliftoncameras.co.uk.
By James Barnes
18 Mar 2022