Zeiss Conquest Gavia 30-60x85mm Spotting Scope Review
Many, many years ago, when I took the plunge and purchased my first spotting scope I didn't think about going with Zeiss. When I purchased my second and third spotting scopes I didn't consider Zeiss either. This is simply because 'back in the day' Carl Zeiss didn't make a spotting scope.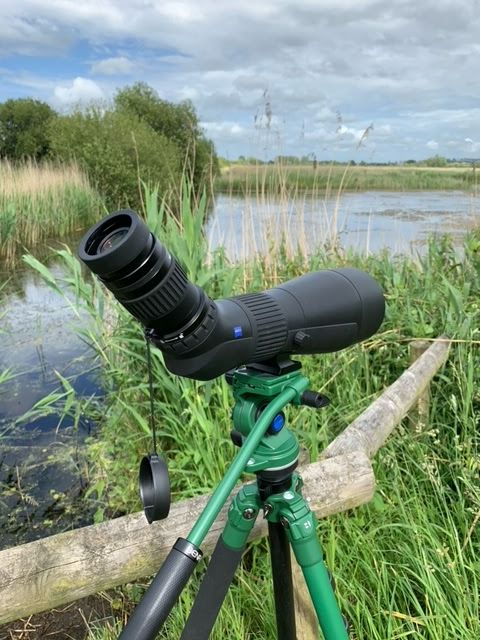 The company's binoculars had been well to the fore amongst birders and nature observers for decades but the lack of a spotting scope in the Zeiss armoury had long seemed like a glaring omission to many. This was finally addressed when the Diascope FL models were introduced.
The original Diascopes were produced in both 65mm and 85mm objective lens diameter versions and were available in either a silver or green metallic finish. In later years the design changed somewhat and black rubber armouring was added to provide protection and give a more contemporary look.
Bringing things right up to date, Zeiss now produces three high-quality spotting scope models spread across two ranges. Right at the top of the tree, so to speak, we have the Victory Harpia models. Available with a choice of either 85mm or 95mm objective lens, these are premium optics which can happily go head-to-head with anything else on the market. Sitting some way under the Harpias in terms of price point we have the Conquest Gavia 30-60x85mm and that's the one we'll be looking at here.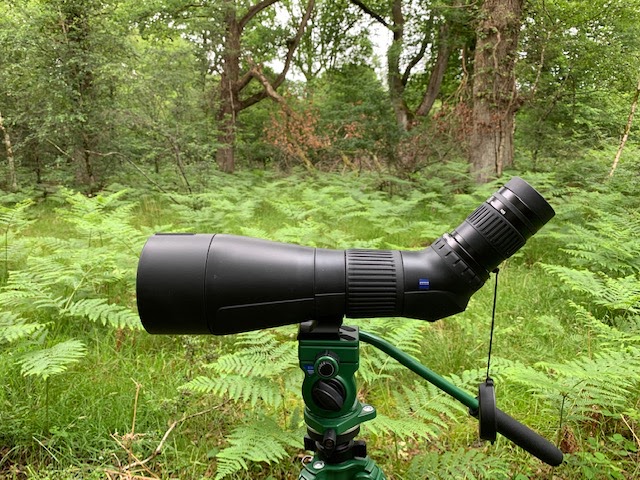 ---
Features
As its nomenclature would suggest, the Conquest Gavia 30-60x85 features an 85mm objective lens and comes with an eyepiece which allows the user to zoom from 30x magnification all the way up to 60x.
The scope itself sports black rubber armouring, a pull-out shade which helps offer some protection against glare and a large helical focus ring which runs right around the barrel and sits approximately a third of the way down the body from the eyepiece end.
The optics themselves benefit from Zeiss's tried and tested Lotutec and T* coatings which help deflect water and dirt and serve to minimise the effects of stray light respectively. As we'd all expect these days, the scope is nitrogen-purged to render it waterproof; a stay-on case is available as an optional extra.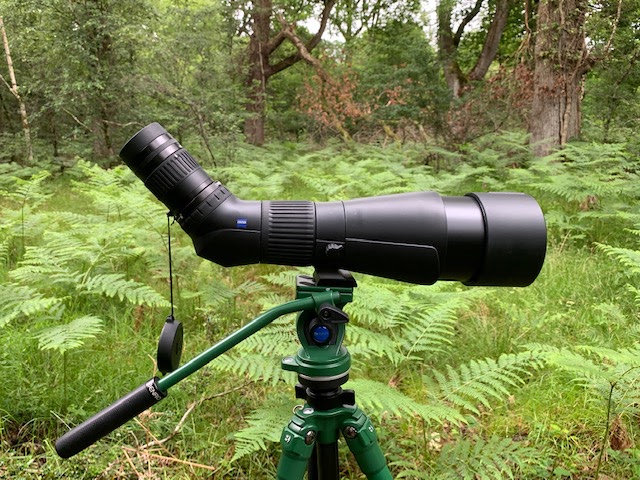 ---
First impressions of the eyepiece and body
The detachable eyepiece houses the zoom adjustment ring and features a rubber eyecup which can be used flush or clicked up into either one of two raised positions. This eye relief adjustment means that the Gavia is suitable for use either with or without spectacles. I used the scope with the eyepiece twisted up to the highest position and can confirm that it stayed locked securely in position whilst in the field.
The body is made of magnesium and Zeiss quotes a weight of 1700g for body and eyepiece combined – which makes this one of the lightest 85mm scopes on the market. Also worth mentioning is that Zeiss manufactures a 1.25" Astro Adapter which allows any 1.25" astro eyepiece to be used in place of the supplied 'terrestrial' eyepiece. A nice touch, in my book, particularly if your interests cover both wildlife and the night sky: two scopes in one!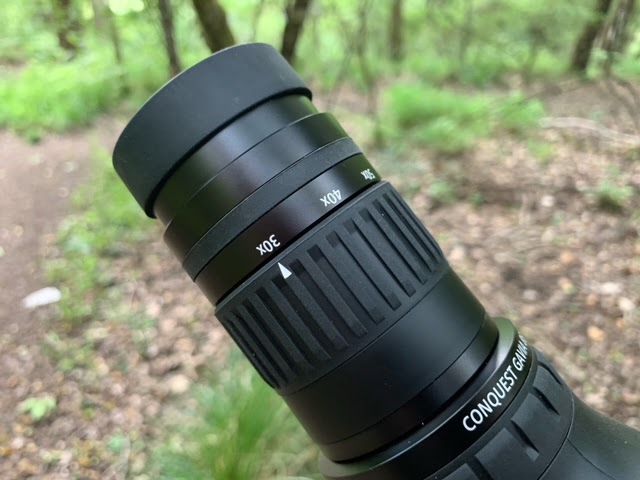 ---
A look at the build quality
At this point, I should mention that the Gavia sports the message 'Made in Japan' located discretely under the tripod mount. Most Zeiss products are manufactured in Europe, typically in Germany, but I certainly wasn't put off by the thought of Japanese manufacture. Some of the finest optics I've seen over the years have been Japanese and the build quality is generally excellent.
Straight out of the box, the test model appeared to bear this out: the black rubber armouring had been applied with precision, the lens hood moved in and out smoothly but with just the right degree of resistance and I was unable to detect any obvious manufacturing flaws or defects. So far so good!
---
The Gavia in use
I put the Gavia through its paces first on the Somerset Levels and later in the Forest of Dean. This allowed me to observe over both long range and short range and in a variety of habitats and light conditions.
My everyday scope uses a dual focus system - two focus wheels, one for coarse focus and one for fine focus – but I've used helical focus on many occasions and have no trouble switching between the two.
In use, the focus wheel was smooth, consistent and responsive all the way through its range. It offered slightly more resistance than some but this isn't necessarily a bad thing. Personally, I don't like a focus adjuster to be too light and that would apply to a binocular as much as it would to a spotting scope. I find that a very fast, light wheel sometimes makes it slightly trickier to achieve perfect focus and the Gavia felt just about right for me.
One thing I noticed very quickly is that the scope is very nearly parfocal. What I mean by this is that it maintains focus all the way through the zoom range with only a minimal tweak (and I do mean minimal) required when zooming from 30x all the way up to 60x. This is a real advantage in the field as it minimises the time spent adjusting focus and, potentially, missing out on a fast-moving subject which might happen to fly past.
Another feature which is worthy of special praise is the close focus. The Gavia has a claimed close focus distance of just 3.3 metres which is pretty impressive for a spotting scope. In real-world use, I found this figure to be accurate: a real boon when observing insects, for example.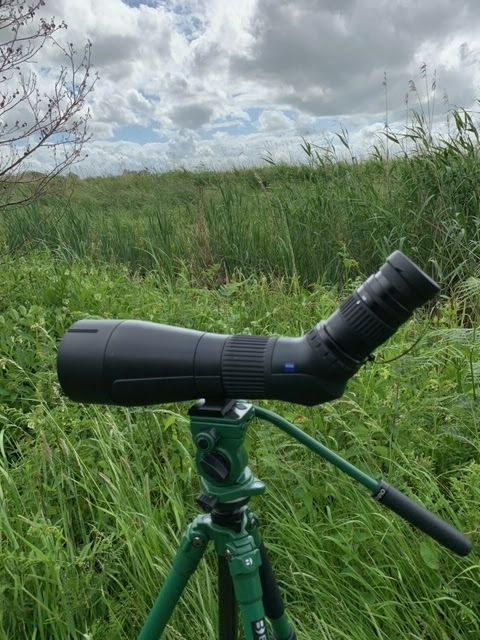 The zoom range of 30-60x is quite an unusual one in the world of spotting scopes. For many years 20-60x was very much the norm. More recently, there has been a move towards the likes of 25-60x and 30-70x so the Conquest Gavia offers a comparatively narrow zoom range compared to some.
Personally, I quite like 30x as a starting point. More often than not, I tend to use a zoom eyepiece at its lowest setting and 30x tends to give a nice balance between power and field of view.
Speaking of field of view, the Gavia ranges from 33-23 metres at 1000 metres as we work our way up through the zoom range. This is narrower than some competitors and although it didn't cause me any issues in finding or following a target, I think it's worth mentioning in case the widest possible field of view is right at the top of your 'must have' list when considering a scope purchase.
---
Testing the limits
Going back to that 30-60x zoom for a second, I was very impressed with the Gavia's performance at 60x magnification. Some zoom eyepiece/scope combinations really fall away at the top end of the zoom range but this definitely wasn't the case here.
First time out with the scope on the Somerset Levels, I picked up a female Marsh Harrier on a stunted tree away out in the middle of a very large reedbed. Views at 30x were excellent but, zooming all the way up to 60x, I was genuinely taken aback by the brightness, clarity and definition of what I was seeing. I could easily make out the bird's eye and fine details of plumage on the head and body.
When the harrier tired of her perch and went floating out over the reeds I was able to crank the zoom down a bit and, without changing focus, follow her progress with ease. This is where having an optic which is, to all intents and purposes, parfocal really comes into its own and a quick shift from the Marsh Harrier to a Little Egret feeding in a shallow pool served only to reinforce this.
With regard to overall image quality, the Gavia was very bright and clean (as I'd expect from a Zeiss optic) with good edge-to-edge sharpness and just minimal curvature towards the edge of the field of view. Chromatic aberration was present but at a very low level and certainly not enough to detract from the viewing experience to any real degree – really only apparent when I was deliberately looking for it for review purposes.
In the Forest of Dean, I had ample opportunity to focus on bare branches against a pale sky and colour fringes, although present, really were minimal so no problems there - unless your main body of interest happens to be tree branches, of course!
The colour rendition was accurate with no obvious colour cast. What you tend to get with a top-tier scope is a really immersive, three-dimensional view which draws the user into the scene and also has the effect of allowing said user to forget that they're looking through glass – at any rate, that's what I tend to find.
In this regard, the Gavia didn't quite have the same punch or immersive feel that a top-of-the-range spotting scope might have but, at around half the price of the Harpia, for example, it wasn't a million miles behind. And this is a bright scope! Even on a sunny day, there are still plenty of well-shaded nooks and crannies in the Forest of Dean and the Gavia was able to punch through the gloom with ease, that combination of HD lenses and 85mm objective lens diameter really coming into their own here.
---
Digiscoping v. Phonescoping
Having put the Gavia through its optical paces, my thoughts then turned to digiscoping - phonescoping, to be more precise. Phonescoping has become phenomenally popular in recent years and there can't be too many of us still venturing into the field without a smartphone.
As I had the scope in my possession it seemed logical to see how it would perform with regard to image capture. With this in mind, and phone and digiscoping adapter in pocket, I set off for Cannop Ponds in the Forest of Dean to see what the Gavia and I could come up with.
I generally prefer capturing video footage rather than stills when digiscoping as I like to have a record of the living, breathing bird to look back on later. This group of Mallards provided ideal subject matter at 45x:
And then homing in on this moulting drake at 60x:
Having grilled the Mallard crew I then started to cast around for another subject. Cannop is generally a reliable site for Mandarin and I spotted this obliging individual hauling out on the opposite bank of the larger pond. Phonescoped at 30x and 60x respectively. Distance of about 70 metres, I'd say:
And here are a couple of still images of the same bird:
On the way back to the car I stopped to grab a couple of phonescoped shots of this resting Mute Swan. I took these almost as an afterthought but, upon returning home and looking at the images in detail, I was really pleased with the feather definition. Scoped with the Gavia at 30x which allowed a closeup whilst still allowing me to remain far enough away to avoid disturbing the bird…or incurring swan-related parental wrath as there were some cygnets nearby:
A couple of days later (and in very blustery conditions) this Great Spotted Woodpecker provided another phonescoping opportunity as it clung steadfastly to its windy perch. Not the easiest conditions for digiscoping of any kind but it occurred to me that if the bird had been a rarity and I had needed imagery to send to a records committee, for example, this would have been easily good enough to do the job:
---
Final thoughts
So what can I say in conclusion? I found a lot to like about this scope which impressed me, from overall build quality, optical performance and ease of use.
Advances in optics are being made all the time and, in terms of image quality, the Gavia reminded me of a top-of-the-range scope from one of the premium manufacturers from a few years ago – but not too many years ago! Given that this is Zeiss' 'second tier' model this is meant as a compliment as opposed to damning the Gavia with faint praise.
For me, one of the strongest weapons in this scope's armoury is the way it maintains image quality all the way through the zoom range so that it's genuinely very, very usable at 60x…and that's not something you can say about every spotting scope. Being able to work up and down through that range with minimal focus adjustment is another huge boon.
The Gavia doesn't offer quite the same immersive view or colour saturation as its Harpia stablemates but it isn't too far off and comes in at a significantly lower price point – which could well be a deal-breaker for some potential purchasers.
To sum up, the Zeiss Conquest Gavia 30-60x85 definitely represents a significant step up from a middle-tier scope and has to be a serious contender for anyone in the market for an excellent birding spotter which offers first-rate image quality and also has the potential to be used for astronomy as well as digiscoping. In these days of spiralling prices it also, in my view, offers very good value for money.
Excellent optical performance, solid build quality and great value all in one package – what's not to like?!
The Zeiss Conquest Gavia 30-60x85mm Spotting Scope is available here >
---
Read next
---
Thank you!
Thanks for taking the time to read our blog, we really do hope they help you out and answer some of your questions. If you still have some unanswered, then please feel free to get in touch with our team of experts.
We have a LiveChat option on our website and we can, of course, be contacted via our email, we're also on the end of the phone too! Read more on how to contact us here >
---
Want to write for us?
If you've got experience with producing content on photo, video and/or optics products or techniques then we would love to hear from you. Contact our blog editor, Fee, with a sample of your work at fee@cliftoncameras.co.uk.
By Martin Drew
25 Jul 2022