Architecture Photography with the DJI Mini 3 Pro
As a photographer with an interest in historic architecture, I'm usually restricted to the shots that I can take from the ground. Either that or I've often got my fingers crossed that there's an accessible building tall enough in the vicinity to get a nice enough frame of the exterior.
With the Mini 3 Pro, those restrictions dissolve completely. Aerial photography opens a whole new window of possibilities and I'm able to get shots that I didn't think were possible before.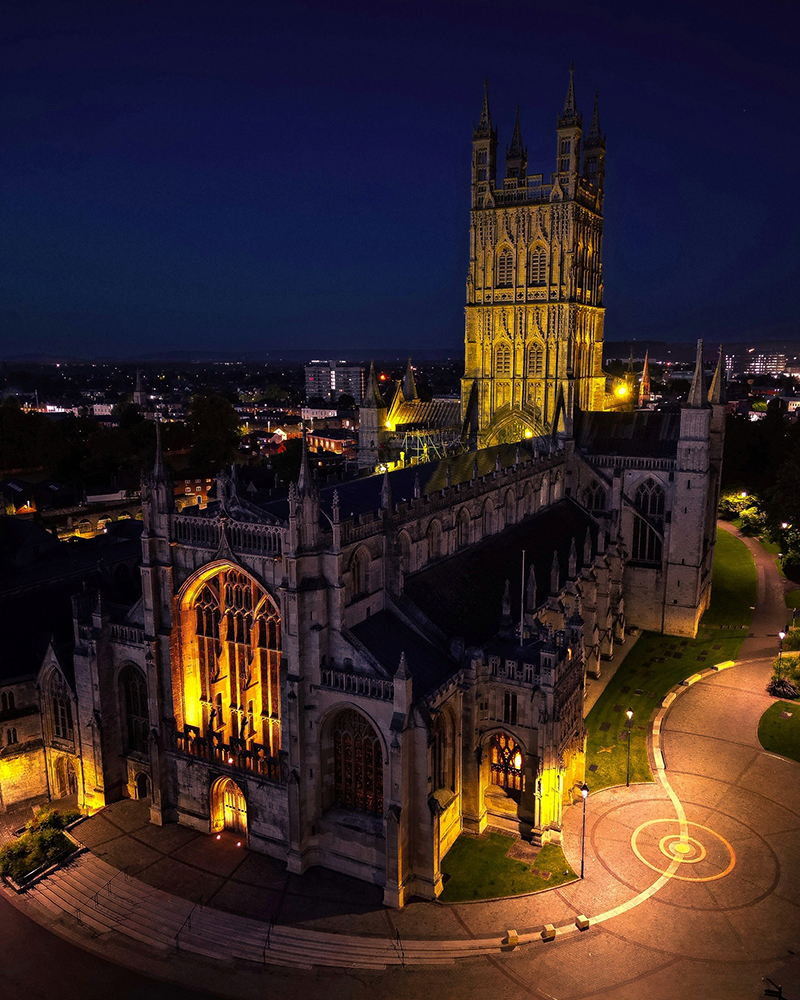 Gloucester Cathedral, Gloucestershire
What did I enjoy about this drone?
Versatility and flexibility
Easy to fly (even for first-time drone pilots)
Responsiveness to controls
High-speed image/video transfer to my phone/iPad
Great image/video quality
Gimbal works perfectly for smooth and steady videos
Works incredibly well with slower shutter speeds
---
Unrestricted Flight
With the drone weighing below 250g, every time I've flown it I've had that peace of mind knowing that I'm flying legally and within the UK laws and restrictions. This freedom opens up a whole new opportunity to capture some amazing photos and videos which I've subsequently used for my Instagram reels.
---
Super Versatile
I often shoot in low-light conditions to create a more dramatic picture or video. The camera's fixed f1.7 aperture means that the Mini 3's camera works perfectly in these scenarios. The gimbal is an absolute dream as it holds the camera steady even under windy conditions for that smooth cinematic video.
Almost immediately after I picked up the drone I set off for the William Tyndale monument in North Nibley. The conditions at the monument were very windy, however, I was highly impressed with the drone's ability to keep itself steady so that I could take an aerial photo of the tower. The video footage I got was also remarkably smooth given the conditions. You can see this footage on my Instagram >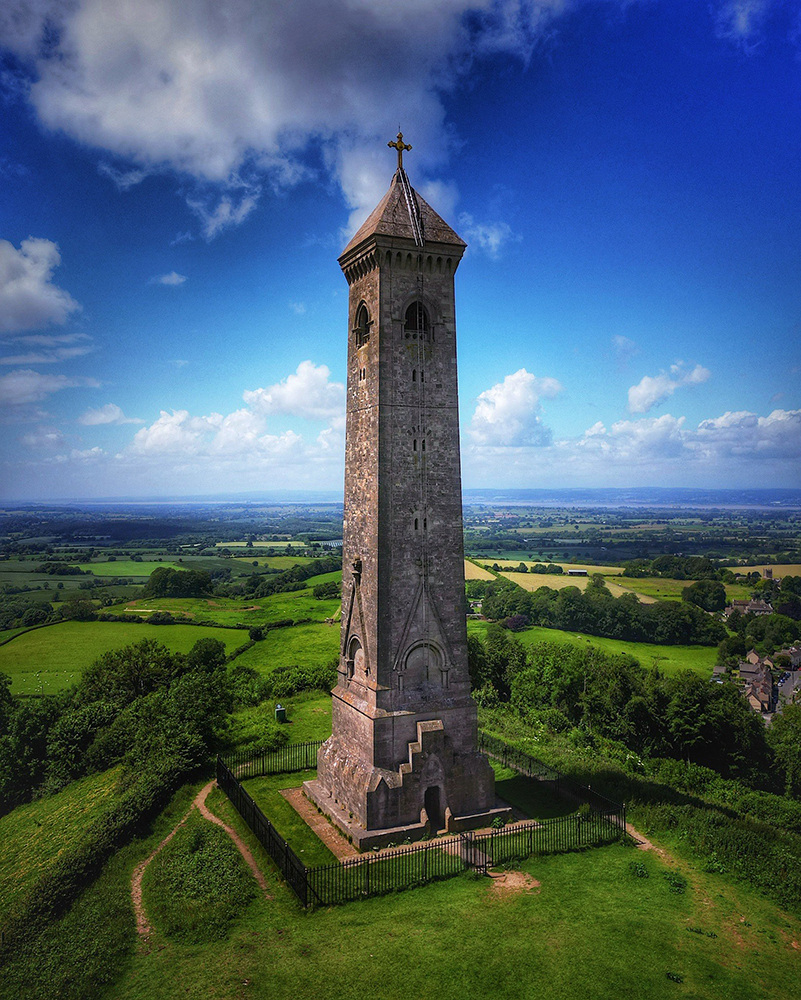 William Tyndale Monument, Nibley Knoll, Dursley, Gloucestershire
---
Vertical Mode
Speaking of the gimbal, the vertical mode is a fantastic addition to the Mini 3 Pro as it gives video creators the ability to post the video exactly how they've captured it, without having to crop any of the video out. It was one of the main reasons I purchased this particular drone and it did not disappoint.
---
Easy Handling
The RC controller screen is bright which is great for every lighting condition that I have used it in so far. The display is sharp and highly responsive to touch commands which is essential for every level of pilot. Whilst on the subject of responsiveness, what a dream the Mini 3 Pro is to handle - even with the most minute movement commands it handles perfectly.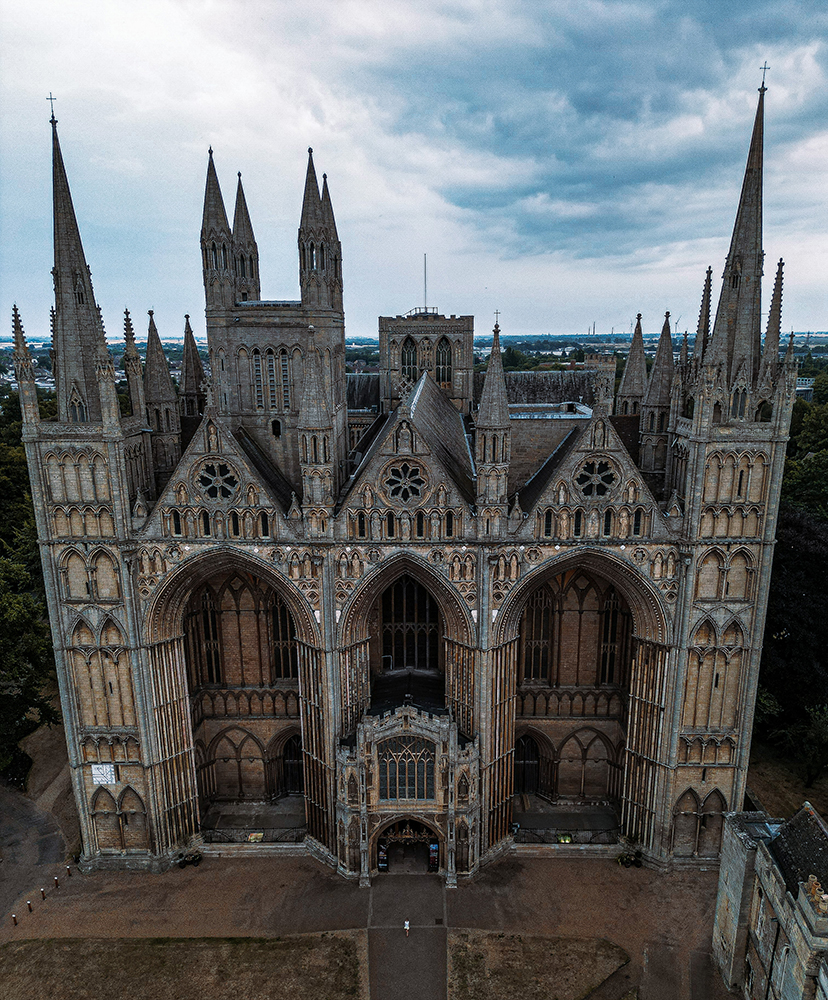 Peterborough Cathedral, Cambridgeshire
---
A New Point of View
The drone opens up my view to the intricacies of English Gothic, Romanesque and Norman architecture like I never could appreciate before. From up in the air I can marvel at the craftsmanship from whichever angle I choose.
Much of history is lost or has withered away over time, but its magnificent structures such as cathedrals keep it very much alive. Being able to view structures such as these gives me insight into the lives and stories of all the people involved, whether it be the kings, bishops, abbots, priests, builders, carpenters, painters or ordinary citizens who have all left their mark.
---
Not for Everyone
Prior to buying the DJI Mini 3 Pro, I asked a few friends and family members who have owned drones (although not DJI ones) whether they thought the purchase was worth it. Despite them telling me that they didn't enjoy their experiences I was still keen to give it a go.
Fast forward to when I have the DJI Mini 3 Pro in the sky and the remote control in my hands and I honestly can't say I agree with them in the slightest.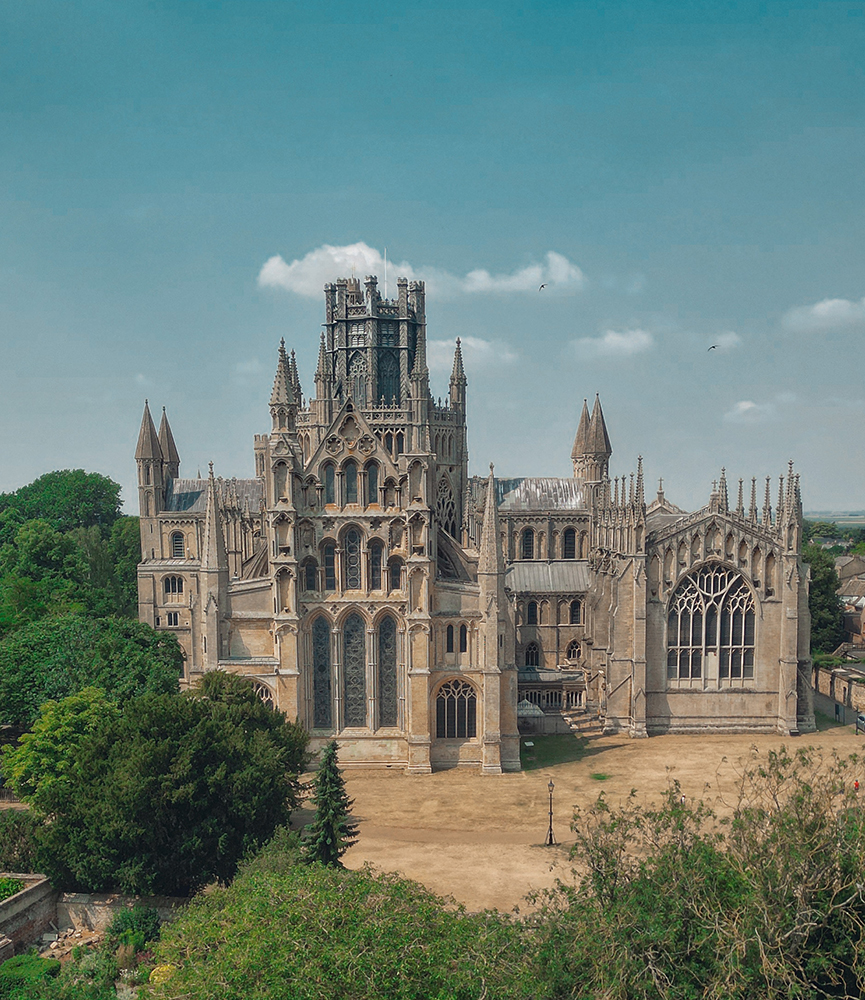 Ely Cathedral, Cambridgeshire
---
Is the Mini 3 Pro Good for a Beginner?
I must admit that I am a complete beginner when it comes to drone piloting and so am in the perfect position to answer this question.
The short answer is yes.
The slightly longer answer is that on one of my very first flights, I made the mistake of flying entirely through the controller's screen whilst panning to the left for a video. The drone then got stuck in a tree for hours! However, once I had a handle on the controls I found it pretty intuitive for a novice flyer, and having had it for a couple of months now, I feel very at ease with the drone.
---
What Didn't I Like?
For the tree reason, and a few others, I'll list what I did not particularly enjoy about the DJI Mini 3 Pro:
No side sensors – having these might have saved me from making the mistake mentioned above.
Lost drone alarm and lights auto-switch off – after a while these both turn off which isn't helpful if you're trying to recover the drone and you don't know where it is.
Short battery life – I felt like I wanted more time with the drone before it would run out of battery.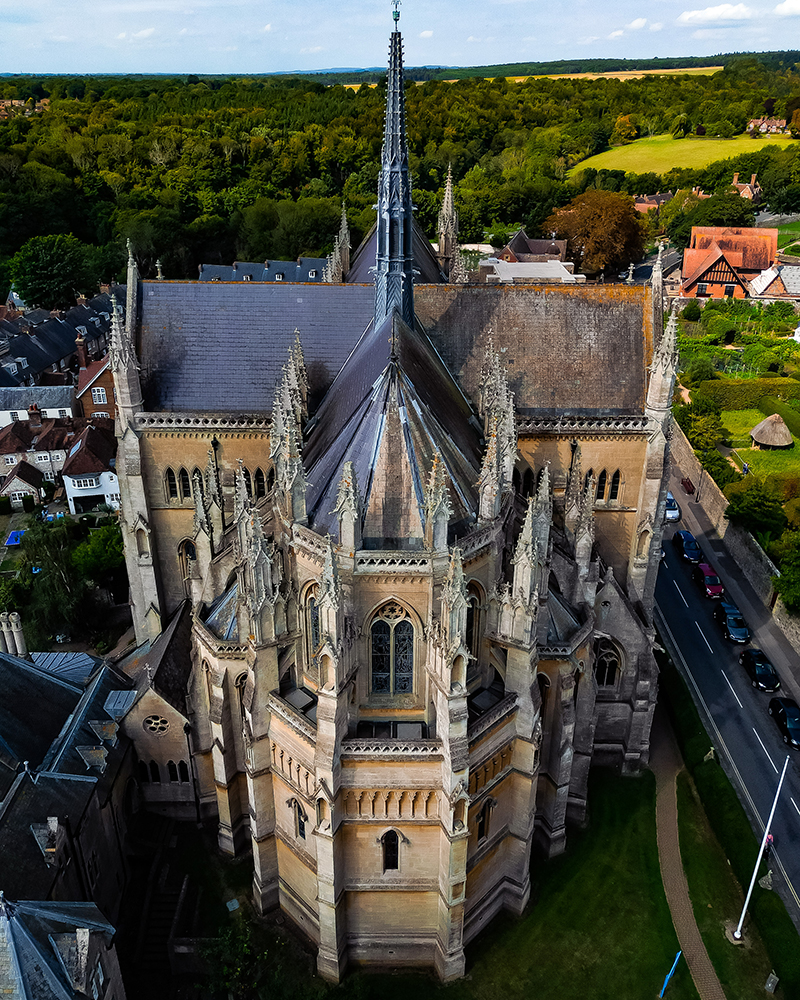 Arundel Roman Catholic Cathedral, Arundel, West Sussex
---
Flight Modes
I've tried all 3 flight modes, from the slow and cautious Cinematic Mode, the adrenaline-inducing high-speed Sport Mode, to the healthy blend of the two in Normal Mode. All three options have very high utility but after the previously mentioned tree incident, I primarily fly in cinematic or normal mode if there's nobody to keep an eye on where the drone is in the sky for me (I'm not the best multi-tasker).
With these modes, I am able to capture a small detail of the exterior then dolly out and display the grandeur as the entire structure comes into the frame. It's the perfect recipe.
---
Is the DJI Mini 3 Pro Drone good for Architecture Photography?
I think this is a fantastic purchase for an architecture photographer/videographer, architecture enthusiast or just a first-time drone pilot. It allows the pilot/photographer the ability to explore never before seen angles and perspectives, opening up a new side of history otherwise missed by passers-by.
With the Mini 3 Pro, you can create truly original footage and images of well-known and loved landmarks. I, for one, have a great wealth of ideas for photos and videos in the near future which I am incredibly excited to explore, all made possible by the DJI Mini 3 Pro. I can't wait to get started!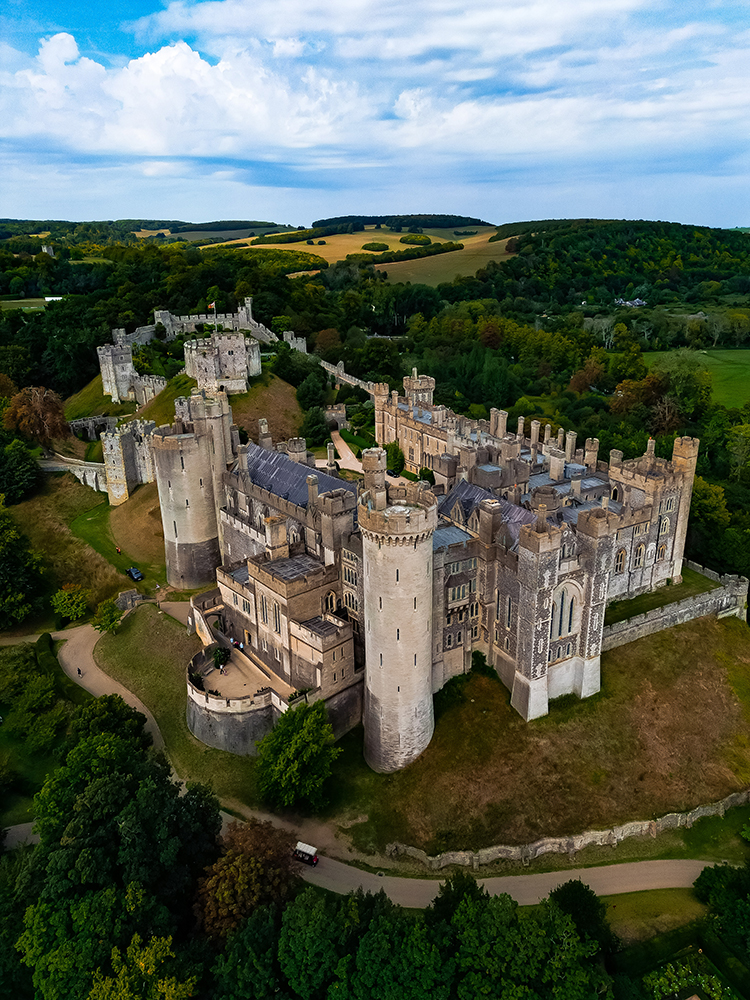 Arundel Castle, Arundel, West Sussex
---
About Lee Vistal
Lee Vistal is a historical architecture and interior photographer. His impressive images and videos of the palatial buildings of the UK, and further afield, have recently seen him work in collaboration with prominent buildings including Blenheim Palace, Gloucester Cathedral and Worcester Cathedral. You can follow his work on Instagram @leevistal.
---
Where can I get the Mini 3 Pro?
The DJI Mini 3 Pro is available from Clifton Cameras in the following kits:
---
Read Next
---
Thank you!
Thanks for taking the time to read our blog, we really do hope they help you out and answer some of your questions. If you still have some unanswered, then please feel free to get in touch with our team of experts.
We have a LiveChat option on our website and we can, of course, be contacted via our email, we're also on the end of the phone too! Read more on how to contact us here >
---
Want to write for us?
If you've got experience with producing content on photo, video and/or optics products or techniques then we would love to hear from you. Contact our blog editor, Bea, with a sample of your work at bea@cliftoncameras.co.uk.
By Lee Vistal
23 Sep 2022