​​Architecture Photography with the Tamron 17-70mm f2.8
My name is Lee Vistal and I'm a Photographer with a passion for architecture, particularly when it comes to buildings of historic significance. This passion takes me to cathedrals, castles, museums, stately homes and many more places around the UK. When it comes to finding the best lens for architectural photography I am always on the lookout.
---
What are the challenges to architecture photography?
There are many challenges that architecture photography can throw up and while each building is unique, there are some issues that I've come across time and time again.
Lighting – Oftentimes I find that the interiors are poorly lit so I need my equipment to be able to deal with this. Whether it's a camera with good ISO capabilities or a lens with a wide aperture – or more often, both(!) – the kit I use can make or break a photoshoot.
People – By their nature, these locations are often also full of many visitors and tourists. For my style of photography, I am mostly interested in capturing the essence of the building, highlighting the incredible architectural details of these historic sites rather than the people within. This reason, and also for GDPR protection, means that I need to be able to avoid photographing people which in turn means that I need the ability to take quick, handheld shots as well as have the option for more considered compositions using a tripod.
Both of these are common challenges that good equipment can help to solve which is why I was delighted when Clifton Cameras offered me the chance to test out the Tamron 17-70mm f2.8 Di III-A VC RXD Lens.
But where to take it? In order to fully test it out I decided to visit my local cathedral, Gloucester Cathedral, to put this lens through its paces.
---
The Tamron 17-70mm f 2.8 DI III-A VC RXD at a glance
Before I get into the photography, here are a few key specs of the Tamron 17-70mm:
High-speed standard zoom lens
Made for APS-C cameras
Outstanding optical performance
Continuous f2.8 throughout the focal length
Minimum focusing distance of 19cm
Portable and compact design
Moisture-resistant construction with fluorine coating
RXD system
Weighs just 530g
Available for Sony E and Fujifilm X mounts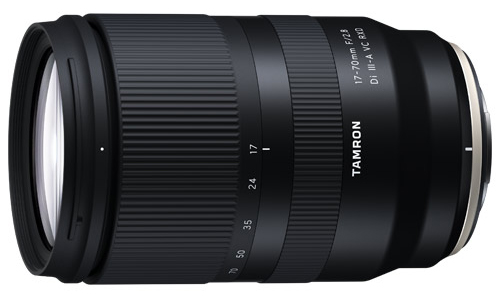 How do the Tamron lens naming conventions apply?
Di III-A = Di III means this lens is designed for mirrorless cameras, and the additional -A means that the lens is made for APS-C cameras.
VC = Vibration Compensation, otherwise known as image stabilisation.
RXD = Rapid eXtra-silent stepping Drive, Tamron's high-speed, silent autofocus motor.
With its wide focal range and f2.8 aperture, the lens seems, on paper at least, to be the perfect option to pair with my Fujifilm X-S10.
Click here to view full specifications >
---
Life at the Wide End
Straight away I found that working with a zoom range of 17-70mm was naturally suited for architecture. Going as wide as 17mm (25mm, full frame equivalent) captures the grandeur of the interior within the cathedral.
Architecture photography and wide angles always go hand in hand and there is nothing more frustrating than having to back yourself all the way into a corner in order to get a floor-to-ceiling shot. With the option to go so wide with this lens, I didn't find this to be an issue within the Cathedral.
At the other end, I could zoom in to 70mm (105mm, full frame equivalent). The lens protruded seamlessly, always maintaining the balance of the camera and lens. Extending the focal length this far meant that I was able to pick out subjects and otherwise overlooked details at incredibly sharp image quality.
I found this to be very beneficial as although working with a prime lens can often be attributed to better image quality, if I wanted to achieve the same final look of an image I would require a substantial crop which would reduce the file size and overall quality of the finished piece.
I can't help but think that Tamron created this focal range to be the perfect all-rounder for architecture. All this, and no change in the maximum aperture (a feature that often gets overlooked on a lens until it's gone) – it's a win-win!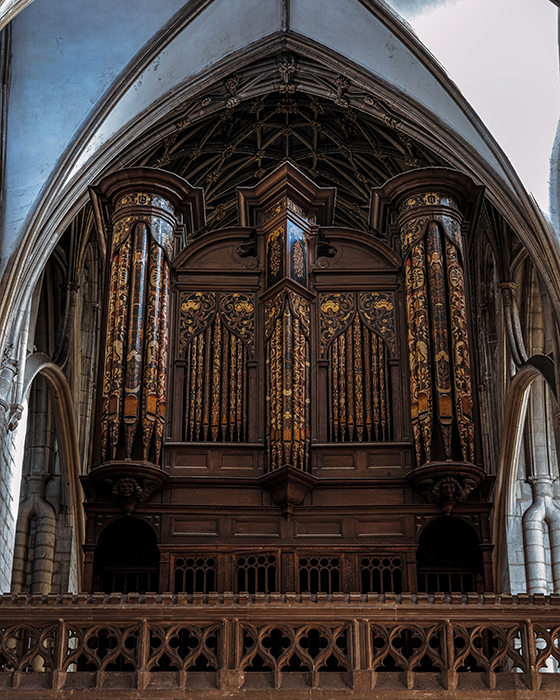 F3.2 | ISO 80 | SS 1/6s | Tripod: No
---
RXD Rapid Autofocus
The lens itself felt solid, robust, and relatively lightweight (just 530g). Its focus ring was smooth to slide and fast to focus thanks to the RXD rapid extra-silent stepping drive. I definitely noticed the difference between this focus and other lenses I've used in the past; the focus was always rapid, accurate and exactly where I needed it to be.
This speed is especially advantageous when working in busy locations. As I've said, these places are often full of admiring visitors and practising religious members, so the window for me to get the shot is often small. With the Tamron 17-70mm f/2.8 Di III-A there was very little focus hunting which made my job that much easier and more enjoyable.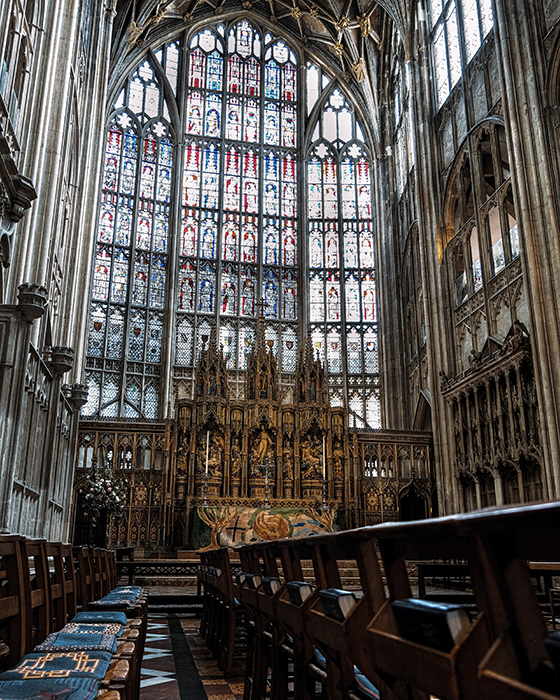 F3.5 | ISO 80 | SS 1/10s | Tripod: No
---
Leading Lines
Architecture photography is one of those styles where it's very hard to hide behind a bad lens. It is all about composition and leading lines, and if the lens you are using bends the columns of the cathedral or warps the window frames, it means that you have a lot of post-production heading your way.
It's one of the main things to think about when setting a budget for your architecture photography lenses, as although a good worker never blames their tools, there is only so much one tool can do.
Thankfully the Tamron 17-70mm lens delivered on all accounts. I found it very difficult to notice any distortion within my images, even as wide as 17mm. Plus, the overall outstanding optical performance of the Aspherical (ASL), Low Dispersion (LD) and Extral-Low Dispersion (XLD) glass elements meant that aspects such as chromatic aberration were incredibly minimal.
---
Benefits of Budget Quality
The only potentially negative comment I have to make about this lens is the plastic build construction. While the quality of the materials are great for what they are, as a native Fujifilm XF shooter, I felt that the plastic rings were less premium than what I am used to.
The benefit of this construction choice, however, is that it keeps the overall cost of the lens down. What really matters – the glass – remains a premium quality and the f2.8 aperture bounces this lens right back up to be a strong contender when looking for your next lens.
---
Overall Thoughts
Overall I think that the Tamron 17-70mm F/2.8 Di III-A VC RXD is a versatile, well-rounded lens. Its focal length opens up a wide variety of shots to be taken, from swooping wide angles to detailed interiors.
The f2.8 aperture is what sets this lens apart. Despite hovering around the budget-lens market this aperture invites you to expand your photography into premium-quality images. The stunning depth of field adds another level to the images and expands your options when it comes to shooting in lower-light environments.
There is no doubt that this lens would make a welcome addition to any photographer's arsenal, and if you are a budding architecture photographer then I can highly recommend checking this lens out.
---
About Lee Vistal
Lee Vistal is a historical architecture and interior photographer. His impressive images and videos of the palatial buildings of the UK, and further afield, have recently seen him work in collaboration with prominent buildings including Blenheim Palace, Gloucester Cathedral and Worcester Cathedral. You can follow his work on Instagram @leevistal.
---
Read Next
---
Thank you!
Thanks for taking the time to read our blog, we really do hope they help you out and answer some of your questions. If you still have some unanswered, then please feel free to get in touch with our team of experts.
We have a LiveChat option on our website and we can, of course, be contacted via our email, we're also on the end of the phone too! Read more on how to contact us here >
---
Want to write for us?
If you've got experience with producing content on photo, video and/or optics products or techniques then we would love to hear from you. Contact our blog editor, Bea, with a sample of your work at bea@cliftoncameras.co.uk.
By Lee Vistal
27 Jan 2023