Birding From Home with Martin Drew
This is one of those blog posts where the clue is in the title. During the current pandemic, we have all had restrictions placed upon our movements. Inevitably, these are likely to limit our birding activities somewhat. So what can we do? How to we continue to engage with nature when our favourite area of woodland/marsh/reservoir is out of bounds?
Well, for many of us one possible solution lies close at hand: the garden. Of course, not everyone has a garden but many of us do and chances are that we're all likely to be spending a lot of time there for the foreseeable future.
Over the coming weeks, I plan to post regular short blog posts documenting what I'm seeing in and around my garden during these difficult times. Before doing so, however, I feel that I should 'set the scene', so to speak.
You can view my first vlog, "Birding from Home" over on Clifton Camera's YouTube channel.
---
Setting the Scene
First thing I'd say is that this is not a big garden by any stretch of the imagination: 30 feet long by 30 feet wide. We have a decked area, a small area of lawn, flower borders, a few small rowan trees and even smaller fruit trees (a recent acquisition) dotted around the perimeter, a utility area (complete with greenhouse) and a pergola which is really good for hanging bird feeders from.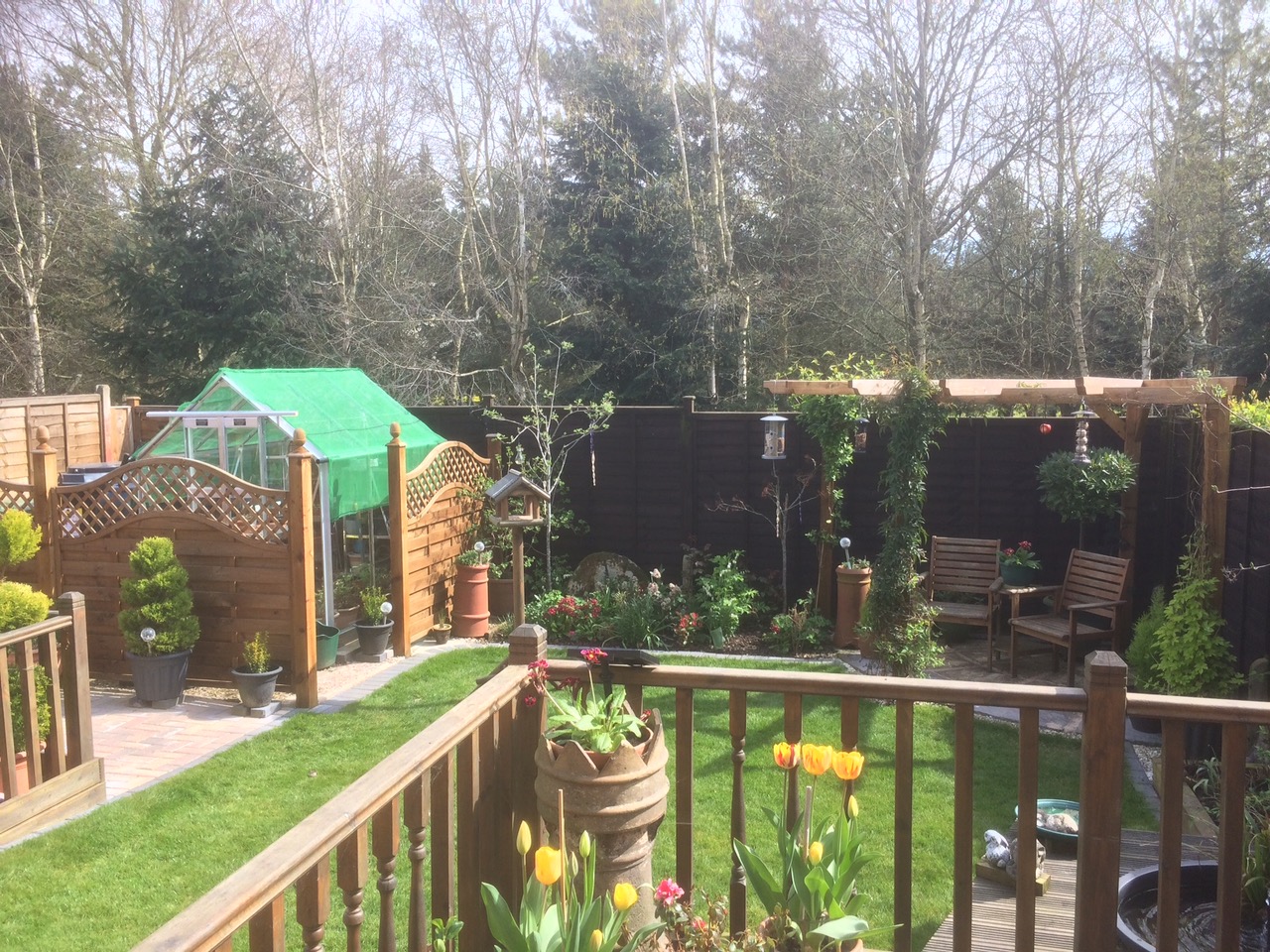 The garden is east-facing and backs straight onto a narrow(ish) strip of trees: mostly silver birch with a smattering of conifers. The odd wild cherry and a few young oaks add a bit of variety. I'm very fond of these trees. Over the years they've played host to some good birds: Hawfinch, Waxwing and Firecrest being just three of the jewels in their collective leafy crown. They house warblers in spring and summer and play host to Lesser Redpolls, winter thrushes and the occasional Brambling in the colder months. Tawny Owls hoot, unseen, from their lofty heights at night and Speckled Wood butterflies proliferate on summer days. From a birding point of view, they act as a really useful extension to the garden all year round.
The Gear I Use
In order to help identify and record what I'm seeing I will be utilising a combination of optical and photographic equipment. Bins and scope both from Hawke Optics: Frontier HD X 8x32 and Endurance ED 18-36x50 respectively. These are at the lower end of the scale when it comes to sheer magnification but are really nice, lightweight optics and ideal for use in the garden. The scope will be perched atop the Benro Wild 2 Carbon Fibre Tripod Kit, one of the finest supports money can buy, in my humble opinion. In addition to the above, I'm delighted to report that I have in my possession, albeit temporarily, the mighty Nikon P950 - thank you, Nikon UK. This is Nikon's newest bridge camera and boasts a focal range which runs from 24mm all the way up to a whopping 2000mm! On the face of it, the P950 promises to be a really useful birder's camera and I'll look to post some of the images I capture as we go.
Skywatching
To top things off we then have…wait for it…the sky! I'm a self-confessed raptor nut and can happily while away the hours 'skywatching'. We see Common Buzzard and Sparrowhawk pretty much on a daily basis – as I write this a male Sparrowhawk has just cruised past, precipitating a chorus of alarm calls and causing a few plump Wood Pigeons to explode from the branches with their characteristic clatter of wings- and Red Kite is now becoming fairly regular. I usually manage half-a-dozen or so garden sightings of Hobby during the summer months; sightings of Peregrine and Kestrel are less frequent.
In addition to the hooked beak brigade, Ravens are rarely far away, we're still lucky enough to be able to hear Skylark from the garden in spring and there's always the chance of something unusual flying over - Goosander being the latest addition to the latter category. The first Barn Swallows usually arrive back from their long migration in the second week of April, House Martins appear towards the end of the month and Swifts add their scythe-winged silhouettes to proceedings a couple of weeks after that.
Of course, most of the time what we're seeing are the 'typical' garden birds: Blackbird, Robin, Wren, Dunnock, Collared Dove, Chaffinch, Goldfinch, Blue Tit, Great Tit, Coal Tit and Long-tailed Tit, These tend to be the daily visitors. Great-spotted Woodpecker, Green Woodpecker and Goldcrest are all regular; Treecreeper, Nuthatch and Jay are occasional. We still have a healthy House Sparrow population hereabouts and get to watch several new broods of 'Passer domesticus' emerge from under our eaves every year. Great to see and well worth the minor inconvenience of cleaning up the abundance of sparrows faecal sacs which appears on our decking as a result.
A Helping Hand
In an effort to give our garden birds a helping hand we feed them. We also feed our hedgehogs – but more on that story later. The pergola has hops, honeysuckle, and jasmine winding their way up the vertical supports and snaking along the upper beams. It's ideal for supporting hanging bird feeders which I keep topped up with peanuts, fat balls and sunflower hearts. A traditional wooden bird table fits the bill for seed mix. Water is vital for birds, both for drinking and bathing, and our birdbath can get very busy, particularly during the summer months.
A Hog's Life
Of course, birds are not the only wildlife out there. We put cat food out for our local hedgehogs and trail camera footage has confirmed that the 'hogs often find themselves having to share the spoils with Wood Mice. On summer evenings, just as the swallows and martins begin to vanish from the sky, the bats take over. I don't have a bat detector (maybe one day) and am certainly no bat expert but I'm confident that we're seeing noctules and pipistrelles. All through last summer, we had a single individual of the latter variety roosting in our wall cavity. I believe this solitary roosting behaviour is typical of adult males. On the evening of April 8th this year, I was gratified to see 'Cedric'* as we came to call him, emerge from the small hole under the bathroom window and begin hawking for insects in the gathering gloom. We've had a pair of Blue Tits scoping the same hole out as a potential nest site and disappearing inside at regular intervals – so we may yet have a night shift and day shift situation in the offing.
We try to plant for pollinators and have definitely noticed an increase in bees and hoverflies as a result. Butterflies are well-represented: Large, Small and Green-veined Whites, Orange-tip, Red Admiral, Brimstone, Peacock, Small Tortoiseshell, Small Heath, Speckled Wood, Holly Blue and, very occasionally, Painted Lady. With regard to moths…there's loads of 'em!
So there you have it. Over the next few weeks, I'll aim to post regular video updates documenting what I'm seeing in and around the garden during the lockdown. I make no promises with regard to the quality of these videos (particularly with regard to the presentation) but it'll be nice to see what's happening on the wildlife front and all comments will be welcome.
Until then.
*I realise this may not be the same bat but I think it is. He 'looked familiar'.
---
If you'd like to read more from Martin then be sure to check out his previous blog on the Benro WIld 1 carbon tripod here.
By Martin Drew
15 Apr 2020