Birding with the Benro Tortoise 24CLV + S4PRO Video Kit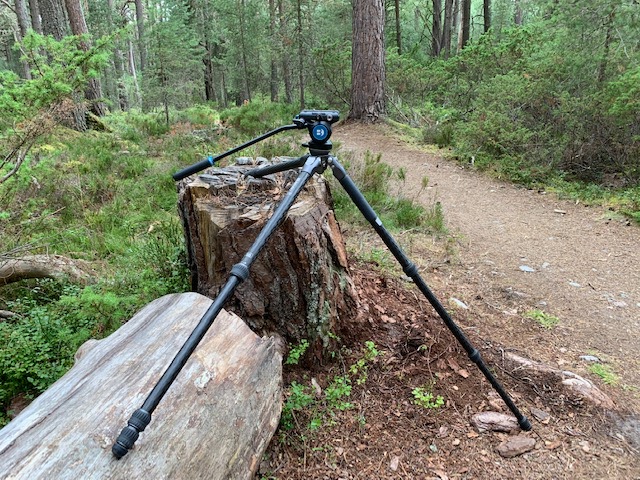 Benro Tortoise Tripod
For the past three years or so my main birding tripod has been a Benro Wild 1 Carbon Fibre Birding Kit. The tripod and head have performed admirably under all manner of conditions and I'm pleased to report that both are still going strong to this very day. The kit has also made cameo appearances in more than one Clifton Cameras blog post, its distinctive green frame often well to the fore.
Sadly, the kit which I have is no longer available so what alternatives does Benro currently offer for someone looking for a new birding tripod and head?
---
Benro's current offering
On the face of it, one interesting-looking option could be the Benro Tortoise 24CLV + S4PRO Video Kit. This is quite a wordy label but, in essence, what we have here is Benro's Tortoise 24CLV Levelling Tripod coupled with their S4PRO Video Head. The setup comes complete with a padded carry case (which sports an internal zip pocket for accessories) and a padded carry strap. A set of spiked feet (to replace the existing rubber feet when on soft ground), a couple of Allen keys and an instruction manual are also provided.
The 'video kit' label is by no means inaccurate – as this setup is ideal for video capture – but, once I saw the product in the flesh, it occurred to me I might be looking at a terrific setup to use with a spotting scope. This being the case, I lost no time in arranging to borrow the kit with a view to putting it through its paces in the field. Quite a few fields, in fact, plus some woodland, a large tract of heather moorland and a smattering of coastal habitats.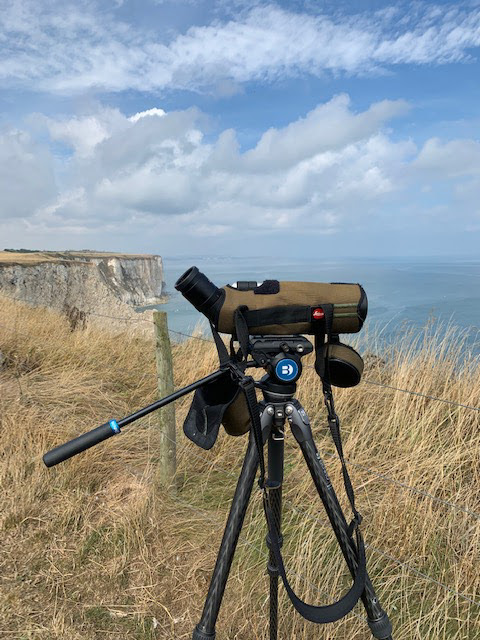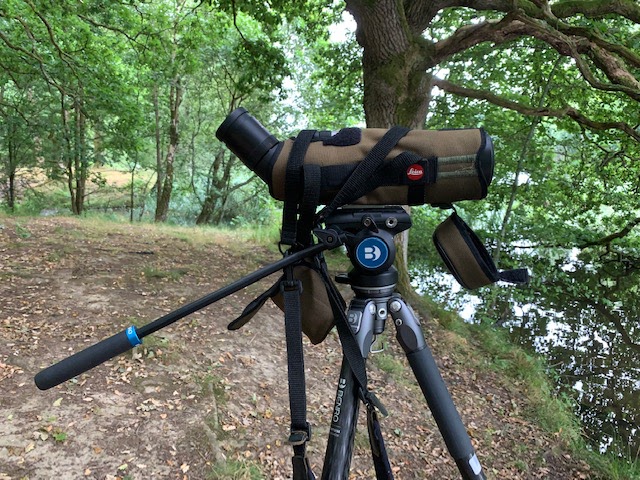 'But how much can you find to say about a tripod kit?', I hear you ask. That's understandable, of course, but this particular combo does appear to have some interesting features and it's definitely worth taking a look at these in greater detail.
---
S4PRO key features
Starting, quite literally, at the top we have the S4PRO Video Head. It didn't take long for me to discover that there's quite a lot going on with this head compared to some others on the market. It's quite a compact unit with a 4kg load capacity and, as you'd expect with a video head, sports a single panning arm which serves to control both vertical and horizontal movement – which is just what you need when birding with a spotting scope. I should add that the arm can be attached to either right or left side depending on the user's preference.
I was pleased to see that the head sports a nice, long Arca Swiss plate. For anyone not familiar with Arca-Swiss, it's a very popular (and very simple) system involving a base plate and a clamp. In essence, the base plate is attached to the base of the scope, the clamp is opened by means of a single side knob, the plate slides in, the clamp is tightened and you're done.
Some spotting scopes (like those produced by Swarovski Optik, for example) now come with an Arca-compatible footplate as standard. The advantage of this is that it means that the user can dispense with the quick-release plate altogether as the scope's footplate just drops into the clamp which is then tightened. This reduces the chances of the scope working loose by rotating on the base plate – always a hazard when carrying a spotting scope in the field - and I wouldn't be too surprised to see more optics manufacturers going down this route in the future.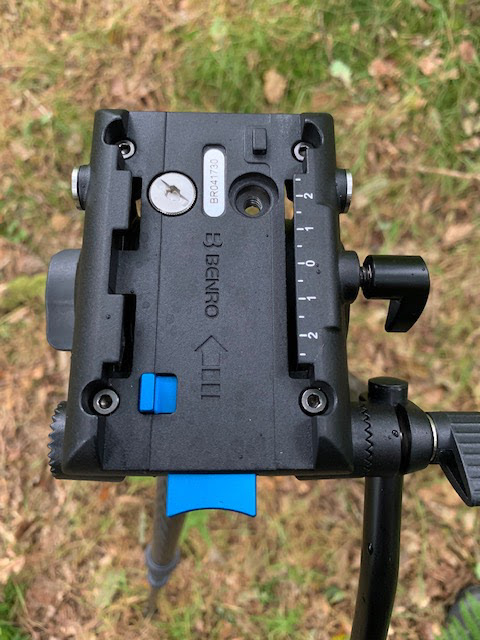 The plate itself is CNC-machined and sports scale markings so that it can be removed and repositioned quickly and easily. One really nice touch is that the plate comes with two mounting screws to allow for both 1/4" and 3/8" fittings. Most plates are supplied with 1/4" only so it's nice to see that Benro has covered all bases (no pun intended) here.
Another nice touch is that there are storage sockets for both screws built into the head itself. I haven't encountered this before and it's a simple but really practical feature. The head also incorporates a built-in safety mechanism which stops the plate (complete with scope/camera) from sliding all the way out if the user happens to tilt it too much without tightening everything up properly… so definitely some clever stuff going on there.
The panning range is a full 360 degrees and tilt range is given as plus 90 degrees and minus 75 degrees - so 90 degrees forwards and 75 degrees backwards.
There are independent controls to lock/unlock both vertical and horizontal movement, a built-in spirit level (or 'bubble level' if you prefer) and two 1/4" accessory mounts to allow for the attachment of video monitors etc. This last feature may not be of relevance to many birders as it's more of a video thing but worth mentioning for the sake of completeness; also, with the increasing popularity of digiscoping, you just never know.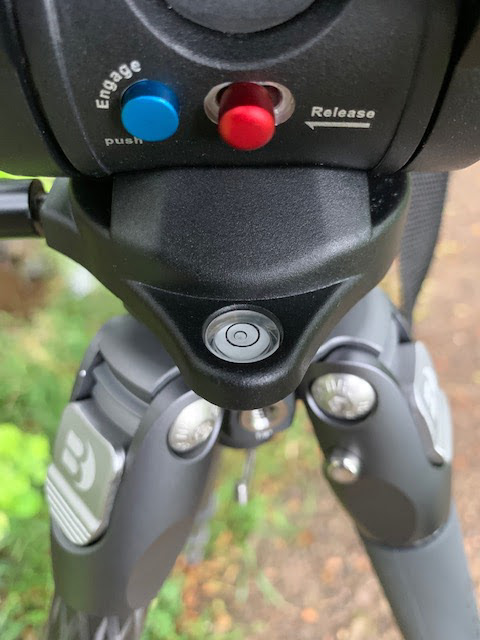 Interestingly, the S4PRO sports two stages of counterbalance. Straight out of the box it's set to Stage 1 but, if additional counterbalance is required, it's possible to switch between Stage 1 and Stage 2 by means of a blue button and red switch which are (a) very obvious and (b) located right next to each other – which is handy. I tried both stages with my trusty Leica 62mm scope and a Zeiss Conquest Gavia 85mm and found that Stage 1 worked just fine. Stage 2 might well have come in handy with an even bigger, heavier scope…either way, it's a nice option to have.
So that, in essence, is the S4PRO Video Head. Time to turn our attention to the tripod base itself.
---
24CLV key features
The Benro Tortoise 24CLV Levelling Tripod, to give it its official title, also turned out to be an interesting beast in its own right. This is a carbon fibre model – braided carbon fibre composite, to be precise - with four leg sections. Carbon fibre helps reduce weight when compared to traditional aluminium construction and four leg sections make for a compact unit when folded down for transportation.
Without the head attached, weight and folded length are given as 1.38kg and 54.5cm respectively. With the head attached these figures increase to 2.48kg and 64.5cm. The leg sections are adjusted by means of twist locks and it's also possible to set each leg to one of three different angles – a feature which I will expand upon later as I found it to be very useful in the field.
The letters 'LV' in the product title are significant as they refer to the fact that the tripod comes complete with a built-in levelling bowl. This is a found in quite a few video tripods but, upon setting the kit up for the first time, I pretty much decided that this would be something I wouldn't make much use of in the field. But oh, how wrong I was – as I will explain shortly.
One slightly unusual feature of this tripod is that it doesn't have a centre column. Not even a short centre column…nope…nothing. There is a very good reason why Benro has seen fit to dispense with a column and that, in one word, is stability. The laws of physics dictate that the more you raise a tripod centre column the more risk there is of stability being compromised. This is particularly true in windy conditions and/or when working at high magnification.
The columnless design has been intended to give maximum stability and also gives a more compact shape when the tripod is folded down for transport. It allows for the setup to be used right down at ground level – which is something I've had to try to do a few times over the years, particularly when birding at the coast where conditions can often be somewhat bracing and getting a steady view of anything can be a challenge.
Before I saw the Tortoise kit in the flesh the absence of a centre column did concern me slightly as I wasn't sure if the rig would be tall enough for some users. These doubts were dispelled as soon as I got the whole thing set up: I'm 5'9" tall and the Benro fairly towered over me – and that's without a scope attached! Given that most birders tend to use an angled scope (so the user looks down into it) I can confidently say that the 24CLV/S4PRO combo will suit pretty much anyone with the possible exception of the odd birding basketball player out there.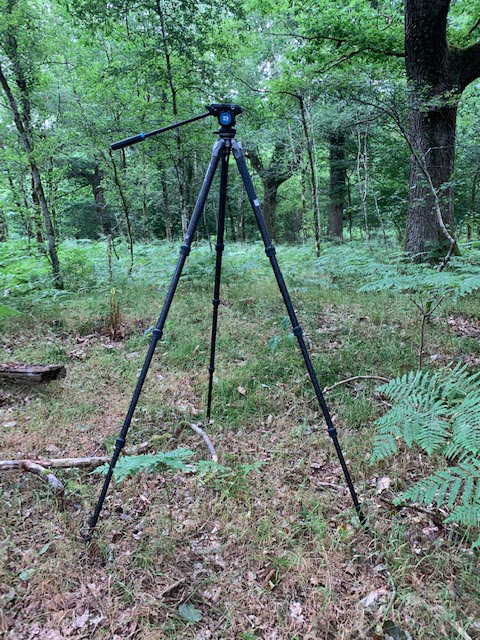 ---
Use in the field
Having covered the salient features of both head and base it was time to see how they performed in the field. My time with the Benro coincided with trips to the East Yorkshire coast and Speyside in the Scottish Highlands so there was ample opportunity for plenty of 'real-time' use.
The first time I mounted a scope on the tripod I used a loan model Zeiss Conquest Gavia 85mm and immediately did what most folk would probably do – i.e. check the overall stability of the whole setup. It quickly became apparent that there were no concerns on that score: everything felt as solid as the Rock of Gibraltar even with a reasonably hefty optic on there… so this was looking good.
The next step was to check out the video head to see how it felt with the scope attached. When you're using a spotting scope it's imperative to have a really nice, smooth panning action with minimal judder and backlash.
As mentioned above, the S4PRO has individual locking adjustments for vertical and panning movements. The advantage of this setup is that it allows for fine adjustment of both - in other words, you can set the right amount of vertical and horizontal resistance for whatever spotting scope you happen to be using. One brief period of adjustment later and I had achieved optimal panning action in both planes.
The S4PRO is a chunkier head than my existing Benro BWH4 Head and that, combined with the longer base plate, served to give panning which immediately felt smoother and nicer than my existing kit. Not that the BWH4 is poor in this regard – far from it – but, straight off the starting blocks, this was just better. I was able to set the same panning action with both the Gavia and my own Leica Televid APO 62 so definitely a versatile setup for spotting scopes of both large and small varieties.
I've already alluded to the fact that the Tortoise's legs can be set to any one of three different angles. I also mentioned that levelling bowl and spirit level are both built-in. Once I started using the kit in anger I quickly discovered just how incredibly useful and versatile these features are when used in combination.
Looking at leg angle adjustment first, this allows for optimal positioning when on sloping or uneven ground. During the course of reviewing this applied to pretty much everywhere I went. The best way of illustrating the Tortoise's versatility is by way of images. Like this one, for example:
Or this: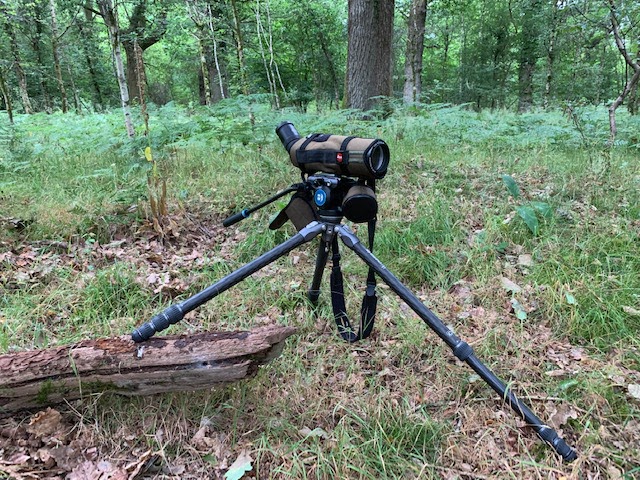 Or how 'bout this: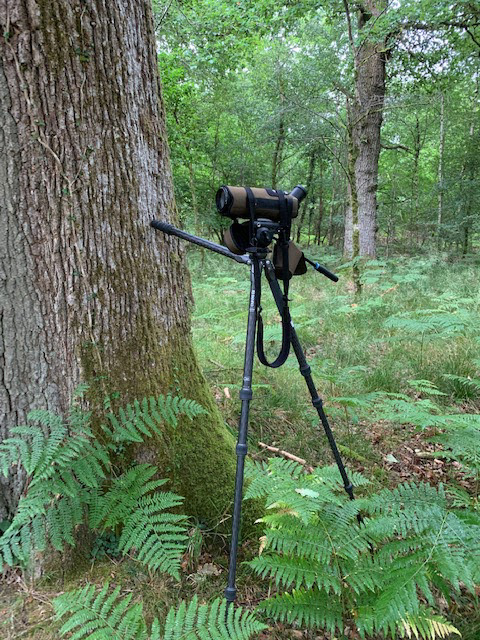 The last image in particular shows a really clever option whereby it's possible to set up really close to a tree (in this case) or anything else which might serve to give protection from the elements or help the user stay partially hidden – potentially very useful when birding, particularly when shy or elusive species are involved.
As expected, the columnless design really came into its own whenever the need to get down close to the ground arose. The next image shows a trial setup: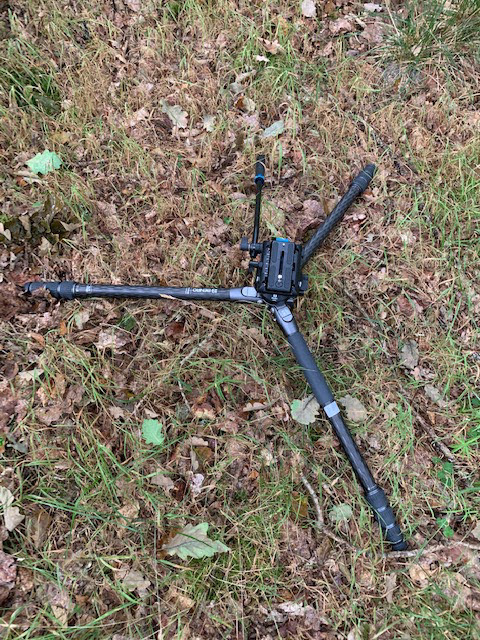 ---
Phonescoping with the Benro Tortoise 24CLV + S4PRO Video Kit
A week later, I found myself at Bempton on the Yorkshire coast grilling the long-staying Red-tailed Shrike. As the bird was showing really well in the hedgerow I decided to try some phonescoping. The easiest and most comfortable way of doing this was from ground level and the next image shows my setup as used on the day: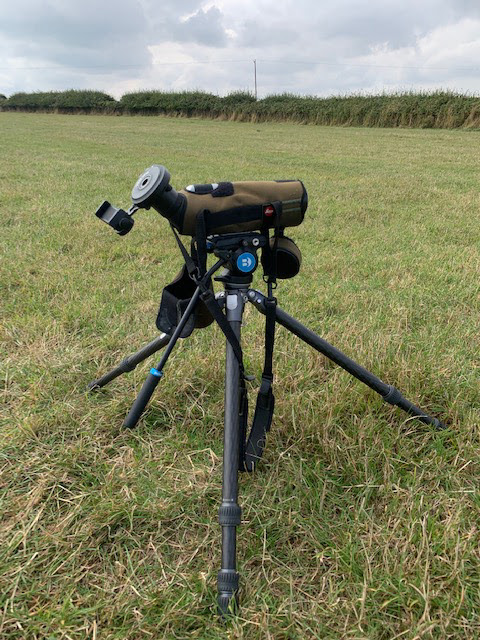 I hope the photos help illustrate the outstanding versatility on offer here. With regard to leg angle adjustment, I should also add that, in addition to the usual leg angle adjusters, each leg also has a small, silver push button which can be used to quickly lock the relevant leg into position once the desired angle has been reached: a subtle but useful feature, in my view.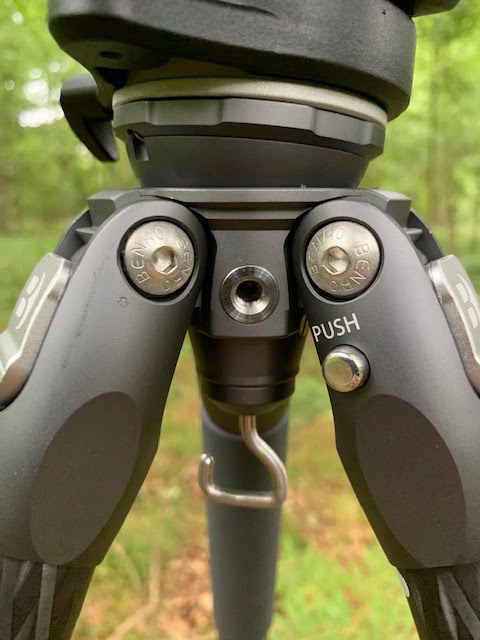 This is the point in any review where I usually have the nagging feeling that I've forgotten something. Which I almost did! Way, way back I mentioned the levelling bowl and hinted that it had turned out to be a lot more useful than I had expected.
Specifically, what I discovered is that the levelling bowl and spirit level in combination are an absolute Godsend when you're on uneven ground and want/need to get all set up quickly. It's always ideal to have your scope sitting nice and level. The trouble is that if you're on a hillside/rocky shore etc., see something good and need to get scoping quickly you then often end up almost feeling like you're wrestling with an octopus as you try to get the legs all adjusted correctly to level everything up.
With the Tortoise you don't need to do that: you just set the scope up to approximately the right height and then use the levelling bowl and spirit level to straighten up the head and scope. The spirit level is ideally situated so that it's easy to see and, no matter how wonky the initial angle, you can have everything levelled up in a couple of seconds. Literally.
I genuinely loved this feature, the only downside being that, as I'm not used to having it, I kept forgetting that it was an option and resorting to octopus-wrestling. After a few days I'd got into the habit of using the system as described and I can honestly say that this turned out to be my favourite of all the Benro's many clever features.
---
Final thoughts
In final summary, the Benro Tortoise 24CLV + S4PRO Video Kit makes for an outstanding birding support. The base section provides excellent stability and versatility and the head allows really nice, smooth panning action in both vertical and horizontal planes. Additionally, it comes with a nice set of accessories and sports a price tag which, in my view, is more than reasonable given the quality of the product. If my existing tripod kit fell off a cliff tomorrow this is the one I'd replace it with – and I can't give much higher praise than that!
As always, thank you for reading and happy birding!
The Benro Tortoise 24CLV + S4PRO Video Kit is available here >
---
Read next
---
Thank you!
Thanks for taking the time to read our blog, we really do hope they help you out and answer some of your questions. If you still have some unanswered, then please feel free to get in touch with our team of experts.
We have a LiveChat option on our website and we can, of course, be contacted via our email, we're also on the end of the phone too! Read more on how to contact us here >
---
Want to write for us?
If you've got experience with producing content on photo, video and/or optics products or techniques then we would love to hear from you. Contact our blog editor, Bea, with a sample of your work at bea@cliftoncameras.co.uk.
By Martin Drew
23 Dec 2022