Canon EOS R3 Tech Development Announcement
UPDATE: 14 Sep 21
The Canon EOS R3 camera has now been officially launched and is available for pre-order >
---
On Wednesday 14th April 2021, Canon announced the development of a new Canon R Series camera, the Canon EOS R3. Designed and built for the professional sports and news photographer, Canon has said that the R3 will sit between the Canon EOS R5 and the flagship Canon EOS 1DX III DSLR camera.
---
Initial EOS R3 key features:
New Canon-developed stacked BSI CMOS sensor
30fps with AF/AE tracking
Eye Control Function
Subject eye and head detection
Dual Pixel CMOS AF
1D series weather resistance
---
---
Here's what Canon has told us already...
Professional Quality at Ultra Speed
The EOS R3 will feature a new full-frame Canon-developed back-illuminated stacked CMOS sensor that when working with the DIGIC X imaging processor, will deliver some pretty spectacular images and videos.
30fps Without Distortion
As pro shooters know, shooting with an electronic shutter at fast shutter speeds, for example, 1/4000, can produce distorted images. Typical examples include the bowing of a golf club during the swing (not sure if that's the technical term?) or an egg-shaped tennis ball being struck at speed.
Even when using the electronic shutter, 30fps with AF/AE tracking will produce minimal image distortion. So those high-speed captures will stay true to real-life, perfect for the sports photographers that have the challenge of freezing the action within a fraction of a second and still maintaining superb image quality.
Next Generation AF
The EOS R3's Dual Pixel CMOS AF can track not just eyes and face, but heads and bodies that are traveling at speed. Canon has also announced that there will be a new subject (yet to be disclosed) when it comes to the AF - I genuinely can't think of another specific subject that you would need over the list already mentioned plus animal AF but I will leave it with you to come up with your own suggestions!
Control AF - WITH YOUR EYE
Yes, you read that correctly. First seen in the R5, the R3 features a new and improved Eye Control Function technology that allows photographers to select and move the AF point using their eye via the viewfinder. This incredible feature offers professionals intuitive and efficient control of AF, reducing the time to focus which of course is one element that a pro sports photographer needs to get the job done.
Canon's Legendary Pro Build
Taken from the 1D Series, the EOS R3 boasts the same durability, dust and water resistance along with the integrated grip that pro photographers love. From initial images from Canon, the body appears to have a carbon fibre look, which I can only imagine will be a grippy material that aids the photographer when shooting in some of the worst wet and wild conditions. Perfect for the pitchside sports photographer working from the UK.
At face value, the R3 looks as if it might mirror the appearance of a 1DX, however when you take into consideration the height adjustment for the lack of optical properties the DSLR system has, the R3 will be more on the compact size and yet still chunky enough to be able to be held comfortably for hours on end with a whopping great big 600mm lens on the end of it.
New Mobile File Transfer
The R3 will be compatible with Canon's Mobile File Transfer app which provides a new way to speedily transfer images whilst on the go. This negates the need for wired LAN equipment, speeding up the workflow of the pro shooter. Version 1.2 of this app will be available in June which is also compatible with Canon's EOS-1DX III, R5 and R6 - although only available on Apple iOS with Android coming in the not too distant future.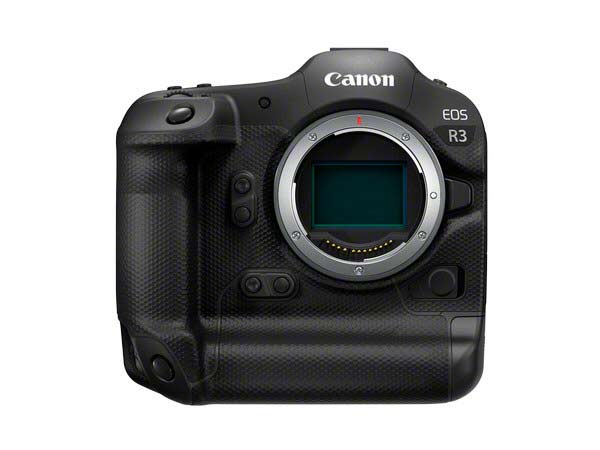 ---
Now to what we still want to find out...
When will we see the R3?
With the Nikon Z9 already announced and the Sony a1 already out, Canon really need to move quickly. We haven't heard of any release date yet but we will keep you informed.
How much will the R3 cost?
With the technology that we're aware of and specs that we imagine are coming, it goes without saying that this is going to be a pricey purchase. Quite likely to be around but slightly less than the £6,499 of the 1DX III.
Will Canon release an R1?
As you may expect with Canon's numbering system, an R3 leaves room for an R1 and maybe even and R2. As the Canon 1DX III is still pitched as the flagship model, an R1 maybe due in the next couple of years, leave the DSLR camera to have it's time without losing performance or quality on its competitors.
Does the R3 compete with the Nikon Z9 and Sony a1?
We have seen the stacked sensor in the Sony a1 which Canon have now developed for their own cameras. What we don't know is how many megapixels the R3 will be able to shoot at, will it rival Sony's 50.1MP? Time will tell.
As for competition with the Z9, when comparing initial stats we don't whether the R3 will compete with the Z9's 8K video capture but we are fairly confident the Canon will match if not beat the sensor and image processor stats, but again time will tell on this one. We have some initial information on the Nikon Z9 here >
What is a stacked sensor?
A stacked sensor allows for super-fast read out directly from the sensor itself. Meaning that the mechanical shutter is no longer needed, so cameras can be fully silent, faster-shooting speeds, no wear and tear on the shutter itself, and of course no black-out.
Nowadays stacked CMOS are getting better and better so distortion when using super-fast shutter speeds is either minimal or non-existent.
---
Want to find out more?
Be sure to keep up to date with announcements like these via our social media channels and our weekly newsletter.
Thank you!
Thanks for taking the time to read our blog, we really do hope they help you out and answer some of your questions. If you still have some unanswered, then please feel free to get in touch with our team of experts.
We have a LiveChat option on our website and we can, of course, be contacted via our email, we're also on the end of the phone too! Read more on how to contact us here >
---
Want to write for us?
If you've got experience with producing content on photo, video and/or optics products or techniques then we would love to hear from you. Contact our blog editor, Fee, with a sample of your work at fee@cliftoncameras.co.uk.
By Fiona Chandler
14 Apr 2021