First Impressions of the Sigma 150-600mm F5-6.3 DG DN OS Sport Lens
The first sports lens for mirrorless cameras, the Sigma 150-600mm f5-6.3 lens is a beast on paper but it doesn't quite carry the same attributes in person!
---
When I pulled this lens from the depths of the padded cardboard box it arrived in, I must admit, with an end focal range of 600mm I was expecting something bulky and cumbersome. Happily surprised though, the Sigma 150-600mm is really not much more difficult to handle than my own EF-mount 70-200mm f2.8.
---
I use the term 'difficult to handle', however, don't take that as a complete negative. You can't have a 150 to 600mm focal range with a reputation of Sigma signature image quality and expect it to be the size of a nifty fifty.
I don't have anything to use as a complete comparison so forgive me for the mix match setup of my Canon R6 with mount adapter and Tamron 70-200mm f2.8 G2 lens, but hopefully, this gives you an idea of the size difference when the 150-600mm is mounted to a loaned Sony a7 III.
---
Is the Sigma 150-600mm heavy?
Yes, it is. But not as heavy as you think. The lens is designed for the mirrorless camera systems of Sony and the L-mount alliance, so naturally, it's more lightweight than it appears. Although not quite ideal to be carrying something of this magnitude for long periods of time at a sports event, it's completely plausible that you could go a whole day with this attached to your mirrorless camera and only suffer from some form of mild discomfort. Which, when compared to the quality of images you can capture, is really not an issue. The solution, take a break from carrying it, or grab a tripod!
Of course, lenses with this type of focal length are best for tripod mounting and once mounted, I can imagine that the slight discomfort of carrying this around all day becomes non-existent. Allowing you to focus on capturing some high-quality sports! Pun intended.
The lens has a detachable tripod socket which is super-handy if you want to reduce a small amount of weight and bulk to the overall lens. Even handier if you're not planning on mounting it to your tripod.
---
So what is the Sigma 150-600m lens good for?
It says so on the tin, sports. With that kind of focal range you are leaning more towards the type of action photography where you may be situated in one position or with limited movement. That 150 -600mm range will allow you to get a slightly wider feel for your scene than expected (if you're a fair way back of course!) and also allow you to punch into the action. Capturing the winning celebrations after a frantic equalizer, or grabbing a series of images after a try, just two fine examples of the sports action that this lens can capture.
Not just limited to sports, the Sigma 150-600mm lens can be used for wildlife and bird photography. The lens is compatible with Sigma's 1.4x and 2x (for L-Mount) teleconverters with autofocus being effective all the way through the focal range up to 1200mm. Allowing you to capture the exquisite detail in the plumage of a rare bird without stress.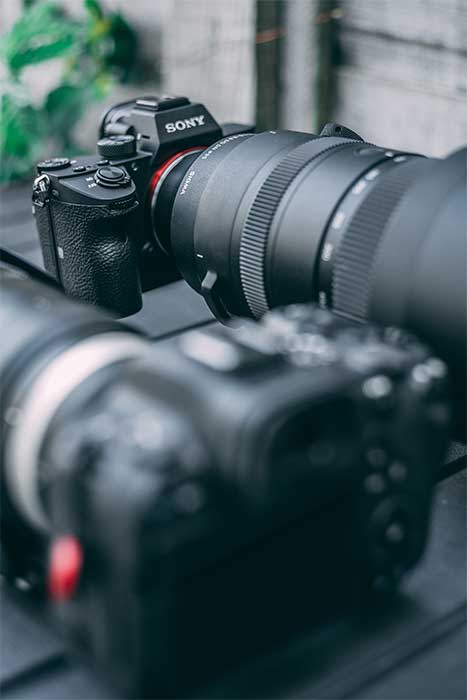 ---
Key Features
First Sports lens for mirrorless cameras
Ultra-telephoto focal range
Minimal focusing distance is just 58cm
Robust, compact and lightweight
Impressive optical performance
Fast, high-precision AF
Designed for fast-action subjects
NEW Zoom Torque
Outstanding build quality
Filter thread: 95mm
---
Is the Sigma 150-600mm weather sealed?
As I said before, I didn't have long with the lens so I didn't have enough chance to take it and test in all weathers. That said, I can confirm that the lens IS dust and splashproof.
Sports, wildlife and action photographers know that the longer focal length lenses tend to be a lighter or white colour to help reflect some of that hot sun, the Sigma 150-600mm lens has gone on a slightly different route though. The lens is made from aluminium and TSC (thermally stable composite) that allows the lens to be able to behave consistently at varying temperatures. Making the lens super-robust and durable when being used out in all elements.
The lens has a water and oil-repellent coating on the front element to further protect the lens from any unwanted and accidental fingerprints and to give you an extra level of peace of mind when you're out in all weathers. You really can tell Sigma have gone all out in the design and build of this fine lens.
---
How long is a Sigma 150-600mm lens?
To be precise, it's 265mm in length. I compared it to my own 70-200mm lens mounted to my R6 (with an adapter) and you can see that although the Sigma and Sony pack a larger punch, the size difference is really not a big issue when you take into consideration that 600mm focal length you're getting with the Sigma.
Again, L-mount users can take advantage of the 1.4x and 2x extenders and get an even longer reach for really not much physical size and weight at all. A big bonus for Sigma!
---
What else do we know about the Sigma 150-600mm sports lens?
For now, that's pretty much all I can share with you as we weren't able to test the image quality this time.
Hopefully, we'll get our hands on this lens again soon and we'll put it to the test with some sports photography alongside a touch of wildlife photography too. If you have any suggestions or ideas on how you'd like to see this lens tested, then please feel free to get in touch and let us know - we'll do our best to accommodate!
---
Read next
---
Thank you!
Thanks for taking the time to read our blog, we really do hope they help you out and answer some of your questions. If you still have some unanswered, then please feel free to get in touch with our team of experts.
We have a LiveChat option on our website and we can, of course, be contacted via our email, we're also on the end of the phone too! Read more on how to contact us here >
---
Want to write for us?
If you've got experience with producing content on photo, video and/or optics products or techniques then we would love to hear from you. Contact our blog editor, Fee, with a sample of your work at fee@cliftoncameras.co.uk.
By Fiona Chandler
26 Aug 2021