Fujifilm Instax Wide Link Printer Review | A Year In Print
Fujifilm is known for its fun and playful approach to photography. Instax prints cover the walls of many bedrooms and for good reason; they look great, they are a fantastic way to display your memories, and they are excellent quality. Not just making cameras, Fujifilm also makes instant printers with smartphone and X series camera compatibility so that no matter what you captured the memory with, you can print it out in the Instax fashion.
Now Fujifilm Instax has expanded its range of printers and introduced the Wide Link Printer. It allows you to print photographs approximately 6 x 10 cm wide. With new printer modes and editing options, being able to create and capture memories in an instant has never been easier. Set it up at home or take it on the go with you. Available in either Ash White. or Mocha Grey.
As someone who's sat at a photo kiosk carefully picking out photos to print, while elderly ladies giggled behind me at the silly faces me and my friends were pulling, being able to print photos in the comfort of my own home, or indeed anywhere, is appealing.
---
Creative Freedom
New printer modes built into the Instax Link Wide app allow you to have full creative freedom when designing your images and printing them in a layout of your choosing. Pick from editable templates, add sketches and text to your photos or select "simple print" mode to create a wide-format print that you can display in your home.
---
Embed QR codes into your photos
The introduction of QR mode means you can create more than a simple photograph. Add a voice recording or secret message to say Happy Birthday to your best friend, or add the location information to the print. Create memorable moments and be able to recall them in an instant.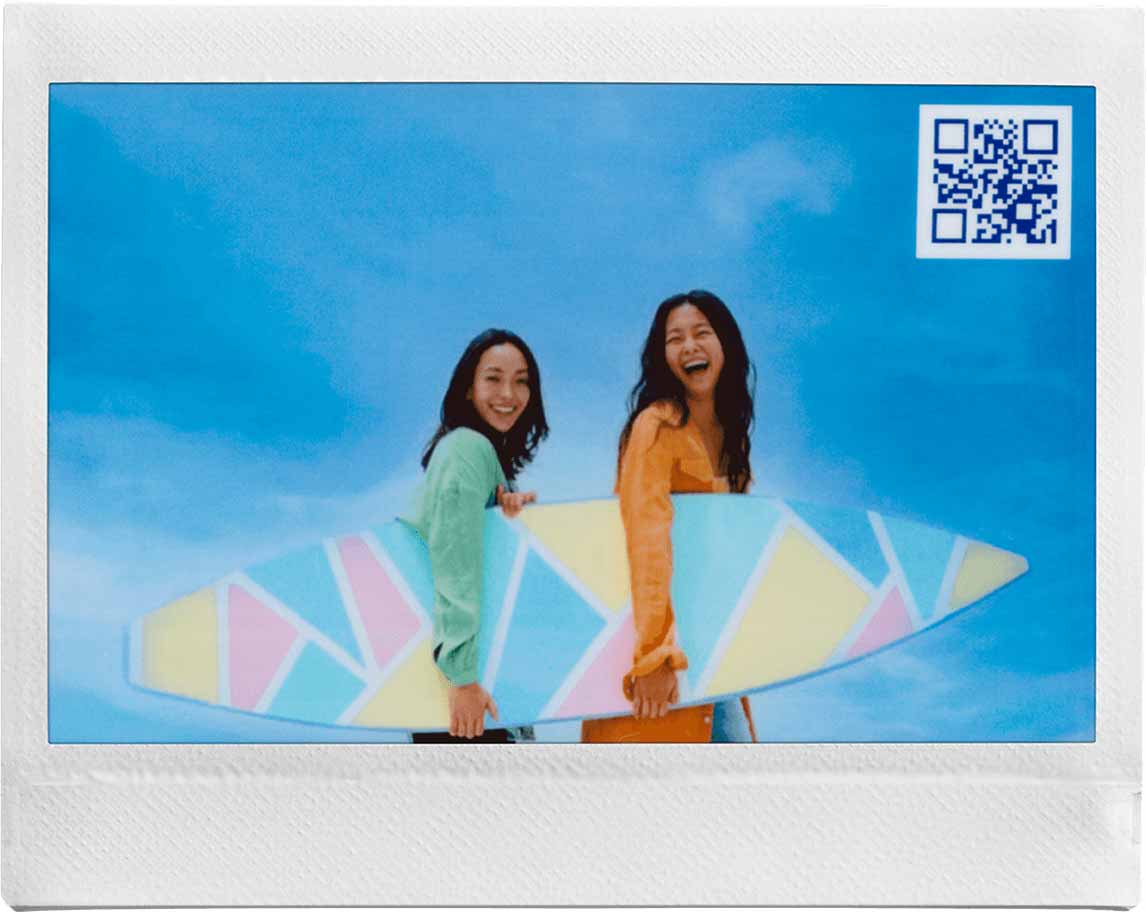 ---
Print big moments WI_____DE
The Instax Wide Link printer gives you far more freedom than you would be able to achieve with a simple instant camera or the Instax Mini Printer. Pick any photo from your mobile, edit it how you like and print it the way you want. Bigger is better and Instax is wide enough to fit those big moments without compromise.
---
Easy-to-use App
The Instax Link Wide Printer uses the Link Wide app, which is available in both the App Store and Google Play Store. Easily edit your images and connect to your printer via Bluetooth. It's simple to print out those moments you capture on your phone. Print out new moments and old memories at the touch of a button.
---
Compatible with Fujifilm X series cameras
The Fujifilm Instax Wide Link printer is compatible with many of the Fujifilm X series cameras such as the Fujifilm X-S10. Allowing you to print directly from your camera. This feature can turn your Fujifilm camera into an instant camera. Simply switch your printer on and connect to your camera to print off high-quality photographs instantly.
---
Easy to set up and take with you
The printer comes with a handy wrist strap and a simple stand. The stand can be set up next to your charging point making it an easy space to doc your printer and put it on charge. You can treat it as a static printer when you're at home.
Or, if you want to take it out with you, the strap lets you fit it securely to your wrist. The printer itself is about the size of a small A5 notebook making it easy to fit into your bag.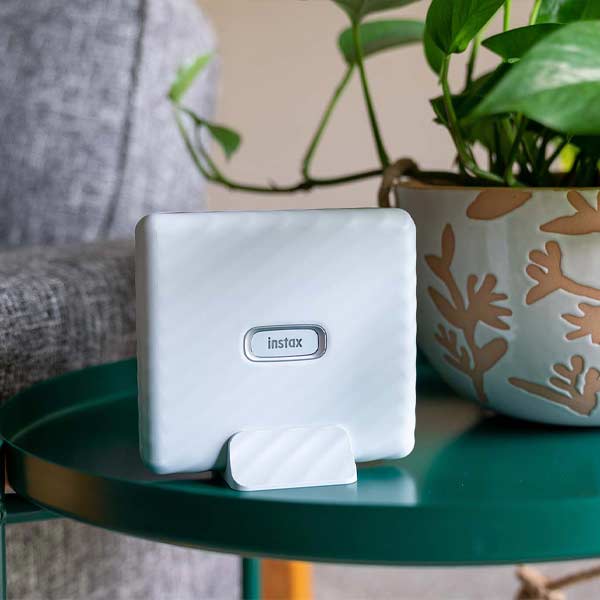 ---
Enhanced printing modes
The Instax Wide Link printer has the option to print images in both natural and rich colour modes. You can alternate between the two settings in the Link Wide app by clicking on settings and selecting the print mode options. This gives you the choice to produce a classic natural tone or a vibrant print with rich colour.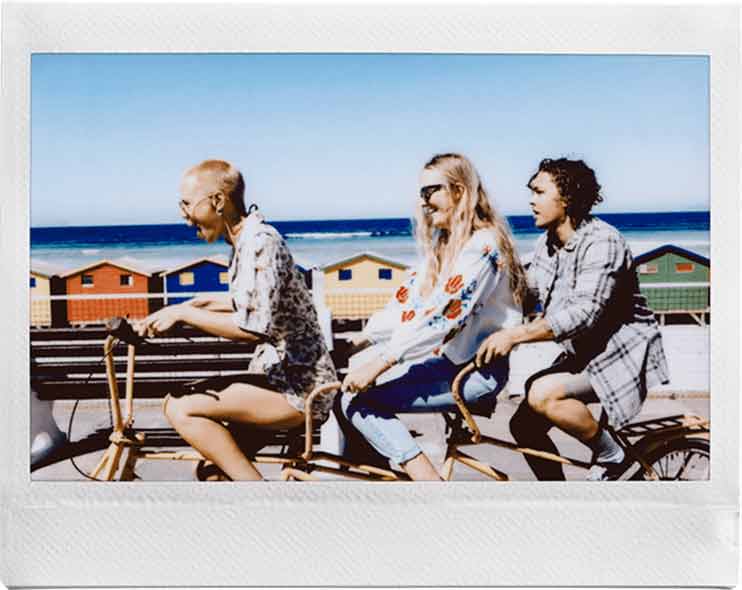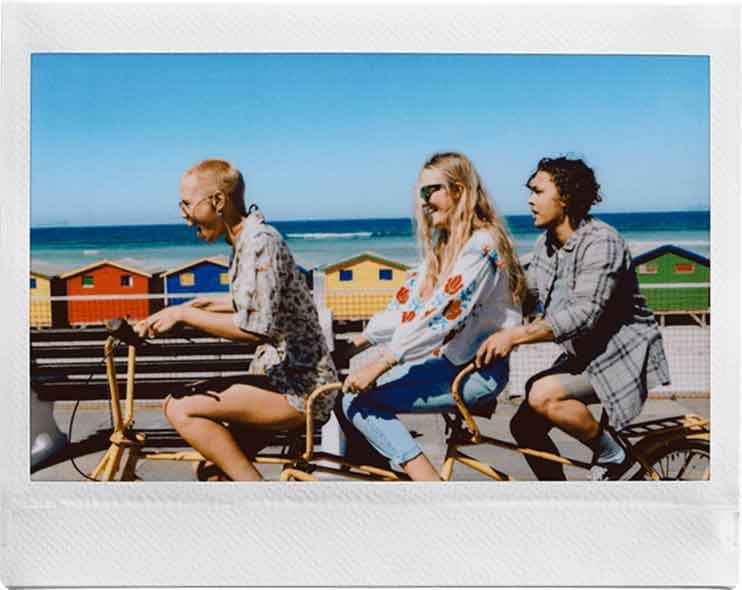 ---
Print stills directly from your favourite video clips
You can pick the best moments from your favourite video clips and print them wide. Why not add a QR code to your new print linking back to the full video? Send it to a friend and relive those shared moments over again.
---
Definitely worth the size increase
Overall this printer gives you the best of the world of analogue print and digital editing. The size of the prints makes them a great gift or memorable keepsake. The Instax Wide is only marginally more expensive than the Instax Mini. Still, the slight increase in price seems insignificant considering the increased size, compatibility and editorial range you now have with the Instax Wide Link printer.
---
Hands-on experience
I couldn't resist buying one to use myself to print out quick photos of friends and family. I took mine home when I visited family and my young nieces found it fascinating to watch the film come out of the printer and see the picture magically develop in front of their eyes.
The printer is compact and the app has an easy-to-follow user interface. Even my 5-year-old niece was able to select what photos she wanted to print out. For a while, I did wonder if I was ever going to get my printer back.
I love the size and style of the prints it produces. Yes, you might argue that the Instax Mini can produce photos that you can carry around in your wallet or phone case. But sometimes I want to put my photos on display for myself to see every day, not added to the graveyard of receipts in my wallet. The Instax Wide produces photos that are a perfect size to go on display but don't take up too much room on your shelf.
The only drawback with this printer is that you have to consider what photo you want to print. The Wide Link provides you with the perfect opportunity to print your whole camera roll, but you will need to be selective when picking your favourites as there are a limited number of prints in a pack.
The price of Instax Wide film is very reasonable compared to other instant film systems and easy to get hold of. So if you are like me and want to print almost every photo you have, you can absolutely do that – for a small price.
---
Would I recommend it?
As someone who is constantly taking photos of my friends and family, I would absolutely recommend it. I have been able to capture and share hundreds of moments with the people around me. Often part of the excitement is being able to print those moments off and give them away to friends and family as gifts or mementoes.
Compared to the Instax Mini, the Wide Printer is slightly more expensive and the prints cost a little more than the mini printer cartridges. But as I said before, the Wide Link Printer creates moments that you can have on display while the Mini creates moments you can carry with you.
Receiving a larger-size printed photograph feels like an unforgettable moment in itself, which is ultimately what is at the heart of the Instax Wide Link Printer. It has been designed to bring people together, letting you gift moments and relive adventures.
---
Final thoughts
The Instax Wide Printer has been a solid addition to my camera bag for a year, I make sure to have it packed with an extra cartridge or two whenever I'm heading to a social event or even if I just want to throw it into my everyday bag and print out a few memories with friends. I've captured moments from birthdays, parties, family get-togethers, weddings and many more. I even took the printer to a friend's wedding reception and printed off some of the photos I had taken for the Bride and Groom to have instantly on the night.
The development process is almost magical: sharing a memory with someone and watching their face light up as the photo starts to take form on the paper and then again when they are drawn back into that shared memory. The Instax Link Wide printer lets you create thoughtful moments to share instantly. You won't be able to help but share those moments with people, making the prints themselves brilliant gifts and keepsakes.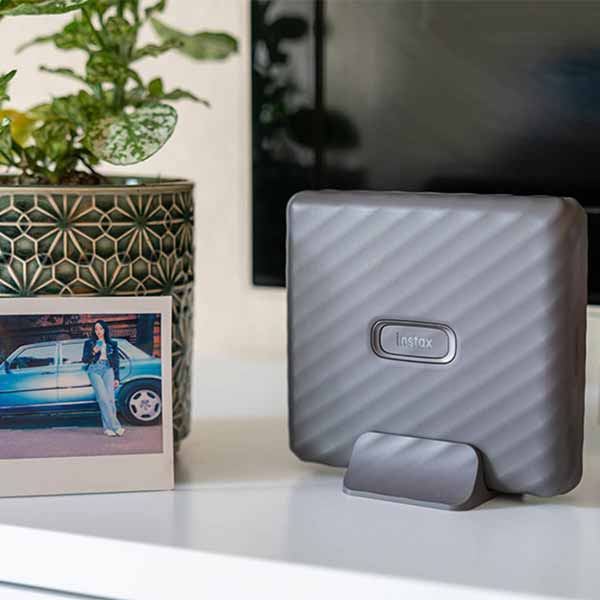 ---
Where can I buy it?
Get your hands on the Instax Wind Link Printer for yourself or as the perfect gift for someone else. The Printer is available in either a stylish Mocha Grey or a classic Ash White.
See more of the Fujifilm Instax printers range here >
---
Read Next
---
Thank you!
Thanks for taking the time to read our blog, we really do hope they help you out and answer some of your questions. If you still have some unanswered, then please feel free to get in touch with our team of experts.
We have a LiveChat option on our website and we can, of course, be contacted via our email, we're also on the end of the phone too! Read more on how to contact us here >
---
Want to write for us?
If you've got experience with producing content on photo, video and/or optics products or techniques then we would love to hear from you. Contact our blog editor, Bea, with a sample of your work at bea@cliftoncameras.co.uk.
By Emma Lawson
2 Dec 2022