Fujinon Binocular Review: HC 8x42 & Techno-Stabi Stabilised Binoculars
To paraphrase one character from a cult 1990s TV series: this week, I have mostly been testing binoculars. Fujinon binoculars, to be precise. Three beautifully built optics, all hatched from the same nest, so to speak, but each one a very individual instrument in its own right. I will explore this in some detail but first, some background.
Jump to:
---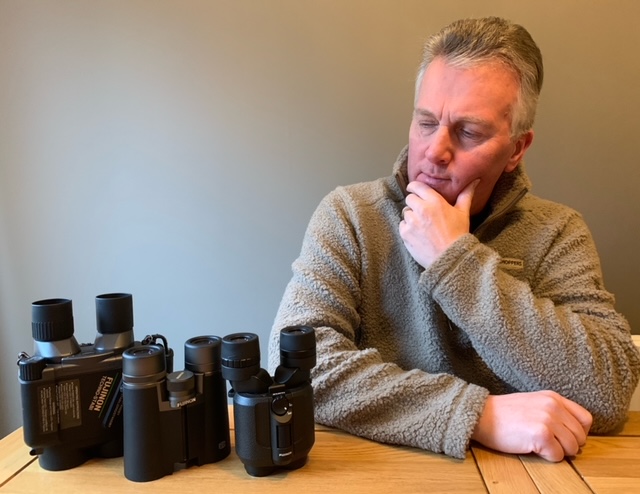 Fujinon is a subsidiary of the Fujifilm Corporation of Japan. The company is particularly well-known for its photographic products – cameras, lenses, film, etc. – but also produces high-quality binoculars, many of which feature built-in image stabilisation. In fact, Fujinon is regarded by many as producing the best-stabilised binoculars on the market.
Most models (including the three in my possession) are built in Japan and the stabilised models, in particular, have traditionally found particular favour with government bodies and rescue agencies worldwide. The stabilisation allows for steady images at high magnification and this has obvious attractions for anyone interested in nature observation, stargazing, aviation, observing from a moving platform such as a vehicle or boat or, indeed, any situation requiring a bit more oomph than the traditional 7x, 8x or 10x - but without the associated shake, rattle and roll!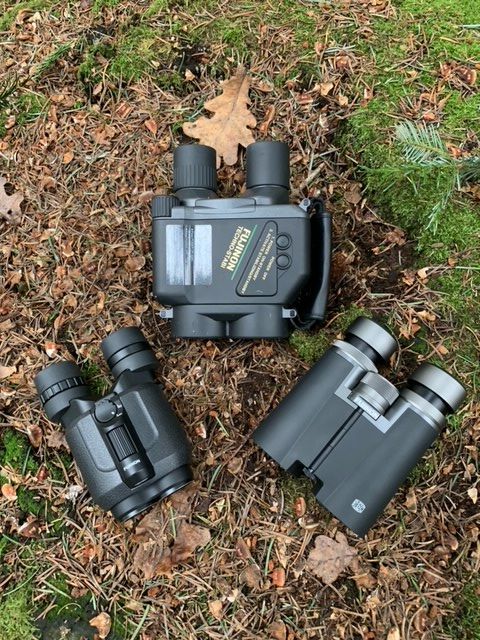 ---
The three amigos
The three models on the test were as follows: the HC 8x42; the Techno-Stabi TS 14x40; and the Techno-Stabi TS 16x28 Compact. The first of these is a conventional, non-stabilised, roof prism binocular whereas the other two are a reverse Porro prism design and, as you may have guessed from the 'Techno-Stabi' moniker, sport built-in stabilisation.
Most of us would struggle to hold anything above 10x steady for any length of time - I know I certainly do - so I was keen to see just how effective Fujinon's image stabilising technology might be at 14x and 16x magnification. I'll get down to the nitty-gritty of how the trio performed in the field very shortly but, just before we dive in, here's a quick technical rundown on each model.
---
Fujinon 8x42 HC Binoculars
First up, is the HC 8x42. The HC stands for Hyper Clarity so Fujinon is making a bold claim for this one right from the start. All light-transmitting surfaces benefit from the company's 'Super EBC Fujinon' multi-coating and work in combination with ED (extra-low dispersion) lenses, the objective being to produce bright, sharp, high-contrast images with minimal distortion and chromatic aberration. Both the objective lenses and eyepieces benefit from water-repellent coatings and the magnesium alloy body, weighing in at 786g, is both waterproof and fog-proof.

Field of view is given as 136m at 1000m which, whilst not the very widest on the market, is certainly well towards the higher end of the scale and close focus is quoted as a creditable 2m. The eyecups can be adjusted to any one of three positions to allow for use with or without glasses and diopter adjustment is achieved by means of a conventional, non-locking ring around the base of the right eyepiece. Included accessories are a rain guard, objective covers, soft case and neck strap – so all good stuff in prospect!
---
Fujinon Techno-Stabi TS 14x40 Binoculars
In contrast to the HC 8x42, the Techno-Stabi TS 14x40 is a much more radical-looking beast: a chunky-looking, stabilised, reverse Porro prism binocular which weighs in at 1.3kg and offers a vibration correction angle of +/- 5 degrees. This comes courtesy of an onboard gyro sensor that senses vibrations and controls them accordingly. As you'd guess from the model description, the binocular delivers 14x magnification and objective diameters are 40mm.

In common with the HC 8x42, EBC multi-coating aims to produce clean, bright, sharp images coupled with natural colour reproduction. The binocular is waterproof and nitrogen-purged to prevent internal fogging. I'll delve deeper into the workings of the stabilisation system in due course but it is worth mentioning that it's powered by four AA batteries and has three modes: on, off and standby. A handy indicator lamp glows orange in standby mode and green when fully activated.

At this point, I should clarify that Fujinon has very recently upgraded this model. The new Techno-Stabi TS-X 14x40 is not entirely dissimilar to its worthy predecessor but now boasts a vibration correction angle of +/- 6 degrees, an improved tracking response, twist-up eyecups. a slightly more rounded body shape and, intriguingly, a buoyant floating design that allows the binocular to be retrieved in the event of it being dropped over the side of a boat! Sadly, the new model was not available for testing but my thinking was that if I worked on the premise that it would do everything the test binocular does – only better – we wouldn't go too far wrong.
---
Fujinon Techno-Stabi TS 16x28 Compact Binoculars
The final member of our gang of three also features built-in stabilisation. Straight out of the box, the Techno-Stabi TS 16x28 is a distinctive-looking instrument. Just like its 14x40 stablemate, this is a reverse Porro prism design but comes in a much more compact form and tips the scale at a measly 550g. The stabilisation angle is quoted as +/- 3 degrees and power is delivered by a single CR2 battery.

The gyro is activated utilising a straightforward, top-mounted, two-position dial and a green indicator lamp shows when it's in operation. Twist-up eyecups allow four positions – so lots of scope for use either with or without glasses – and, once again, conventional, non-locking diopter on the right-hand barrel. Included accessories are eyepiece caps, soft case, strap and CR2 battery. It's also worth mentioning that Fujinon produces a 12x28 version, too, so you have the choice of higher magnification versus wider field of view/increased light gathering.
---
In the field
Once I'd familiarised myself with the basic workings of each binocular it was time to get down to the serious business of deploying them in the field. But where to start? I was particularly keen to see how the two Techno-Stabis lent themselves to stargazing but my first viewing opportunity was in broad (albeit somewhat overcast) daylight so the winter constellations had to wait for a while.
The wooded hills which rise steeply from the edge of our village present ample opportunities for wildlife observation. They also culminate in the second-highest point in the county so plenty of sweeping vistas to look at, too. I've been birding since I was knee-high to a Spoonbill and, even if I don't see too much, I just enjoy being out in the field… so no hardship at all in putting the three Fujinons to the test!
---
Fujinon 8x42 HC in the field – incredibly BRIGHT
The HC 8x42 was the only non-stabilised binocular on test and the first thing to strike me was the overall build quality. I'm a great fan of Japanese products in general and 'straight out of the box' the binocular felt like it had been built to last. The adjustable eyecups pulled up into the required position with a reassuringly solid 'click' and I can confirm that once set, they stayed locked in position. This is worthy of mention because it hasn't been the case with every binocular I've encountered over the years.
The diopter adjustment, whilst not lockable, stayed put in a similar fashion and the focus wheel…well, the focus wheel and focus in general need to be explored in some detail. The wheel itself is reassuringly even all the way through its range of adjustment: no dead spots, 'notches' or anything else of that ilk. This isn't one of those hyper-sensitive focus adjustments whereby a barely perceptible movement of the wheel produces a significant change in focus. What we have here is a much less twitchy mechanism which I find preferable as I feel that it matches the mechanical movement to the visual change in a more natural manner, thus providing a more relaxed viewing experience.
Worthy of note, however, is that three-and-a-quarter turns of the wheel are required to go from close focus all the way to infinity. These days, there are lots of binoculars out there that require significantly less travel than this so the Fujinon's 'slower' focus could be seen as one area where it might be at a disadvantage. Having spent some time using the binocular, however, I don't believe that this is the case due to a very particular optical trick that the HC 8x42 has up its sleeve…which I will reveal as we explore optical performance in detail.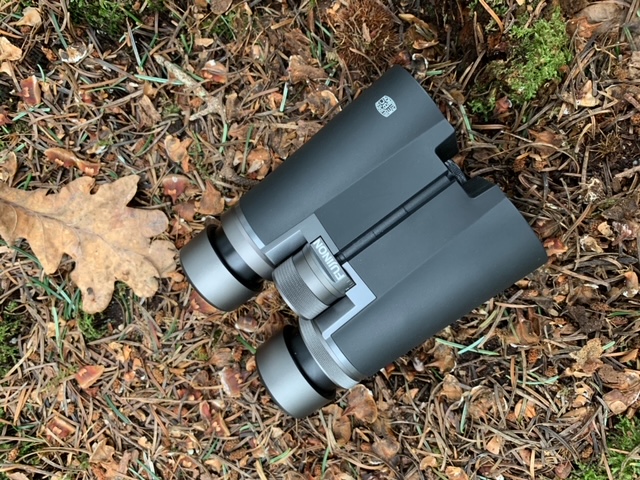 In terms of the viewing experience, it didn't take me long to come to the conclusion that this is a very, very good binocular indeed. Images under all testing conditions were very clean, sharp and bright. And when I say 'bright' I mean BRIGHT! The HC 8x42 is one of those optics which seems to actively illuminate whatever you point it at. I've noted this feature in premium optics before but generally with binoculars costing a lot more than this one. Whether it was a Blackbird foraging on the woodland floor on a murky winter's afternoon or a tiny Goldcrest skulking deep in the shadows of a dense conifer, the Fujinon punched through the gloom with ease.
Chromatic aberration (a pet hate of mine) was minimal under all testing conditions, another area in which the HC 8x42 appeared to be on a par with some very 'high ticket' alternatives. This now brings us to the mystery 'optical trick' to which I alluded earlier - the one which relates, in a positive way, to the 'slow' focus. Because, dear reader, the Fujinon HC 8x42 benefits from a truly exceptional depth of field. Focus on something 20 meters distant then look at something further away and you will find that as if by magic, everything from that 20-meter mark to infinity is in focus – so no further focus adjustment is required!
This is a common feature with nautical binoculars but not so much with a typical roof prism, central focus binocular like this one. I don't think Fujinon makes too much of this in its product description (so the company might be hiding its light under a bushel here) but this, for me, was an unexpected but significant boon. It also addresses any concerns a potential user might harbour concerning focus wheel travel as it seriously reduces the amount of focus adjustment actually required under field conditions. So, one binocular down with two to go and we were off to a flyer!
---
Fujinon Techno-Stabi TS 14x40 in the field – fantastically agile
Next up, the Techno-Stabi TS 14x40. I'll be open and honest here: I really didn't think I was going to get on with this one. Traditionally, I've tended to favour fairly compact roof prisms sporting 8x magnification, maybe 10x at a push. The TS 14x40, on paper, couldn't be further removed from this: a much larger, heavier binocular altogether with focus wheelset off to one side and magnification edging towards spotting scope territory. This being the case, I decided to begin with some simple, long-distance viewing. This helped me get the feel of the binocular and become suitably dexterous in using the offset focus and toggling between the three stabilisation settings.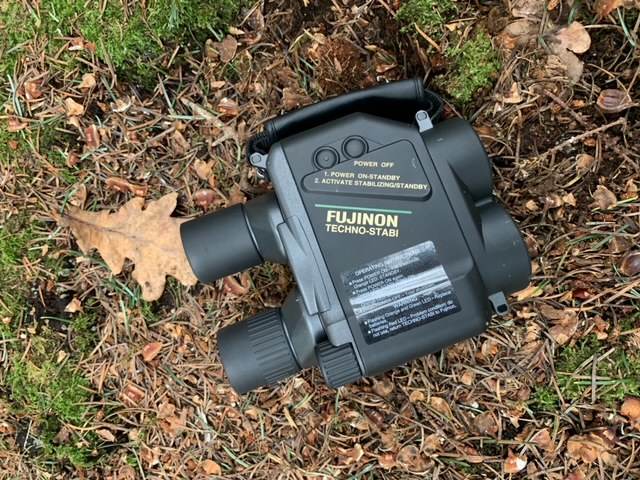 The first thing to strike me was that, in use, the binocular didn't feel as big and heavy as I had expected. The second was that the stabilisation worked brilliantly and the third was that the optics themselves were excellent – very sharp and clean with minimal chromatic aberration. As soon as the stabilisation kicks in with this one the effect is marked. Apart from the fact that you hear the gyro kick in, everything just…er…stabilises very effectively indeed.
From my vantage point high on a windy hillside, I was able to obtain excellently detailed views all the way across the Severn Valley to the Cotswold escarpment beyond. Switching back to the HC 8x42 briefly, the difference in magnification between the two was striking and it hit me that it might be an ideal binocular for anyone with a particular interest in viewing over distance, whether that be over land or water. As a birder, it also occurred that it could be just the ticket for those occasions when you might want a bit more magnification than you would get with a conventional birding binocular but without the hassle of carrying a spotting scope and tripod – on a lengthy walk in a coastal environment, for example.
Sticking with birding, I subsequently made something of a discovery: the Fujinon Techno-Stabi TS 14x40 is absolutely fantastic when it comes to following fast-moving birds in flight. Or even slow-moving birds in flight, for that matter. A large, weedy field at the edge of the woods has, over the last couple of winters, been home to a very large finch flock - Linnets, mostly, but with a fair few Chaffinches and Bramblings thrown in. I'd estimate about 2000 birds in total and groups of a couple of hundred or so regularly take to the air and perform rapid, twisting, aerial manoeuvres above their weedy, winter home.
With stabilisation engaged, I found myself able to follow individual birds with ease and with a degree of clarity which, frankly, came as something of a revelation. This, potentially, could have huge benefits for anyone looking to pick out a rarity amongst a flock of commoner species, for example. At a more basic level, it was just a joy to be able to maintain such clear, shake-free views of these small, fast-moving targets with the added benefit of higher-than-usual magnification. I soon found myself wishing that I was at the coast as I'd imagine that the big Fujinon would be equally effective when watching fast-moving wader flocks swirling above the mudflats.
Before I had used any of the binoculars in earnest I expected the HC 8x42 to hit the bullseye but the TS 14x40 took me by surprise. I really, really enjoyed using it in the field and, as per my comment above, it could be just the ticket when separate binocular, scope and tripod are just a bit too much to lug around. It's also worth repeating at this point that the model on test has now been superseded by the new Techno-Stabi TS-X 14x40 which, with its greater vibration correction angle and improved tracking response, looks likely to be one of the very best image-stabilising binoculars on the market.
---
Fujinon Techno-Stabi TS 16x28 in the field – smart stability
So, finally, we come to the Techno-Stabi TS 16x28 Compact Binocular. In terms of optical performance this, for me, didn't have quite the same sparkle. To be fair, this was very much as I had expected: the highest magnification of the three on test combined with the smallest objective lenses inevitably meant that light-gathering, field-of-view and depth-of-field were always going to be compromised to a certain extent.
Chromatic aberration, notable by its near absence in the other two, was also much more to the fore with this one. I'm quite sensitive to chromatic aberration so this might not be so much of a factor for every user but, in the interest of producing a fair and accurate review, I feel that this is worthy of mention.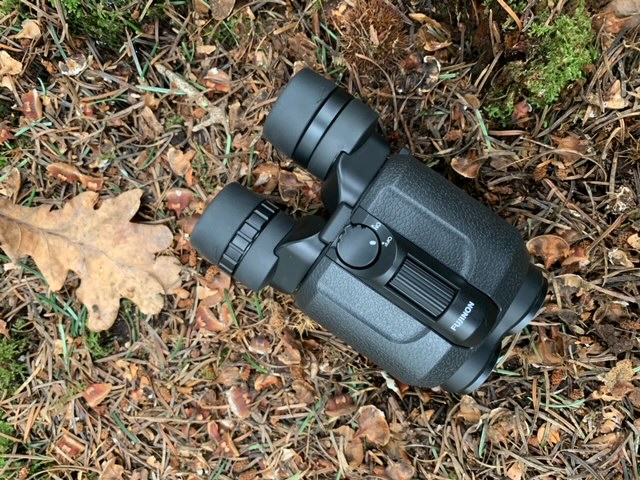 It's not all doom and gloom with this little binocular, though. Firstly, it's worth bearing in mind that there are very few stabilised high-powered compact binoculars on the market and the fact that Fujinon gives us the option is to be applauded. The binocular is beautifully made, very light to carry and gives a fairly unique option of shake-free performance at an unusually high magnification.
The stabilisation itself works very well and appeared to kick into action slightly more quickly than that found in the 14x40 model. I should also mention that the stabilisation switches itself off after ten minutes of inactivity in order to preserve battery life – a neat touch. Ultimately, whether this is the binocular for you or not depends very much on how and where the primary area of use is going to be. For long walks combined with viewing over distance, for example, it could be ideal. 16x magnification also opens up some interesting potential for stargazing. Which leads us neatly onto…
---
...well...Stargazing
With all three of our Fujinon's. On the face of it, the two stabilised bins appear to have astronomical viewing written all over them – in the stars, perhaps – and they didn't disappoint. The loan period coincided with some nice, clear evening skies in which many of said stars did brightly shine. Red Aldebaran and Betelgeuse, yellow Capella and blue Rigel all 'stabilised' nicely under the gaze of the two Techno-Stabis.
As I had expected, the 14x40 performed particularly well in this regard and also produced truly outstanding lunar views. The 16x28 acquitted itself very well, too, but did show some chromatic aberration when viewing the Moon. That said, this is a very comfortable optic to use when scanning the night sky for prolonged periods, the combination of compact dimensions and lightweight construction really came into their own here. The HC 8x42 doesn't immediately scream 'night sky' but a quality optic is a quality optic and lower magnification is nice when you just want to take in a broad swathe of stars and enjoy the spectacle – which I did.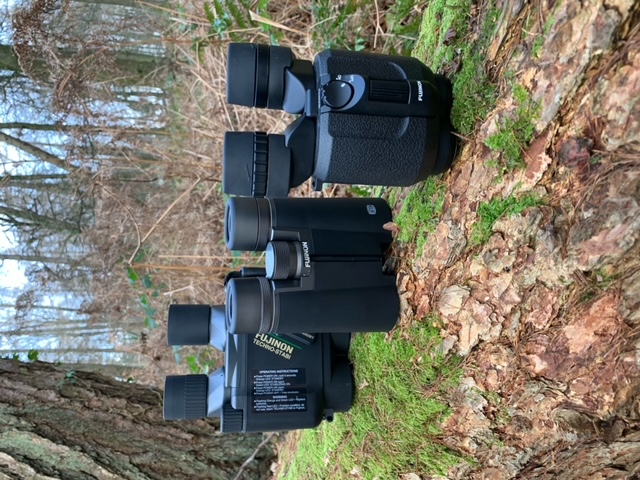 ---
Final thoughts
In conclusion, what we have here are three extremely well-built binoculars, each with its own optical 'personality' and particular strengths. I hope the various facts and figures help to illustrate this but, for what it's worth, my personal take on our three amigos would be as follows:
The 14x40 manages to combine quality optics with an extremely effective stabilisation system to produce a very versatile instrument which should find broad appeal across many areas of use; its smaller sibling, the 16x28, whilst not having quite the same instant optical impact, gives the option of steady, high-powered viewing in a package which is light enough to carry around all day long; and the HC 8x42…well, I've reviewed a fair few binoculars in my time and I can honestly say that this is very possibly the one I was most reluctant to give back!
---
Try these three binoculars for FREE!

Like what you see? Clifton Cameras and Fujinon are offering you the chance to test out a range of binoculars for 2 days, absolutely FREE. Providing you with the ideal opportunity to test your next pair of binoculars and see which pair is right for you. Find out more here >
---
Thank you!
Thanks for taking the time to read our blog, we really do hope they help you out and answer some of your questions. If you still have some unanswered, then please feel free to get in touch with our team of experts.
We have a LiveChat option on our website and we can, of course, be contacted via our email, we're also on the end of the phone too! Read more on how to contact us here >
---
Want to write for us?
If you've got experience with producing content on photo, video and/or optics products or techniques then we would love to hear from you. Contact our blog editor, Fee, with a sample of your work at fee@cliftoncameras.co.uk.
By Martin Drew
1 Feb 2022