Review Nikon Monarch M5 and M7 Binoculars
As summer slips slowly into autumn and day lengths begin to shorten, exciting news from Nikon has arrived to (hopefully) shine a light through the gathering gloom. Because, dear reader, what we have in prospect is the launch of not one but two new Nikon binocular series. Bearing the titles Monarch M5 and Monarch M7 respectively, the new bins are the latest incarnation of the company's well-respected Monarch 5 and Monarch 7 models and are set to complement the flagship Monarch HG range. Taking into account Nikon's track record in producing quality optics, this news is likely to cause quite a stir.
---
A stir in the optics world
It certainly caused a stir with me because I've long been a fan of Nikon optics in general. The Monarch 7 models in particular were always a great favourite of mine and at one point work colleagues became so used to hearing me wax lyrical about the virtues of said binoculars that there was some talk of having an 'I Love Monarch 7s' t-shirt created - but I digress. Ultimately, what we need to know is just how do these new offerings perform in real-world use?
Well, hopefully, that's a question I can go some way towards answering because I have in my possession, courtesy of the good people at Nikon UK, the Monarch M7 8x30 and Monarch M5 10x42. Taking delivery of this (hopefully) dynamic duo gave me the perfect excuse (not that one was really needed) for a weekend campervan trip to the Brecon Beacons – an ideal location for putting both to the test under field conditions.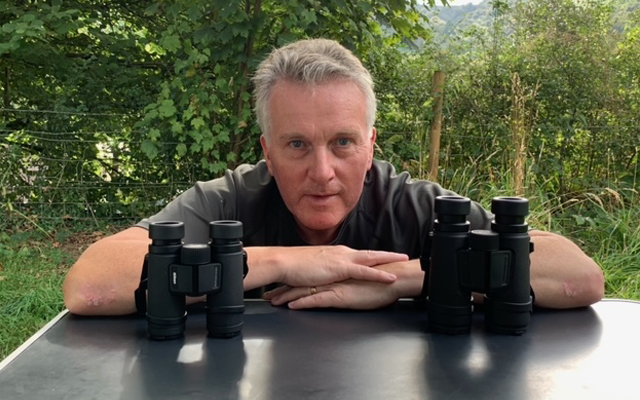 ---
The Tech-Specs
Before getting down to the nitty-gritty, however, I should probably do the 'technical bit'. What we have here are a couple of very contemporary-looking, rubber armoured, waterproof binoculars. Both benefit from ED (extra-low dispersion) glass, phase-corrected roof prisms and dielectric high-reflective multilayer prism coatings. In combination, these features are designed to produce bright, clear, high resolution, natural images so all good stuff so far. M7 models (the higher priced of the two) also sport an additional coating on both eyepieces and objectives which repels oil and water, thus allowing smudges (fingerprints, for example) to be wiped off more easily. Nikon has gone with seven models across the two ranges: M5 is available as 8x42, 10x42 and 12x42 whereas M7 gives us the choice of 8x30, 10x30, 8x42 and 10x42.
In comparison to the Monarch 5 and Monarch 7 models they replace, the newbies have a noticeably sleeker body shape. The traditional gold lettering which was a hallmark of the earlier binoculars has been replaced with silver for the M7 and what I would describe as a deep bronze for the M5. Turn-and-slide eyecups with click stops facilitate long eye relief for use both with and without glasses. Both M5 and M7 feature fibreglass-reinforced polycarbonate resin bodies and are supplied with a soft case, rainguard, detachable objective covers and a nice 'soft-to-the-touch' neck strap which is emblazoned with the Nikon logo.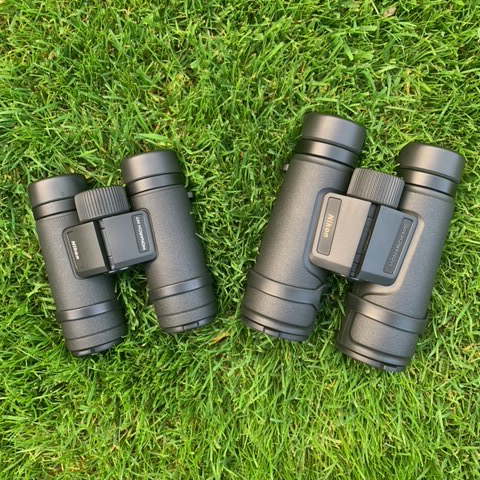 ---
Nikon Monarch M7 – Abolishing Abberation
So, now that we've covered the spec. sheet, how do the new Nikons bear up in the field? Well, I think the Welsh hills could be described as a romantic landscape and I very quickly found myself falling in love with the little M7 8x30. I loved the old Monarch 7 8x30 and its successor proved to be a more than worthy replacement. Weighing in at just 465g, this has to be one of the lightest non-compact binoculars on the market. As mentioned, the M7 models benefit from oil- and water- repellent coatings. They also sport a locking dioptre ring – click the ring up to adjust then click back down to lock – a nice 'professional' touch in a binocular at this price point, in my view.
| | |
| --- | --- |
| | |
An additional advantage of the Monarch M7 over the Monarch M5 is a wider field of view. Nikon gives this as 145 metres at 1000 metres for both 8x30 and 8x42 models with 117 metres for the 10x30 and 121 metres for the 10x42. 145 metres, in particular, is really impressive for any binocular and the first sweep across the hills really brought this home. Having been such a fan of the old Monarch 7 8x30, I had high hopes for its successor and am very pleased to report that I was in no way disappointed. The characteristics I loved such much were all still there in spades – a very wide, bright, immersive view with very natural 'own eyes' colour rendition and no discernible chromatic aberration – but now in a sleeker, more ergonomically pleasing design which just makes the binocular feel great in the hand. The lack of chromatic aberration deserves special mention here. I don't know if I received a particularly fine example but I really struggled to see any colour fringing whatsoever when using the little Monarch M7 8x30. I tried hard to coax some aberrations out of hiding but just couldn't do it. I'm quite sensitive to chromatic aberration and to have such a clean, fringe-free image in a binocular at this price point is pretty much without precedent.
As you will probably have gathered from all of this, I loved the M7 8x30. Straight out of the box the bin just felt 'right' in the hand and in use. I've always liked 8x magnification, particularly for birding, and the 30mm objectives allow for a really compact, lightweight instrument. You could walk all day with this little beauty hanging around your neck and pretty much forget that it's there – apart from when you see something good, of course!
---
Nikon Monarch M5 – More Mag. Less Field.
Having established that the M7 8x30 is a hit, what about its larger stablemate? The Monarch M5 10x42, by virtue of its 42mm objectives, is a bigger, heavier binocular. tipping the scales at 640g. 42mm objectives are still pretty much the standard size, and 8x42 and 10x42 models in particular are universally popular for nature observation, birding, general observation and even a bit of stargazing. I should stress that 640g is by no means heavy for a 10x42 and the M5 sat really nicely in the hand.
In terms of optical performance, the M5 was similar to the M7 in many respects. The biggest noticeable difference is the reduction in field of view. The M5 10x42 shows us 98 metres at 1000 metres - a significant reduction from the M7 8x30's outstanding 145 metres. This is due partly to the increased magnification but it's worth noting that the M7 10x42 equivalent is quoted as 117 metres – so the M7s definitely score in this respect. Putting field of view aside, the M5 produced a very pleasing, natural viewing experience. I was able to detect a very, very small amount of chromatic aberration under some viewing conditions but would stress that (a) it was very slight and (b) I was deliberately looking for it! I found the image slightly flatter and less immersive than that of the M7. This is something I found when comparing the older Monarch 5 and Monarch 7 models. Nikon doesn't mention any differences in the glass between the two (unless I've missed something) so it's possible that this impression may be a by-product of the narrower field of view…or might just be my eyes! Ultimately, the M5 is another very capable performer and I would expect that both the 10x42 and it's 8x and 12x siblings will be just the ticket for many.
| | |
| --- | --- |
| | |
---
In case it wasn't clear...
Having established that Nikon appears to have hit the optical bull's eye again, when will these new additions be available to purchase? At the time of writing, the company is intimating that the first stock is due to arrive in October 2021. Prices range from £339-£379 for the Monarch M5 models and £409-£529 for the Monarch M7*. Based on what I've seen with the two review models I'd expect both series to establish themselves as major players in the mid-priced binocular market. Right at the top of this post, I stated that I've long been a fan of Nikon optics and spending time with these two has served only to reinforce that. For anyone looking for a high quality, keenly-priced, mid-range binocular the options have never been so good!
*Correct at time of writing. Prices are subject to change.
---
Read next
---
Thank you!
Thanks for taking the time to read our blog, we really do hope they help you out and answer some of your questions. If you still have some unanswered, then please feel free to get in touch with our team of experts.
We have a LiveChat option on our website and we can, of course, be contacted via our email, we're also on the end of the phone too! Read more on how to contact us here >
---
Want to write for us?
If you've got experience with producing content on photo, video and/or optics products or techniques then we would love to hear from you. Contact our blog editor, Fee, with a sample of your work at fee@cliftoncameras.co.uk.
By Martin Drew
7 Oct 2021