Sony FX30 | The Entry-Level Cinema Camera for New Filmmakers
Aimed at new filmmakers and everyday content creators looking to get into video work; the FX30 is positioned as an ideal first cinema camera and a perfect entry into Sony's Cinema Line. Cinema cameras with Super 35 sensors have been gaining popularity and with this cameras' amazing battery life, IBIS (In-Body Image Stabilisation), and industry-leading autofocus, the barrier to entry has been lowered without sacrificing quality or performance.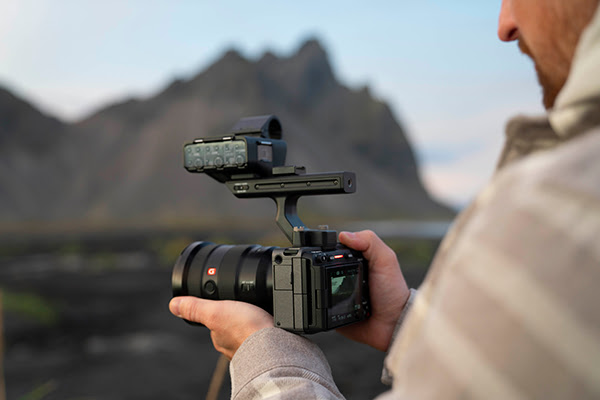 ---
Sony FX30 Key Features
4K Super35 APS-C back-illuminated sensor
6K oversampling
26MP Stills
High-resolution 3-inch LCD touchscreen
Dual Base ISO in S-Log3
4K 120P in 10Bit 4:2:2
Realtime IAF
5-axis stabilisation
16 Bit RAW output via HDMI Type-A
Long battery life
Lightweight 562g
Dimensions: 77.8mmx129.7mmx84.5mm
---
Why the Sony FX30 is the perfect introduction to Videography
Cosmetically, the FX30 utilises a similar magnesium alloy body as the FX3, while bringing all the functionality and ergonomics of the FX3 at a lower cost of entry.
Compared to the FX3's full-frame sensor, the FX30 has an APS-C sensor allowing for a smaller, more compact body and interchangeable lenses. APS-C cameras also work amazingly well with telephoto lenses, so they are an excellent choice for shooting sports photography, wildlife, or anything that needs a long focal length.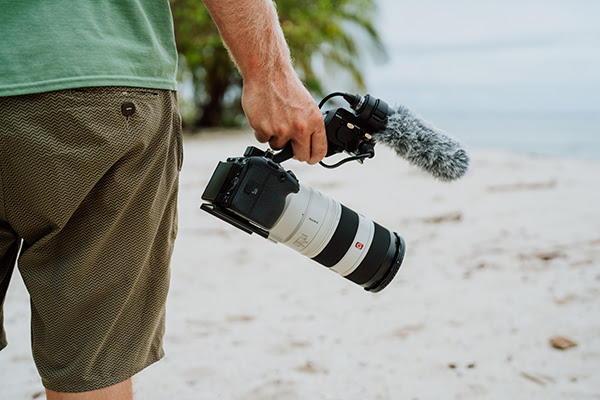 ---
Adaptable and versatile
Dual base ISO (800/2500) lets you work in various lighting situations, while its lightweight build further increases versatility. With 26MP still images, although predominantly a video camera, it still has the capability to be excellent for still photography making it adaptable to the hybrid content creator.
While you won't be able to shoot 6K with the FX30, the sensor does capture that resolution, providing impressive quality that is editable on most video editing software (premier pro, davinci resolve, final cut pro, imovie).
Being compatible with both Sony E and FE mount lenses, plus third-party lenses, gives you options for a wide range of lenses in terms of focal length and budget. Three custom buttons additionally let users program the camera to fit their own way of working.
Two XLR audio inputs enable high-quality audio recording and accessory thread holes can be used to add any external microphones or other necessary attachments. Furthermore, an XLR Handle can be attached to increase the available number of accessory thread holes you have, for any customisations to your setup.
---
A beginner's best friend
A number of features ensure you get the best quality and user experience. Realtime IAF (intelligent autofocus) makes it easy to get the shot even as a beginner, by tracking the face and eyes of your subject, whether it be humans, animals or birds. This works side-by-side with the 5-axis stabilisation to give a professional quality finish to your video even when handheld.
An easy-to-navigate menu makes searching for settings simple for beginners, and the vari-angle LCD touchscreen as well as the back, front, and top tally lights give extra help to solo content creators or filmmakers.
S-Cinetone colour science effortlessly brings you natural mid-tones, soft colours and gorgeous highlights, while the Cine EI mode will allow you to capture cleaner shadows and more highlights. This will bring the quality of your videography in line with professional shots and help you focus on the creative process and composition of your cinematography.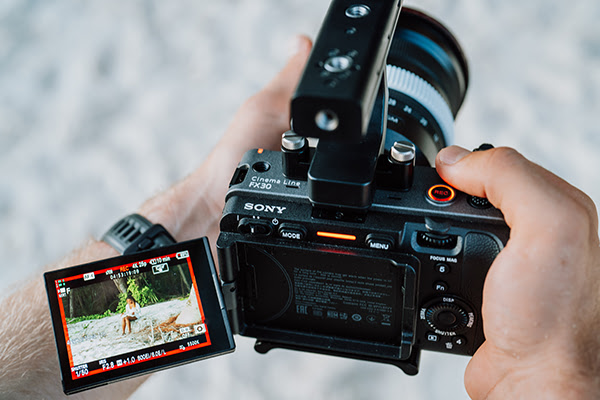 ---
Push your limits
Get creative with slow motion at 120 frames per second in extremely smooth 4K, giving you more freedom in your cinematic storytelling options. Also, depending on the lens you are using, new filmmakers are able to make use of impressive features for even easier video production. These include the Focus Map, which makes it easy to visualise depth of field, and Breathing Compensation which offers a stable angle of view when focusing.
---
Final thoughts
The versatility and compact nature of this cinema camera make it a great option for aspiring filmmakers or people familiar with cinematography looking for a B Cam to complement their existing kit. It is jam-packed with modern quality-ensuring and user-assisting features that deliver professional-level images and a smooth creative experience for cinematography or hybrid stills/video work.
---
Convinced yet?
The Sony FX30 camera is available to buy now!
---
Read next
---
Thank you!
Thanks for taking the time to read our blog, we really do hope they help you out and answer some of your questions. If you still have some unanswered, then please feel free to get in touch with our team of experts.
We have a LiveChat option on our website and we can, of course, be contacted via our email, we're also on the end of the phone too! Read more on how to contact us here >
---
Want to write for us?
If you've got experience with producing content on photo, video and/or optics products or techniques then we would love to hear from you. Contact our blog editor, Bea, with a sample of your work at bea@cliftoncameras.co.uk.
By James Spires
4 Oct 2022