Sony is for Vlogging – In-Depth Camera Comparison
Sony has always been one of the market leaders when it comes to video cameras. Their implementation of high-quality video, live streaming capabilities and real-time tracking in both their compact and mirrorless systems has only continued to drive them forward and build strong brand loyalty.
But what if you don't yet own one? Are Sony cameras good for video, vloggers and content creators?
In this blog, we'll review the Sony ZV-1 and Sony ZV-E10 to see how these compact cameras compare against Sony's a7S III, one of their most popular mirrorless video-oriented bodies.
---
Sony ZV-1
Let's take a look at the Sony ZV-1 first. Sony's answer to an entry-level mirrorless compact camera. First announced in May 2020, what might initially look like an ordinary point-and-shoot camera actually comes loaded with powerful features including:
20.0MP 1-inch sensor
24-70 mm F1.8–2.8 fixed Zoom Lens
Optical Image Stabilisation
3.00-inch Fully Articulated Screen
24.0fps continuous shooting
4K (UHD) - 3840 x 2160 video resolution
960fps High-Speed Video
Built-in Wireless
The camera also weighs a mere 294g making it perfect for shooting grips even with accessories piled on top.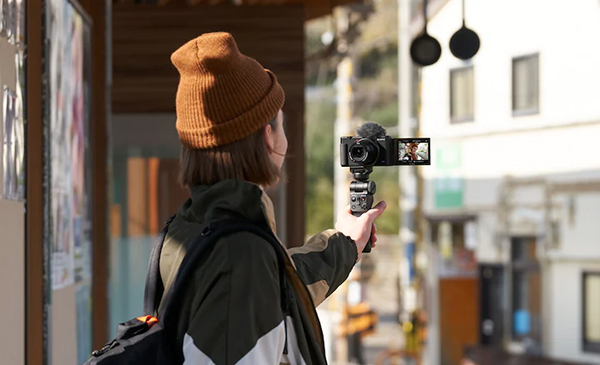 While it doesn't feature an electronic viewfinder, the vari-angle screen at the back offers a lot of versatility, especially if you are required to shoot vertical video. This is particularly handy nowadays for social media, as the likes of Facebook and Instagram now push vertical video content more so than the traditional horizontal content, and TikTok continues to boom.
Combining that with the wireless feature that enables you to upload to your phone straight away the ZV-1 give content creators the edge when filming a live event or anything that requires uploading online with high priority.
The Real-Time Eye AF tracking is blazingly fast, incredibly accurate and doesn't leave you frustrated when you're shooting a moving subject. If you're familiar with the RX100 range of cameras, you'll know that this camera will have you covered when you are required to shoot a few stills to go alongside your video.

Why buy the ZV-1
If you're in the market for something small, light and portable, the Sony ZV-1 is definitely the camera for you.
---
Sony ZV-E10
On paper, the ZV-1 looks like a good choice for an entry-level camera if you are interested in pursuing videography or vlogging as a hobby. However, if you were interested in something that packs a bit more punch, the Sony ZV-E10 offers a few extra features that provide more control over your vlogging work. The ZV-E10, announced in 2021, weighs slightly heavier than the ZV-1 at 343g, but with that comes the following pro-features:
24MP - APS-C CMOS Sensor
3.00" Fully Articulated Screen
11.0fps continuous shooting
4K (UHD) - 3840 x 1920 video resolution
120fps High-Speed Video
Built-in Wireless
Interchangeable Sony E-Mount
When comparing the two cameras on paper, the newer ZV-E10 is the clear winner as it features a higher resolution sensor, a higher ISO range at 32000, versus 12800 of the ZV-1, and an extended battery life.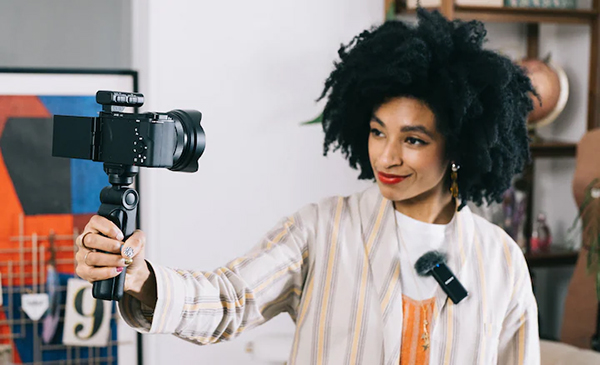 It is important to note that the ZV-E10 doesn't feature optical stabilisation like the ZV-1, instead it has digital stabilisation. It's a small sacrifice, considering you get a compact APS-C sensor camera with an interchangeable lens mount. The access to Sony's collection of E Mount lenses, many of which offer optical stabilisation, opens up further creative opportunities for videographers looking to add dynamic focal ranges to their content.
The ZV-E10 is similar when compared to Sony's A6xxx range of smaller mirrorless cameras, and features a decent-sized hand grip to make it as comfortable as possible in your hands. Sony opted to remove the mode dial in favour of a menu option to switch to the different modes. This allows the camera to be smaller and lighter, making it a tempting option when travelling.
Sony keeps the trend of providing groundbreaking autofocus, especially in the ZV-E10's video mode. Tracking is fast and accurate and doesn't appear to lose the subject unless the subject is completely obstructed. However, once the subject is free of any obstruction, the tracking is activated again within a millisecond.

Why buy the ZV-E10
The ZV-E10 provides an excellent alternative to the ZV-1 if you're looking to step up your vlogging game. The built-in audio is crisp and clear along with incredible-looking video quality all rolled into a fair price point.
---
Sony a7S III
Now that we've seen the two options available for the compact and small-form vlogging cameras, let's bring out the big guns, and see how they compare against a camera aimed at the professional video market; The Sony's a7S III.
The Sony a7S III comes from a line of cameras renowned for their outstanding image quality, features and low light sensitivity. The camera features a full-frame 12 Megapixel sensor and FE lens mount. Why only 12 megapixels? Sony made the conscious choice to offer bigger pixels that are capable of gathering more light.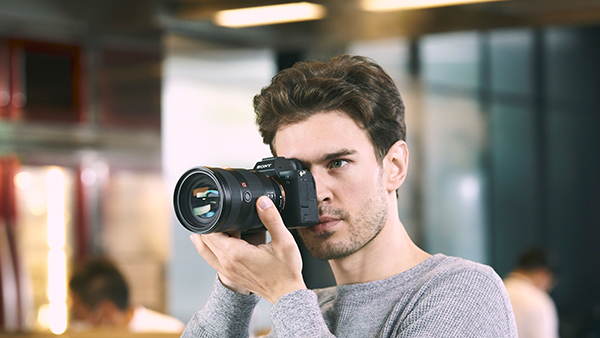 If resolution beyond 4K is not a concern, then the 12 Megapixels should be adequate. The a7S III's resolution is perfectly fine if you need to capture images for social media use.
Delving further into the specs, the a7S III offers a wide ISO range from 80 - 102400 (expandable to 50 - 409600). Furthermore, it features:
Sensor-Shift Image Stabilisation
3.00" Fully articulated Screen
4K (UHD) - 3840 x 2160 video resolution
240fps High-Speed Video
Built-in Wireless
Weather sealed body
Furthermore, it offers a wider dynamic range, which is evident by the increased sensitivity to low light. It also offers high-end video codecs 4:2:2 10-bit colour, and a better bit rate when compared to the ZV-E10 and ZV-1, offering higher quality results when editing and colour-grading the footage. And if you require the ultimate level of quality, the camera is capable of outputting 16-bit raw over HDMI, which can be saved as a 12-bit ProRes Raw file by an external recorder like an Atomos Ninja V.

Why buy the a7S III
The Sony a7S III is the 4K video pro solution if you are serious about video, but you don't have the budget for Sony's pro cine gear. The weather-sealed body is larger and features plenty of custom buttons, mode dials and a fully articulated 3" screen. The a7S III also features an electronic viewfinder if you need to take stills.
---
Comparison Table
| | | | |
| --- | --- | --- | --- |
| | | | |
| | ZV-1 | ZV-E10 | a7S III |
| Video Quality | 4K/30p | 4K/30p | 4K/60p |
| Stills Quality | 20.1MP | 24MP | 12MP |
| Full Frame/CMOS | CMOS | CMOS | Full Frame |
| IBIS | In-Built | Standard & Active | 5-Axis In-Built |
| Real-Time Tracking | Yes | Yes | Yes |
| ISO | 100-12800 | 100-32000 | 80-102400 |
| Screen | Vari-Angle | Vari-Angle | Vari-Angle |
| Wifi Enabled | Yes | Yes | Yes |
| Phase Detection AF Points | 315 points | 425 points | 759 points |
| Battery Life* | Approx 75 mins | Approx 80 mins | Approx 130 mins |
| Weather Sealed | No | No | Yes |
| Weight** | 294g | 343g | 699 |
| Price | £ | £ | £££ |
*Movie, Continuous Recording
**Including Battery & Memory Card
---
Is Sony good for video?
Sony has provided us with three great options for video, depending on the needs of the creator in mind. Whether you're just starting out, or a pro in need of a high-end video camera Sony has the camera for you.
---
Which one will you go for?
If you've made up your mind as to which Sony camera is right for you then head to the links below. Still not sure? Contact our sales team for expert Sony advice. Call 01453 548128.
---
Read Next
---
Thank you!
Thanks for taking the time to read our blog, we really do hope they help you out and answer some of your questions. If you still have some unanswered, then please feel free to get in touch with our team of experts.
We have a LiveChat option on our website and we can, of course, be contacted via our email, we're also on the end of the phone too! Read more on how to contact us here >
---
Want to write for us?
If you've got experience with producing content on photo, video and/or optics products or techniques then we would love to hear from you. Contact our blog editor, Bea, with a sample of your work at bea@cliftoncameras.co.uk.
By Fred van Leeuwen
5 Oct 2022