The NEW Sony FE PZ 16-35mm F4 G Lens
It's been eight years since the release of the Sony FE 16-35mm f4 ZA OSS lens and today, Sony has unveiled the next iteration in this line of lenses, now with more exciting features and exceptional optics.
The new Sony FE PZ 16-35mm F4 G power zoom lens announced today (22/03/22) offers an insight into Sony's plans for the future. While it still retains the same look and filter thread as the previous version, it's now considerably lighter and offers some new exciting features.
The first version, released in 2014, was your standard wide-angle lens with built-in image stabilisation. The autofocus system on the new and improved lens is lightning fast and extremely quiet. What's more, in the latest version you'll find not only an MF/AF switch but the ability to de-click the aperture and lock the iris. Aside from that, it also features a zoom rocker giving the ability to zoom the lens at the desired speed.
---

Specifications
Lens Mount - Sony E Mount
Focal Length - 16-35mm
Lens Construction - 13 Elements in 12 groups
Maximum Aperture - f4
Minimum Aperture - f22
Minimum Focus Distance - 0.28m (W) 0.24m (T)
Filter Diameter - 72mm
Zoom System - Powered Internal Zoom
Dimensions - 80.5mm x 88.1mm
Weight - Approx. 353g
Box Contents: Hood, Lens Cap, Rear Cap, Soft Case
Additional Features: Switchable De-clicked Aperture Ring, AF/MF Switch, Moisture/Dustproof, Iris Lock, Electronic Zoom Button.
Click to view the full specifications here >
---
Image Quality
With a maximum aperture of f4 and a minimum of f22, it remains familiar to those who have used the older 16-35mm f4. The new lens, however, features 13 elements in 12 groups with 7 aperture blades, providing better quality optics, especially when combating issues such as moire and chromatic aberration.
The lens also features a close focusing distance of 0.28m (wide) and 0.24m (zoomed in). When testing the new release, I found a definite improvement over the Mark I, especially with improved corner sharpness and a total lack of any aberration.
When shooting at 16mm, the difference in quality between f4 and f16 is marginal and I only considered it if I needed more depth in the image. The first iteration of this lens had some quality and vignetting issues when shooting at 35mm f4, however, Sony seems to have fixed it, as the images I shot were tack sharp.
I love the shallow depth of field and how consistent the quality is throughout the aperture range. Chromatic Aberration (CA) seems to be near non-existent throughout the entire focal range, and the little bit of CA I found can easily be fixed in post-production. Distortion is also well maintained and doesn't seem to pincushion too harshly towards the corners.
---
In Action
I took the Sony FE PZ 16-35mm F4 G lens out to see how the quality faired across the focal range. Since the previous version of the lens had some issues with vignetting – a common problem in wide-angle lenses – and chromatic aberration I wanted to check that this had been fully eliminated.
If you take a look at the images below you will see that whether you use this lens at 16mm f4 or 30mm f16 you are going to see incredibly consistent results with very little vignetting and next-to-no chromatic aberration even in high-contrast areas. (Click on the images to view them in full resolution)
---
Build Quality & Features
The Sony 16-35mm f4 measures 80.5 x 88.1mm, weighing approximately 353 grams. The weight is a significant improvement over the older version of this lens along with the compact size, making it ideal for travel.
Another noticeable difference is the internal power zoom of the lens, making it a better balanced and dustproof iteration. Lenses with an extended barrel zoom often shift the balance and tend to suck dust into the internal housing of the lens when zooming in or out. Not ideal when you're shooting on a gimbal or out in a dusty desert capturing landscapes.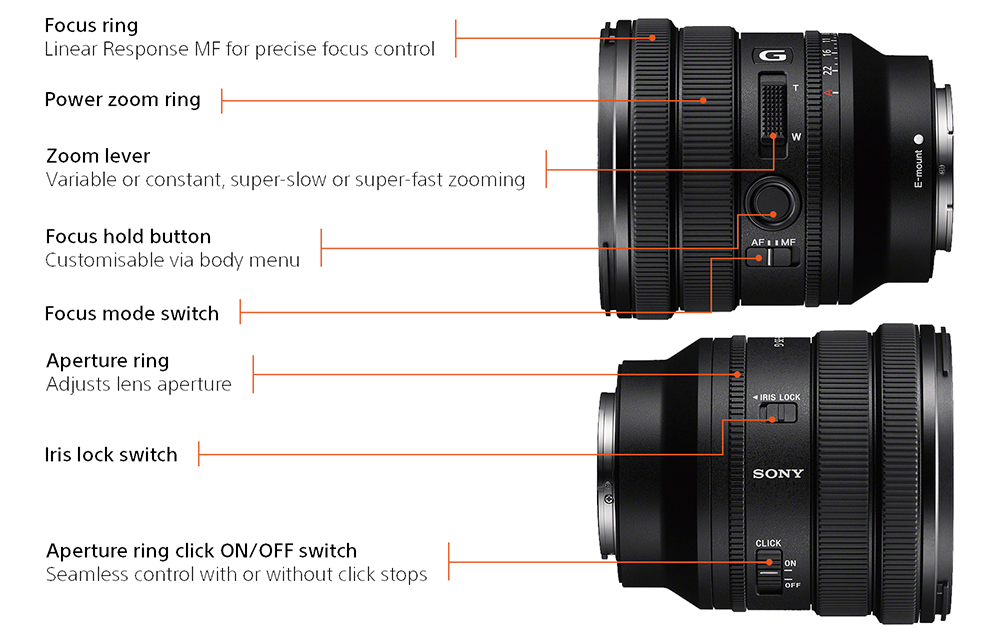 Click image to view in more detail
A noticeable omission is the image stabilisation that came included in the initial version. However, rather than being a complete deal-breaker, this has likely been removed to allow the lens to be so lightweight. And as this lens has so many other features included it's a decent trade-off if you're shooting on a body with IBIS.
As I briefly mentioned before, the lens now also features a click/de-click aperture switch with a dedicated aperture ring on the lens. Sony made its intentions clear as it aims to provide better functionality for video shooters.
---
Final Thoughts
With the latest addition to Sony's lineup of FE lenses, it's becoming clear that Sony has listened to their users by introducing features that were omitted in the original 16-35mm f4. And although the 16-35mm f4 Mark I had impressive image quality, the latest addition takes it a few steps further, making this an even better lens overall.
Although I did find it strange that Sony introduced videocentric features on an f4 lens, as most video shooters would opt for a faster aperture such as an f2.8, with the improvements Sony has made in combating high ISO noise in recent years, it's no longer a major concern when shooting at 6400 ISO f4 on video anymore.
This lens should be welcome news to journalists and wedding videographers who often shoot in dimly lit environments. The only drawback to this would be missing out on the shallower depth of field of an f2.8 lens. Sony, if you are listening, all we need now is a 16-35mm f2.8 (or wider) with internal zoom, de-clicked aperture, iris lock and zoom rocker…so not too much to ask for!
To conclude the new Sony FE PZ 16-35mm F4 G Lens: Great optics, a lightning-fast autofocus motor and videocentric features place this lens firmly above its competition.
---
Convinced yet?
The Sony FE PZ 16-35mm F4 G Lens is available to pre-order today >
Considering a trade-in? Fill out the form on our Part-Exchange Page to begin your hassle-free journey to new kit!
---
Read next
---
Thank you!
Thanks for taking the time to read our blog, we really do hope they help you out and answer some of your questions. If you still have some unanswered, then please feel free to get in touch with our team of experts.
We have a LiveChat option on our website and we can, of course, be contacted via our email, we're also on the end of the phone too! Read more on how to contact us here >
---
Want to write for us?
If you've got experience with producing content on photo, video and/or optics products or techniques then we would love to hear from you. Contact our blog editor, Fee, with a sample of your work at fee@cliftoncameras.co.uk.
By Fred van Leeuwen
22 Mar 2022