Hahnel Viper for Canon Wireless Group Flash Trigger
Control up to three groups of flash guns and studio lights, each group comprising one or multiple flash guns, putting creative control back into the hands of the photographer.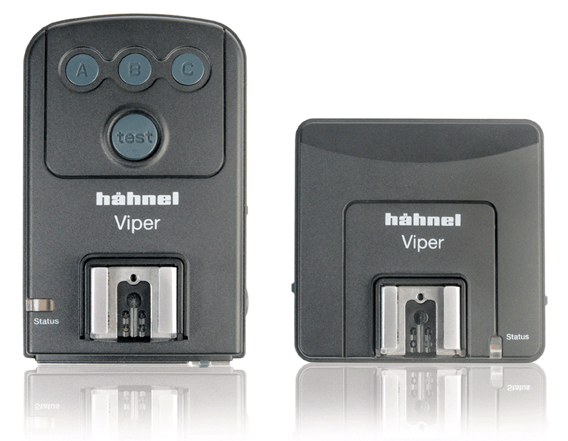 Use the LCD on the Viper transmitter to turn flashgun groups ON and OFF.
Easily adjust the flash gun power output level of each group, or set a group to Manual to allow the flashguns power output level setting to over-ride the Viper.
With Pass-through TTL on the camera

Specification
* For Canon cameras / flash guns & compatible models
* ISM 2.4GHz digital transmission (more than 100M)
* Digital Channel Matching provides reliable connections,
eliminating the risk of interference from other wireless
products within range
* LCD Display, backlit, indicating groups A, B & C on/off and
flash power output settings
* Each group can be turned on/off or flash power output
adjusted with individual control button on the Viper
transmitter
* Viper Receiver has a 2.5mm socket and a Mini USB socket
to connect to studio lights
* Mini USB socket - For software upgrade or external 5V
power supply
* Powered by the most convenient power source
- 2 x AA batteries (each on transmitter and receiver) for
approx 120Hr