Bushnell 32MP CORE DS-4K Trail Camera Review
Trail camera, trail cam, game camera, camera trap – whatever we choose to call it, there's no doubt that this clever piece of technology is incredibly useful for capturing images of wildlife, particularly wildlife of the shy and elusive variety.
A trail camera can also be used for security purposes – a human intruder will trigger the camera in the same way that any other mammal would – but I think it's fair to say that wildlife-related image capture tends to be the main area of use for many.
I know from personal experience just how effective a trail camera can be in confirming which animals might be visiting the garden both day and night. Additionally, it's also possible to set up near a bird feeder or feeding station in order to record the comings and goings of the various avian visitors.
---
Should I buy Bushnell?
Bushnell is undoubtedly the most well-known trail camera manufacturer and, over the years, has continuously improved and developed its range. These improvements have applied to everything from trigger speed, image quality, video resolution and sensor technology all the way through to increased memory card capacity and the quality of the camouflage-patterned casings.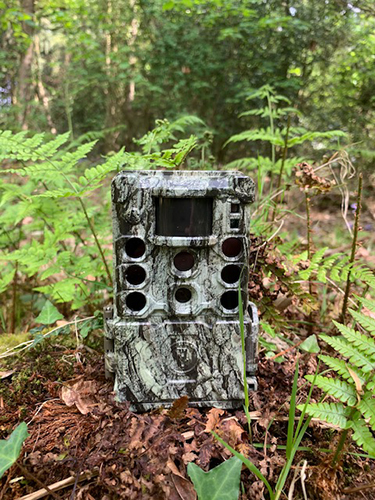 Testing the Bushnell 32MP CORE DS-4K
The model on test here is the Bushnell 32MP CORE DS-4K Treebark Camo No Glow Trail Camera – which takes almost as long to say as it does to type! Contained within that somewhat lengthy moniker, however, are some important clues as to what this camera has up its sleeve: 32-megapixel resolution and the option of 4K video capture all lurking within a robust and very realistically camouflaged housing. The 'No Glow' label confirms that the camera's flash won't be visible to whatever happens to activate its sensors.
Note, that I said 'sensors' rather than sensor – for the model in question possesses dual sensors for both day and night recording. The camera automatically senses changes in light level and adjusts its settings accordingly – which allows for 24-hour recording and is also rather clever! On paper, the specification would suggest that this model must be worthy of consideration for anyone looking for the best wildlife camera or the best night camera for garden wildlife.
---
Setting up the Trail Camera
If you want to get up and running straight away, you can simply install the batteries, power on, set the date and time and then position the unit wherever you want. At that point, the camera will be ready to use, albeit at its default settings which will give photo mode, medium resolution, 10-second intervals between photos and 'Long Range' illumination mode. Illumination mode basically refers to shutter speed and has three settings: low, fast motion and long-range – so you can adjust accordingly depending on whether your target species is likely to be at close range, fast-moving or further away.
The camera is supplied with a strap (to allow it to be attached to a tree or post) and a detailed instruction manual but you'll have to provide your own batteries and memory card. Six AA batteries are required but you can also purchase an optional solar panel if you prefer. SD and SDHC memory cards up to a whopping 512GB capacity are supported; particularly useful for ecological survey work or, indeed, any scenario involving the camera needing to be left in situ for a prolonged period.
The strap is reassuringly chunky and I measured its length as 180cm (six feet in old money) so allows the camera to be attached to a fairly thick tree trunk or post.
---
Incredible Camouflage
Bushnell has also fitted the Core DS-4K with a tripod socket. This uses the standard 1/4" thread and is a really useful feature, as it allows for more flexibility with regard to setup…like when you don't have a strategically-placed tree to hand, for example. The photos below also help to illustrate just how effective the Treebark finish can be with regard to camouflage…it really does help the camera blend seamlessly into the woodland background. Definitely designed to say hidden from prying eyes!
---
Choice of Shooting Modes
I've already mentioned default settings and some of the Core DS-4K's other functions. Video can be captured at three quality levels with 4K being the highest. This is in addition to capturing stills, of course. As with many trail cameras, the user can select stills, video or a 'hybrid' mode whereby the camera will capture a still (or stills) followed by a video sequence. It's also possible to choose the length of video grabs, 10 seconds (the default), being the shortest.
Within the memory settings, you'll also find three presets: Feeder, Trail and the interestingly named 'Food Plot'. The first two modes are fairly self-explanatory, whereas Food Plot captures images at five-minute intervals within the period 5:30 am until 9 am and then again within the period 15:30 pm until 19:30 pm. This is a modified form of the camera's 'Field Scan' mode which is similar to Food Plot but allows the end-user to choose the time periods within which the camera will record images. There is also an 'advanced' mode whereby you can choose your own settings.
It was towards the advanced mode that I found myself drawn. Not that I have any particularly advanced skills, but I do own a fairly basic trail camera and was, therefore, able to approach the Bushnell with some degree of familiarity regarding setup.
---
Testing the 4K Video
I was keen to test the camera's 4K capability so went straight to video mode, 10-second recording and the highest video resolution. This done, I tripod-mounted the Bushnell near one of our garden feeders and left it to do its stuff. Here are a couple of examples of what it came up with:
---
Garden wildlife in 32MP
Having explored video capture the next step was to get some stills. I found that bird feeder stills weren't as effective as video capture as the feeders tend to swing when the bird first lands. Additionally, birds' heads move constantly when feeding so I tried some 'on the deck' shots instead. As with video mode, I went straight for the highest image quality available as I suspect that this is what most users are likely to do.
The first thing that struck me with regard to both video resolution and image quality was that everything was much better than anything I'm used to seeing with my existing trail camera. Clarity and colour reproduction in particular were on different levels. Like everything else, trail cameras have improved dramatically over the years and, in the case of the 32MP Core DS-4K, it definitely shows.
Having explored the camera's daytime abilities, I then turned my attention toward nighttime performance. We seem to be seeing less garden Hedgehog activity than in previous years (which is slightly concerning) but the Bushnell did capture this individual. Illumination mode was set to low with this one as our garden isn't the biggest. As mentioned previously, fast motion and long-range modes are also available so you can choose accordingly depending on where your camera is going to be used and also what you hope to record.
I've pretty much let the images do the talking with this review as I'm working on the premise that, ultimately, the end results are the most important thing. A picture paints a thousand words, after all. The 32MP Core DS-4K definitely represents a significant step-up in terms of image quality when compared to my existing trail camera. It offers great flexibility with regard to user settings and the ability to record in 4K whilst using large capacity memory cards is likely to be hugely advantageous for many.
This being the case, the model in question helps cement Bushnell's position at the fore of trail camera technology and has to be one of the best wildlife cameras available in 2022. Based on past experience, I also happen to know that Bushnell's customer service is top-notch - which is another bonus.
---
And finally…
Following a precedent set by many a TV news broadcast, I'd like to wrap things up on a light note. It is in this spirit that I present the following footage showing one of our Hedgehogs on their nocturnal rambles around our garden. For full 'Radio Play Comedy Footstep' effect, I recommend watching with the volume turned all the way up.
I hope you found this Bushnell trail camera article interesting and, as always, thank you for reading.
---
I'm convinced! Where can I buy it?
The Bushnell 32MP CORE DS-4K Treebark Camo No Glow Trail Camera (to give it its full name) is available to buy from Clifton Cameras here >
---
Read next:
---
Thank you!
Thanks for taking the time to read our blog, we really do hope they help you out and answer some of your questions. If you still have some unanswered, then please feel free to get in touch with our team of experts.
We have a LiveChat option on our website and we can, of course, be contacted via our email, we're also on the end of the phone too! Read more on how to contact us here >
---
Want to write for us?
If you've got experience with producing content on photo, video and/or optics products or techniques then we would love to hear from you. Contact our blog editor, Fee, with a sample of your work at bea@cliftoncameras.co.uk.
By Martin Drew
17 Jun 2022