Raven and Skye: A Tale of Two Campervans, Birding and Stargazing
"My lifelong passion for birding and a burgeoning interest in the night sky gave added impetus to our search: after all, what better way to experience these natural wonders than in our very own house on wheels?"
---
An epiphany
It all started at South Stack off the northwest tip of Anglesey in the summer of 2016. On a particularly balmy day in late July, the sun sparkling on the waves and Manx Shearwaters flew streaming past the famous lighthouse in their hundreds, we experienced an epiphany.
We were on a family holiday and staying in accommodation near Bangor. From our rented base we sallied forth every day to explore the area's natural beauty, historic sites and stunning wildlife. And it was great. It was what we'd always done, it worked for us and we had no burning desire to change our modus operandi…if it ain't broke, right?
But then, on that fateful day, we saw…it. There, in the clifftop car park at South Stack, the catalyst for a chain reaction of events whose reverberations are still being felt almost six years down the line.
It was a VW campervan. A grey one. The side door was open and the owners were having morning tea/coffee: he on the passenger seat which had been swivelled around to face the rear; and she still lounging on the fold-down rock & roll bed.
We had arrived early in the morning and it was clear that 'The VW Dwellers' had overnighted there. The weather had been glorious all week and we could only wonder at the truly spectacular sunset views these lucky people must have experienced the previous evening. We left South Stack subtly changed: for the first time in our lives we really wanted a campervan!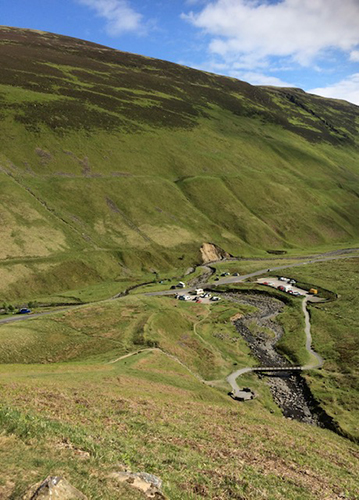 The seed was planted
At the time it was just a germ of an idea but the seed had been well-and-truly planted. For the next four years we carried on pretty much as before but the image of the grey VW and its happy occupants just wouldn't go away.
Eventually, in the summer of 2020, we decided that the time had come to turn the dream into reality and we began looking for our own campervan in earnest. As a family, we have always loved wild places with their spectacular views and supporting cast of wildlife.
My lifelong passion for birding and a burgeoning interest in the night sky gave added impetus to our search: after all, what better way to experience these natural wonders than in our very own house on wheels?
---
Research in earnest
We spent the next few months researching vehicles. We had pretty much decided to go for the classic SWB, pop-top roof setup as this would allow the van to be used as an everyday vehicle rather than just something to be used for trips away. We considered a number of brands – VW, Toyota, Mercedes-Benz, Ford, to name but a few – but, early on Boxing Day 2020, we found ourselves 130 miles from home inspecting a recently-converted SWB Renault Trafic.
The van was in really nice condition (albeit in 'boring' white) and sported a standard side conversion featuring a twin gas burner, sink and numerous cubby holes for storage. A rock & roll double bed provided sleeping space for two 'downstairs' and the pop-top roof concealed an elevating bed suitable for one small(ish) adult - so ideal for our (then) fifteen-year-old daughter.
The van drove well, sounded good and, following a fairly brief 'discussion' over price, the deed was done. We were now the proud (and slightly nervous) owners of our very own campervan!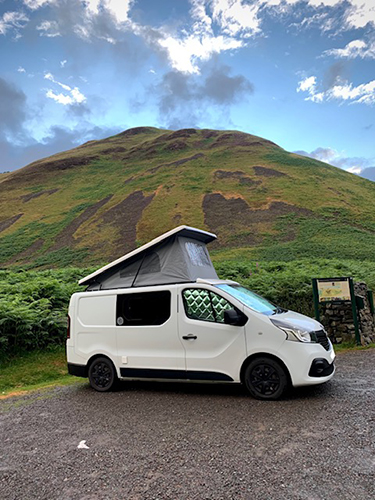 A few refinements
We spent the next few weeks familiarising ourselves with our new acquisition. We also spent some more cash as we added a few refinements: blackout curtains, solar panel, a swivel base on the twin passenger seat and wind-out sun canopy being the most noteworthy. Given that most of the destinations on our bucket list were in Scotland the sun canopy might have seemed like an extravagance to some but, as it transpired, there have been times when we were glad of it.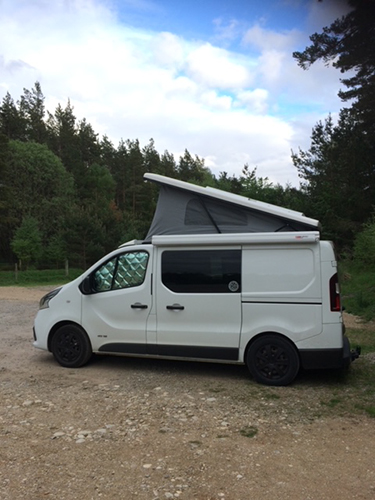 Another addition was slightly less tangible: a name. We had never been in the habit of naming our vehicles but, in the case of this one, it just seemed like the thing to do. For reasons which are too convoluted to detail here, we settled on Raven. I will concede that this may seem slightly odd for a white vehicle but, once we had settled on the name, it seemed to fit quite well…so Raven it was!
---
Flight of the Raven
Our first road trip was big on miles and definitely represented a steep learning curve with regard to the ins and outs of van life. After a couple of nights in Northumberland, it was over the Anglo-Scottish border, across the mighty Firth of Forth and on up the A9 into the heart of our beloved Speyside. One night in the truly stunning Abernethy Forest was followed by two on the coast of Sutherland.
From there it was back to Speyside for another memorable stopover by the beautiful Loch an Eilein and the final evening found us encamped deep in the rolling Moffat Hills. The second 'Flight of the Raven' (during which the learning curve continued) took in the Isle of Skye (with a quick 'there and back' ferry trip to the Isle of Harris) followed by a few days in the Galloway Forest on the return journey.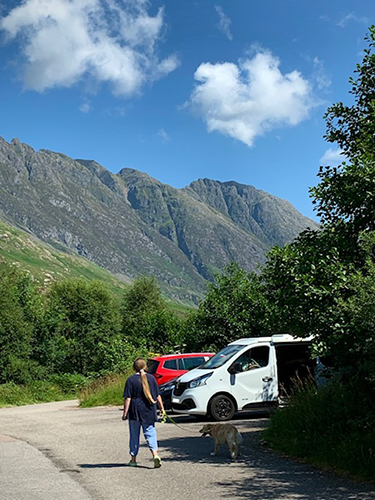 Nomadic life at its best
In terms of what they produced with regard to bird watching, exploration and scenery, both trips delivered the goods and then some. We didn't always have the clearest of skies for viewing the stars but we saw enough to convince us that, given the odd 'good seeing' night, the potential was definitely there.
My trusty Leica Trinovid 8x32 BN binoculars and Leica APO Televid 62 Spotting Scope were constant companions on these trips. Unfortunately now, both of these models have been discontinued but you can find the updated versions of the binoculars and scope here.
Wildlife highlights were too numerous to list in full but included some memories which will undoubtedly last a lifetime: White-tailed Eagle flapping lazily over our coastal park-up on Skye; Minke Whale hurling itself repeatedly out of the chilly waters of the Minch on the way to the Isle of Harris; Eurasian Otter rolling sinuously in the waters of a Northumbrian river at dusk; and, my personal favourite, a stunning Golden Eagle keeping pace with the van on Rannoch Moor before executing a ninety-degree turn and drifting majestically across the road in front of us.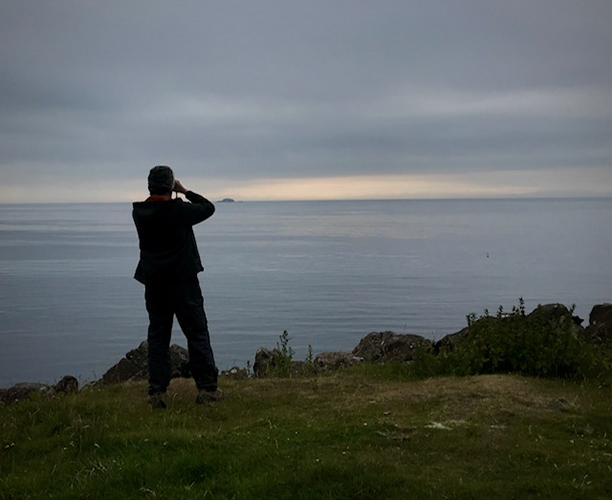 We very quickly found ourselves falling in love with van life and the nomadic existence it offered. We had long suspected that birding and campervans would go hand-in-hand and, in that respect, we were right on the money.
The potential for effective stargazing in some dedicated 'dark sky' areas came as an added bonus and served only to add to the conviction that we had definitely done the right thing with regard to embracing life on the road.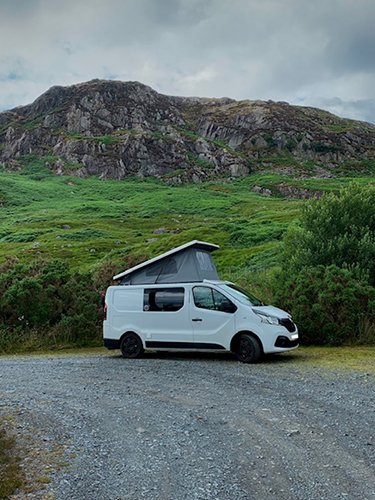 Two adults, one daughter and a golden retriever walk into a campervan…
So those were the positives…but what about the downside? To be honest, there was only one but it was not insignificant and had been lurking in the shadows since the first trip. For all that we loved Raven, there was the nagging feeling that we really needed something just a wee bit bigger.
We could definitely make the van work for us (as we had proved) but there was a growing and inescapable feeling that three adult-sized people and a Golden Retriever might benefit from some extra space. A side awning might help address this of course, but our fondness for wild camping and an aversion to campsites effectively eliminated that as an option.
The main issue was lack of height: we had standing room when the elevating roof was up but being able to 'pop' the roof was somewhat weather-dependent and wasn't always what we wanted to do during a brief stop for lunch, for example.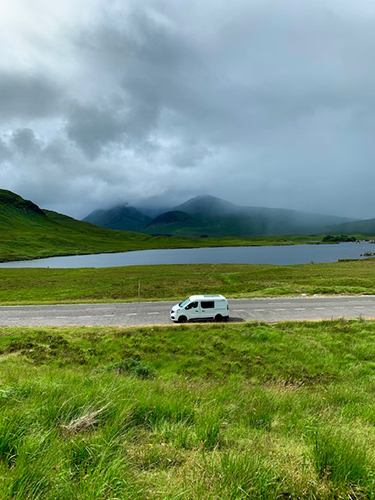 We encountered hundreds of other campervan conversions during our travels and, increasingly, found ourselves casting covetous eyes in the direction of high-top vehicles.
These generally came in MWB or LWB form and the potential increase in comfort and flexibility offered by the additional living space began to call to us like a siren.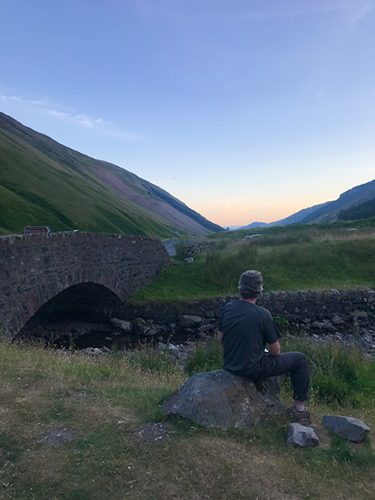 And that's where Skye came in…as I will explain in Part 2.
Sign up for our newsletter below and follow us on social media to find out when the next part of Martin's journey is ready to read!
---
Read next
---
Thank you!
Thanks for taking the time to read our blog, we really do hope they help you out and answer some of your questions. If you still have some unanswered, then please feel free to get in touch with our team of experts.
We have a LiveChat option on our website and we can, of course, be contacted via our email, we're also on the end of the phone too! Read more on how to contact us here >
---
Want to write for us?
If you've got experience with producing content on photo, video and/or optics products or techniques then we would love to hear from you. Contact our blog editor, Fee, with a sample of your work at fee@cliftoncameras.co.uk.
By Martin Drew
22 Feb 2022