Raven and Skye: A Tale of Two Campervans, Birding and Stargazing Part 2
Part 2 - Birding and Campervans: Our final Scottish trip in Raven plus the acquisition of the new van, Skye. Read Part 1 here >
---
So where were we?
Ah yes, as the proud owners of Raven, our fully-converted Renault Trafic campervan. And with two-week-long road trips and a few local one-night stays under our collective family belt, our thoughts had begun to turn inexorably towards making the switch to a larger vehicle.
Before we took the plunge, however, we had one more memorable trip in Raven - not so much a swansong as a 'crowsong', I suppose, but the basic principle was the same. In late August 2021, we loaded both ourselves and as much essential kit as we could into Raven and set off for one of our favourite locations: the truly gorgeous Isle of Arran off Scotland's west coast.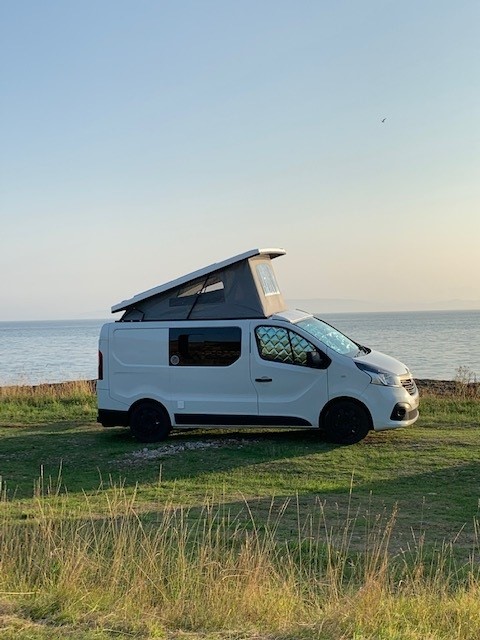 I really wanted to take my Celestron NexStar 8SE astronomy telescope with us but, no matter how organized we tried to be, space just didn't allow. I did, however, manage to find room for my trusty Leica Trinovid binocular, Televid scope and Benro Wild 1 tripod: there was no way I was going all the way to Arran without those!
We had a glorious week on the island: the weather was kind, the local eagles, harriers, otters, seals and co. all showed brilliantly and there was no shortage of beautiful places to park up for the night. The clement weather worked to our advantage as it allowed us to use the pop-up roof every night but we were fully aware of just how lucky had been; strong winds, in particular, could have led to a very different experience!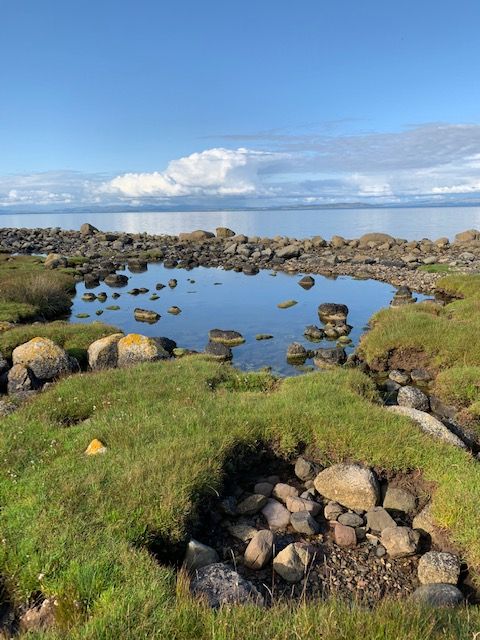 The Return Run
Much of the return journey was spent discussing the logistics of making the switch to a bigger campervan - but how best to proceed? Clearly, we would have to sell Raven before making a move on anything else. We had no idea how easy or difficult this would be and were acutely aware that autumn and winter were beginning to loom large on the horizon – on the face of it, not exactly prime time for campervan sales!
The other conundrum lay with regard to which vehicle to go for. Whatever we bought needed to be tall enough to allow us to stand up without having to worry about popping the roof. It also needed to give us more room in general whilst still being compact enough to be used as an everyday vehicle.
A couple of weeks later, whilst trawling through campervan sales online for what felt like (and probably was) the thousandth time, I finally struck gold. There, on the screen in front of me, was the Holy Grail: a fully-converted, medium wheelbase, medium roof Peugeot Boxer.
This in itself wasn't particularly unusual but the conversion was that rarest of things for it had been created with a family of three in mind. All the usual side conversion features were there but what this one had up its sleeve was a fixed single bed going widthwise across the van above and behind the rear seats/double rock & roll bed.
And the excitement didn't stop there, because the space underneath the aforementioned single bed functioned as a garage area which, by campervan standards, was positively cavernous! Suddenly, the scales fell from my eyes: this was what we needed for the next stage in our van life journey.
---
Saying Goodbye to Raven
This was all well and good, of course, but we still had to find a new home for Raven before proceeding any further. Ultimately, my concerns with regard to timing proved to be unfounded. In the last days of November, just as the last few necrotic leaves were falling from the trees, we found a buyer.
I have to say that this was something of an emotional moment as Raven had always run beautifully and our trips in the wee Trafic had left us with vivid and lasting memories - but we had reached the stage where we now knew what we needed and a parting of the ways had become both necessary and inevitable.
Having waved Raven off to her new home we began the search for our next set of wheels - which took all of two weeks. We had already decided that the way forward was to purchase a standard base vehicle and then have it converted professionally, the design to follow that of the Peugeot I had first noted a couple of months earlier.
---
Kitting out Skye
With this in mind, we started looking at the Peugeot Boxer and its Citroen equivalent, the Relay. In the end, however, we ended up with…wait for it…another Renault! The Renault Master might not win any prizes in a vehicular beauty competition but, in its medium wheelbase/medium roof form, it offers more room than the competition and is widely regarded as a very tough, dependable vehicle – which is just what we wanted.
Offered for sale by the original owner, with nice, low mileage on the clock and a very smooth-sounding engine, the journey to the flatlands of East Anglia proved to be well worthwhile and the deal was done. By the time we arrived back home, the new van had already been named Skye. The name just seemed to pick itself out of thin air and seemed like a good fit right from the off – so Skye it was!
Now that Skye was ours, the next step was to find a top-notch conversion company to transform her into the campervan of our dreams. Luckily, this was a no-brainer. Earlier in the year, we had approached Big V Kampers & Kustoms in Swindon to have some additional features added to Raven. Everything they did had been first class so, just before Christmas, we headed off down the A417/A419 to have Skye measured up and booked in.
Things then moved apace. The conversion began in early January. The whole process took a total of eight weeks during which time we made a couple of visits to see the work in progress. We also received regular photo updates showing the transformation as it happened.
We had asked the team at Big V to replicate the conversion I had found back in the autumn as, for us, the capacity to sleep three coupled with that huge rear luggage area was key. Ultimately, they delivered all of the above and then some.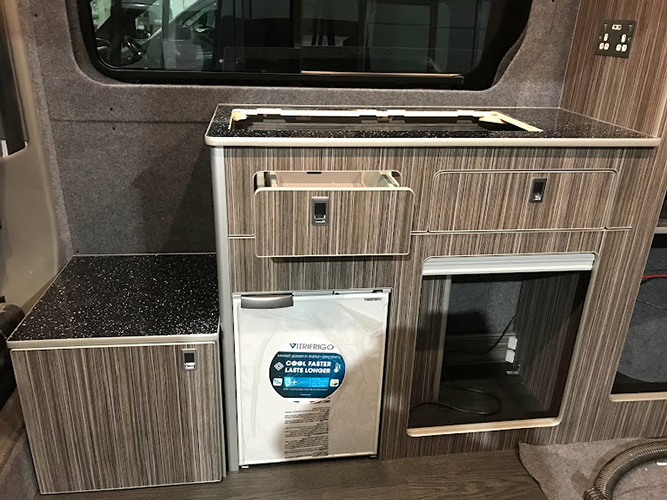 The features we had asked for were all there but it was the extra touches which made the difference: dimmable touch-operated strip lights in places where we would never have thought of putting them; a small shelf which was only revealed once the double bed was down and ideal for phone/wallet/glass of water at night; an extra overhead locker and 12v socket specifically positioned for the occupant of the fixed bed; privacy curtains which really did work as complete blackouts; and, most importantly, build quality which I'd challenge anyone to beat. The day of the collection arrived in early March and at last, we had the campervan of our dreams!
Chalk and Cheese
So, now that Skye was good to go, all we had to do was decide on a destination for our first trip. Given that our last trip in Raven had been to the Isle of Arran we decided that this was as good a place to start as any. The fact that we love the place probably helped, too, coupled with the fact that it would allow us to gauge accurately the effect of having the extra room.
As it transpired, 'chalk and cheese' was the saying that leapt to mind. Just having the ability to stand up regardless of weather conditions was a revelation as was having a garage space the size of Fingal's Cave under the single bed, Gone were the days of trying to shoehorn everything into place as part of a bizarre game of 'Luggage Jenga or having to move something every time we needed to reach anything else…and my spinal column felt the benefit straight away!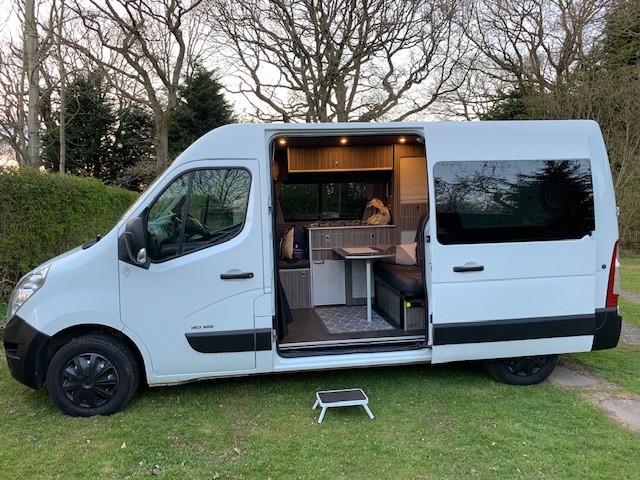 The weather on Arran wasn't quite as balmy as it had been during our previous visit but, such were the benefits of Skye's extra headroom and length, that we all agreed that the trip was probably more enjoyable overall. There was too much cloud cover for effective stargazing but plenty of good quality Scottish birding with some terrific views of dolphins and otters thrown in. We also discovered that a four-ton campervan doesn't move much even in strong coastal winds which, given our fondness for fairly remote and often fairly exposed areas, is likely to be another unexpected benefit going forward.
So, almost eighteen months after we first began thinking in earnest about vanlife - and almost six years after the first germ of an idea was planted – we finally have the campervan that's the right one for us. A birding tour to the Outer Hebrides now looms large on the horizon and can't come quickly enough. It's been a long journey but, ultimately, well worth the effort. The open road beckons once more…and we can't wait!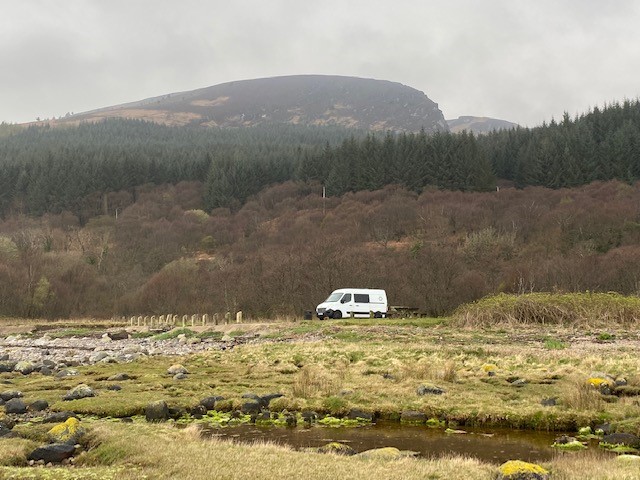 Read next
---
Thank you!
Thanks for taking the time to read our blog, we really do hope they help you out and answer some of your questions. If you still have some unanswered, then please feel free to get in touch with our team of experts.
We have a LiveChat option on our website and we can, of course, be contacted via our email, we're also on the end of the phone too! Read more on how to contact us here >
---
Want to write for us?
If you've got experience with producing content on photo, video and/or optics products or techniques then we would love to hear from you. Contact our blog editor, Fee, with a sample of your work at fee@cliftoncameras.co.uk.
By Martin Drew
20 May 2022