The DJI Avata was Born To Fly

The DJI Avata was Born To Fly!
The DJI Avata Drone was officially announced today (Aug 25th 2022) and boasts some truly impressive features. Lets take a look at what this drone has to offer.
---
Key Features
Immersive Flight Experience
Intuitive Motion Controller*
1/1.7-inch sensor that supports 4K/60fps HDR
f2.8 Aperture
155o Super-Wide FOV
Max Flight time of up to 18mins
Palm-sized and Agile
Built-in Propeller Guard
HD Low-Latency Transmission
*Sold separately or included with the DJI Avata Pro-View Combo & DJI Avata Fly Smart Combo versions.
Agile and Durable
Unlike most drones, the Avata has been designed for use in previously inaccessible places. Its compact and lightweight design allows you to fly between branches, under bridges, and through corridors, enhancing your creativity. The drone features a durable frame to reduce accidental damage as well as built-in propeller guards. It also features a Turtle Mode that will spring the drone back into action should it fall on its back. The drone comes equipped with downward binocular vision and ToF infrared sensing so that it can avoid obstacles with ease which is of particular use when flying at low altitudes or indoors.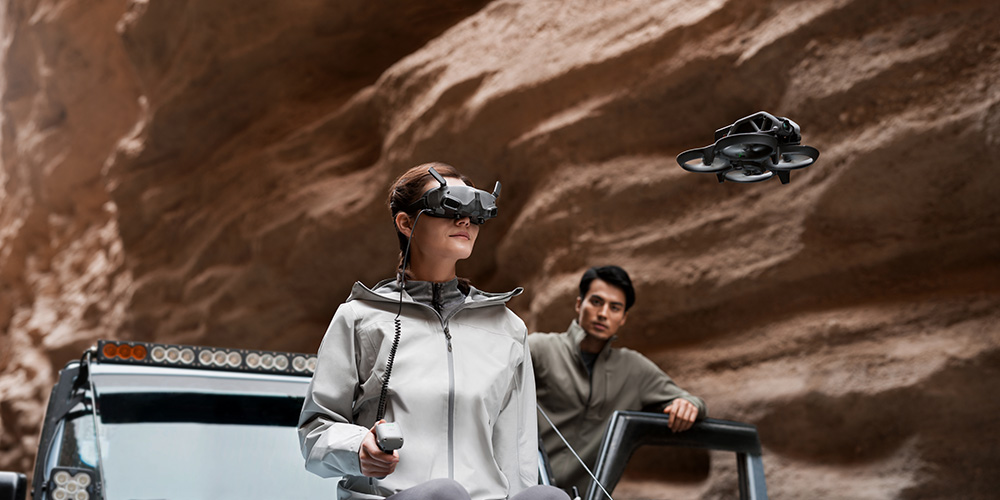 Immersive Flight Experience
The DJI Avata is best used with the DJI FPV Goggles V2* and DJI Motion Controller* for a truly immersive flying experience. Not only does this allow you to experience the thrill of total immersion but it also gives you ultimate control over the drone. The FPV Goggles V2 puts you in the pilot's seat while the Motion Controller allows you to get a true feel for flying. Simply squeeze the trigger to propel forward or swivel the wrist to turn a corner with ease.
The Avata is also compatible with DJI Goggles 2** and DJI FPV Remote Controller 2.**
**Sold separately
---
Master Your Moves
The Avata gives you the ability to be able to enhance your piloting skills via the Flight Simulator. This allows you to sharpen your skills and try out different control modes. It is also compatible with multiple remote control devices to further unlock possibilities. You can use the DJI Virtual Flight app for a variety of simulated scenarios and the app can be used on both computers and smartphones.

155o Super-Wide FOV
The Avata comes equipped with a1/1.7-inch CMOS sensor, capable of capturing stunning 4K footage at up to 60fps, as well as a large f2.8 aperture and ultra-wide-angle lens with155° FOV.* This field of view is much closer to what we see with our own eyes to allow you to create more impactful and immersive content.
*The 155° FOV is only available when the aspect ratio is 4:3, and the video recording specification is 2.7K@50/60fps or 1080p@50fps/60fps; the aspect ratio is 16:9, and the video recording specification is 4K@50/60fps, 2.7K@50/60fps, or 1080p@50/60fps.
---
Smooth Footage Guaranteed
Having all this control and imaging power means nothing without smooth footage, which is just as well as the Avata guarantees just that. RockSteady 2.0 and HorizonSteady* ensure that your images remain shake free as you swoop and dive. RockSteady 2.0 helps to actively reduce camera shake in real-time while HorizonSteady* locks your footage to a level horizon for cinematic effects.
*HorizonSteady is only available in Normal mode FOV with an aspect ratio of 16:9 and the video recording specification of 4K@50/60fps, 2.7K@50/60fps, or 1080p@50/60fps. RockSteady is unavailable when the video recording specification is 2.7K@100/120fps or 1080p@100/120fps.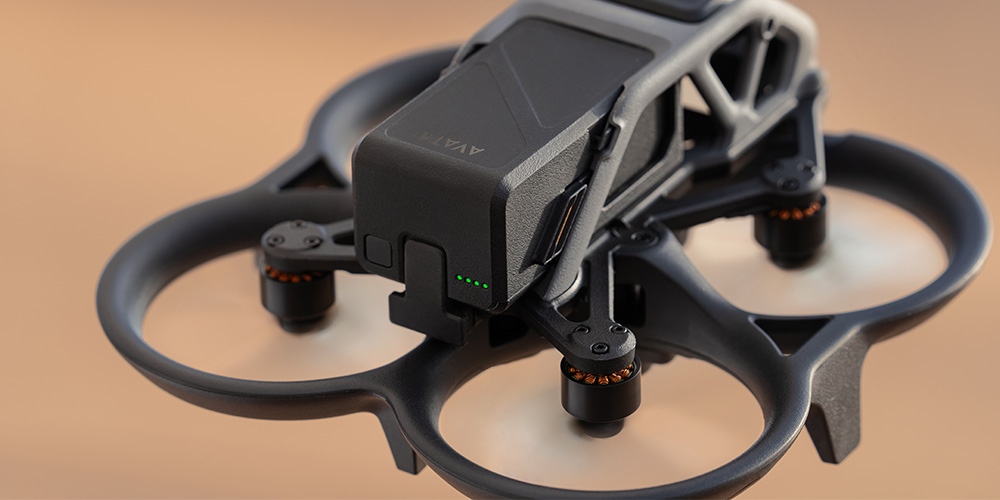 Safety First
Safety is paramount when flying an FPV drone and the designers of the Avata have taken this into account. In addition to the built-in propeller guard, the Avata comes equipped with a Downward Obstacle Sensing System.* This consists of downward binocular vision and ToF (Time of Flight) infrared sensing to detect obstacles below. This allows you to achieve low-altitude or indoor flight.** Other safety features include RTH (Return to Home) mode, to ensure that the drone lands safely at the result of a low battery or bad signal, as well as an Emergency Break button when using the Motion Controller.
*DJI Avata only supports downward obstacle sensing when used with DJI FPV Remote Controller 2, or DJI Motion Controller in N Mode or S Mode
**The aircraft must maintain a distance of at least 0.25 meters from the ground.
---
DJI O3+ Transmission
The DJI Avata features O3+ video transmission and 2T2R omnidirectional antennas to ensure unrivaled stability and responsiveness when flying. This allows you to enjoy crisp and smooth real-time view in your goggles, even in environments with interference.
The following specs are based on using DJI Goggles 2 in an open outdoor environment without interference;
Max Video Transmission Quality: 1080p*
Max Video Transmission Frame Rate: 100 fps
Lowest Video Transmission Latency: 30 ms*
Max Video Transmission Range: 10 km**
Max Video Transmission Bitrate: 50 Mbps***
Video Transmission Coding: H.265
*Tested in an outdoor open environment without interference. Video transmission latency varies with different goggles. DJI FPV Goggles V2 can reach a video transmission of up to 810p. When using DJI FPV Goggles V2 with the 810p/120fps video transmission, the lowest video transmission latency is less than 28 ms.
**FCC compliant and tested in an outdoor open environment without interference.
***Tested in an outdoor open environment without interference. Video transmission bitrate varies with operating environments.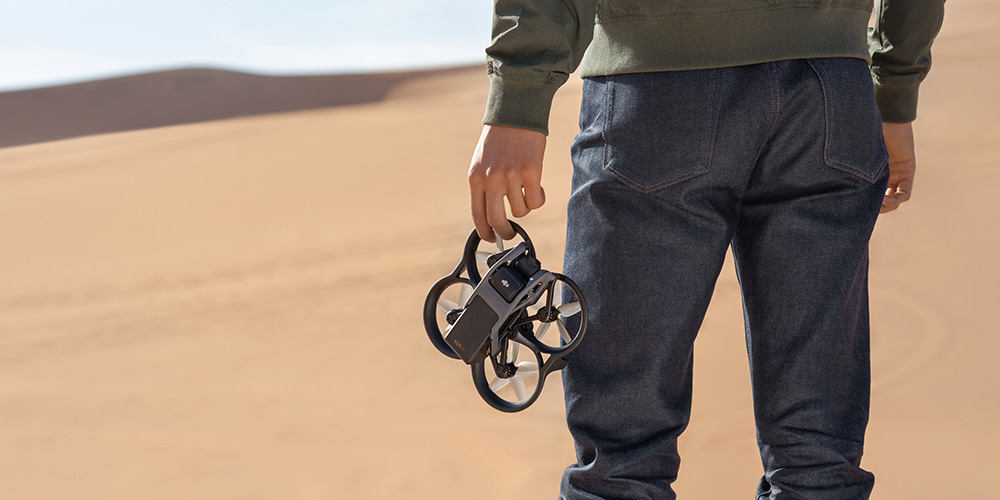 ---
Palm Sized and Aerodynamic
The Avata weighs in at just 410g and measures just 180x180x80mm, making it easy to carry and transport, while the new ducted aerodynamic design optimizes power efficiency. This allows for an impressive flight time of up to 18 minutes.
---
vs the FPV Drone
Take a quick peek at the DJI Avata vs the DJI FPV.
| | | |
| --- | --- | --- |
| | | |
| Video | 4K/60fps | 4K/60fps |
| Field of View | 155o | 150o |
| Flight Time | 18 minutes | 20 minutes |
| Max Speed | 97kph | 140kph |
| Built-in Storage | Yes. 20GB | No |
| Transmission Distance | 10km | 10km |
| Weight | 410g | 795g |
The DJI Avata is available to buy now in three kits:
---
Read Next
Read our full guide on Drone Photography here.
Thank you!
Thanks for taking the time to read our blog, we really do hope they help you out and answer some of your questions. If you still have some unanswered, then please feel free to get in touch with our team of experts.
We have a LiveChat option on our website and we can, of course, be contacted via our email, we're also on the end of the phone too! Read more on how to contact us here >
---
Want to write for us?
If you've got experience with producing content on photo, video and/or optics products or techniques then we would love to hear from you. Contact our blog editor, Bea, with a sample of your work at bea@cliftoncameras.co.uk.
By Ben Wright
25 Aug 2022