Sony a1 Real World Review
The flagship, the numero uno (literally), the top dog. One of Sony's latest and greatest releases is the all-singing and all-dancing Sony a1 mirrorless full-frame camera.
Top stats of the Sony a1
50MP sensor for HUGE high res images
30fps for EVERY SINGLE piece of the action
8K video - enough said
The Alpha 1 is the camera that covers just about every genre and every aspect of photography and videography that the modern hybrid shooter requires.
---
What is a hybrid shooter?
In a fast-moving tech world, we consumers are treated to innovative products from the tech giants on what feels like a weekly basis at the moment. The way we shoot content is constantly evolving and with the likes of social media being a huge platform for digital marketing and business in general, a lot of photographers are dipping their toe into video so therefore require a machine that can do both, very, very, well.
Enter the likes of the Sony a1.
---
Looks to not kill for
I was able to get my hands on the Sony a1 for just over a week. When I finally unwrapped it from all of the gaffa tape, bubble wrap and general packaging I wasn't overly enamoured by the look of it. I'm only being honest!
Don't get me wrong, it's not vulgar. It's just very samey. Much like a slightly beefed up Sony A7R IV or Sony A7S III, the a1 is pretty much as you'd expect from Sony. This isn't really a bad thing, I just expected something a little special considering the specs it was bringing to the table. That said, the layout and feel of this machine is easy to become acquainted with - even for a hardcore Canon fangirl like me.
A slight shift in buttons and dials has been a smart move from Sony, making the a1 very intuitive and allowing the user to get on with the task at hand without having to spend time staring at the controls looking confused.
The menu shares the same upgrades as the a7S III and helpfully comes with 'tool tips' on almost all features. Very handy for someone investing in Sony for the first time or just upgrading from one of their previous models.
Video and stills have separate, dedicated menus too so you can spend more time on actually creating rather than setting things to how you like them. The clever use of media slots put my mild panic at ease when I thought I'd have to source CFexpress Type A cards at short notice. The a1 also comes with slots that support UHS-I and UHS-II SDXC/SDHC memory cards so the average photographer (like me) can get cracking straight out of the box.
---
Who is the Sony Alpha 1 built for?
The complete answer is anyone and everyone. The image quality at a frame rate of 30fps is an incredible statistic to have in a body that's not much different to other 'normal' mirrorless cameras on the market.
I took the a1 out for spin on a quick (and socially distanced) lifestyle shoot with a local (to me) magician and put this high speed to the test. Magic Ad is capable of completing the Roubix Cube in just over 5 seconds so I relied on the impressive 30fps (lossy compressed RAW) to capture this and it didn't disappoint.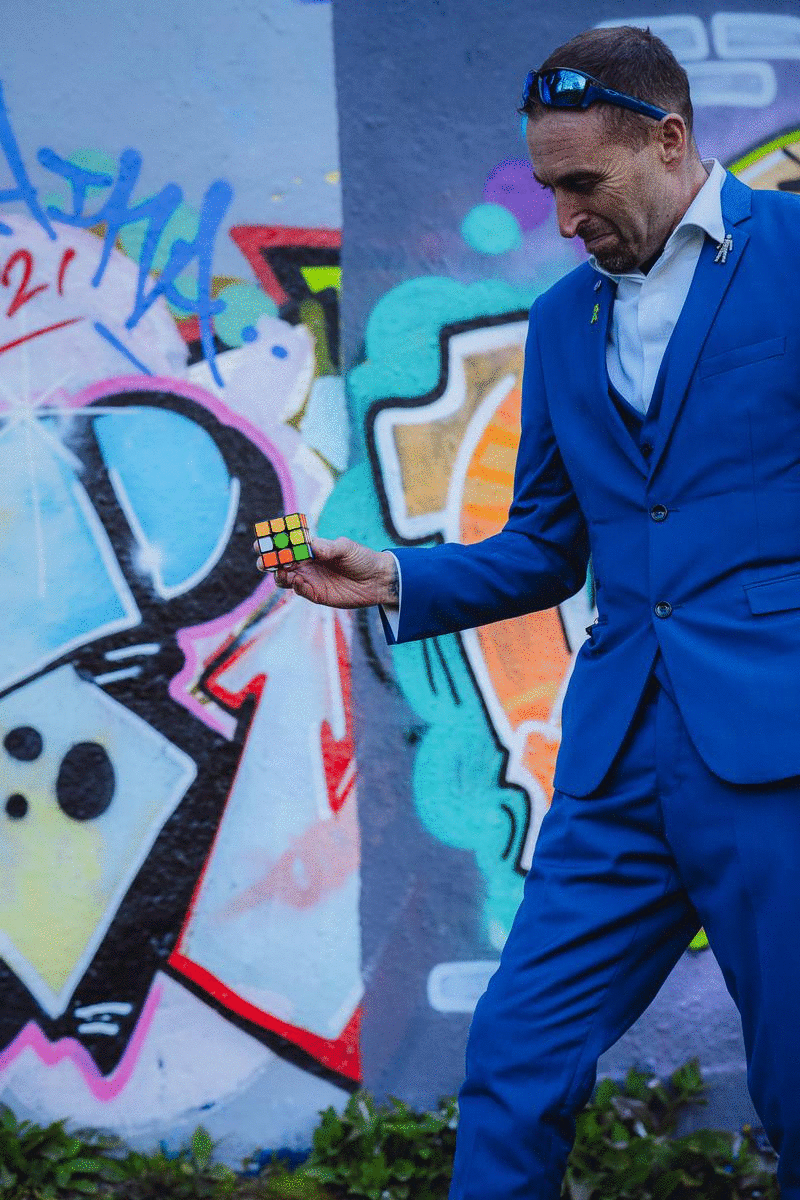 I won't bore you with every single frame but I can assure you that the AF system performed perfectly throughout and captured every single image in incredibly high resolution, making it difficult to narrow it down to display on here! A good problem to have of course, especially for the sports and action photographers out there.
50MP Portrait King
Of course the a1 delivers on resolution and image quality, how can it not with 50MP up its sleeve? I paired it with the Zeiss Batis F1.8 85mm lens and captured some headshots for Adam's website and social media. Even when slowing things down to work on a still subject, the a1 was a pleasure to work with.
---
What about the video though?
Unfortunately, I didn't have time to test this side of the camera. Which is a shame as 8K at 30p, 4K at 60p and a 1.13x crop for 120p at 4K is pretty spectacular when you line it up alongside the stills capabilities.
One for another blog or for our YouTube channel perhaps…
---
My final thoughts
With the price tag of £6,499 you'd expect everything plus the kitchen and sink and I can safely say Sony has delivered on this. The Sony a1 camera is a masterpiece of engineering and ticks all of the boxes for the modern hybrid shooter, serious videographer and pro photographer.
The thing I am most grateful for with this Sony camera is the competition it will create in the market. With the likes of the Canon EOS R5 and development news of the Nikon Z9 and most recently the Canon EOS R3, cameras for photographers, videographers and content creators as a whole are just getting better and better and it's an exciting time to be involved.
---
Thank you!
Thanks for taking the time to read our blog, we really do hope they help you out and answer some of your questions. If you still have some unanswered, then please feel free to get in touch with our team of experts.
We have a LiveChat option on our website and we can, of course, be contacted via our email, we're also on the end of the phone too! Read more on how to contact us here >
---
Want to write for us?
If you've got experience with producing content on photo, video and/or optics products or techniques then we would love to hear from you. Contact our blog editor, Fee, with a sample of your work at fee@cliftoncameras.co.uk.
By Fiona Chandler
14 May 2021