The Best Monitor Setup for Photo Editing 2022
Whether you are a professional photographer looking for the best of the best, a student on a budget, or an enthusiastic hobbyist who likes to have all the kit, you are going to need a monitor. But why? And which one should you buy? Are there any additional accessories you'll need for a picture-perfect finish?
We'll get to all of that and more in this blog.
---
Why buy a monitor?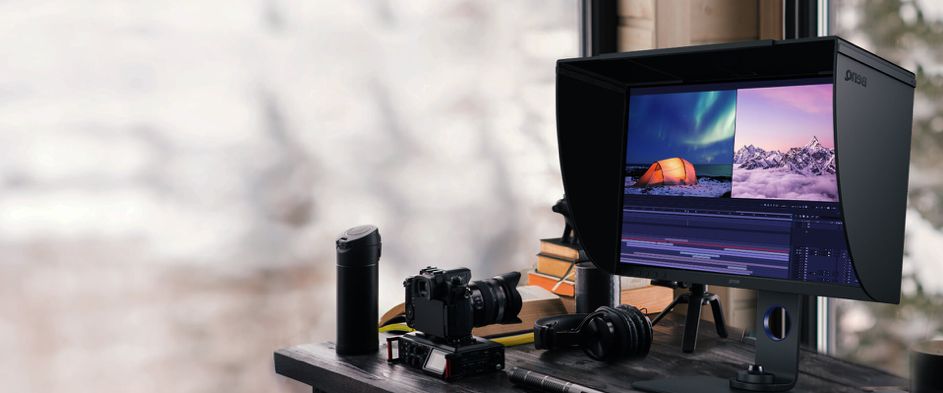 Size isn't everything…but it helps
Laptops are great for on-the-go editing, and size isn't always everything. But to really sink your teeth into the detail of an image a monitor is (and always will be) better.
Do your photos justice
As the sensor size of cameras seemingly grows with every release, a 13" Macbook Pro isn't going to cut it anymore. Being able to blow your photos up on a 27-inch screen gives justice to the images that you are taking.
Don't waste your time
When the screen you are editing on isn't up to the job you can actually end up correcting your monitor's faults when your images were perfect all along. A poorly calibrated screen can show colours incorrectly causing you to play with saturation and hue only to post the photo elsewhere and discover you've completely blown the colour.
Get into the nitty-gritty
Having a large monitor screen makes fine retouching easy and complex photo-shopping a doddle. Zoom in close with a monitor to ensure every image is finished to perfection.
Zen workflow
When you have an impending deadline workflow is everything. Constantly flicking between windows for comparisons, information and notes, frankly becomes frustrating. With a monitor hooked up to your laptop or computer, you suddenly have two screens to be working off giving you the headspace to get your work done.
Key specs to look out for
Rendition, colour accuracy, detail, contrast, resolution, aspect ratio, refresh rate & brightness consistency are the keys to finding your monitor-ever-after.
---
What is the best monitor for photo editing?
So we know why and what, now we need to know who. BenQ is often regarded as one of the best brands to buy for photo editing (and they're available here!). In this blog, we are going to go through the top three available, with something for every budget.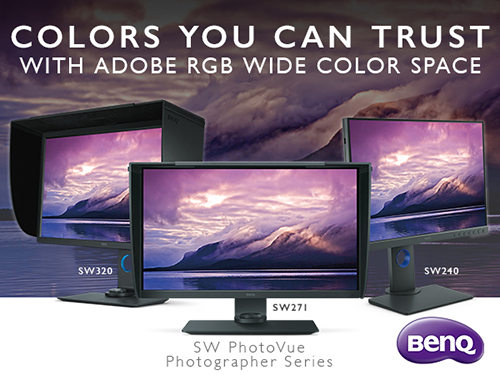 Who is BenQ?
BenQ has always been an industry leader when it comes to producing calibrated monitors with true colour. You will often find them listed as one of the best monitors for photo editing with their professional-grade specs and superb colour rendition. They are the high-resolution monitors found in a pro's editing suite.
---
Best for budget
If you are looking for the best editing monitor under £500 the BenQ SW240 Pro should definitely be on your radar. This budget-friendly option features IPS technology that produces accurate colours to work with.
IPS "In-Plane Switching" panels are often used in pro and semi-pro photo monitors thanks to their wide colour gamut coverage that results in vibrant images and true screen-to-print results.
The SW240 Pro has a 24-inch screen and comes with the SH240 Shading Hood included* for additional cover from reflective lights. The 99% Adobe RGB colour space, which comes as standard with all three of these BenQ monitors, provides a greater range of colour than that seen on sRGB monitors, and its 10-bit colour depth can display 10 billion colours.
*Shade hood is normally sold separately but with our kit it comes included!
Pros:
All the basics you need
Perfect for a budget
99% Adobe Colour Space
10 billion colours with 10-bit colour depth
IPS technology
24-Inch 1920x1200 Resolution
Hardware calibration
Cons:
Smaller screen size
Smaller LUT Capacity (14-bit)
No USB-C connection
---
Best all-rounder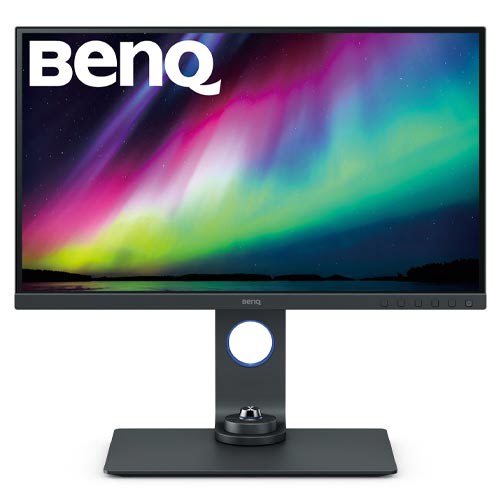 Looking to upgrade your current monitor for something a bit more flashy? This BenQ monitor is for you. The SW270C Pro is a 27-inch IPS Monitor that is working to surpass the industry colour standard.
The SW270C Pro boasts the same impressive features as the SW240 Pro plus some exciting additional extras. AQCOLOR technology does much as it says on the tin, displaying images with even better accurate colour for great screen-to-print abilities.
Its factory calibration means that this monitor is ready out of the box, but if you want to make finer tweaks the hardware calibration technology allows you to make adjustments to the image processing chip without interfering with the graphics card.
Video-friendly the SW270C Pro can handle HD 24/25P film, and the USB-C port allows for high-speed video, audio and data transmission along with power delivery with one single cable. Perfect for a fast post-production process.
Pros:
Working to surpass industry colour standard
High standards at a reduced price
AQCOLOR technology for realistic colour
Factory uniformity across multiple monitors
Video-friendly (24/25P)
USB-C to provide video/audio/data and power delivery
16-bit LUT
Cons:
More expensive (but worth it)
No 4K capacity
---
Best for professional screen-to-print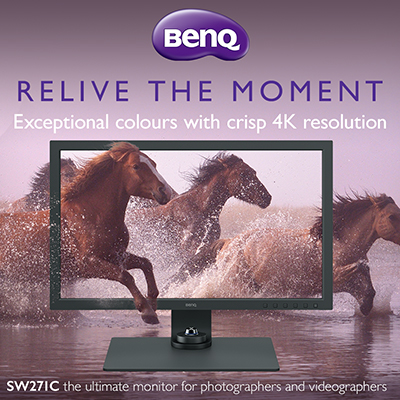 If you have a larger budget for your photo monitor then the BenQ SW271C Pro is a fantastic choice. Once again enjoying the benefits of the previous two monitors this device is incredibly video-friendly, with 4K display compatibility. Experience no pulldown or distortion, the SW271C Pro supports 24/25/30P film content.
If you are looking to print your images then the SW271C Pro has been created to guarantee a level of consistency between what you see on the screen and your final print. Integrated with Paper Colour Sync software that generates simulated images based on the parameters of the type of printer, colour settings and photo paper used. This monitor is for the professional printers among us.
The SW271C Pro has exceptional colour space coverage for Adobe RGB and sRGB image editing plus advanced Black&White modes. Using GamutDuo Mode, a unique BenQ feature, preview the same image in two colour gamuts for side-by-side comparison. Ideal for comparing sRGB with RGB to view the key differences between the two colour spaces.
Along with the factory calibration, you can personally maintain the colour performance of this BenQ monitor with the Pallet Master Element software that allows you to fine-tune your screen to increase long term optimal performance.
Pros:
Everything you need for professional editing & printing
Long term optimal performance
Screen-to-print consistency thanks to Paper Colour Sync
4K Resolution
HDR with 24/25/30p video format support
Maintain colour performance
GamutDuo Mode
Hotkey Puck G2 for efficient editing
Cons:
---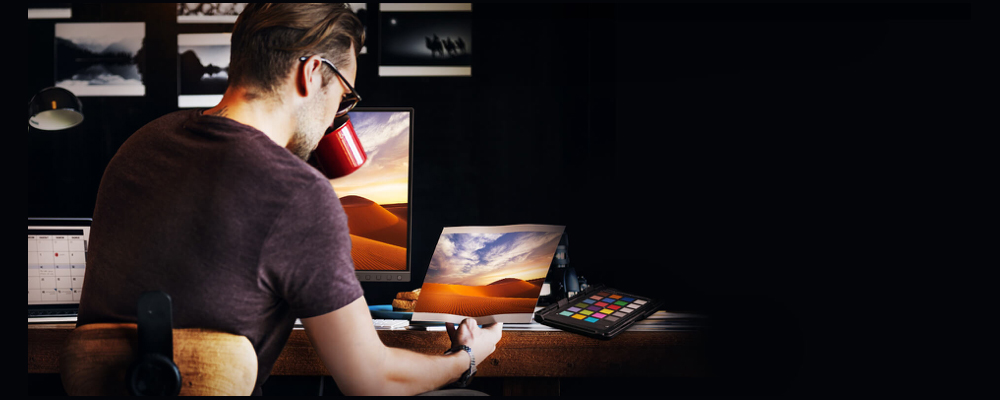 Time to Calibrite
Now that you've picked the perfect monitor make sure you are setting yourself up to take the most colour-accurate images. We suggest taking a look at Calibrite, a company dedicated to creating tools that do just this.
Take perfect photos
Have you ever heard the director yell "We can just edit that in post" when it comes to shooting in poor lighting, only to result in hours of complex editing later on? While it might be possible, it is so much easier to give yourself a helping hand by starting off with an accurate white balance in the camera to make editing go that much smoother.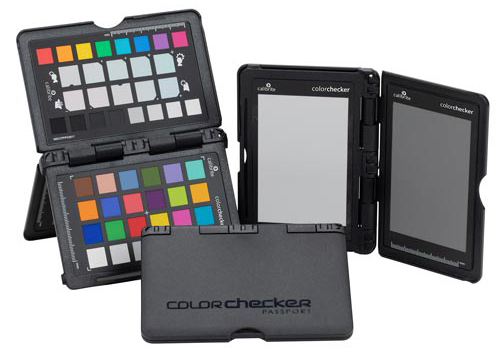 The Calibrite ColorChecker Passport Photo2 is the exact tool you need to achieve this. Inside the small and rugged booklet is a simple yet highly effective range of colour picker squares. Including RGB, CMYK, natural tones, an 18% grey-balance target for proper exposures and a white-balance target that is spectrally neutral to set in-camera white balance.
It is directly compatible with a number of the best editing suites including:
ICC compatibility with Capture One
DNG compatibility with Lightroom and Photoshop
Hasselblad Focus
Blackmagic DaVinci Resolve
3D LUT Creator
DxO Photolab 4
It's the perfect tool for photo and video editors alike. Alternate options from Calibrite include their ColorChecker Classic and ColorChecker Passport Video both of which include larger squares offering easier targets for crowded studios.
Edit perfect photos
Working in harmony with your monitor, the Calibrite ColorChecker Studio & Display ranges offer incredibly accurate screen calibration for photo editing that just makes sense. These nifty tools can be placed on your monitor and in 5 minutes can create a custom profile for impressive and consistent colour accuracy.
Why do I need a great monitor and a calibration tool? Even if your monitor is the best and most accurate money can buy, a calibration tool can be set specifically for the equipment you are using. For example, set the monitor to your exact printer model for the most accurate results. And especially importantly, calibrate all of your screens (monitor, laptop, computer) to all be the same for ultimate consistency.
The ColorChecker Studio comes with a 24 patch target for you to create custom camera profiles, set white balance and have a neutral starting point for every image. All three ColorChecker calibration tools also support Ambient Light Measurements which take into account the changes of light throughout the day and will smartly determine the optimum display luminance.
It is so easy to eliminate the element of surprise when it comes to printing by using a BenQ monitor with Calibrite calibration software. Whether you are a student, enthusiast or pro, this is the ultimate monitor set up for photo editing.
---
I'm convinced! Where can I buy?
You can find all the BenQ Monitors mentioned in this blog here >
Or, check out our Calibrite Calibration Software here >
Discounts available: when you buy a BenQ Monitor from Clifton Cameras don't forget to click "Related Accessories" to find all the Calibrite ColorChecker software available at a reduced price just for you!
---
Read next:
---
Thank you!
Thanks for taking the time to read our blog, we really do hope they help you out and answer some of your questions. If you still have some unanswered, then please feel free to get in touch with our team of experts.
We have a LiveChat option on our website and we can, of course, be contacted via our email, we're also on the end of the phone too! Read more on how to contact us here >
---
Want to write for us?
If you've got experience with producing content on photo, video and/or optics products or techniques then we would love to hear from you. Contact our blog editor, Fee, with a sample of your work at fee@cliftoncameras.co.uk.
By Beatrice Debney
4 Apr 2022